National Ambassador for Young People's Literature Gene Luen Yang, in partnership with the Children's Book Council, the Center for the Book in the Library of Congress, Every Child a Reader and Macmillan Children's Publishing Group, has launched Reading Without Walls Month, which makes its debut this April and will be an annual event.



The aim is to encourage young people to explore the world through books, break down barriers and celebrate diversity in children's books. The key ways Reading Without Walls does this is by challenging young people to do one of three things:
Read a book about a character who doesn't look like them or live like them.
Read a book about a topic they don't know much about.
Read a book in a format they don't normally read for fun, such as a chapter book, an audiobook, a graphic novel or a book in verse.
"We want to use Reading Without Walls as a way of getting kids to read outside of their comfort zone," Yang comments, emphasizing that most people have a comfort zone whether they realize it or not. This is a long-lasting problem, not something new--even though it seems very topical. Books are a solution to comfort zones and can lead readers to open up to people they might not have otherwise. "One of the primary functions of books is to build empathy between people," he says. "And empathy is good for you." He emphasizes, too, that his challenge applies to adults as well as young readers.

Yang notes that early on books helped him get out of his comfort zone, and lately he's noticed another comfort zone. "I've been reading the news that's fed to me," Yang explains. "Some algorithm figures out what makes me feel good and makes it so that I have to actively find news outside my comfort zone."

Yang and the sponsors are making a big push "to get communities to adopt Reading Without Walls for the spring," Yang says. A few bookstores, libraries and schools did so last year, particularly for summer reading lists, an "inspiring" start, Yang says, that he wants to expand this April.

The stores, libraries and schools that were part of the pilot program "usually put up a wall and write out the three challenges," he says. "Some put up a picture of me, which is kind of awesome. I can't argue with that." They also display book suggestions, and some of them have an area for "kids to suggest books to each other." One also made flyers that look like little books and have the "check-off criteria." Lastly, there are spots to post certificates of completion.

Yang is taking Reading Without Walls to the next level in April. This year, some 200 bookstores and 1,500 schools and libraries have already pledged to participate in the inaugural Reading Without Walls Month with events, displays, staff picks, reading recommendations and store-school-library partnerships. Those interested in joining can find free promotional materials on Macmillan's Reading Without Walls website (which includes a signup form for updates) and on Edelweiss. The material include posters, a reading list created by Yang and certificates of completion that the sponsors have put together.

Yang will promote his reading challenge across the Northeast United States and Canada during the first week of April, with the following schedule:

April 1: The Museum of Comic and Cartoon Art Arts Festival, New York City
April 2: Doylestown Bookstore, Doylestown, Pa.
April 3: R.J. Julia's Booksellers, Madison, Conn.
April 4: Books on the Square, Providence, R.I.
April 5: Toronto Public Library, Toronto, Ont.
April 6: Brookline Booksmith, Brookline, Mass.
April 7: Print: A Bookstore, Portland, Me.
April 8: Eric Carle Museum of Picture Book Art, Amherst, Mass.
April 10: Library of Congress, Washington, D.C.

At the event that the Brookline Booksmith is cosponsoring with the Brookline Public Library, Yang will make a presentation for an hour at the neighboring Coolidge Corner Theatre, then go to the store for a signing. Earlier in the day, he'll make what Alex Schaffner, the bookstore's events co-director and children's bookseller, calls "a large-scale school visit." Between the store's promotional efforts, the library's excellent interactive programs and his exposure in school, Schaffner expects that Yang will be able to make the Reading Without Walls challenge to many young readers on April 6. Beyond the events, just having Yang in town is "helpful in drawing attention to the challenge," she added.

In promoting the challenge, the store has found the Reading Without Walls kit helpful, particularly the poster, which Schaffner calls "something that will stick around in our department for quite a while.... It's a great way to sort of poke at kids' thinking while they're browsing--my hope will always be that if kids are reading the poster, their reading choices (or at least how they think about the books they choose) will be slightly altered just from that."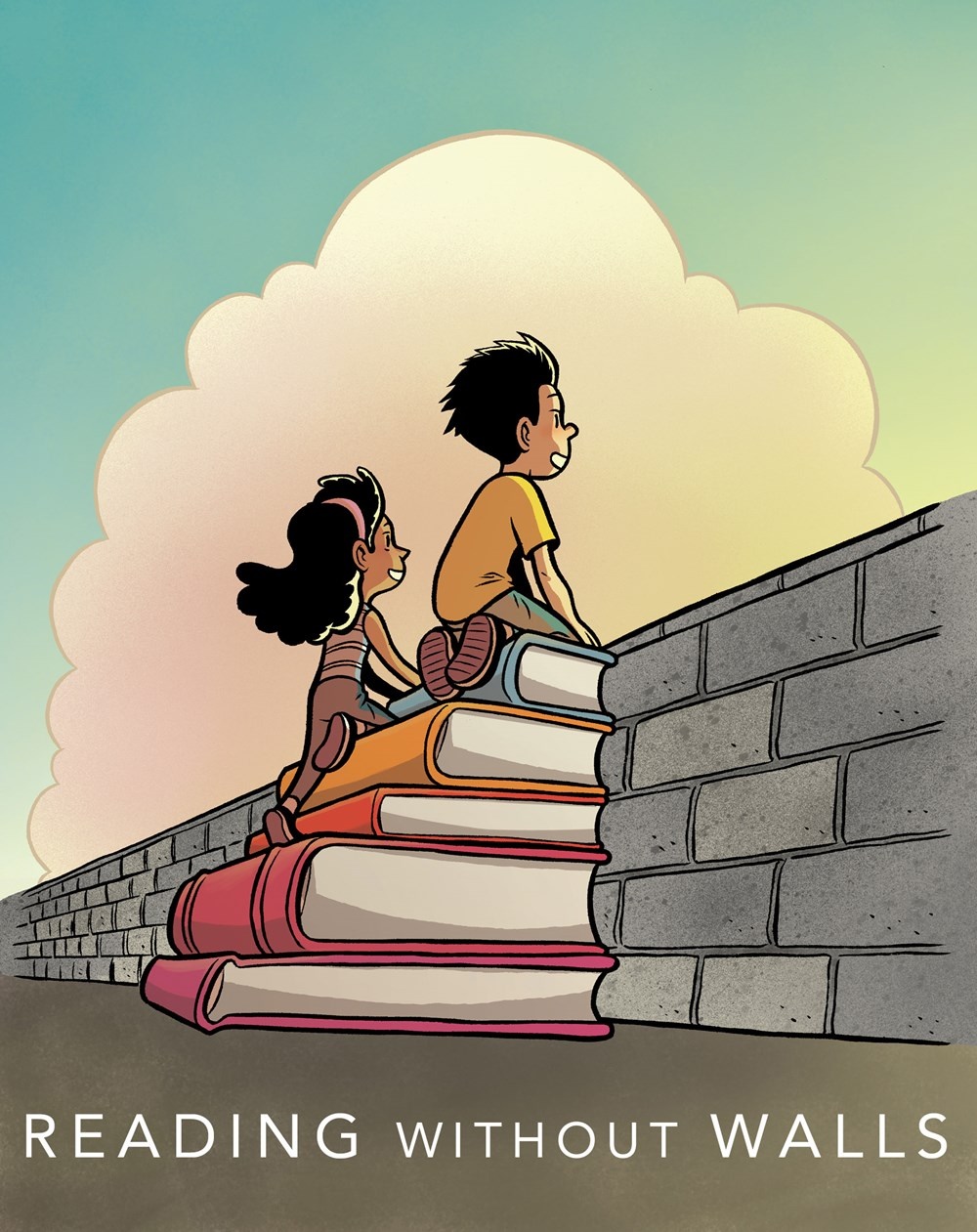 In the time leading up to Yang's appearance, both in-store and through its blog, Brookline Booksmith is promoting Reading Without Walls as something "fun and interesting and something we also want to participate in." Schaffner's next blog post, scheduled for March 23, will be about the Reading Without Walls challenges that Brookline Booksmith's children's staff has completed. Schaffner, for instance, has read Every Falling Star by Sungju Lee as her #1 book and One Last Word by Nikki Grimes for challenge #3. For #2, she thinks "a good nonfiction picture book will do the trick."

Readers are invited to share their completed challenges on Twitter with the #ReadingWithoutWalls hashtag. Many participants have already posted pictures of themselves and the book they read to meet the Reading Without Walls challenge.