Yang is an ideal person to promote Reading Without Walls: throughout his career, he's broken walls and promoted diversity.
He began drawing comic books in the fifth grade and began to become prominent as a cartoonist in 1997, when he received the Xeric grant for self-publishing for his Gordon Yamamoto and the King of the Geeks. After putting out several issues on his own, it was picked up by comics publisher Slave Labor, who published it and Loyola Chin and the San Pelegran Order (later collected into a single volume as Animal Crackers). While working on these comics, Yang received his Master's degree in education from Cal State Hayward and began teaching at a San Francisco school. He is a founding member of the Bay Area's Art Night Crew, a local group of cartoonists.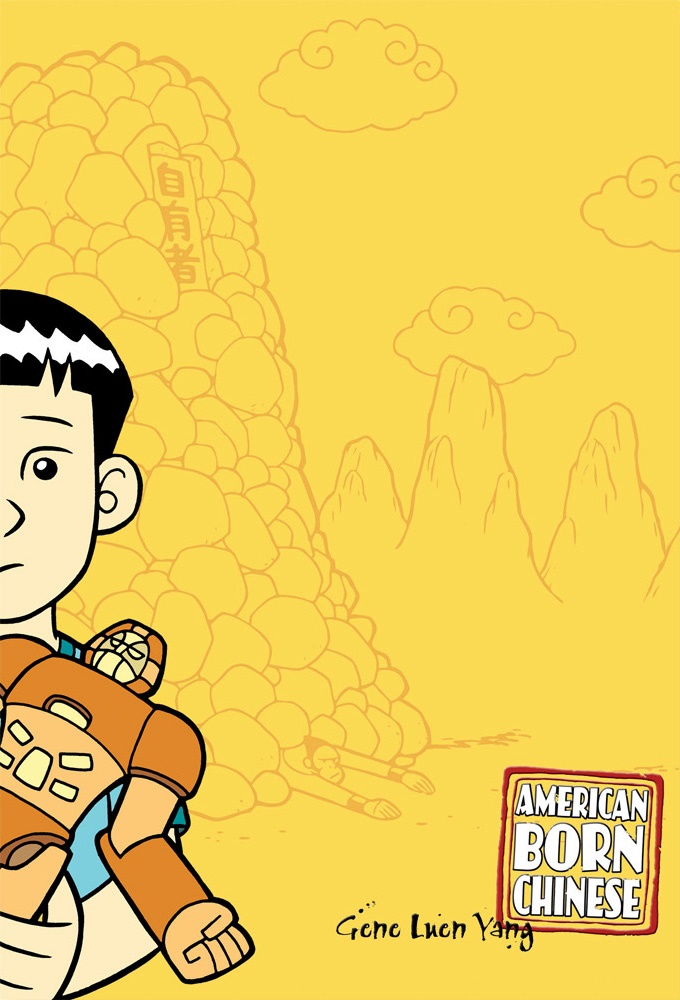 In 2006, his graphic novel American Born Chinese (Macmillan Children's Book Group/First Second Books) was the first graphic novel to be a finalist for a National Book Award (creating a firey debate on whether graphic novels were eligible for the award and whether they were "real books"). American Born Chinese was the first graphic novel to win the American Library Association's Printz Award for best YA book of the year and it won an Eisner Award for Best Graphic Album. The book has sold more than 500,000 copies and is widely taught in high schools and universities.
American Born Chinese follows three seemingly disparate characters. Jin Wang is a Chinese-American elementary school student whose parents are from Taiwan. He is desperate to fit in with his all-white classmates, but finds this difficult thanks to the interference of his Chinese cousin, Chin-Kee, who Yang depicts as a painful amalgamation of Chinese stereotypes. The third character is the Monkey King, a popular figure in Chinese folklore, who seeks to become an immortal god despite the lack of space for a monkey in heaven. Yang weaves these characters into a powerful narrative about outsiders crossing boundaries and finding places for themselves in unfamiliar worlds.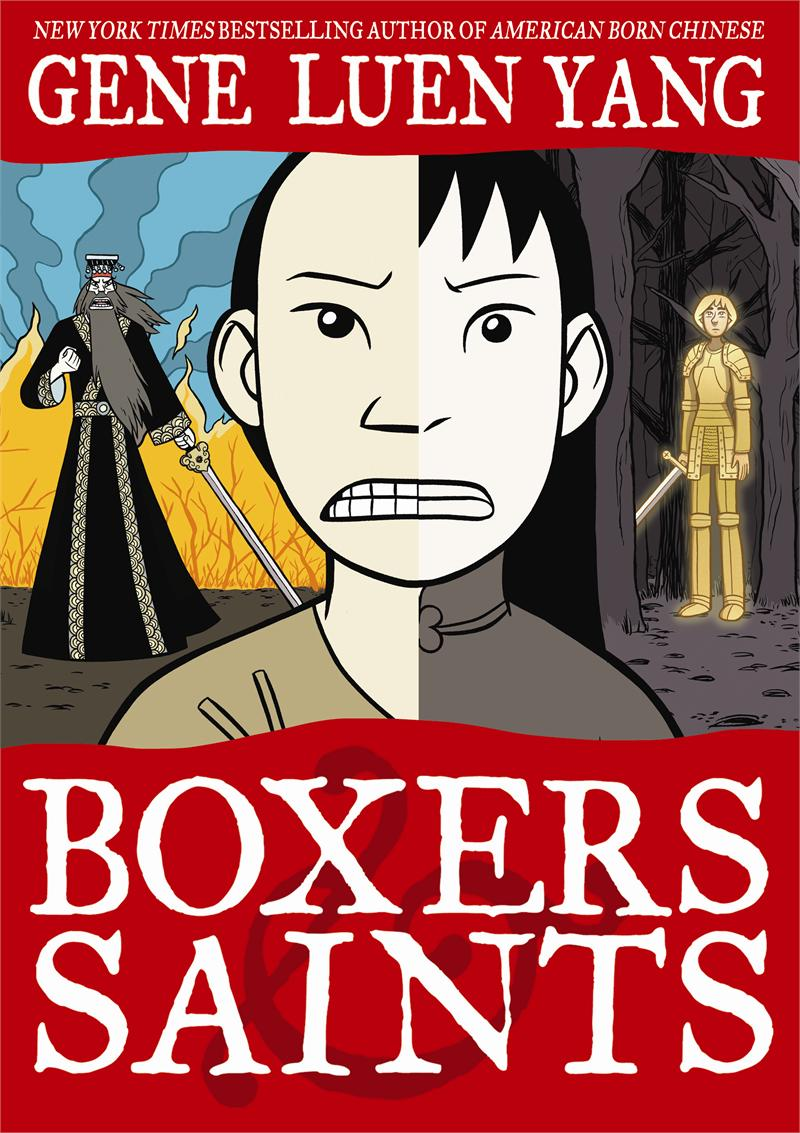 In 2013, Boxers & Saints (Macmillan Children's Book Group/First Second Books), his two-volume graphic novel about the Boxer Rebellion, was a National Book Award finalist and won the Los Angeles Times Book Prize for Young Adult Literature.
In Boxers & Saints, Yang brings his deceptively light-hearted aesthetic to a period of immense chaos in modern Chinese history. Near the end of the Qing dynasty, a revolt against Christian missionaries and imperialist expansion led to an invasion by eight foreign nations, including the United States. In part one, Boxers, Yang follows Little Bao, a peasant boy who joins the Boxer movement after his village is abused by Westerners. In Saints, Yang follows Vibiana, a girl who finds a home with Christian missionaries after being rejected by her village. By showing both sides of this complex conflict, Yang illuminates universal attributes of human nature that transcend even the most violent divisions.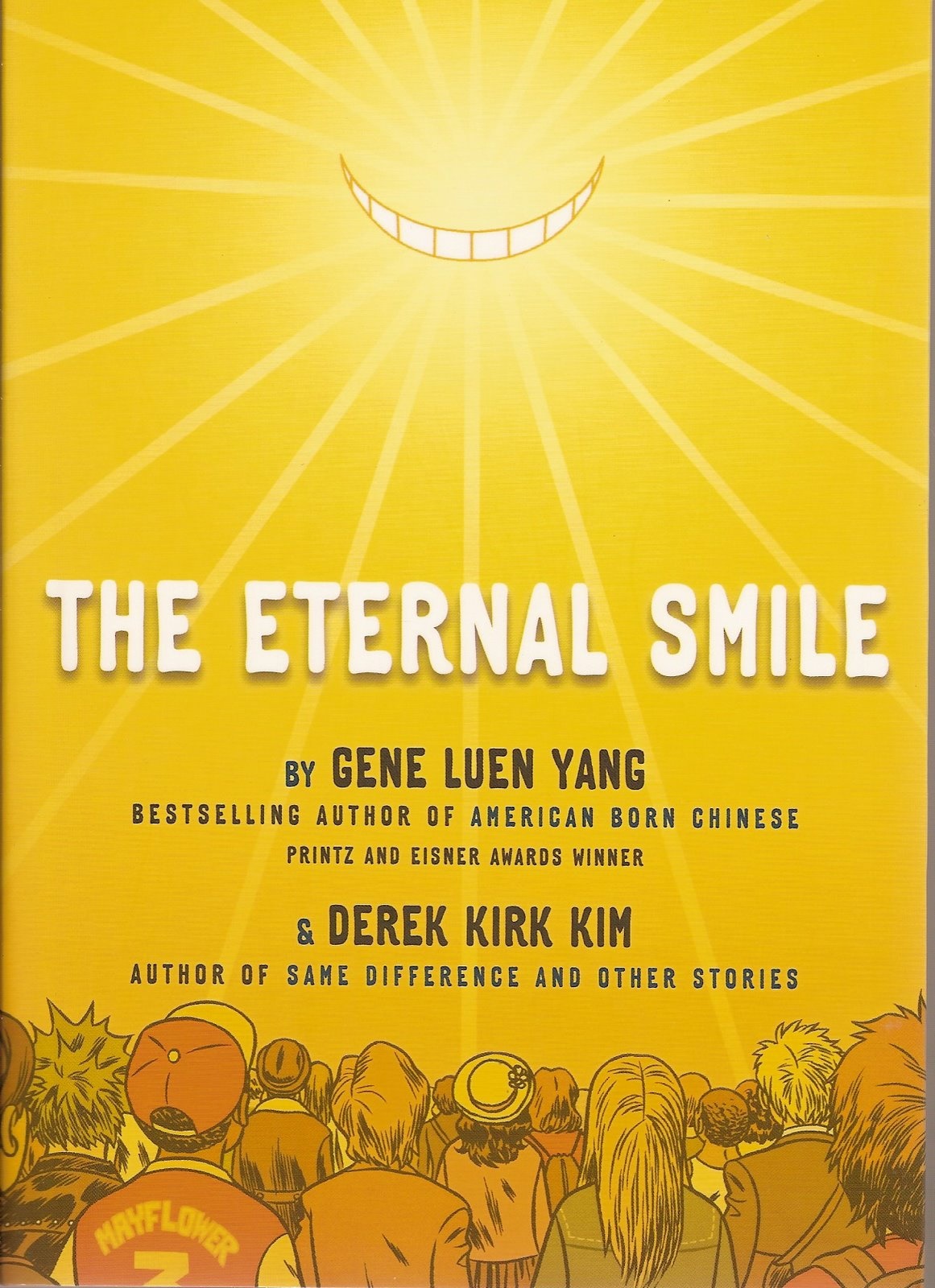 Yang also won an Eisner for The Eternal Smile: Three Stories (Macmillan Children's Book Group/First Second Books), a collaboration with artist Derek Kirk Kim. The three stories of Eternal Smile are vastly different. In the first, a brave warrior must slay an evil Frog King to rescue a princess, if he can ignore an inexplicable recurring omen. In the second, a greedy frog wonders about the origin of his obsession--to fill a pool with gold and dive in. In the final story, Janet's dreary life as an office worker takes an intriguing twist when a Nigerian prince promises vast riches if she will share her banking information. These funny, sometimes absurd stories offer insights into subconscious desire, the reality of fantasy, and what it means to dream.
He's also the author, with artist Mike Holmes, of the Secret Coders series (Macmillan Children's Book Group/First Second Books), which takes place at Stately Academy, a mysterious, sometimes creepy school full of robots, overbearing adults and plenty of computers. Twelve-year-old Hopper and Eni become fast friends as they seek to master the wonders of coding. The four volumes of this series introduce kids, in entertaining fashion, to the language of computers, while presenting a diverse cast of characters engaged in STEM education (and fun adventures).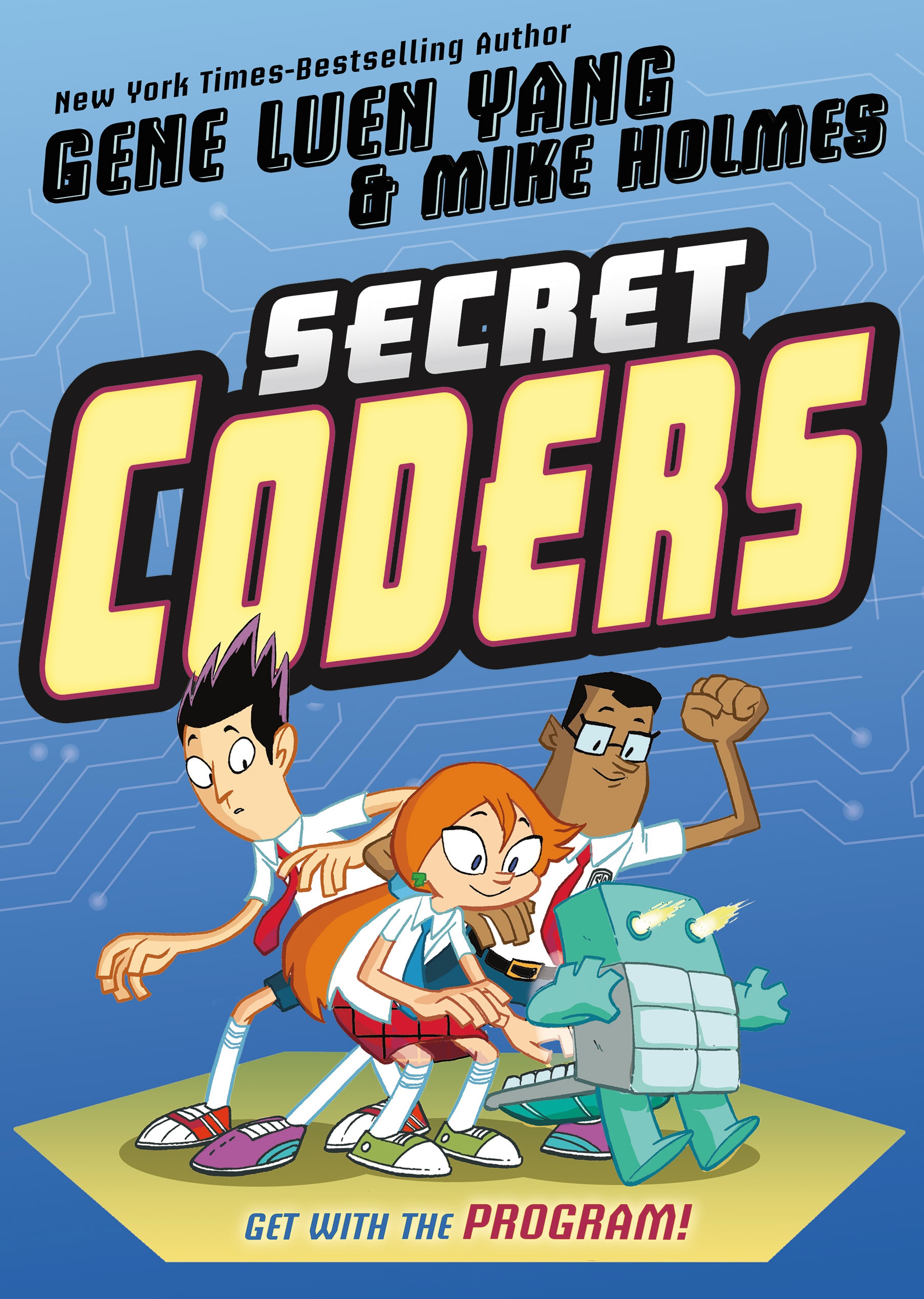 This middle-grade series draws on Yang's background in education and as a teacher of computer science, using the narrative to teach kids about computer programming. He is a strong proponent of using comics in education, and of representing diversity through the comics medium, which he does in all of his comics work.
A strong believer in collaboration, Yang has published books in partnership with cartoonists Derek Kirk Kim (besides The Eternal Smile, this includes Duncan's Kingdom), Thien Pham (Level Up) and Sonny Liew (The Shadow Hero). Yang's work has also been included in the anthologies Up All Night, Secret Identities, Strange Tales, Nursery Rhyme Comics, Shattered, Open Mic and Comic Squad: Recess. After speaking out against the lack of diversity in the casting of the Avatar: The Last Airbender movie, Yang was asked to write the Avatar: The Last Airbender comics (Dark Horse Comics). He has also written some of the Superman comics (DC Comics).
Last fall, Yang was honored with the most valuable prize a creator can receive: a MacArthur Foundation "genius" grant of $625,000, which are given to people who "show exceptional creativity in their work and the prospect for still more in the future." Appropriately the Foundation said that Yang's work for young adults "demonstrates the potential of comics to broaden our understanding of diverse cultures and people."
Reading Without Walls began when Yang was appointed National Ambassador for Young People's Literature in January 2016, the first graphic novelist to be appointed to the role since it was created in 2008. Each National Ambassador does four speaking events a year during the two-year term and picks out a platform to focus on. Yang's choice was Reading Without Walls, an idea that he said developed in meetings with his publisher, Macmillan, and with the Children's Book Council, shortly before he became National Ambassador.
As part of Reading Without Walls, Yang has done a podcast talking with people "I admire, authors, animators and others, about books they read as a kid and how they influenced them and inspired them to do something beautiful."
In his 2014 Shelf Awareness Book Brahmin, Yang gave a personal example of how going outside established reading habits can have a profound impact on young readers. When asked for a book that changed his life, Yang said "Understanding Comics by Scott McCloud. If I hadn't read McCloud's book when I was in my late teens, I probably would not be doing comics today. Every time I have trouble making my mortgage payment, I blame McCloud."
May every young reader have the same experience!