Shelf Awareness for Friday, March 7, 2014

News
Indies to L.A. Times Festival of Books: Can We Talk?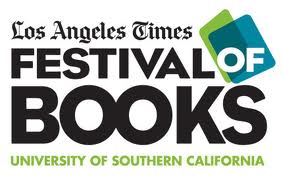 Following the news that the Los Angeles Times Festival of Books had become an Amazon affiliate and added the e-tailer's buy buttons to a list of featured authors on the event website, the Southern California Independent Booksellers Association asked members for patience as it works with the Festival to address the issue.

"Of course, we are outraged and disheartened, to say the least," Maureen Palacios, SCIBA president and owner of Once Upon a Time in Montrose, wrote to members. "Many other colorful words come to mind, along with hearty protests and knee-jerk reaction. However, this does not get us anywhere, as a channel." Palacios assured SCIBA members that the association is working with the Festival staff to remedy the situation that has angered both booksellers and publishers.
"This is a big organization," Palacios explained to Shelf Awareness. "It's not like one of our stores that we can change in a day." Independent booksellers have a long history with the Festival of Books, she stressed, and are "in it for the long-term."
"Our publisher partners," the SCIBA memo continued, "are also in communication with the FOB management, as they are similarly impacted and are unhappy with pointing retail to one particular retailer. Given the many media outlets indicating support for our channel, we feel that our efforts will be rewarded--perhaps not as timely as some may want--but there should be concessions available and corrections made."

Acting on its own, San Diego's Warwick's sent a letter directly to Festival organizers that said in part: "Why would a literary festival that celebrates the physical book allow a virtual retailer with no history at the festival to siphon off potential book sales? The festival is a huge undertaking for independent stores, many with limited resources, and the amount of preparation required to order books, facilitate load-in logistics and staff the booths is both costly and physically challenging. With a simple click of the mouse, the "buy" button on the festival website sends sales to Amazon thereby giving this online retailer an unprecedented and unfair advantage."
"Even though we are a San Diego-based store," continued the letter--signed by owner Nancy Warwick and buyer Adrian Newell--"each year we have supported the festival by providing bus transportation for our customers who count on us to keep them connected with the wider literary community. Unfortunately, due to your decision to support Amazon, our largest and most aggressive competitor, we have decided not to participate this year."
Both SCIBA and Warwick's have asked the Festival at least to provide an equal affiliate opportunity for IndieBound, for book buyers who want to purchase from an independent bookseller.
As a Warwick's staffer pointed out to Newell, by becoming an Amazon affiliate, the Festival is enabling the e-tailer to do the one thing that a virtual store hasn't been able to do--be part of an event happening in the physical world.
Hillary Manning, communications director for the Los Angeles Times, reiterated the company's position: "We will be adding to and updating the site with programming and additional e-commerce programs as we count down to April 12 & 13." As for any specific request from SCIBA or other parties, she said, "That's a conversation that would need to happen with the specific parties involved in making such business decisions."
Palacios said she will remain positive until she hears from the Festival, which has historically balanced the need for large corporate sponsorship of an event the size of the Festival with concerns of the local retailers who exhibit at it. --Bridget Kinsella


General Retail Sales in February: Slight Gain, Modest Optimism
The unrelentingly severe weather nationwide this winter "continued to pressure retail sales in February, but improved customer traffic in the later part of the month suggests sales will pick up once the spring thaw begins," the Wall Street Journal reported. For the month, sales at stores open at least a year increased 0.3% at the eight retailers tracked by Thomson Reuters, compared with projections of 1.9% growth and a 4.8% jump a year earlier.

"The first half of February got off to a very slow start," said Ken Perkins of Retail Metrics.

Reuters noted that "sales at many major U.S. retailers rose in February, as shoppers ventured out later in the month after a dismal start when ice, cold and snow kept many of them at home."

"Bring on the spring, and you'll see a much improved consumer spending pace," said Michael Niemira, chief economist of the International Council of Shopping Centers. He also noted that while a late Easter (April 20) may negatively affect March numbers, it should help overall sales for the season since weather will be less likely to disrupt shopping.


D.C. Snowstorm Hits Sales Tax Fairness Advocacy Day

A snowstorm that "effectively shut down Washington, D.C.," on Monday prompted the House of Representatives Committee on the Judiciary to postpone its hearing on sales tax fairness legislation until March 12. As a result, the sales tax Advocacy Day planned by the American Booksellers Association and Advocates for Independent Business also was canceled. Although the event could not be changed on such short notice, Bookselling This Week noted that the postponement "does provide some extra time for booksellers to advocate in support of sales tax fairness."

"While it is not logistically possible to reschedule our Advocacy Day for next Wednesday, booksellers can still make their views known to their representatives on this very important issue," said ABA CEO Oren Teicher. "Indeed, this is a moment when independent retailers can have a significant and lasting impact on the legislative process. Please let your member of Congress know that you support sales tax fairness. We urge you to e-mail or call them today."


Obituary Note: Buzz Johnson
Buzz Johnson, the Tobago-born writer, activist and founder of Karia Press, "one of the small but dedicated band of African-Caribbean publishing initiatives in the U.K. that have had an impact remarkably disproportionate to their modest size and limited resources," died February 11, the Guardian reported. He was 62.


Notes
Image of the Day: Story Prize Winner
Photo: Beowulf Sheehan
Wednesday night, George Saunders won the $20,000 Story Prize, honoring the best short story collection of the year, for Tenth of December (Random House). The other finalists, who each received $5,000, were Andrea Barrett (l.) for Archangel (Norton) and Rebecca Lee (r.) for Bobcat (Algonquin). At the event at the New School in New York City, all three read from and discussed their works with Story Prize director Larry Dark. Then Story Prize founder Julie Lindsey announced that Saunders had won.



Saturn Booksellers' Jill Miner: 'Woman Making History'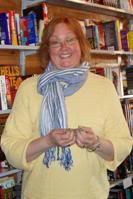 Jill Miner, owner of Saturn Booksellers, Gaylord, Mich., was named the 2014 Woman Making History by the American Association of University Women Gaylord Area Branch. Each year, the organization "honors a woman from Otsego County for her achievements in celebration of National Women's History Month. This year's award recipient is Jill Miner, a successful, award-winning business owner in downtown Gaylord who was also instrumental in the early success of the Gaylord Gators."


Bookshop Window Display of the Day: Book Soup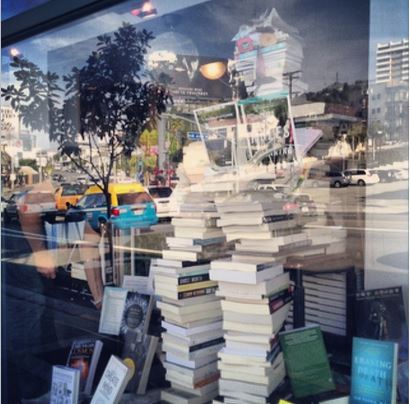 From the Facebook page of Book Soup, Los Angeles, Calif., on Wednesday: "Rob is making a man out of books for our new window. You just have to see it!"


Kris Kleindienst on 40 Years of Bookselling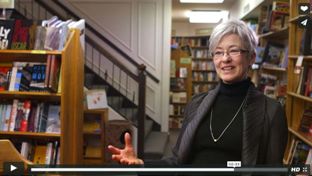 As she celebrates her 40th year as a bookseller, Kris Kleindienst, co-owner of Left Bank Books, St. Louis, Mo., is profiled by stlcurator.com. In a video that accompanies the text, Kleindienst talks about the store's "progressive ethos" that's at the heart of the store, the work ("There's a lot of energy required and stamina in this job") and drawing boundaries when your business partner is your life partner.


'Indies for Indies': Author's Partnership with Village Books
Describing Village Books, Bellingham, Wash., as the bookstore "I know best" and one that "has become a great friend," Robert L. Slater wrote a piece for the Kobo Writing Life blog chronicling the evolution of his relationship with the bookstore.

During the past year, he has changed from being a customer to partnering with the bookstore on several projects (including the Speculative Fiction Writer's Group) to becoming a self-published author and taking advantage of Village Books' arrangement with Lightning Source to print books and Kobo for e-book editions of his first novel, All Is Silence.


Author Robert L. Slater promotes All Is Silence at a Kobo Writing Life-sponsored event at Village Books.
"Now my book is in Village Books," Slater wrote. "They'll be hosting a novel release party with me on March 14 and after that... who knows? What did I do to get so lucky? When I picked up the first batch of my print books, Paul Hanson told me, 'When you first came in you said, What can I do to help?'

"So, writers, ask not what your bookstore can do for you [the answer is plenty], but ask what you can do for your bookstore. Be professional. Communicate warmly, openly and politely. Get off the broken record of 'buy my book, buy my book,' and make friends, find partners, and buy books at your local brick and mortar bookstore."


Personnel Changes at Little, Brown
Little, Brown has made the following appointments and promotions:

Heather Fain has been promoted to v-p, deputy publisher, marketing director, a new position, and oversees all marketing, advertising, publicity and online marketing efforts for Little, Brown, Mulholland and Back Bay.

Pam Brown has been promoted to director of marketing for Mulholland Books and senior marketing manager for Michael Connelly. She has been marketing manager.

Alexis Gilbert has been promoted to manager, brand marketing for James Patterson. She has been sales coordinator for James Patterson.

Morgan Moroney has been promoted to associate publicist from publicity assistant.

Amelia Possanza has been promoted to associate publicist from publicity assistant.


Book Trailer of the Day: Bunnies & Kitties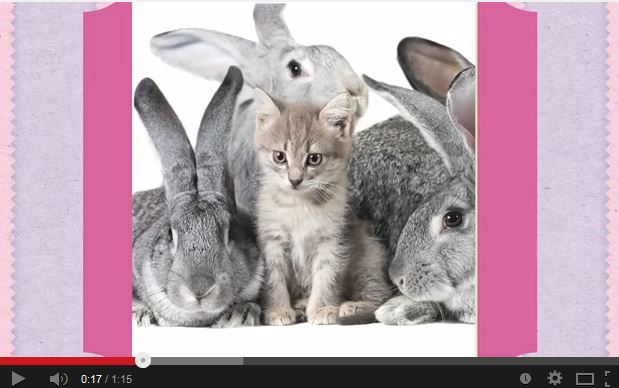 Bunnies & Kitties: A Cuddly Collection of Fur and Friendship by Cate Holly (Running Press).


Media and Movies
Media Heat: Chimamanda Ngozi Adichie on Fresh Air
Today on Fresh Air: Chimamanda Ngozi Adichie, author of Americanah (Anchor, $15.95, 9780307455925).
---
Today on Bloomberg's Surveillance: Jaron Lanier, author of Who Owns the Future? (Simon & Schuster, $17, 9781451654974). Lanier is also on CNN's Your Money tomorrow.
---
Today on NPR's On Point: Douglas Whynott, author of The Sugar Season: A Year in the Life of Maple Syrup--and One Family's Quest for the Sweetest Harvest (Da Capo Press, $24.99, 9780306822049).
---
Tomorrow morning on the Weekend Today Show: Amy Chua, co-author of The Triple Package: How Three Unlikely Traits Explain the Rise and Fall of Cultural Groups in America (Penguin Press, $27.95, 9781594205460).
---
Tomorrow on CNN's Sanjay Gupta M.D.: Russell Simmons, author of Success Through Stillness: Meditation Made Simple (Gotham, $20, 9781592408658).
---
Tomorrow on MSNBC's Disrupt with Karen Finney: Lisa Bloom, author of Suspicion Nation: The Inside Story of the Trayvon Martin Injustice and Why We Continue to Repeat It (Counterpoint, $25, 9781619023277). She will also be on MSNBC's Weekends with Alex Dewitt on Sunday.


TV: Martin Luther King HBO Series
David Simon (The Wire, Treme) will write the first installment of a six-hour HBO series about Martin Luther King and "pen the book for the show as well (with Treme co-creator Eric Overmyer pitching in)," Deadline.com reported. The project, with backing from Oprah Winfrey, will use Taylor Branch's trilogy America: In the King Years as source material.

Noting that "the hurdle to any MLK project is the estate, which has been fussy about how the late leader is depicted (anything short of perfection seems to cause issues)," Deadline.com noted, adding that "given how much Simon strives for complexity and realism, we wonder if that will cause a problem. But the potential is hugely exciting, and we're eager to see who might get behind the camera."


Movies: Under the Skin; Frank Miller's Sin City: A Dame to Kill For
The first clip has been released from Under the Skin, starring Scarlett Johansson and based on Michael Faber's novel. Indiewire noted that the clip's scene "is good indication of [director Jonathan] Glazer's approach which mixes his formal rigor with a guerilla style shoot that saw Johansson interacting with non-actors, as the actress and director tried as much as possible to get an authentic feeling out of the situation and characters." Under the Skin opens April 4.

---

A "noir-filled trailer" for Frank Miller's Sin City: A Dame to Kill For is out, and Indiewire asked whether "eight years after audiences first visited the monochrome, rain slicked, bullet filled streets of Sin City, are they ready to go there again? Robert Rodriguez and Frank Miller certainly hope so, with talk of a TV series and Sin City 3 already percolating." A Dame to Kill For arrives August 22.


Books & Authors
Awards: American History Book; Hognander; Lambdas; Blue Peter
Andrew Jackson O'Shaughnessy won the $50,000 New-York Historical Society's annual American History Book Prize for The Men Who Lost America: British Leadership, the American Revolution, and the Fate of the Empire, New York Times reported. In addition to the cash prize, the winner receives an engraved medal, which will be presented in April during the society's annual Weekend With History event.
---
Mni Sota Makoce, the Land of the Dakota by Gwen Westerman and Bruce White (Minnesota Historical Society Press) has won the 2014 Hognander Minnesota History Award. The biennial award, supported by the Hognander Family Foundation, recognizes "the most outstanding scholarly work published in 2012 or 2013 on a topic of Minnesota history."
---
Finalists for the 26th annual Lambda Literary Awards have been chosen in 24 categories, which can be viewed here. Winners will be announced June 2 at the Lambda Literary Awards ceremony in New York City.
---

Schoolchildren across the U.K. voted Tony Robinson's World War II installment in his Weird World of Wonders series winner of the Blue Peter Book Award for best book of facts and Katherine Rundell's novel Rooftoppers for best story. The winners were announced yesterday as part of World Book Day festivities in the U.K.


IndieBound: Other Indie Favorites
From last week's Indie bestseller lists, available at IndieBound.org, here are the recommended titles, which are also Indie Next Great Reads:

Hardcovers
The Secret of Raven Point: A Novel by Jennifer Vanderbes (Scribner, $26, 9781439167007). "This story of a young woman's tour of duty as a WWII Army nurse is remarkable. Headed for a career in science, Juliet veers toward nursing in an effort to find her brother who is missing in action in Italy. Hope, love in many variations, stories of soldiers, doctors, nurses and support staff, the wounded and dying, civilians and officers--it's all as messy as war and also splendid, heroic, and prosaic. Readers will be drawn in by the characters and deeply moved by the telling of their stories. Books as special as this make my job as a bookseller a joy!" --Becky Milner, Vintage Books, Vancouver, Wash.

The Crane Wife: A Novel by Patrick Ness (Penguin Press, $26.95, 9781594205477). "Based on a Japanese folk tale, The Crane Wife spins a story about two artists--one of whom may not be fully human--and how they achieve the act of creation and destruction, both in their art and in their personal lives and relationships. The characters are fully drawn, each with faults but very lovable in their own ways, and the act of creation is beautifully explored through children, art, and budding relationships, as well as through myths of earth-creation. This is my favorite read of the year--and it's been a good year for fiction!" --William D. Carl, Books on the Square, Providence, R.I.

Paperback
Kind of Kin: A Novel by Rilla Askew (Ecco, $14.99, 9780062198808). "The nature of this wonderful novel set in small-town Oklahoma is like its characters--raucous, messy, uncertain, and foolishly brave. After a surprise immigration raid on Mexicans that scoops up even some respected citizens, everyone struggles to understand where they stand and how to act. This is a large, kind-hearted story of less than perfect folks caught in a maelstrom while still trying to abide by their ethical and spiritual beliefs. Askew's story is a most timely look at who is welcome into our lives and how we express and share compassion even when times are tough and language is a barrier." --Sheryl Cotleur, Copperfield's Books, Sebastopol, Calif.

For Ages 4 to 8
A Book of Babies by Il Sung Na (Knopf Books for Young Readers, $15.99, 9780385752909). "Il Sung Na, author of the beloved A Book of Sleep, returns with a new story similarly populated with whimsical illustrations and a tender depiction of families in all shapes and sizes. A Book of Babies is sure to capture the attention and hearts of parents and children alike." --Sara Grochowski, Blue Phoenix Books, Alpena, Mich.

[Many thanks to IndieBound and the ABA!]


Book Brahmin: Mary Anne Radmacher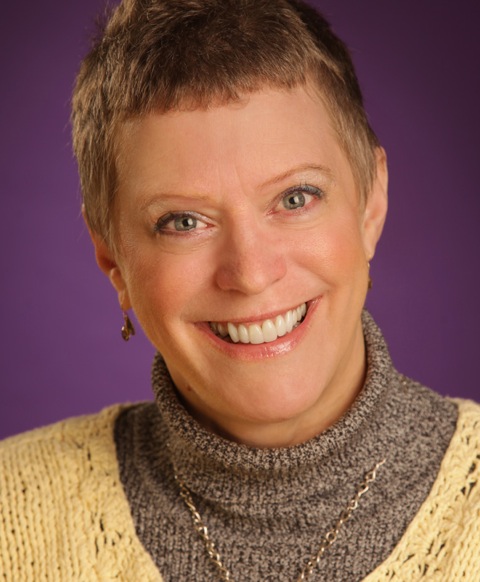 photo: Michael Stadler
Mary Anne Radmacher is a motivational speaker, artist and author; her newest book, written with Liz Kalloch, is She: A Celebration of Greatness in Every Woman (Viva Editions). She lives with her husband near Seattle. Radmacher writes to inspire herself and in doing so, inspire others. She communicates that there is no failure, there's only practice, opening doors of possibility that readers push the rest of the way open. Her writing in an invitation to remember what brings us joy and to do what matters.
On your nightstand now:
Straw for the Fire: From the Notebooks of Theodore Roethke, edited by David Wagoner; The Echo Maker by Richard Powers; The Practice of Process Meditation by Ira Progoff; Designing with Type by James Craig; The Ayurveda Bible by Anne McIntyre; The Elegance of the Hedgehog by Muriel Barbery; Life Is a Verb by Patti Digh.
Favorite book when you were a child:
Hailstones and Halibut Bones by Mary O'Neill; The Hobbit by J.R.R. Tolkien.
Your top five authors:
Madeleine L'Engle, Jane Kirkpatrick, John Irving, Paul Theroux and Eleanor Roosevelt.
Book you've faked reading:
Anna Karenina by Leo Tolstoy.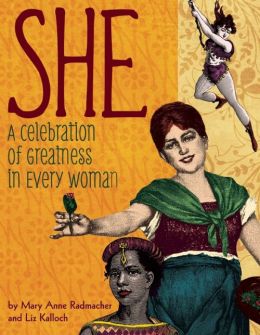 Book you're an evangelist for:
ANY dictionary, vintage or new.
Book you've bought for the cover:
Cutting for Stone by Abraham Verghese.
Book that changed your life:
How to Live in the World and Still Be Happy by Hugh Prather.
Favorite line from a book:
"I am doomed to remember a boy with a wrecked voice--not because of his voice, or because he was the smallest person I ever knew, or even because he was the instrument of my mother's death, but because he is the reason I believe in God; I am a Christian because of Owen Meany." --From A Prayer for Owen Meany by John Irving
Book you most want to read again for the first time:
To Kill a Mockingbird by Harper Lee.
Book you wish you had written:
The Giving Tree by Shel Silverstein.


Book Review
Review: The Ogallala Road
The Ogallala Road: A Memoir of Love and Reckoning by Julene Bair (Viking, $26.95 hardcover, 9780670786046, March 6, 2014)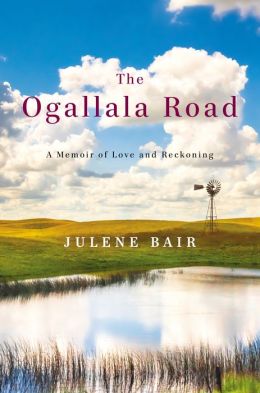 Julene Bair left the family farm in the high plains of Kansas for the bigger world of San Francisco, then the solitude of a rock house in the Mojave Desert. She returned pregnant, worked with her father on the farm for as long as she could stand it, then found security in a cowboy town in Wyoming, where she raised her son alone. She returned again to tour the ever-diminishing creeks and springs on foot and to study the Ogallala Aquifer, which the United States relies upon for 30% of its irrigated crops. Next to a big cottonwood, she meets a cowboy who admires Cormac McCarthy--and falls in love.
For most of The Ogallala Road, this cowboy, Wade, accompanies Bair as she struggles to reconcile the wilderness-loving, liberal-minded, Subaru-driving writer she's become with her roots as a farmer's daughter of Kansas's conservative rural plains. The memoir clearly began as the story of a shrinking aquifer and a nation's (or a world's) self-destructive hubris, and one suspects Bair is as surprised as readers will be that romance takes so much of the spotlight. Wade embodies everything that both nourishes and infuriates her about Kansas, which is a challenge to their love story.
The farm that has sustained generations of her forebears retains a strong hold on Bair's heart, and her family's--and her own--role in depleting the aquifer becomes a central source of conflict. The Ogallala Road meanders through the history of the Cheyenne Indians' longtime residence in the region, seeking insight into a more balanced relationship with earth and water. "Hang on to your land!" Bair's father exhorted his children, but under the pressures of a changing world, they'll consider selling. Bair comments on the difference between growth and progress, and a feeling of connection to the land that she suspects her father would have snorted at, while wrestling with her own guilt. In the end, it is the water, not Wade, that causes her the most pain--but the memoir closes with a tentative note of hope.
In its combination of nature writing, environmental concern and love story, The Ogallala Road is unusual. Bair's contemplative praise of the high plains and the western deserts, her yearning for a father for her son and her lament for a dying way of life will strike chords for diverse readers. --Julia Jenkins
Shelf Talker: An environmentalist revisits the family farm with mixed feelings about water shortages, and finds a love story along the way.


Deeper Understanding
Robert Gray: Serendipity & the Festival Internacional de Poesía
We've all experienced serendipitous moments while traveling, when our plans suddenly evolve into something unexpected, profound and beautiful. Recently, Northshire Bookstore co-founders Ed and Barbara Morrow were in just such a situation during their two-month stay in Granada, Nicaragua.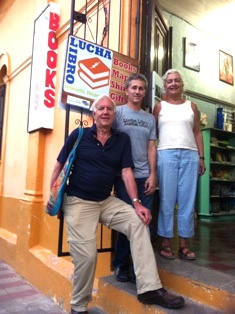 Ed and Barbara Morrow with indie bookseller Troy Fuss, owner of Lucha Libro Books in Granada, Nicaragua
In February, the Morrows discovered their visit happened to coincide with the city's 10th annual Festival Internacional de Poesía (International Poetry Festival), "a week of activities and festivities, all centered around poetry--punctuated by live music," Barbara recalled. "It is held mostly outdoors in the central square of Granada, surrounded by the beautiful San Francisco cathedral, local vendors selling artisanal wares and the lovely square itself consisting of cafés, shops and restaurants, catering to locals and tourists alike.

"The festival celebrates poets from around the world, many from Latin American countries, and this year's North American honoree was Rita Dove, Pulitzer Prize winner and former Poet Laureate. It was thrilling hearing her read her poems (in English, and then deftly translated into Spanish) at the beginning of the festival; she was regal, profound and accessible."

One night, during a celebration of women poets, Dove "spoke eloquently about the abuses faced by women around the globe, and said that in a perfect world there wouldn't be the need for women's poetry and men's poetry," Barbara added.

A bookseller at heart, she mentioned two books in particular that had helped prepare her for the trip. One was Gioconda Belli's memoir, The Country Under My Skin: A Memoir of Love and War, "and lo and behold, she was here for the festival, so Ed and I bravely sought her out to talk to her briefly and ask her to sign my book.... The other indispensable book I discovered was Blood of Brothers: Life and War in Nicaragua by Stephen Kinzer, who covered Nicaragua for the New York Times in the 80s. A friend of mine tracked him down at BU where he teaches, and we're going to all have dinner together when we get back at the end of March. Bookselling is good practice for chutzpah!"

The Morrows also connected with Troy Fuss, proprietor of Lucha Libro Books, "who basically just landed here and decided to open a bookstore that carried English and Spanish books," she said. "It's pretty tiny, no more than 600 sq. ft. There apparently is a B&N equivalent that just shut down their Granada store. Their main--and I think only--presence is now in Managua, the capital."

Serendipity.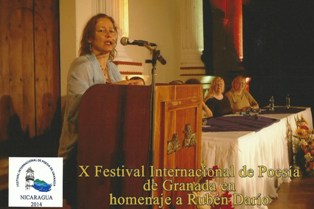 Shortly after Barbara contacted me, I started noticing Facebook posts about the festival by Naomi Ayala, who'd been one of the poets invited to read there. She is the author of three poetry collections, including, mostly recently, Calling Home: Praise Songs and Incantations (Bilingual Review Press), which I highly recommend. From "For Remembrance":

Ask me why I'm silent.
I speak the unwinding
through which the wind blows.
Listen and you will remember me.
There are echoes everywhere.
Laugh back.

I wondered what the Festival Internacional de Poesía had meant to her. So I asked.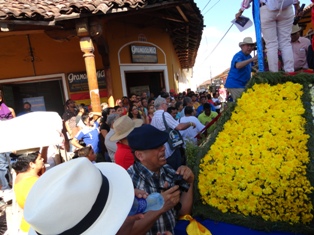 Street corner at burial of machismo and violence against women readings (photo by Naomi Ayala)
"Nicaragua is a country that respects and values culture highly--its own and that of other nations," Ayala observed, adding that nowhere is this more evident than at the festival. "Of all the seminal moments I have had the opportunity to experience as a poet, my participation in this year's 10th anniversary will forever rank among the highest. Here Spanish, not English, was the international language that brought together 141 poets from all corners of the world. So it was that I had the great honor to exchange, at minimum, a few words in the language in which I first began to write poetry with Palestinian, Egyptian, Israeli, Latvian, Korean, and Maltese poets, to name a few, who are beloved by their nations--and Nicaragua--in ways few American poets can imagine.

"It is dumbfounding to see how a small Third World country, with a tiny staff and a small troop of impassioned youth volunteers, can pull off an event of such magnitude--one that, besides the dozen or so nightly poetry readings, includes two art exhibits, more than half a dozen street concerts and dance performances, and concurrent book and crafts fairs."

Barbara Morrow's words echoed Ayala's: "What is so amazing to me is that in this Third World country, which has seen such violence and upheaval in its recent history, they have chosen poetry to bring people together. And that so many people turn out to celebrate poetry and what it represents: namely, the personal expression of longing, desire and gratitude."

Ayala eloquently captured the essence of her Festival Internacional de Poesía experience when she said that, in addition to "a dozen new poems, love in so many forms and friendships that will last a lifetime," she returned to the U.S. "with the unwavering knowledge that poetry is not only alive and well in places outside my purview, but that, every time I sit in a street corner, every time I hang over my desk, I am not among the world's few." --Robert Gray, contributing editor


The Bestsellers
Top-Selling Self-Published Titles
The bestselling self-published books last week as compiled by IndieReader.com:

1. The Ex Games by J.S. Cooper
2. The Ex Games 2 by J.S. Cooper
3. The Ex Games 3 by J.S. Cooper and Helen Cooper
4. The Private Club 2 by J.S. Cooper and Helen Cooper
5. The Private Club by J.S. Cooper
6. Dungeon Royale (Masters and Mercenaries) by Lexi Blake
7. Worth the Chance by Vi Keeland
8. Riding Desire: Alpha Bad Boy Biker Boxed Set by Various
9. Give in to Me by K.M. Scott
10. The Arrangement 14 (The Ferro Family) by H.M Ward

[Many thanks to IndieReader.com!]