Shelf Awareness for Friday, July 25, 2014

Quotation of the Day
BA's Tim Godfray: 'Upbeat-ness' Evident Among U.K. Indies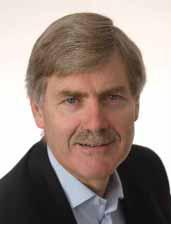 "It's been a difficult, challenging, tough trading period this past year, but we believe that we are in a better place today than we were a year ago. I think you would be very surprised to hear the upbeat-ness that is evident with so many of our members, particularly the independent booksellers. We are not looking at the end of the printed book. We are not looking at the end of bookshops. There has been a perceived change in that publishers are much more supportive of bookshops; and consumers, too, realize that it is really beneficial to communities to have bookshops on High Streets."


News
Amazon Shares Fall 10% After Net Loss Jumps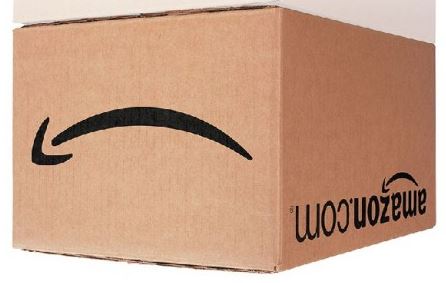 In the second quarter ended June 30, Amazon.com net sales rose 23%, to $19.34 billion, and net loss jumped to $126 million, or 27 cents a share, compared to a net loss of $7 million in the same quarter last year.

The net loss was an unhappy surprise on Wall Street: analysts had expected the net loss to be at most 16 cents a share. Combined with sales growth that, while still high, has tapered off from the company's traditionally higher levels, as well as company predictions that the third quarter operating loss will be between $410 million and $810 million--also more than expected--the news caused Amazon stock to fall more than 10% in after-market trading yesterday--or by about $36 a share from Amazon's closing price of $358.61 a share.

The Wall Street Journal said that the 10% fall in stock price reflects "the sense many are beginning to lose patience with the Amazon story. The retailer has long been the test case for how long shareholders will be willing to live without profits as long as top-line growth continues at a breakneck pace."

"Skepticism is increasing," Colin Gillis of BGC Partners told the New York Times. "It's hard to have $20 billion in revenue and not make any money. It's a real feat."

The Times also noted, "The quarterly results are likely to reinforce claims that Amazon is squeezing book publishers to make up for all those investments--not, as the company claims, simply to benefit customers."

Much of the loss is attributable to Amazon's investments in many new products, facilities and services, ranging from the new Fire phone and increased entertainment programming to Sunday delivery to more fulfillment centers and sortation centers (see story below). Strikingly, Amazon's fast-growing Web Services division is in price-cutting competition with Google and Microsoft.

Reporting on the shift in fortune at Amazon was notable. The New York Times' lead paragraph was "Writers are peeved at Amazon. On Thursday, investors became disgruntled too." The Wall Street Journal's Heard on the Street's headline was "Profits Are Out of Stock at Amazon."


BAM: Bossier City, La., Store to Be a 2nd & Charles
The recently closed Books-A-Million store in Bossier City, La., will re-open at the end August as one of BAM's 2nd & Charles locations, with a grand opening planned for September 6, the Shreveport Times reported.

"We will be offering something new and exciting to the Bossier City community," said Jeff Skipper, v-p of marketing. "We'll have over 300,000 items ranging from carefully culled books, music, movies, and other amazing treasures."

Writing in the Shreveport Times just a day before the 2nd & Charles announcement was made, author Judy Christie observed that a "few weeks ago I went to Books-A-Million in Bossier City in search of book news for local readers.... When I made a return visit last week, the store was closed. Sign removed. Insides gutted....

"I don't believe bookstores are history, but their survival will take energy and attention from sellers and readers alike. It is to be hoped that creative entrepreneurs, whether on corporate teams or as individuals, will come up with ways to meet the challenges, knowing that readers--and communities--need them."


Amazon's First 'Sortation Center' Now Open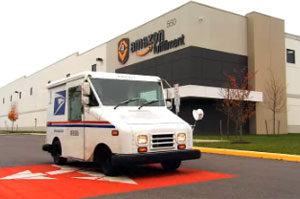 In Amazon's newly opened "sortation center" in Kent, Wash., there "is not a product in sight," the Columbian reported, noting that instead the warehouse "is teeming with sealed parcels, full of items Amazon customers have ordered. Those packages zip along a maze of conveyor belts, where computers and workers sort them to ultimately deliver them to individual post offices in Seattle, Portland, Spokane and points in between." With the opening of the Kent facility, Sunday delivery has begun in the Pacific Northwest.

"When you see us announcing Sunday delivery, you can assume a sortation center is close by," said Mike Roth, Amazon's v-p of North American operations. By the end of the year, the online retailer plans to have more than 15 sortation centers in the U.S. "There's going to be very rapid growth in the next couple of months," Roth added.


ALA Survey: 90% of Libraries Lending E-Books
The Digital Inclusion Survey, conducted by the American Library Association to examine national digital trends, has found that 90% of libraries lend e-books, up from 76% in 2012, and nearly 100% percent offer digital readiness programs. The survey collected data from a nationally representative sample of public libraries at the branch/outlet level between September 3 and November 30, 2013.

Among the Digital Inclusion Survey's findings:
98% of libraries provide free public access to wi-fi, up from 89% in 2012.
98% provide technology training, ranging from internet safety and privacy to coding to using social media.
98% provide assistance completing online government forms.
97% provide online homework help.
95% offer workforce development training programs.
56% offer health and wellness programs regarding developing healthy lifestyles.
50% offer entrepreneurship and small business development programs.
Average number of computers provided by libraries is now 20, up from 16 in 2012.

The survey also found that while most libraries have shown progress since the last national library technology study in 2012, advances are uneven. Fewer than half of rural libraries reported they increased bandwidth speeds in the last 24 months, compared with 64% of urban libraries and 56% of suburban libraries. Fewer than two-thirds of rural libraries reported having access to information technology (IT) staff, and 66% said they would like to increase their broadband capacity, but cost is the leading barrier to doing so.


Musician Jack White Ventures into Book Publishing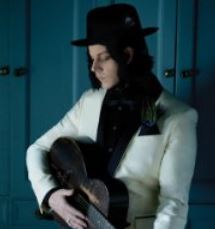 Musican Jack White, formerly with the White Stripes, will become a book publisher next month when his company, Third Man Records, releases Language Lessons: Volume 1, featuring a 321-page hardcover book of prose and poetry, as well as two vinyl LPs and five broadsides of poems, all from the nascent Third Man Books imprint.

Co-edited by Chet Weise and Third Man's Ben Swank, the book features work by more than 20 contemporary writers, including Dale Ray Phillips, C.D. Wright and Adrian Matejka. Retail price is $50 per copy for Language Lessons: Volume 1, which can be pre-ordered now at Third Man's website, "and will be available in discerning book and record stores the world over from August 5th."

"We are not mad," the company wrote on its website. "As previously mentioned, LL:VI will be Third Man Books' first commercially available tome and signifies a strong intent for Third Man entering the universe of publishing. Third Man Books, like Language Lessons, will be fearless, imaginative and eclectic. We hope to be a welcome addition to what is already a very compelling and thrilling independent American literary landscape."


Notes
Spotlight Shines on Pair of Midwest Indies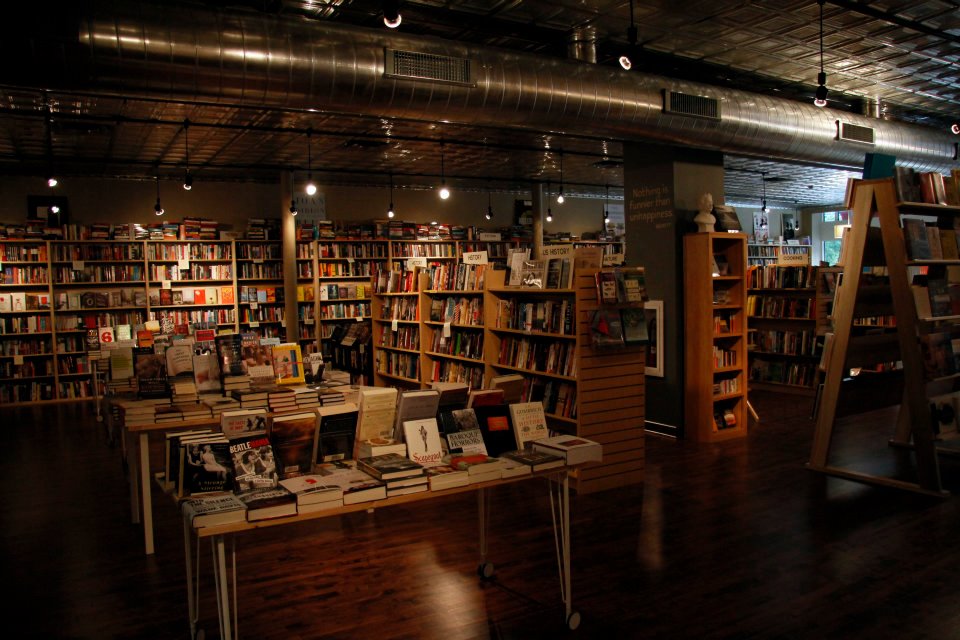 Common Good Books
Modern Midwest shined a "Spotlight on Indie Shops in the Midwest," including booksellers Common Good Books, St. Paul, Minn. ("where you can easily spend hours browsing books and chatting with staff") and Left Bank Books, St. Louis, Mo. ("they focus on providing a diverse selection of titles and subjects").

"We'd like to think every month is a perfect time to herald all the artisans, craftspeople, designers and other passionate entrepreneurs who run their own shops," Modern Midwest wrote. "But, officially speaking, July is Independent Retailer Month--a time to celebrate your local mom 'n' pop shops and small businesses. So let's root for the underdogs--those running some of our favorite places around the Midwest. If we counted every shop we loved, we'd be here until the snow flies."


'10Best Readers Choice': Bookstores Around the USA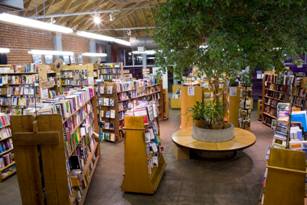 Los Angeles's Skylight Books
"The rumors of the death of indie book stores have been greatly exaggerated. Well, moderately exaggerated.... Still, a determined few are thriving even in the face of Amazon," USA Today noted in featuring its 10Best Readers Choice Travel Awards in the "Bookstores Around the USA" category.


Personnel Changes at HarperCollins, HMH
Susan Yeager has been promoted to director of sales, mass merch, at HarperCollins. She joined the company almost seven years ago and has overseen major growth in the mass channel at the company.
---
Brittany Edwards has been promoted to culinary publicity manager at Houghton Mifflin Harcourt. She started her career in the publicity department at Houghton Mifflin Harcourt in 2008.


Book Trailer of the Day: The Next Economic Disaster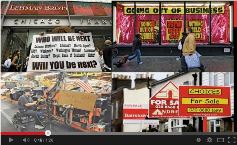 The Next Economic Disaster: Why It's Coming and How to Avoid It by Richard Vague (University of Pennsylvania Press).


Media and Movies
Media Heat: Benoit Denizet-Lewis on America This Morning
This morning on ABC's America This Morning: Benoit Denizet-Lewis, author of Travels With Casey (Simon & Schuster, $26, 9781439146934).
---
Tomorrow on NPR's Weekend All Things Considered: Tiphanie Yanique, author of Land of Love and Drowning: A Novel (Riverhead, $27.95, 9781594488337).
---
Sunday on CBS Sunday Morning: Douglas Brinkley and Luke Nichter, authors of The Nixon Tapes: 1971-1972 (Houghton Mifflin Harcourt, $35, 9780544274150).


TV: CBS Inks Deal with James Patterson Entertainment
Just weeks after giving a straight-to-series order for 13 episodes of Zoo, CBS Television Studios has signed a multi-year first-look deal with James Patterson Entertainment, allowing the network to tap into Patterson's extensive library of bestselling books for future projects.

Producer Cathy Konrad originally brought Zoo to CBS Television Studios, where her company Treeline Films was already under an overall deal. As part of the agreement, Treeline will also have a first-look deal with JPE, which will partner with Treeline and other producers to develop Patterson's books into series.


Movies: Fifty Shades of Grey; If I Stay
Yesterday, the first official trailer for Fifty Shades of Grey, adapted from the novel by E.L. James, debuted on the Today Show and the media reaction, as might be expected, ranged from mildly shocked to critical to snarky:

Forbes: "The last ten seconds are arguably not safe for work, yet the trailer earned the green-band (for general audiences) approval. There was actually a sanitized for network television version that debuted this morning on The Today Show which was followed by an interview with the cast and a clip from the film."

Washington Post: "It was a little hotter than the usual morning TV fare, but hardly the transgressive shocker we've been led to expect over many months of rumors, casting cliffhangers and well-planned leaks."

Deadline.com: "Universal and Focus Features are squarely banking on the numbers here--the E.L. James erotic novel Fifty Shades of Grey has sold over 100 million steamy copies around the world--and less concerned that, as they deliver those signature bawdy lines in the erotic love story, newcomers Jamie Dornan as Christian Grey ('I don't do romance') and Dakota Johnson as Anastasia Steele ('Enlighten me then') are less recognizable than some of the actors you see regularly in TV commercials."

The Guardian: "That's right, Christian Grey is sexually aroused by the idea of recreating Body of Evidence, the terrible early-90s erotic thriller that probably signalled the lowest point of Madonna's entire career, in its grotty entirety. It's a disgusting fetish, but Anastasia joins in. This cannot possibly end well for anyone."

---

The new trailer for If I Stay, based on the YA novel by Gayle Forman, "spotlights the romantic relationship at the heart of Chloe Grace Moretz's dilemma," the Wrap reported. The project was adapted for the screen by Shauna Cross and R.J. Cutler, who also directed the film. The cast includes Jamie Blackley, Mireille Enos, Liana Liberato, Joshua Leonard, Jakob Davies, Lauren Lee Smith and Aaliyah O'Brien. If I Stay opens August 22.


Books & Authors
Awards: Australia's Kibble and Dobbie Literary
Winners have been named for this year's Kibble and Dobbie literary awards, which "aim to encourage Australian women writers to improve and advance literature for the benefit of our community." Kristina Olsson won the $30,000 Kibble literary award, honoring the work of an established Australian woman writer, for Olsson's Boy, Lost: A Family Memoir, while Kate Richards picked up the $5,000 Dobbie award, recognizing a first published work from an Australian woman writer, for Madness: A Memoir.

On behalf of the judging panel, Elizabeth Webby said, "Kristina Olsson's Boy, Lost: A Family Memoir is an exceptional piece of life writing which recreates the fractured lives of her mother and half-brother with brilliant depth and truthfulness. Kate Richards's book Madness: A Memoir recounts her struggles with mental illness in extraordinary language which is poetic in its intensity."


Book Brahmin: Paul Doiron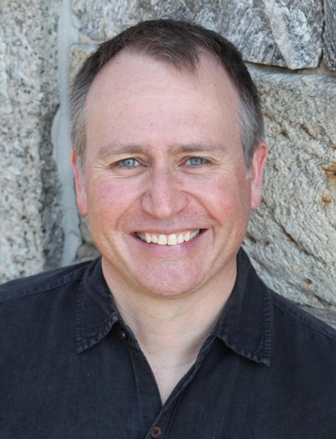 photo: Lori Traikos
Maine native Paul Doiron attended an all-boys Jesuit high school in Portland before leaving for college and vowing never to return to the state. He broke his pledge a year after graduating from Yale and has wondered ever since why he was so keen to escape his favorite place on earth. Doiron edited Down East: The Magazine of Maine for eight years before leaving a career in journalism to write full-time. That job--and his work as a professional fishing guide--took him from the rocky coast that draws millions of tourists each summer to the most remote valleys where pockets of poverty endure, unseen by well-heeled visitors to "Vacationland." He has made use of the entire state for his series of crime novels about Maine game warden Mike Bowditch. In The Bone Orchard (Minotaur Books, July 15, 2014), Bowditch deals with the violent aftermath of a suicide-by-cop incident involving his friend and mentor Sgt. Kathy Frost. You can listen to an excerpt from The Bone Orchard here.
On your nightstand now:
At the moment, my pile of books looks like a game of Jenga just before everything comes tumbling down. At the top is A Killing in the Hills by Julia Keller, which so far is as good as its blurbs (a rare thing). Then Mayflower by Nathaniel Philbrick, Sparta by Roxana Robinson, Aimless Love by Billy Collins, Creole Belle by James Lee Burke, The Backpacker's Field Manual by Rick Curtis and Lost Memory of Skin by Russell Banks.
Favorite book when you were a child:
The Fellowship of the Ring by J.R.R .Tolkien. The journey in the dark through the Mines of Moria remains one of the most powerful action scenes in all of literature. I can still quote lines (almost) from memory. Gimli: "We cannot get out." Legolas: "Ai, ai! A Balrog! A Balrog is come." And of course, Gandalf: "Fly, you fools!"
Your top five authors:
The list changes so often! Ernest Hemingway, Leo Tolstoy, Flannery O'Connor, Raymond Chandler, Jane Austen. No, I take it back. It's really William Shakespeare, William Faulkner, Norman Mailer, P.D. James, Raymond Carver. Hang on a second. My top five authors actually are....
Book you've faked reading:
War and Peace by Leo Tolstoy. I was assigned it for a class on Russian literature at Yale, and let's just say that as a college senior, I had other interests to pursue. I finally picked the novel up decades later and have now read it twice, I am so much in awe of Tolstoy's genius.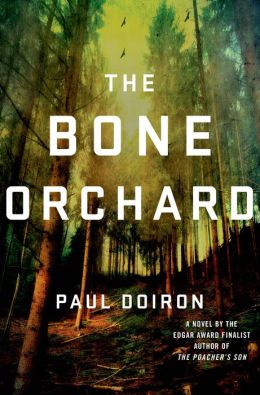 Book you're an evangelist for:
Heart and Blood: Living with Deer in America by Richard Nelson. There are now between 25 million and 40 million white-tailed deer in this country. The population is continuing to explode and our rapidly urbanizing culture has no idea how to deal with what is essentially a plague of our own making. Humanity's growing detachment from nature is a theme in my books, and Nelson illustrates why this is such a problem for us and our planet.
Book you've bought for the cover:
Over the Edge: Death in Grand Canyon by Michael P. Ghiglieri and Thomas M. Myers. It's a nonfiction account of every recorded human death in the Grand Canyon. I read it during my honeymoon at the Grand Canyon--which gives you a sense of how macabre my sense of romance is.
Book that changed your life:
Jesus' Son by Denis Johnson. The stories are like punches to the head. I read it during a period in my life when I was associating with people who resembled the drifters, addicts, petty criminals and hard cases in the book. Reading Jesus' Son, I found myself taking a step back from that existence and realized that I was the unreliable narrator of my own life story.
Favorite line from a book:
I am probably the hundredth writer to cite the opening sentence from Ernest Hemingway's A Farewell to Arms: "In the late summer of that year we lived in a house in a village that looked across the river and the plain to the mountains." The rhythm, the sense of place, the submerged sense of nostalgia--it's everything I admire about Hemingway's work.
Which character you most relate to:
Dr. John Watson in the Sherlock Holmes stories by Arthur Conan Doyle. Temperamentally, I don't resemble him at all, but if I am being honest with myself, I've always been a better sidekick than a leading man. And I find myself responding to Watson's role as a chronicler of his friend's great deeds. He doesn't have Holmes's powers of perception, but he has something else--the ability to tell a crackerjack story. He's also more of a man of action than he has gotten credit for (until Martin Freeman began playing him for the BBC).
Book you most want to read again for the first time:
Catch-22 by Joseph Heller. I'd been going through a World War II reading binge (The Naked and the Dead by Norman Mailer, From Here to Eternity by James Jones), and I got to Heller last. I had no idea that a book could be both serious and uproariously funny. It totally upended my idea of what literature was.


Book Review
Review: Burnt Toast Makes You Sing Good
Burnt Toast Makes You Sing Good: A Memoir of Food and Love from an American Midwest Family by Kathleen Flinn (Viking, $27.95 hardcover, 9780670015443, August 14, 2014)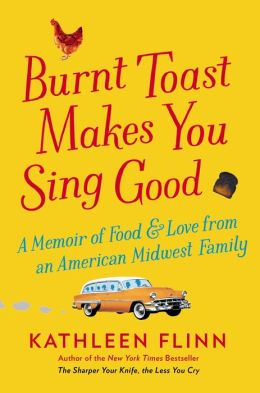 The youngest of five children, Kathleen Flinn grew up in a world of weekend hunting trips, summer fishing vacations and cinnamon rolls for birthday breakfasts. Although she later found her way to Le Cordon Bleu in Paris and a career as a food writer, the connection between her Midwestern heritage and her chosen career wasn't always apparent. But when Flinn began researching her family's history, she was surprised to discover "just how honestly I'd come to my love of the kitchen." In her third book, Flinn (The Sharper Your Knife, The Less You Cry) tells her family's story through food, from her great-grandmother Anna's hearty Swedish recipes to her uncle Clarence's cornflake-crusted fried chicken.
Flinn begins with her parents' love story on the night they met at a skating rink (he knocked her over). Years later, with four young children, they made an impulsive move to San Francisco from Michigan so Flinn's father could work at his brother's pizzeria. Pizza was still an exotic import in the late 1950s, but Flinn's parents were never afraid of a challenge: they worked at the pizzeria until it closed and a family emergency pulled them back to the Midwest. They moved into a rundown farmhouse with frozen pipes and peeling wallpaper, but managed to make it a home with secondhand furniture, elbow grease and many pots of simmering bean soup.
As Flinn notes in her introduction, her family's story is "both unremarkable and utterly fascinating." Her ancestors, immigrant and otherwise, were plain, hardworking people: cooks and farmers, laborers and fishermen. As Flinn unraveled fact from family lore and tracked down recipes, she began to see what food meant to all of them: safety, stability, sustenance, love. As it does in many families, a hearty meal often took the place of an expensive gift or eloquent words. Flinn and her siblings never received extravagant birthday presents, but always got to "order" their meal of choice for breakfast, lunch and dinner. Flinn's grandma Inez once summed up her food philosophy as she handed her young granddaughter a piled-high plate: "I don't have to tell you I love you. I made you pancakes."
Readers may recognize their own family stories in Flinn's homespun, heartwarming scenes of canning fruit preserves and sharing many meals around the table. Neither the recipes nor the prose are exotic or fancy, but their warmth and nourishment may inspire readers to trace their own heritage through food--or just make a batch of Flinn's cinnamon rolls. --Katie Noah Gibson, blogger at Cakes, Tea and Dreams
Shelf Talker: Kathleen Flinn's third food memoir traces her Midwestern family's journey through heartwarming stories and simple, comforting recipes.


Deeper Understanding
Robert Gray: Booksellers' Private Beach Reads, Part 1
Hey booksellers! What are you reading on your vacation this summer? In response to last week's Brief History of Beach Reads column, Ellen Stimson, author of Mud Season and the upcoming Good Grief! (Countryman Press, October), suggested: "Now we need a wrap-up of our actual private summer reading. What do booksellers read on the beach?"

So... I asked.

"Every July I drag out my favorite bookish T-shirt with the New Yorker cartoon of a law officer addressing a man reading in a beach chair: 'I'm sorry sir, but Dostoyevsky is not considered summer reading. I'll have to ask you to come with me,' " said Cheryl Krocker McKeon of Book Passage, San Francisco, Calif.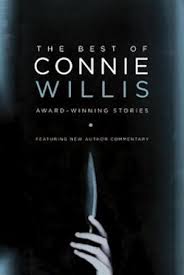 "As a bookseller I often deprive myself of popular titles because these books don't 'need' me, so this summer I think I'll read Gone Girl and Unbroken," she added. "And for sheer fun I'll bring The Best of Connie Willis, because the stories are surprising and thought-provoking, funny and profound, and include the author's afterword to each story, so it's like a bonus of having her as a travel companion! Oh, and Travels with Charley, finally; since I won't see the whole USA I can enjoy 1960 America with Steinbeck and his poodle. I think I am going to run out of vacation hours."

Noting that "a 'beach vacation' sounds nice, but I'm going to be more on the 'days off' end of the spectrum this year," Jeff McCord of Bound to Be Read Books, Atlanta, Ga., said his "vacation is being lived vicariously through the wonderful stories our customers tell me about their vacations (including trips to London, Germany, Sweden, a month-long driving tour of New England, etc.... awesome!).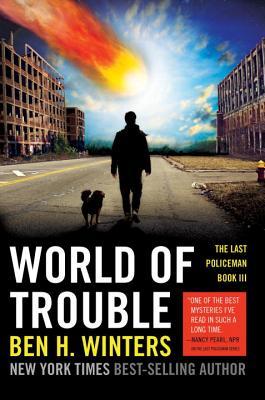 "I waited to start the Last Policeman trilogy by Ben Winters until the third book was about to be released July 15, and it has been a great summer read. I started last month with The Last Policeman, a murder mystery set in pre-apocalyptic New Hampshire. I'm finished now with book two, Countdown City, and was waiting on my staff to finish the ARC of the third book, World of Trouble, but since it was released last week, I have my own copy now--as do several of our customers who have also jumped on board. It's a great series, with an Edgar Award to recommend it as well. Can't wait to finish it!"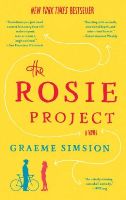 Anne Holman of the King's English Bookshop, Salt Lake City, Utah, observed that "summer is my time to catch up on the books that all the other booksellers loved and I, somehow, just didn't get to for whatever reason. So my stack for that 'project' includes Atonement, The Shadow of the Wind, A Visit from the Goon Squad and Olive Kitteridge. I don't often read anything twice; too many books, too little time. But The Rosie Project just makes me happy. Open it to any page and read a paragraph and you will laugh out loud, I guarantee. It's not deep; there are no hidden messages to decipher and discuss endlessly. It's simply an invitation to inhabit someone else's life (Don Tillman) who is so different from me and yet not, that it gives me great hope for the human race (and also cocktails)."

Planning for an upcoming vacation, Connie Brooks of Battenkill Books, Cambridge, N.Y., said her "new book" will be The Book of Life by Deborah Harkness: "Anyone who has been reading this wonderful trilogy knows that the third book is highly anticipated. I have two customers--a mother and a daughter--they bought one copy of The Book of Life--and they are both trying to read it at the same time--they keep stealing it back from one another. The Book of Life is my kind of beach read--a large tome that will utterly transport me out of myself!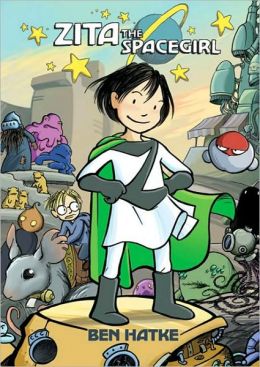 "I will also be reading The Shadow of the Wind. This is our Book Club pick for next month, and while it might not fit the classic 'beach read' definition, it is summer reading perfection. Dark, atmospheric, scary and erotic--what better for when you actually have time to completely give yourself over to a novel. And, finally, since I have a six-year-old, we have another trilogy ahead of us this summer: the graphic novels Zita the Spacegirl, Legends of Zita the Spacegirl and The Return of Zita the Spacegirl by Ben Hatke. I will also be adding in The Outermost House by Henry Beston. Now in a 75th-anniversary edition, this is considered a classic nature book, and since we will be in Cape Cod soon, it is perfect."

Emily Crowe of the Odyssey Bookshop, South Hadley, Mass., just returned from her two-week beach vacation "where I spent a lot of time reading. In fact, I spend almost as much time planning my vacation reading as I do planning the vacation. I 'test drive' the first 50 pages to make sure the book is worthy of inclusion in my suitcase. My husband and I take about a dozen physical books between us and I also load up my e-reader with e-galleys. My beach reading reflects my general reading; it's just more concentrated. I was lucky this trip; everything was good, but some of it was outstanding."

More about Emily's favorite vacation reads coming in next week's column, along with warm weather contributions from several other booksellers. As always, you are more than welcome to join the conversation if you'd like to divulge your private beach reads for 2014. --Robert Gray, contributing editor (column archives available at Fresh Eyes Now)