Shelf Awareness for Thursday, October 23, 2014

News
B&N Launches Large-Screen Samsung Galaxy Tab 4 Nook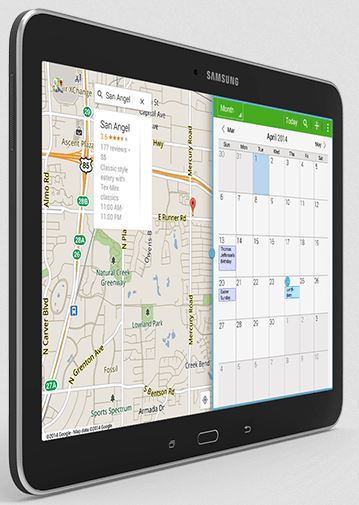 Nook Media and Samsung Electronics America have introduced the 10.1-inch Samsung Galaxy Tab 4 NOOK, a large-screen version of Barnes & Noble's co-branded tablet, at an introductory price of $299.99, which includes free content worth more than $200 from the Nook Store.

B&N CEO Michael P. Huseby said the tablet, which joins the recently launched 7-inch model, gives the company "a fantastic lineup of devices for our customers to choose from as we head into the holiday gifting season."


San Antonio Airport Offering Digital Library Kiosks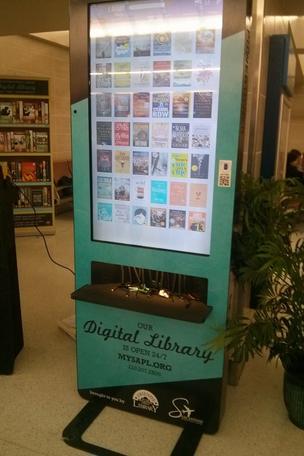 The San Antonio, Tex., International Airport now offers travelers access to a pair of Digital Library kiosks, which were funded by the Friends of the San Antonio Public Library at a cost of $26,000, the San Antonio Business Journal reported.

The kiosks allow patrons to browse the library's digital media content, which can then be checked out and downloaded onto a mobile device for three weeks at a time before expiring. In addition, the kiosks serve as rapid recharging stations for mobile devices.

For out-of-town travelers, the San Antonio Public Library also offers the option of obtaining "a temporary library card that they can use during their visit," the Business Journal noted, adding that the cards are good for 24 hours and have a limit of three items that can be checked out for seven days.


Boston Globe to Run NEIBA Bestseller List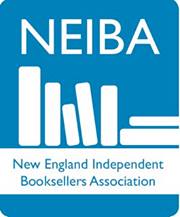 Effective immediately, the Boston Globe will run the weekly New England Indie Bestseller List, sponsored by the New England Independent Booksellers Association and IndieBound. NEIBA said it had wanted this for a long time, and "finally the time was right for the Globe to make the change."
NEIBA executive director Steve Fischer noted that the list may change some rankings and he's happy that it "reflects sales of our stores all across New England, not just metro Boston."
In a similar arrangement, the San Francisco Chronicle has long run the Northern California Independent Booksellers Association bestseller list.


Papercuts, JP, to Open Next Month in Boston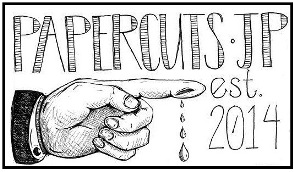 On Thursday, October 16, Kate Layte launched an Indiegogo campaign to help finance her new indie bookstore, Papercuts, JP, which will open in the Jamaica Plain neighborhood of Boston, Mass. The crowdfunding campaign, already almost 25% financed, has a goal of $30,000 and closes on November 1.

Layte is aiming to open the 500-square-foot, general-interest bookstore in the second week of November and before Thanksgiving at the latest. Should the Indiegogo campaign be a success, she plans to use the money to buy more shelving (the space has high ceilings, and she'd like to make use of all that wall space) and a library ladder, create an e-commerce website, buy an inventory database and point-of-sale system, and for other start-up costs.

Layte, who has been living in Jamaica Plain for four years, described the neighborhood as a beautiful, diverse community with something of a literary tradition--E.E. Cummings is buried in a cemetery there--but it currently has no general bookstore. Around two years ago, Layte said, she decided to open a store.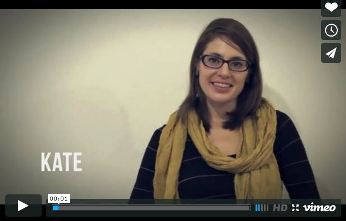 Although she has never worked in an independent bookstore, Layte did work as a frontline bookseller at Borders for five years, and has experience on the publishing side of the business: for the past four years, she's worked as an associate production editor at Little, Brown. After deciding to open the store, she did extensive research. She spent her summer visiting every independent bookstore she could find; she consulted with Tim Huggins, founder and former owner of Newtonville Books in Newton and now controller and treasurer at the Brookline Booksmith in Brookline (who helped her rework her business plan); joined her local small business association; and took online classes in marketing and accounting.

"I had to look into some things I didn't know about, because I was an English major," Layte remarked.

Given the store's small space, Layte intends to build her selection closely around her customers' needs. To that end, she's already begun polling community members about their reading habits on her store's Facebook page. And in addition to stocking a healthy amount of fiction, nonfiction and children's books, along with award winners and bestsellers, Layte looks forward to bringing in books from small publishers that might not normally get showcased.

"I'm really interested in books that are printed well," she said. "Books with different trim sizes, different bindings--things that don't translate to e-books. Small publishers do that. That's where my emphasis is personally."

Layte plans to host events as well, with smaller, more intimate events held in store and larger affairs at offsite locations. She has plans for a grand opening celebration sometime in December, but at the moment nothing is set in stone. Although she'll be the only person on staff initially, she is interested in hiring a part-time events coordinator at some point.

She signed the lease to her storefront on October 1 after discovering the location while on a long walk around her neighborhood. Another store had just moved around the corner, and vacated a small, charming space with high ceilings and wood floors. Layte decided to move in soon after. "It just felt really good," she said. --Alex Mutter


Obituary Notes: Annette Swanberg; Sheila Stewart
Beloved Southern California independent publicist Annette Swanberg died suddenly at her home on October 21. She was 67. Her joyful presence will be greatly missed by her friends, colleagues and the scores of authors whose books and careers she lovingly and creatively promoted.
---
British author Sheila Stewart, who "specialized in recounting the lives of working people in their own words," has died, the Guardian reported. She was 86.


Notes
Image of the Day: Hervé Tullet Gets Messy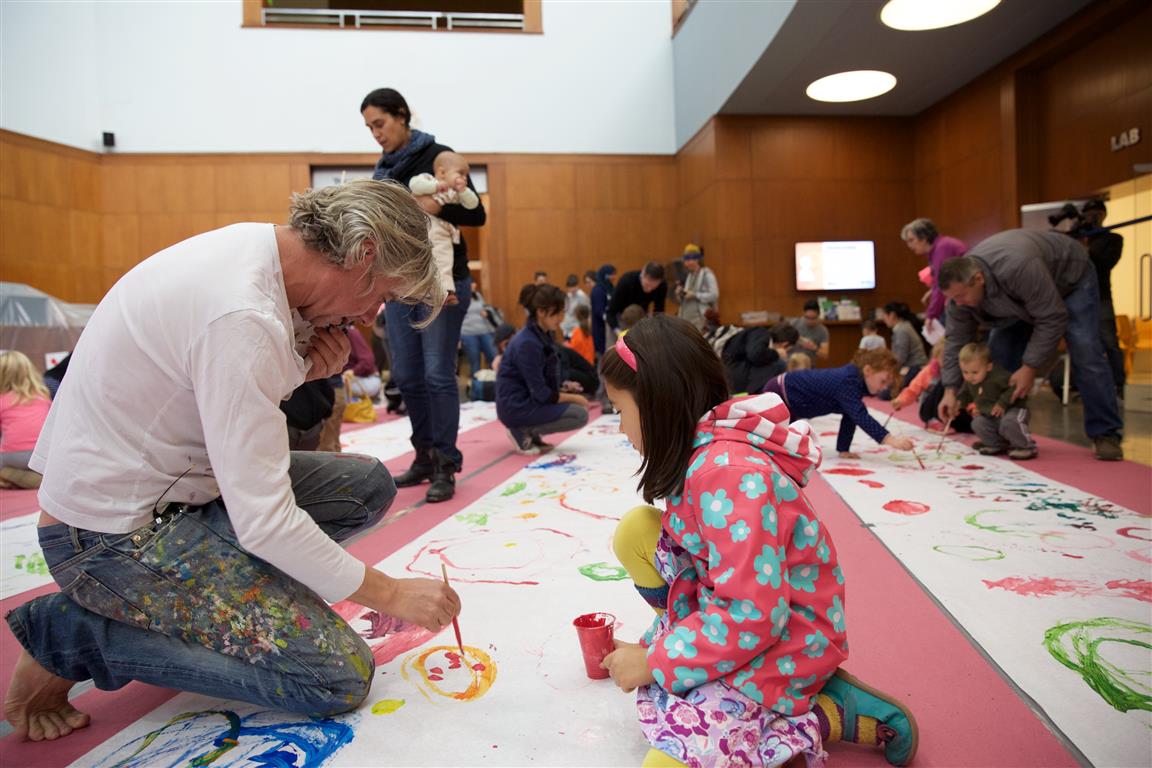 photo: Gregg Richards
"Lift up your brush... now DROP!" cried Hervé Tullet into a clip mic on Sunday at the Brooklyn Public Library. It was the final stop on his tour for Mix It Up! (Handprint/Chronicle). More than 200 people joined the French author-artist "for a morning of messy fun," creating a mural, said Judy Zuckerman, director of youth and family services at the main Grand Army Plaza branch. An exhibit of Tullet's work is on display at the library through February.


Road Trip: '44 Great American Independent Bookstores'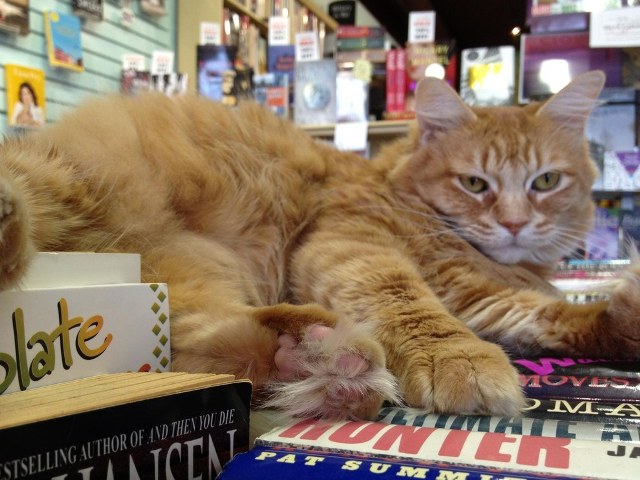 Bound to Be Read Books, Atlanta
Continuing its indie list frenzy of late, Buzzfeed featured "44 great American independent bookstores" by region, noting that "fighting the good fight for the American bibliophile. Have you shown your local indie love this week?"


Bookish Fall Foliage Video of the Day: Ikebana, Vermont Style
From the Facebook page of Tuttle Publishing: "Last week we mentioned that Yuji Ueno, author of Japanese Ikebana for Every Season, stopped by our offices in Vermont while visiting from Japan. Here's a short video of him creating an Ikebana arrangement for us using found material in the woods near our offices."


Valley Bookstore's Owner 'Keeps on Booking'
Steve Ashley, owner of Valley Bookstore, Jackson, Wyo., was interviewed recently by the Jackson Hole News & Guide. Author David Abrams (Fobbit) featured the q&a on his blog, the Quivering Pen, noting: "Writers are molded by the bookstores of their youth. Or, maybe it's their public library; or, it could be that shelf of books in their family's living room. In my case, it was the Valley Bookstore.... All the time, I was being molded by my bookstores, my writerly clay patted and carved and fired in a kiln. I have Steve Ashley and the Valley Bookstore to thank for the way I turned out as much as I do the Teton County Library and Mrs. Schlinger, my ninth-grade English teacher." Among our favorite exchanges: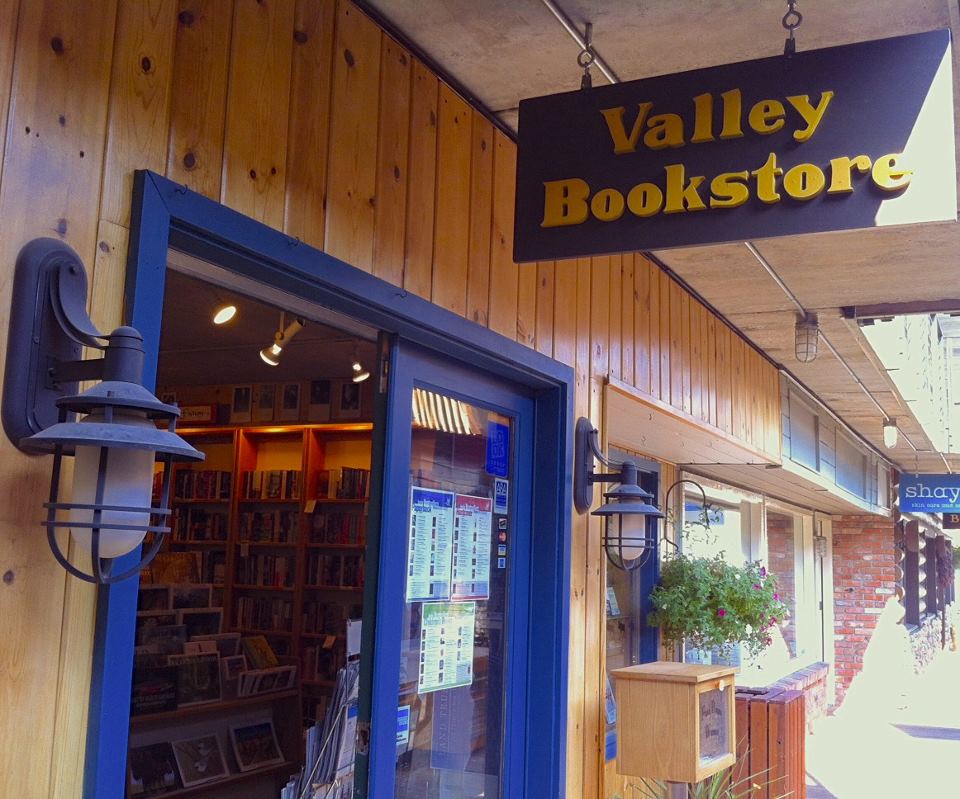 What makes Valley Bookstore unique?
We're just a bookstore. Ninety-five percent of the store is books, and that's because it's what I love. I think it's important for the community, for children and adults to have the opportunity to hold a book and smell a book and have the epiphanies those books provide. Books for me have always been some of my best friends. When I was at the Holderness School [a prep school] back East, I read The Lord of the Rings and then went back to The Hobbit. It was late '67. The Doors came out with the album Strange Days. Great album. I read Tolkien listening to that album again and again. I was 2,000 miles away from home. It grounded me. It gave me something that made me feel really good. Books have done that for me many times over the years.

Are you glad to have been a bookstore owner?
This has been a great business. If you're going to sell something, hands down selling books is the best thing there is. With books you have something new coming out very week. At the same time I get whatever books I want. If you have a bookstore in Jackson for 35 years, you hire a ton of people over that time. One of the things I love is that when I go to the grocery store, chances are I'll see someone who worked for me and is still a friend.


Book Trailer of the Day: Ocean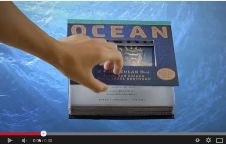 Ocean: A Photicular Book by Dan Kainen, with Carol Kaufmann (Workman), uses lenticular technology, sliding lenses and video imagery to depict underwater life.


Media and Movies
Media Heat: America's Test Kitchen on Fresh Air
Today on Fresh Air: Jack Bishop and Bridget Lancaster of America's Test Kitchen talk about The Cook's Illustrated Meat Book: The Game-Changing Guide that Teaches You How to Cook Meat and Poultry with 425 Bulletproof Recipes (Cook's Illustrated, $40, 9781936493869).
---
Tomorrow on NPR's Science Friday: Walter Isaacson, author of The Innovators: How a Group of Hackers, Geniuses, and Geeks Created the Digital Revolution (Simon & Schuster, $35, 9781476708690).

---

Tomorrow on the Talk: Neil Patrick Harris, author of Neil Patrick Harris: Choose Your Own Autobiography (Crown Archetype, $26, 9780385346993).

---

Tomorrow night on HBO's Real Time with Bill Maher:

John Avlon, author of Wingnuts: Extremism in the Age of Obama (Beast Books, $15.99, 9780991247608).
James Risen, author of Pay Any Price: Greed, Power, and Endless War (Houghton Mifflin Harcourt, $28, 9780544341418).
Cornel West, author of Black Prophetic Fire (Beacon Press, $25.95, 9780807003527).


TV: The Erotic Silence of the American Wife
ABC has landed The Erotic Silence of the American Wife, based on Dalma Heyn's 1992 book, with Sally Robinson (Lifetime's Steel Magnolias remake) writing the screenplay and executive producing with Tony Krantz (Dracula) of Flame Ventures for ABC Studios, Deadline.com reported.

"In the spirit of Heyn's book, which she based on her interviewing several hundred women who had extramarital affairs, Erotic Silence will take a realistic, cable-style approach to the topic. The project also employs an unusual structure, with multiple stories 'leap-frogged,' one overlapping the other, and each lasting multiple episodes," Deadline.com wrote.


This Weekend on Book TV: The Texas Book Festival
Book TV airs on C-Span 2 this weekend from 8 a.m. Saturday to 8 a.m. Monday and focuses on political and historical books as well as the book industry. The following are highlights for this coming weekend. For more information, go to Book TV's website.

Saturday, October 25
11 a.m. Live coverage of the 2014 Texas Book Festival in Austin, Tex. (Re-airs Sunday at 12 a.m.)

7 p.m. Deborah L. Rhode, author of What Women Want: An Agenda for the Women's Movement (Oxford University Press, $29.95, 9780199348275), at Kepler's Books in Menlo Park, Calif.

8 p.m. Mark Whitaker, author of Cosby: His Life and Times (Simon & Schuster, $29.99, 9781451697971).

9 p.m. Wesley Clark, author of Don't Wait for the Next War: A Strategy for American Growth and Global Leadership (PublicAffairs, $26.99, 9781610394338).

10 p.m. Linda Tirado, author of Hand to Mouth: Living in Bootstrap America (Putnam, $25.95, 9780399171987). (Re-airs Sunday at 9 p.m. and Monday at 12 a.m.)

11 p.m. Jack Cashill, author of You Lie!: The Evasions, Omissions, Fabrications, Frauds, and Outright Falsehoods of Barack Obama (Broadside Books, $27.99, 9780062347503). (Re-airs Sunday at 6 p.m.)


Sunday, October 26
12 p.m. Continuing live coverage of the 2014 Texas Book Festival in Austin, Tex. (Re-airs Monday at 1 a.m.)

7 p.m. Cora Daniels, co-author of Impolite Conversations: On Race, Politics, Sex, Money, and Religion (Atria, $25, 9781476739113), sponsored by the Hue-Man Bookstore in New York City.

8 p.m. Yochi Dreazen, author of The Invisible Front: Love and Loss in an Era of Endless War (Crown, $26, 9780385347839).

10 p.m. Jonathan Rosenberg and Eric Schmidt, authors of How Google Works (Grand Central, $30, 9781455582341).

11:15 p.m. Jeff Hobbs, author of The Short and Tragic Life of Robert Peace: A Brilliant Young Man Who Left Newark for the Ivy League (Scribner, $27, 9781476731902), at Greenlight Bookstore in Brooklyn, N.Y.


Books & Authors
Awards: Cundill Prize in Historical Literature
Finalists for the $75,000 (US$66,755) Cundill Prize in Historical Literature, which "is awarded to an author whose book has had a distinct social, academic and literary impact on the field of historical writing," are The Blood Telegram: Nixon, Kissinger and a Forgotten Genocide by Gary Bass, The Bombing War: Europe 1939-45 by Richard Overy and Congo: The Epic History of a People by David Von Reybrouck, Quillblog reported. The winner will be named in Toronto November 20.


IndieBound: Other Indie Favorites
From last week's Indie bestseller lists, available at IndieBound.org, here are the recommended titles, which are also Indie Next Great Reads:

Hardcovers
Man v. Nature: Stories by Diane Cook (Harper, $25.99, 9780062333100). "The stories in this collection all involve a fascination with the Great Unknown or the Great Unknowable. In absurdist fashion, Cook reveals people caught up in situations that, while impossible, ridiculous, and horrifying, appear completely normal to their protagonists. There's never an easy explanation, or in some cases no explanation at all, but the absurdities make complete sense within the framework of the tales. This is a terrific, very unusual collection, perfect for fans of Kafka or Bulgakov." --Bill Carl, The Booksellers on Fountain Square, Cincinnati, Ohio

The Fall: A Father's Memoir in 424 Steps by Diogo Mainardi, translated by Margaret Jull Costa (Other Press, $20, 9781590517000). "In this memoir, Mainardi, the great Brazilian journalist/novelist, traces the life and sufferings of his son, Tito. Due to the gross negligence of the hospital in which Tito was born, he has been afflicted with cerebral palsy. Tito's story is told in 424 parts--two or three per page--by turns angry, loving, and poetic, that mirror the greatest number of steps Tito has ever taken without falling down. Along the way, Mainardi ruminates about art history, philosophy, literature, and what it is to love someone unconditionally, through every tribulation that arises, and at whatever cost." --Conrad Silverberg, Boswell Book Company, Milwaukee, Wis.

Paperback
Men We Reaped: A Memoir by Jesmyn Ward (Bloomsbury, $16, 9781608197651). "Men We Reaped is one of the rare nonfiction books that seem destined to become a literary classic. National Book Award-winner Ward intertwines the story of her life growing up poor and black in rural coastal Mississippi with the lives of five young men she was close to--including her brother--who died within a two-year span soon after she finished college. Ward writes with fire and passion as she captures the day-to-day systemic injustices and struggles that she and her family faced. Also clear is the deep love and roots that tie her to the people and place where she was raised. This book will break your heart, make you think, and get you angry. In the tradition of I Know Why the Caged Bird Sings, this is memoir at its finest." --Caitlin Caulfield, Odyssey Bookshop, South Hadley, Mass.

For Ages 4 to 8
Bad Dog Flash by Ruth Paul (Sourcebooks Jabberwocky, $15.99, 9781492601531). "Flash is just trying to learn his place in the world but it seems like everything he tries gets him into trouble. Thankfully, there's one little girl who loves him just as he is! This is both a wonderful read-aloud and a great beginning-reader book." --Keri Rojas, Cornerstone Cottage Kids, Hampton, Iowa

[Many thanks to IndieBound and the ABA!]


Attainment: New Titles Out Next Week
Selected new titles appearing next Tuesday, October 28:

Yes Please by Amy Poehler (Dey Street Books, $28, 9780062268341) is the memoir of the star of Parks and Recreation.

The Nazis Next Door: How America Became a Safe Haven for Hitler's Men by Eric Lichtblau (Houghton Mifflin Harcourt, $28, 9780547669199) details how thousands of Nazi war criminals were brought to the U.S. by the OSS and CIA, by the New York Times reporter.

The Woman I Wanted to Be by Diane von Furstenberg (Simon & Schuster, $26, 9781451651546) is the memoir of the fashion designer.

The Good Son: JFK Jr. and the Mother He Loved by Christopher Andersen (Gallery, $27, 9781476775562) chronicles the relationship between John Fitzgerald Kennedy, Jr., and Jackie Onassis.

Dreamers and Deceivers: True Stories of the Heroes and Villains Who Made America by Glenn Beck (Threshold Editions, $27, 9781476783895) is the latest from Glenn Beck.

Falling from Horses: A Novel by Molly Gloss (Houghton Mifflin Harcourt, $25, 9780544279292) follows a cowboy who becomes a stunt man in 1930s Hollywood.

Us: A Novel by David Nicholls (Harper, $26.99, 9780062365583) centers on a struggling married couple touring Europe.

Baking Chez Moi: Recipes from My Paris Home to Your Home Anywhere by Dorie Greenspan (Rux Martin/Houghton Mifflin Harcourt, $40, 9780547724249) is a collection of simple French desserts from the author of Around My French Table.


Now in paperback:

Only Enchanting: A Survivors' Club Novel by Mary Balogh (Signet, $7.99, 9780451469663).

Archangel's Shadows by Nalini Singh (Jove, $7.99, 9780425251171).


Movies:

Horns, starring Daniel Radcliffe and based on the novel by Joe Hill, opens October 31. A movie tie-in edition (Harper, $7.99, 9780062360021) is available.


Book Review
Review: Mermaids in Paradise
Mermaids in Paradise by Lydia Millet (W.W. Norton , $25.95 hardcover, 9780393245622, November 1, 2014)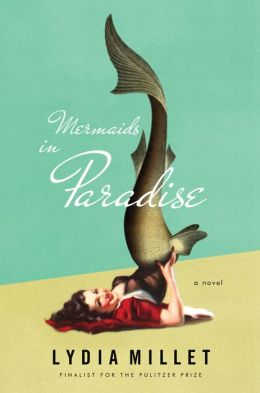 Lydia Millet's work covers a broad range that includes literary, political and picaresque novels, YA fantasies and collections of stories and essays. Along the way she's picked up a PEN Award (My Happy Life) and was a finalist for both a Pulitzer Prize (Love in Infant Monkeys) and National Book Critics Circle Award (Magnificence). She extends her reach with Mermaids in Paradise, a sparkling comedy of a modern young California couple's journey from marriage to honeymoon to murder mystery to eco-warrior showdown. It reads as if Maria Semple's Bernadette wound up on Gilligan's Island, with a Lord of the Flies misanthropic bent.
Narrator Deb is a sensible, quick-witted woman with an MBA in finance. Her fiancé, Chip, is a good-hearted, square-jawed sort of guy with a taste for fantasy, video games and mud marathons--"he's a great dancer... shocking in a heterosexual white man, and far more so if you add gamer to that list of adjectives." Her best friend and wing-woman Gina is the cynic in her life, throwing the bachelorette party at a zombie-themed rave and disparaging any honeymoon that treads in the "vast featureless space... oddly irrelevant no-man's land" of Middle America or takes place on a cruise ship. After their nuptials, Chip and Deb land at a Caribbean resort in the British Virgin Islands, where the always-friendly Chip collects an oddball coterie of new friends that includes a marine biologist specializing in parrotfish, a toe fetishist, a coarse-mouthed retired Navy SEAL, a popular Japanese TV personality and a paranoid hippie vegetarian.
When the biologist stumbles upon a school of honest-to-God mermaids during a reef dive, Deb and Chip's honeymoon turns into a scientific adventure. They're eager to videotape the mermaids, authenticate the discovery and build a sanctuary--until the biologist is murdered, the owners of the resort try to corral the mermaids for a commercial viewing armada dubbed The Venture of Marvels, Middle American creationists campaign to eradicate these creatures who are "not the work of the Lord... [but] are filth and abomination," the former SEAL foments confrontation, and local militia appears to referee the melee.
Millet is clever and funny, and she knows the idiosyncrasies of her characters, especially Deb--"Chip had initially wanted one of those Renaissance faire weddings, until I told him I'd rather get a Renaissance faire divorce." She has even interspersed her tale with typical vacation-like Instagram snapshots of the novel's turning points. Mermaids in Paradise is a smart, good-time mash-up of the undersides of romance, mystery, religious zealotry, violence and eco-tourism. -- Bruce Jacobs, founding partner, Watermark Books & Cafe, Wichita, Kan.
Shelf Talker: When hip young California newlyweds discover mermaids on their honeymoon, Millet's funny new novel takes a turn to sharp satire of creationists, eco-tourists and opportunists.


The Bestsellers
Top-Selling Self-Published Titles
The bestselling self-published books last week as compiled by IndieReader.com:

1. Stepbrother Dearest by Penelope Ward
2. Down and Out by Kelley R. Martin
3. Wicked Hot Reads: Ten Paranormal Romances by Various
4. Knox: Complete Series by Cassia Leo
5. Hardwired (the Hacker Series) by Meredith Wild
6. The Forever Love Series Boxed Set by J.S. Cooper
7. Solo by Deborah Bladon
8. Sweet Christmas Kisses: Fourteen Sweet Christmas Romances by Various
9. Shame by Rachel Van Dyken
10. Risk (Gentry Boys Book 2) by Cora Brent

[Many thanks to IndieReader.com!]