Shelf Awareness for Friday, May 24, 2013

Editors' Note
Memorial Day Weekend
In honor of Memorial Day, we will be stepping away from the computers on Monday. We'll see you again Tuesday, May 28.


Quotation of the Day
Indie Bookselling: 'The Essential Recipe Ingredient'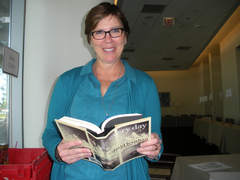 "Independent bookselling is the essential recipe ingredient that puts the right books in the right hands at the right times. We've always known this, but now the rest of our industry is keenly aware that what we do for books, authors and readers is unmatched and has to be supported."


News
Powell's Will Renovate Flagship Store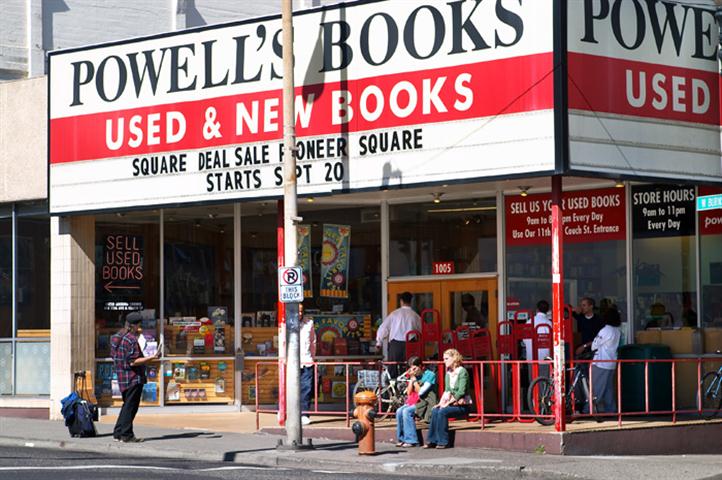 Powell's Books, Portland, Ore., unveiled plans for a renovation of its flagship store at 1005 West Burnside St. next year. The project will focus on "seismically updating the southeast quadrant of the city block the store occupies, commonly known as the Green and Blue Rooms," according to the bookseller.

"This is the last piece of a long-term movement towards fully upgrading the entire Burnside Building," noted Powell's CEO Miriam Sontz in a memo to staff. "Back in 1990, we started the project by building a three-story building in the northeast quadrant of the block. From there we upgraded the parking structure and the Gold and Coffee Rooms in 1997. In 2000, we upgraded the old Orange Room, replacing it with the seismically upgraded four-story building."

The renovation will maintain the location's current footprint and one-story design. In addition to the necessary seismic measures, the project includes new lighting, new windows and a new roof. The design review process will take place during the summer in preparation for work to begin next January. During construction, the store will continue normal operations. The Green and Blue Rooms will be closed, with books currently in those areas temporarily moved to other locations in the building.


BEA Buzz Books Part III: Indies, Sleepers and Nonfiction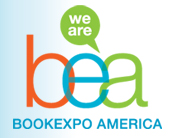 Sheryl Cotleur from Copperfield's in Sebastopol, Calif., echoed the sentiments of many independent booksellers when she said, "I love when I fall in love with a book and it just happens to be from an independent press."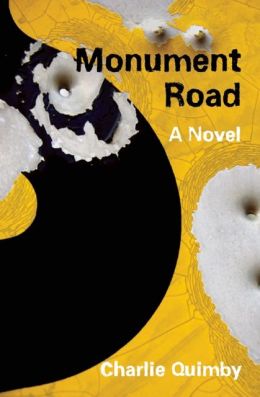 Monument Road by Charlie Quimby--from the relatively new indie press Torrey House in Salt Lake City--has found its way to the top of indie booksellers' galleys to grab lists. "Lead with that one," suggested Betsy Burton, and not just because as the owner of the King's English in Salt Lake City she is a neighbor of the publisher. From the start, readers know that the main character plans to end his life after he fulfills his dead wife's desire to scatter her ashes--but then a cast of characters emerges that keep him from doing just that. The novel that has been compared to Kent Haruf, with a John Irving-like twist in the middle. "Wow, really good," said Cotleur.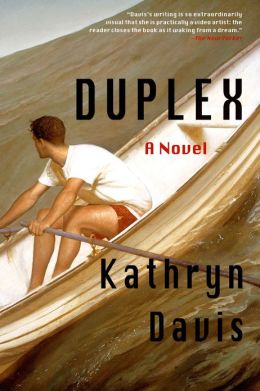 Robert Sindelar at Third Place Books in Lake Forest Park, Wash., raved about Duplex (Graywolf, Sept.), the new novel by Kathryn Davis, author of The Thin Place and Versailles. "It's Alice in Wonderland meets Never Let You Go," said Sindelar, and he looks forward to handselling it.
Paul Yamazaki at City Lights in San Francisco is still handselling On Sal Mal Lane, the Graywolf novel by Ru Freeman that was a big buzz book at Winter Institute. Freeman tells the story of life on one street in Sri Lanka that serves as a microcosm of what is going on in the country on the brink of civil war.
Mark LaFramboise at Politics and Prose in Washington, D.C., noted that booksellers like to give fiction a bit more time on the shelf to break out than nonfiction--and that is especially true for novels from independent presses.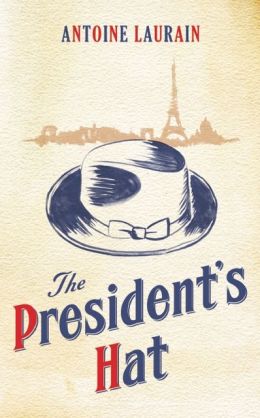 The President's Hat by Antoine Laurain (Gallic Press/Consortium, Sept.) has been called "delightful" by many booksellers. It follows the fate of a hat left in a restaurant by French President François Mitterrand and how it changes the people who pick it up and wear it. Hawthorn & Child by Irish author Keith Ridgway (New Directions, Sept.) focuses on two police officers in London, and is on both Yamazaki's and Sindelar's BEA wish list.
From Algonquin is Guests on Earth by Lee Smith, a novel that takes place in the asylum where a fire claimed the life of Zelda Fitzgerald and other patients. Fitzgerald books are always popular, even without Baz Luhrmann bringing Gatsby to the big screen, and Smith is already known to booksellers for On Agate Hill.
Often galleys from the indie presses are not available ahead of the trade show, but Akashic, Two Dollar Radio, Soho, Tin House, MP Publishing and Melville House are the kinds of indie presses that have become essential destinations for booksellers curating a fall list.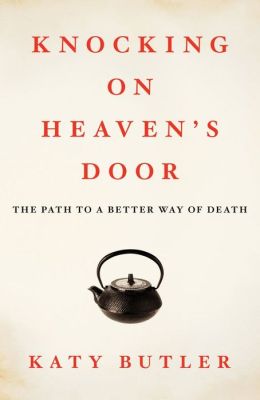 Nonfiction sometimes gets overshadowed at BEA, with all the buzz around fiction and debuts, but Knocking on Heaven's Door: The Path to a Better Way of Death by Katy Butler (Scribner, Sept.) will have many booksellers talking long after the trade show. In it, Butler details how she and her mother watched her father die at the hands of the medical establishment. It might sound depressing, but every bookseller who read the galley insisted it is an important topic deftly handled.
Similar comments were shared about Lawrence in Arabia by war correspondent Scott Anderson (Doubleday, Aug.), which explores, as the subtitle says, "War, Deceit, Imperial Folly and the Making of the Modern Middle East."
Eric Price, known to booksellers for his years at Grove/Atlantic, is now with Quercus, helping the London company launch its first list in the U.S., with George Washington: Gentleman Warrior by Stephen Brumwell, which is one of the rare biographies to focus on Washington's early years and his making as a soldier. (This week the book won the George Washington Book Prize.) Another upcoming military title is Thank You for Your Service (Sara Crichton Books), which is David Finkel's follow-up to The Good Soldiers.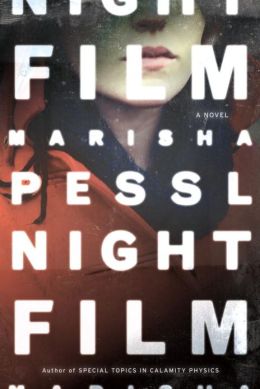 One follow-up that Geoffrey Jennings at Rainy Day Books was excited to talk about is The Night Film by Marisha Pessl. "That's my number one, no question about it, title for the fall," he said. Jennings declared that Pessl, who debuted with Special Topics in Calamity Physics, has managed to avoid the "sophomore slump" with her second book. In the new novel, he said, she manages to merge investigative journalism with cinematic references in a mystery in a literary book. "The Night Film makes Special Topics in Calamity Physics look like a simple book, and that was a very complex book," he said. "It has one of the best narrators I have encountered in the last few years."
Another sophomore success, according to Cotleur, is A Marker to Measure Drift by Alexander Maksik (Knopf, July), who wrote You Deserve Nothing. The new book takes place in Liberia as Charles Taylor's regime is falling; Cotleur promises the denouement "will rip your heart out."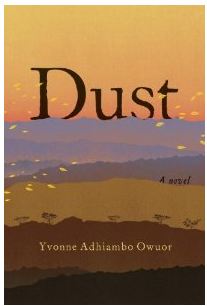 Yamazaki listed as sleepers both Brief Encounters with the Enemy, a story collection by Said Sayrafiezadeh (Dial, Aug.), whose memoir was When Skateboards Will Be Free, and Dust by Yvonne Adhiambo Owuor (Knopf, Jan.), who has won awards in her native Kenya. Dust is a multigenerational story set in East Africa--exactly the sort of book City Lights is ready to take a chance on by shelving face-out, Yamazaki said. Is there any better way for a bookseller to show their appreciation to an author and their editor? --Bridget Kinsella


AEP Merges with AAP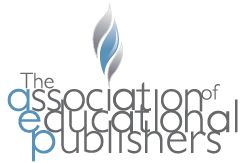 The Association of American Publishers School Division and the Association of Educational Publishers are merging. A new division within AAP will be created and structured following completion of the agreement. Both organizations cited a strong working relationship that has developed between them through many successful collaborations as a primary incentive for the move.

"We are especially proud of the programs we've developed at AEP and are glad that they will be continued and enhanced," said board president Lee Wilson. "Through this partnership, we will be able to support professionals across the industry in deeper, richer ways."

Jay Diskey, AAP's executive director, school division, agreed: "There's been a synergy between AAP and AEP since we produced our first joint initiative in 2011. Our industry has evolved dramatically since then and will continue to do so. This merger is a logical next step to serve the longterm interests of preK-12 publisher members with a full range of programs, representation and services. This decision reflects the evolution underway at AAP and gives AEP's activities greater scope and scalability."

An informational session about the merger will be held June 3 at Content in Context in Washington, D.C.


Granta to Restructure After Losing Executive Editor
Sigrid Rausing, Granta's proprietor and publisher, plans to "take over full operational and executive control" of Granta Publications when executive publisher Philip Gwyn Jones leaves his position this summer, the Bookseller reported. The departure of Jones comes in the wake of resignations earlier this year by magazine editor John Freeman and deputy editor Ellah Allfrey. As part of the reorganization, a single editor-in-chief position will be filled later this summer to handle both editing the magazine and commissioning books for the Granta and Portobello imprints.

"The economic realities of [a] small imprint publishing today has made it obvious that we need the magazine and books to be a single entity to exploit the synergy between them," Rausing said.

In an article headlined "Granta rocked by spate of high-profile resignations," the Guardian reported that the "changes have perplexed the literary community, coming as the magazine had recently announced its Best of Young British Novelists list, and has plans for a range of new international editions."

"I really don't understand what is happening here," said novelist and Granta contributor Peter Carey. "I always assumed the owners were prepared to fund Granta out of love for literature. They got in good people and published good books, and underwrote a fabulous magazine--all regardless (obviously) of profit or loss--and then suddenly there's this purge.

"It's crazy because it undoes all the good work and they have to start all over again. If there's another John Freeman out there, I doubt he'll be applying. Maybe they don't know whether they want to run it for its own sake or to make money. Very strange."


Obituary Note: Mary Ward Brown
Mary Ward Brown, whose first book--the 1986 short story collection Tongues of Flame--won the Hemingway Foundation/PEN award, died May 14, the New York Times reported. She was 95.


Notes
BEA: DK's Bars with a View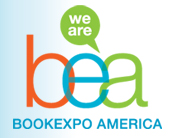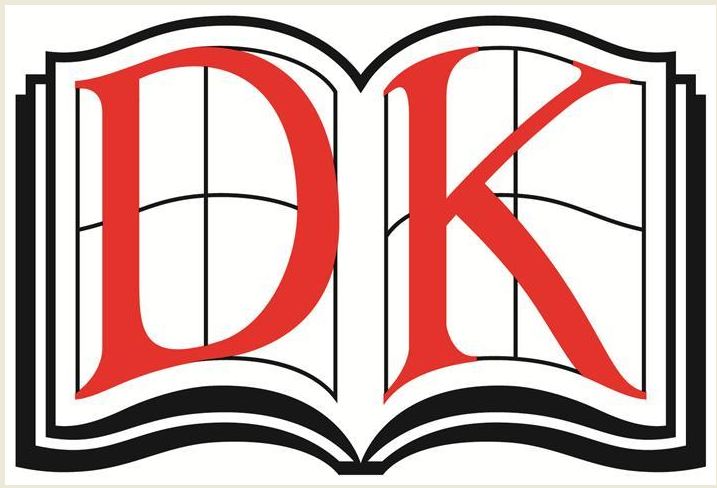 With the arrival of spring weather in New York City, outdoor bars open across the island. After a long day at the Javits, there's no better way to unwind than on an airy rooftop, where you can toast the skyline of Manhattan. DK Eyewitness Travel Guides and DK travel author AnneLise Sorensen bring you the top 10 New York City bars with a view: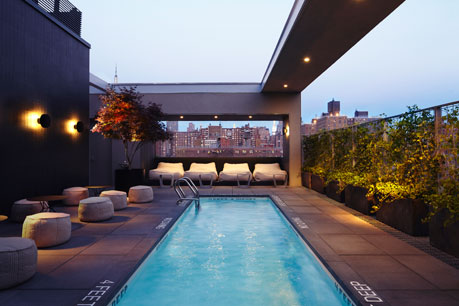 1. La Piscine (Hotel Americano, 518 W. 27th St.)
With a mojito in hand and the sun warming you, you could easily imagine that the water sparkling in the distance is the Caribbean and not the Hudson. This spacious rooftop bar rises gracefully over west Chelsea and features the Hudson River on one side, the skyline on the other. The French name fits--the menu is Latino, but with strong French influences. At many rooftops, the food is an afterthought; not here. Chef Joseph Buenconsejo crafts top dishes, from fried chickpeas and fava beans to big curls of grilled octopus. Top it off with a fragrant hibiscus margarita.

2. The Met Roof Garden Café and Martini Bar (1000 Fifth Ave.)
Central Park may have been designed as a natural escape from the city, but one of New York City's most iconic vistas is, in fact, a blend of the two: the park ringed by skyscrapers. There's no better spot to take in this view than from the top of the Metropolitan Museum of Art. Enjoy light bites and cocktails alfresco at the Roof Garden Café and Martini Bar, which opens just in time for BEA.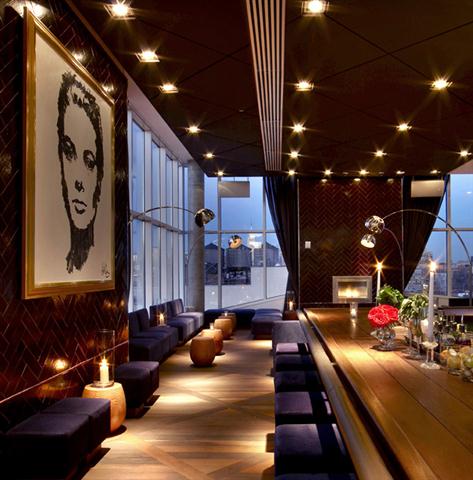 3. The Jimmy (James Hotel, 15 Thompson St.)
The crowds (and, often, celebrities) pack this rooftop on warm weekends--is that James Franco with an umbrella drink? But it's worth squeezing in. Get here on the earlier side, and you can still snag a corner to take in the gorgeous, 360-degree views of twinkling Manhattan. Ease into the night with one of their potent cocktails, like the Grapes of Wrath, a cooling blend of cucumber vodka, elderflower liqueur, muddled green grapes and seltzer.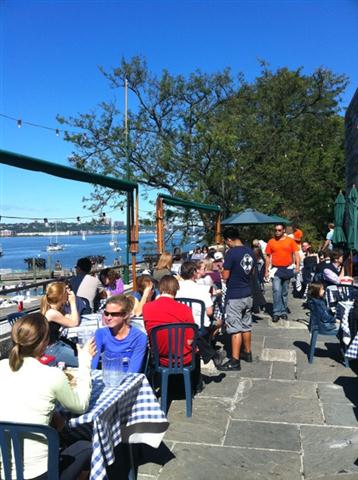 4. West 79th Street Boat Basin Café (W. 79th St. and Hudson River)
The Boat Basin Café is practically synonymous with summer in Manhattan. Time your visit for sunset, which sets the Hudson River afire with reds and golds, and feast on that classic summer combination: burgers and beer.

5. The Strand (33 W. 37th St.)
What's missing in a view from atop the Empire State Building? The Empire State Building. For that, head to the Strand's rooftop bar, which has face-on views of this world-famous skyscraper. Also a bonus: The bar is often less sweatily packed than its high-rise cousins, which heave on warm-weather weekends.

6. Hotel Chantelle (92 Ludlow St.)
Cocktails for 92 cents? Yes, please. Kick off your Sunday with brunch on the airy rooftop of the Francophile Hotel Chantelle, which isn't a hotel, but rather a Parisian-style restaurant and bar. Enjoy sweet and savory crepes--from smoked salmon to banana and Nutella--and cocktails for under a buck, against a backdrop of the Williamsburg Bridge and Lower East Side rooftops.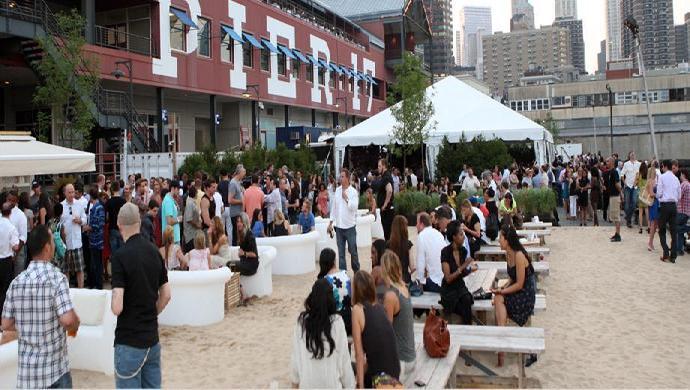 7. Beekman Beer Garden and Beach Club (89 South St.)
There may be no better pampering for the feet after a long day of standing at the Javits than by dipping them into sand. Yes, sand. This sun-warmed beach club, which has opened for the season, is perched at water's edge in the South Street Seaport and has sand, beach chairs, BBQ fare, chilled beers--and a stunning view of the Brooklyn Bridge arching over the East River.

8. Berry Park (4 Berry St., Brooklyn)
Brooklyn has lots of great outdoor beer halls, but few have a 3,000-square-foot roof-deck. The sweeping views of Manhattan rival those from the finest hotel rooftops, but the prices don't--buying a beer here won't drain your wallet, and neither will the bar menu, which includes a juicy bratwurst and fries.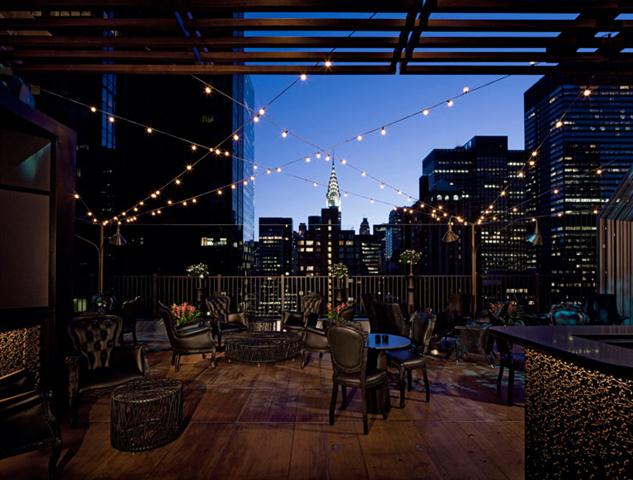 9. Upstairs at the Kimberley (Kimberley Hotel, 145 E. 50th St.)
The big draw of this elegant rooftop is the splendid straight-on view of the Chrysler Building, which brings Art Deco grace to the New York City skyline. The bar's interior matches the view, with tufted leather banquettes, an outdoor fireplace and a retractable glass ceiling and heated floors, making it one of the few rooftops that are year-round. Try the Chrysler cocktail--cognac, fresh lemon and honey topped with champagne.

10. Z Roof (Z NYC Hotel, 11-01 43rd St., Long Island, Queens)
When it comes to views, this is the king of Queens. The Z NYC Hotel, in Long Island City, is just across the East River--a quick hop on the subway or water taxi. Enjoy a cocktail at the rooftop bar Z Roof, while enjoying panoramic views of the skyline punctuated by the signature Chrysler and Empire State buildings, with the 59th Street Bridge draped like a sparkling necklace across river.


ABFFE Children's Book Art Online Auction Continues

The American Booksellers Foundation for Free Expression's Children's Book Art Online Auction continues through tomorrow morning and features work from children's book illustrators including Sophie Blackall, Frank Dormer, Nathan Hale, Tad Hills, Jeremy Holmes, Daniel Kirk, Helen Lester, Betsy Lewin, Ted Lewin, Jeff Mack, Bob Shea, Meilo So, Rosemary Wells and many more. There's also an original piece by the late Maurice Sendak.
The auction, presented by presented by ABFFE and the ABC Children's Group at the American Booksellers Association, is a component of the annual Children's Books Art Silent Auction at BookExpo America 5:30-7:30 p.m., next Wednesday, May 29, at the Javits Center. Proceeds from both auctions support ABFFE's defense of the free speech rights of young readers.


Murder by the Book's 'Biggest Twist' Is Success
Describing its segment as "the case of a small neighborhood bookstore that's thriving in Houston," KHOU-TV interviewed McKenna Jordan, owner of Murder by the Book.

"Throughout its history, we've had a lot of employees who have taken great pride in developing the genre," said Jordan, adding: "There are a lot of these bookstores that are dying off. A lot of people have only had an experience with a Barnes & Noble or a Borders before they close. There's an appeal to coming in. There's that kind of anti-big box stores movement."

KHOU also revealed the "biggest twist in this mystery": According to Jordan, "Contrary to what a lot of people think, independent bookstores showed a huge increase last year in general... because people want that customer service. They want that personal touch."


Keith Richards Owes £3,000 in Library Fines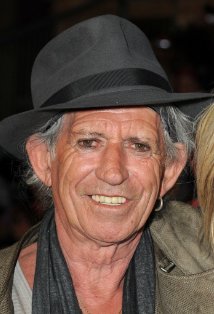 "I've still got overdue fines from about 50 years ago. They must be astronomical by now," Rolling Stones legend Keith Richards told the Daily Mirror in a piece about about his lifelong affection for libraries and potential overdue fines he owes his local public library in Dartford, Kent, for books he "borrowed" when he was a teenager.

"To me it was a place where you get a hint there was somewhere called civilization," Richards recalled. "It was the only place where I would willingly obey the laws, like silence. It was somewhere I could find out about things I was interested in."

While the Daily Mirror estimated that, "at 15p a day--plus interest and admin fees--the star could be slapped with a bill for around £3,000 [about US$4,500]," a receptionist at Dartford Library said that for "fines going back 50 years it's going to be tough to work out exactly how much is owed. We'd have to check the archives. Usually the biggest fines we issue are around £100."

Yesterday, the Daily Mirror updated its story with a response from Cath Anley, Kent's Head of Libraries, Registration and Archives: "We are really delighted that Keith Richards has said how useful the library was for him in his youth. If he would like to come and visit and help us spread the word about what a great service this is, he would more than compensate us for the books he didn't return."


Midpoint Trade Books Distributing Changing Lives Press
Changing Lives Press is now being distributed by Midpoint Trade Books. Changing Lives publishes self-help titles; upcoming lead titles include How to Train Your Boss to Roll Over: Tips to Becoming a Top Dog by Wendy Diamond and the paperback edition of Naked Calories: The Calton's Simple 3-Step Plan to Micronutrient Sufficiency by Mira and Jayson Calton.


Kathleen Schmidt New Publicity Director at Weinstein Books
Kathleen Schmidt is joining Weinstein Books as publicity director. She will begin to make the transition over the next month and will be a full-time member of the press, a partnership between Perseus Books Group and the Weinstein Company, on July 1.
She most recently ran KMS Public Relations, an independent freelance publicity firm, and before that was v-p and director of publicity at Atria Books. Before that, she was director of publicity at Dutton and Gotham Books and a publicist at Pocket Books.
At Weinstein Books, she will create and implement digital and traditional publicity campaigns for all hardcover, e-books, trade paper original and trade paper reprint titles on the list and work with publishing director Georgina Levitt and editorial director Amanda Murray.


Book Trailer of the Day: Truth or Dare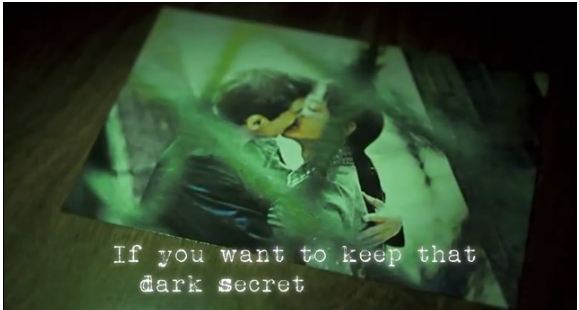 Truth or Dare by Jacqueline Green (Poppy/Little, Brown Books for Young Readers).


Media and Movies
Media Heat: The Last of the Doughboys
Today on NPR's All Things Considered: Richard Rubin, author of The Last of the Doughboys: The Forgotten Generation and Their Forgotten World War (Houghton Mifflin Harcourt, $28, 9780547554433).
---
Tomorrow on CBS This Morning: Elizabeth Dunn and Michael Norton, authors of Happy Money: The Science of Smarter Spending (S&S, $25, 9781451665062).
---
Tomorrow on Fox & Friends Weekend: Alison Buckholtz, author of Standing By: The Making of an American Military Family in a Time of War (Tarcher, $15.95, 9780399163791).
---
Tomorrow on NPR's Weekend Edition: Patrick Smith, author of Cockpit Confidential: Everything You Need to Know About Air Travel: Questions, Answers, and Reflections (Sourcebooks, $14.99, 9781402280917).
---
Sunday on NPR's Weekend Edition: Jennifer Keishin, author of Mary and Lou and Rhoda and Ted: And all the Brilliant Minds Who Made the Mary Tyler Moore Show a Classic (S&S, $26, 9781451659207).
---

Sunday on OWN's Super Soul Sunday: Mark Nepo, author of Seven Thousand Ways to Listen: Staying Close to What Is Sacred (Atria, $26, 9781451674668).
---
Monday on NPR's Here & Now: Khaled Hosseini, author of And the Mountains Echoed (Riverhead, $28.95, 9781594631764).


TV: King & Maxwell
King & Maxwell, a new show based on David Baldacci's bestselling novel series, will premiere on TNT June 10 at 10 p.m. The project, which stars Jon Tenney (The Closer) and Rebecca Romijn (X-Men) as private investigators Sean King and Michelle Maxwell, was developed by Shane Brennan (NCIS: Los Angeles). The cast also includes Michael O'Keefe (Michael Clayton), Chris Butler (The Good Wife) and Ryan Hurst (Sons of Anarchy, Wanted).


Books & Authors
Awards: Helen Bernstein; Ryszard Kapuściński
Katherine Boo received the New York Public Library's $15,000 Helen Bernstein Book Award for Excellence in Journalism for her book Behind The Beautiful Forevers: Life, Death, and Hope in a Mumbai Undercity. Boo announced at the awards ceremony that she will be donating the money to the community in Mumbai that was the subject of her book.

"Consistently, the recipients of this award make the argument through their work that you can't just complain or accept that the American public don't give a damn about genocide in Rwanda or ruined lives in the inner city," said Boo. "What this award symbolizes to me is that as a journalist working in the field, you have to report harder and work harder, until you make the American public give a damn. That's what good writing with a capital 'W' is. Over the years, the Library has honored some bad-ass women, and has always honored hard-core, fierce reporting. I am absolutely thrilled to be a part of it."

---

Ed Vulliamy won the Ryszard Kapuściński award for literary reporting for his book Amexica: War Along the Borderline, the Guardian reported. Polish writer and chairwoman of the judges, Malgorzata Szejnert described it as an outstanding and masterful book that "conquers the imagination with language that is rich and restrained at the same time."


Book Brahmin: Joan Steinau Lester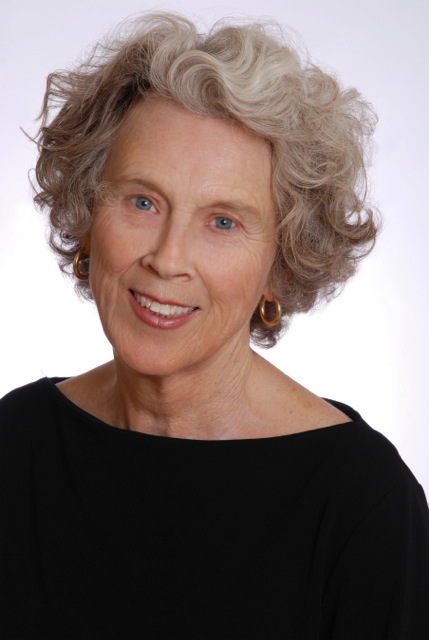 Joan Steinau Lester, a member of a biracial family, has long had a passion for writing about "race," exploring how the concept ever came to exist, until it's so prevalent it feels normal. Her five books (three nonfiction and two novels) all focus in one way or another on this charged topic. Her new novel, Mama's Child (Atria, May 7, 2013), is the story of an young white woman who traveled south as a civil rights worker, fell in love with an African American man and started a family in Oakland, Calif. They eventually divorce, and the split shakens their daughter's sense of self. "Am I black or white?" she asks. "Where do I belong?" As years pass, the chasm between mother and daughter widens. Only when the daughter, Ruby, becomes a mother does she begin to understand that her own mother's love transcended race.
On your nightstand now:
Arnold Rampersad's biography The Life of Langston Hughes. Rampersad is nearly as lyrical as his subject's writing. Reading the biography right after Langston Hughes's own two-volume memoir (The Big Sea and I Wonder as I Wander) is a joyful dip into the world of a man with the biggest heart imaginable, who revolutionized American poetry by writing in African American vernacular. Stanzas like "Good morning, Daddy!/ Ain't you heard/ The boogie-woogie rumble/ Of a dream deferred" set critics rumbling about low-down trash-talk, and why would anybody want to read that? But within a few decades he became one of America's premier poets.
Favorite book when you were a child:
Gene Stratton Porter's A Girl of the Limberlost, a coming-of-age tale about an adventurous girl who explores deep woods on her own. I, too, loved to wander in the woods as a child. "Where does this path lead?" I'd wonder, eager to traipse on. And still feel the same joy today.
Your top five authors:
Chimamanda Ngozi Adichie, whose beautiful Half of a Yellow Sun is a powerful portrait of Biafrans in the Nigerian civil war. Langston Hughes. His poetry and prose still sing. Zora Neale Hurston, the marvelous, free-spirited author of my favorite book, Their Eyes Were Watching God. Alice Walker, whose gift for showing the love beneath life's chaos astonishes and delights me. A toss-up between James Baldwin--oh he of the razor-sharp mind--and a writer he eviscerated, William Faulkner, whose own prose is also brilliant, even as his "traditional white southern" views limited his vision.
Book you've faked reading:
Believe me, I've tried to read James Joyce's Ulysses--but never got past page 5.
Book you're an evangelist for:
Zora Neale Hurston's Their Eyes Were Watching God, a poetic novel about a young woman's zestful awakening to her own power.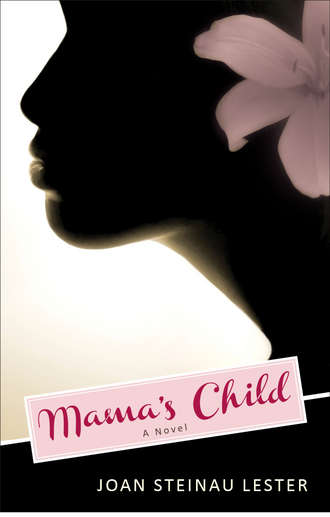 Book you've bought for the cover:
I'm a sucker for matte covers with bits of shiny art, which, amazingly, is the cover I ended up with, through no act of my own, for Mama's Child. How does the universe do this?
Books that changed your life:
Simone de Beauvoir's The Second Sex and Franz Fanon's Black Skin, White Masks. Both taught me about internalized oppression--and how to beat back those nasty "You're second-rate" messages in our heads with action.
Favorite line from a book:
"Her eyes are like two candles when you watch them gutter down into the sockets of iron candlesticks." --from William Faulkner's As I Lay Dying.
Book you most want to read again for the first time:
James McBride's The Color of Water, because it is suffused with love, as well as the fascinating story of an unusual family. The book has two voices--white mother, biracial son--which inspired Mama's Child, also written in two voices: white mother and biracial daughter.
Why are you so riveted to race?
Because it is such a freighted topic in the United States, much like class in England. It's very hard for any of us to drop the racial lens when we interact with each other--yet the characters in my novels keep on trying. And so, in real life, do I.


Book Review
Review: Across the Pond: An Englishman's View of America
Across the Pond: An Englishman's View of America by Terry Eagleton (W.W. Norton, $24.95 hardcover, 9780393088984, June 24, 2013)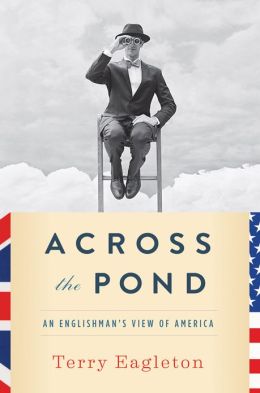 In Across the Pond, Terry Eagleton joins the list of British citizens who have offered trenchant observations on how the former colony is doing now that it's had a chance to grow up. It's a mostly generous and often humorous look at the foibles of the U.S., its pleasure heightened by Eagleton's pointed comparisons to his homeland and to Ireland, where he now lives.
The spirits that animate Eagleton's brief book are those of Alexis de Tocqueville, that "supreme observer of American mores," and Henry James, "who knew both civilisations from the inside and never ceased to compare them." Eagleton, who's taught at several American universities, draws on the writings of the diplomat and the expatriate novelist for a lightning fast survey of some of our most prominent cultural touchstones. He starts with the sometimes inexplicable language differences that divide the English spoken here from its British counterpart, puzzles over our nation's fraught relationship with money ("There is an enormous amount of generosity in the States, but not much of it extends to the financial sphere") and decries a political system in which he claims "the diversity of political options hardly rivals up to the variety of candy bars."
Eagleton focuses with evident delight on the mass of contradictions that comprise the American character, among them an obsession with personal freedom at war with an overeagerness to regulate private behavior and a public spiritedness that competes with an equally fierce desire to be left alone. The national identity that arises from these clashing impulses distinguishes us, and makes us more interesting in Eagleton's view, than the homogenized and enervated cultures of England and Ireland.
Whether it's Americans' persistence in the face of adversity or our willingness to innovate and experiment, Eagleton agrees we have much to celebrate. Though he's critical of the "constant moralising, sermonising and cheer-leading of American society," the tone of this lively study is mainly one of restrained admiration for "this kindly, violent, bigoted, generous-spirited nation." Yet each observation that will make an American reader square his shoulders with a pride is quickly followed by another that may cause a squirm of uneasy recognition. In this portrait of our complicated nation, Eagleton gleefully strikes some sparks and one suspects he'll be delighted if they flare into a few heated debates. --Harvey Freedenberg
Shelf Talker: British literary critic Terry Eagleton (author of the recent How to Read Literature) offers a spritely portrait that captures the chiarascuro quality of the American soul.


Deeper Understanding
Robert Gray: BEA Badges? We Do Need Those Stinking Badges
"Badges? We ain't got no badges! We don't need no badges! I don't have to show you any stinking badges!" --from The Treasure of Sierra Madre, a film adaptation of B. Traven's novel.

We will, of course, need our stinking badges when we descend upon the Javits Center next week for BookExpo America. We'll need them to get in, get around and get acquainted. Identity is everything. You may not have thought much about badges as you made your BEA preparations, but here are a few questions to consider:

Why do we wear name badges anyway? The answer seems obvious, but sometimes you wonder if it's clear to everyone at the show (see "badge flipping" below). In addition to getting you into the hall in the first place, a name tag is your ongoing, instant introduction to hundreds of guests at an epic book launch party in a very crowded room.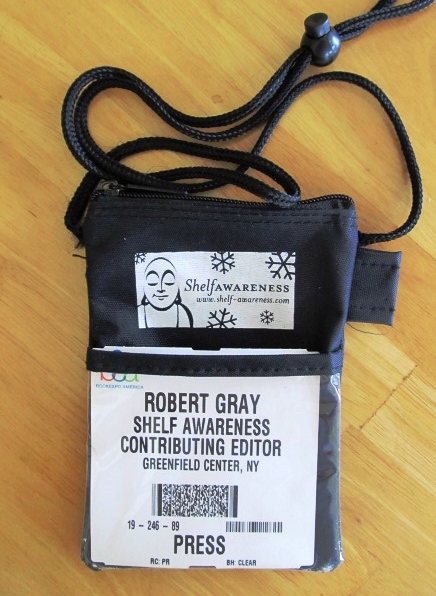 Pin or lanyard or badge holder? BEA veterans made their choices long ago. Primary issues affecting your decision will be tolerance for holes in clothing (pin), "badge flipping" issues (lanyard) and weight-bearing capacity (badge holder filled with pens, business cards, etc.).

Where should you wear your badge? Standard advice in the business world is that a name tag should be located just below the right shoulder, where it can be easily read when you shake hands with someone. Studies have actually shown that you're 85% more likely to remember a name if you don't have to cross the person's center body line to locate it.

But where do book people wear their badges? Look around BEA. Almost none will be near a right shoulder. The natural inclination is to pin it over your heart, like a corsage, or hang it from your neck on a lanyard or badge holder, industry studies be damned.

Where should you never wear your badge? That's easy. At every show, you'll see a few people (mostly guys) who pin their badges waist-high on a belt loop. There is no polite way to read those badges, so we don't care who you are.

What's the deal with badge flipping? If you're wearing a lanyard, the natural laws of motion will cause your badge to flip constantly to the blank side. You're probably not one of the chosen few everybody recognizes on sight, so a flipped badge effectively renders you invisible. Maybe that's your goal (If so, then why are you even here?), but my advice is to practice badge reflipping until it's as instinctive as straightening a tie. A trade show is no place to project a sense of mystery, unless you're publishing mysteries, though even then we shouldn't have to solve you first.

What is badge surfing? Whether on the trade show floor, at parties or even on the streets of Manhattan (where you'll encounter colleagues more often than you might think in a city of 8 million people), badge surfers are always scanning the crowd waves for gnarly breaks. Even while they talk with you, their eyes wander to passing badges just in case. If you happen to get caught in this social undertow, it's well within the rules of etiquette to replace traditional parting words like "See ya!" with the more appropriate: "Surf up, dude?"

When should you wear your badge? This is a key question for conference and trade show attendees everywhere. The easy answer is at all times when you're in the Javits Center. The tricky part comes when you leave the show.

When shouldn't you wear your badge? I remove mine as soon as I'm out of Javits and never wear it at the hotel or on the streets. But what about after-show dinners or parties? Operating on the assumption (based, I confess on deep personal insecurities we won't go into here) that nobody will recognize me, I always bring my badge along, then let the crowd dictate my next move. If I see familiar faces, the badge stays in my pocket. Among strangers, if more than half of the people are "badged," so am I.

Should you wear your badge on the NYC subway system to spark conversations with local readers? No.

Although my trusty Shelf Awareness holder still has last year's badge tucked inside at the moment, it seems anxious to acquire the updated version I'll pick up next week. Hope to see you at BEA. My stinking badge will say Robert, but you can call me Bob. --Robert Gray, contributing editor (column archives available at Fresh Eyes Now).