Shelf Awareness for Friday, August 1, 2014
News
Hachette Sales Up Despite Amazon; E-Book Sales Drop

Although Shelf Awareness doesn't usually report on publisher finances, Lagardère's first half results are notable because of the company's dispute with Amazon. The company's U.S. operations seemed to do well, although e-book sales were off, mainly reflecting industry-wide trends but also slightly because of Amazon.
In the U.S., digital net sales dropped to 29% of trade sales in the first half of the year from 34% of trade sales in the first six months of 2013. Lagardère described this as "a zero growth digital market (slowdown seen since 2013)," adding that e-book sales in the U.S. had "a limited impact from Amazon's punitive measures."
Commenting on Hachette Book Group overall net revenues, which rose 5.6% "thanks to the integration of Hyperion, and the takeover of Disney's distribution activity," CEO Michael Pietsch said, "It is gratifying to have first-half sales that exceed last year's, especially in light of recent market challenges."

Lagardère also attributed HBG's revenue gain to "good performances in general literature, with the publication of The Silkworm by Robert Galbraith (J.K. Rowling), reorders for The Goldfinch (Donna Tartt) and Lone Survivor (Marcus Luttrell), and the release in theatres of the movie adaptation of The Monuments Men." Other significant contributors to U.S. sales were James Patterson's Unlucky 13, David Baldacci's The Target, Nicholas Sparks's The Longest Ride and T.D. Jakes's Instinct.


Winners: NEIBA, NAIBA Sales Reps of the Year
Congratulations to Candlewick Press New England sales rep Debra Woodward, who has won the Saul Gilman Award, sponsored by the New England Independent Booksellers Association and given "for outstanding service as a sales representative to New England independent bookstores." The award will be presented at NEIBA's fall conference in Providence, R.I., September 30-October 2.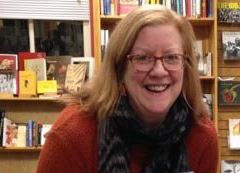 Debra Woodward
Woodward launched her career in the book business 35 years ago when she walked into the Paperback Booksmith and Musicsmith at the Newington, N.H., Mall and asked owner Marshall Miller for a job. Four years later she joined Lauriat's Books, where she stayed for seven years before moving on to become a buyer for bargain books and then children's books at Barnes & Noble in New York City.

Seven years after that, she returned to New Hampshire and joined legendary commission sales representative Tom Consolino's company, where she sold many lines, including Candlewick, for 13 years. As the commission group was winding down three years ago, she accepted the opportunity to represent Candlewick Press exclusively for all of New England.

NEIBA noted that "Debra was very lucky to have book-loving parents and an older sister who not only read to her as a child but continued to send her kids books that are great for adults. Along with her husband of 26 years--sports official and retired high school teacher Terry Dostie--and their five shelter cats (and of course, books!), her great loves are her friends, photography, folk music, great vegetarian food, Paris, animal welfare, being by the ocean and (wait till next year) the Boston Red Sox."

---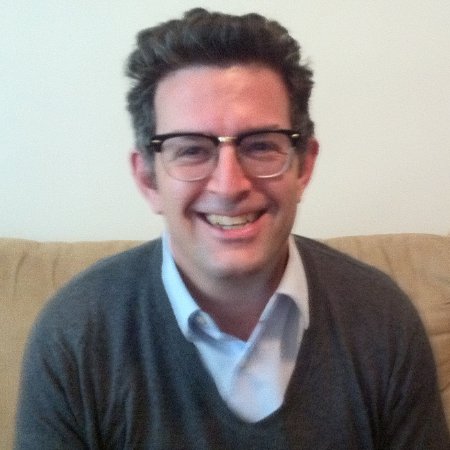 Joe Ginis
Congratulations also to Workman Publishing's Joe Ginis, who is this year's New Atlantic Independent Booksellers Association William Helmuth Award for Sales Rep of the Year recipient. The prize is given to "the person that best embodies the dedication, book knowledge and heart shown, by the late William Helmuth of BookTravelers fame." Ginis will be honored September 20 at the awards banquet during NAIBA's Fall Conference September 19-21 in Arlington, Va.

"My first thought when you told me I was chosen for the Helmuth award was, whoa. Who put you up to this?" Ginis said. "I don't think of myself as a prideful person but I am very proud of being chosen for the Helmuth honor. It means the world to me to be recognized for a job well done by people I respect so much."

One of his nominations came from Lexi Beach, owner of Astoria Bookshop, Queens, N.Y., who said, "Joe is probably the best friend a new bookstore owner could possibly have. He was working to help me promote my store long before I even opened for business. He is gracious when I accidentally double book rep appointments, he gets me copies of my store's bestsellers even when the warehouse is out, he solves ordering & delivery problems almost instantaneously--all this while raising a brand new baby at home."


Powell's Remodeled Flagship Store Opens
Powell's Books, Portland, Ore., will reopen the front entrance to its flagship store on the corner of Burnside Street and Northwest 10th Avenue today, offering patrons a first look at the updated and remodeled Green and Blue Rooms.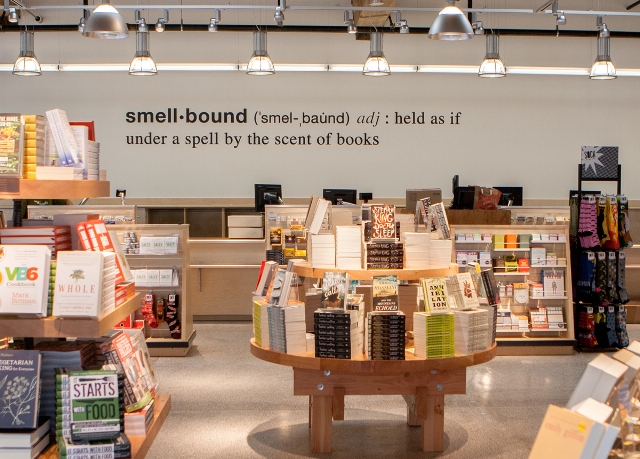 Updates to the building include a new entrance, new roof, energy-efficient windows, fresh exterior paint, additional skylights and new lighting. For the past six months, the southeast entrance and two rooms of the store have been closed for a major renovation that began in January.

"Green and Blue are back!" CEO Miriam Sontz said. "We are thrilled that the remodel has allowed us to further highlight our love of books and reading while showcasing the beautiful natural features of the two rooms. The completion of this project will take us another 40 years into the future."

Work continues on the exterior of the building, including the restoration of Powell's iconic red and white marquee. On the southwest corner of the city block, new windows are being installed in the parking garage.


Coffee Beans & Books Closing Bricks-and-Mortar Store
Melanie Hicks, owner of Coffee Beans & Books, Beaver, West Va., has decided to close her physical location later this month. She made the announcement on Facebook yesterday: "It is with a heavy heart that I post today that Coffee Beans & Books retail brick and mortar store will close at the end of the business day on August 14th. The bookselling business is not necessarily a profitable venture but has been a labor of love for me personally. I have met some wonderful people and made some great friends! I appreciate everyone who has supported Coffee Beans & Books and its mission to encourage reading for all ages. This is not the end of the book but just the end of Chapter 1.

"Chapter 2 will be released September 1st as an online store with whole bean coffee, vintage books, book art and many gifts items for everyone including book lovers. Coffee Beans & Books will also maintain a new setting in the School of Harmony for art displays, book clubs and retail gift items.... As I write this today, I want everyone who has visited, supported and encouraged me in this venture to know that I truly appreciate each and every one of you! I have been blessed beyond measure by the people who have touched my life through this journey!"


U.K. Prison Book Ban Sparks Targeted Donations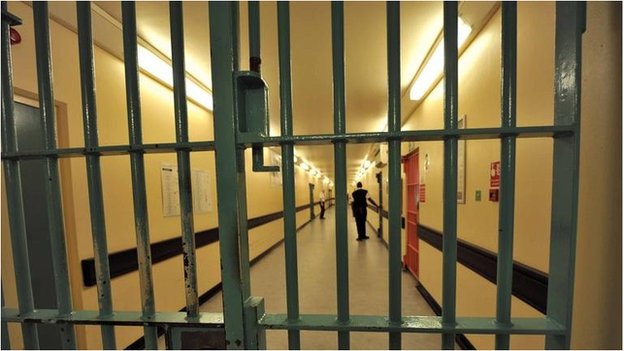 The months-long campaign in the U.K. protesting new Ministry of Justice rules preventing prisoners from receiving books from the outside is trying a new tactic. The Howard League has asked supporters "to swamp justice secretary Chris Grayling in reading material--requesting that he send the books on to prison libraries," the Guardian reported.

Howard League CEO Frances Crook said "what we didn't want to do is just send books to Chris Grayling--they'd end up in a box. So we're asking people to send them to Chris Grayling [asking that] he pass them on to prisons, or to give books to their MPs to give to Grayling to pass on to prisons. We don't want books wasted.... It's symbolic. It's just keeping the pressure up over the summer."


Notes
Image of the Day: Busman's Holiday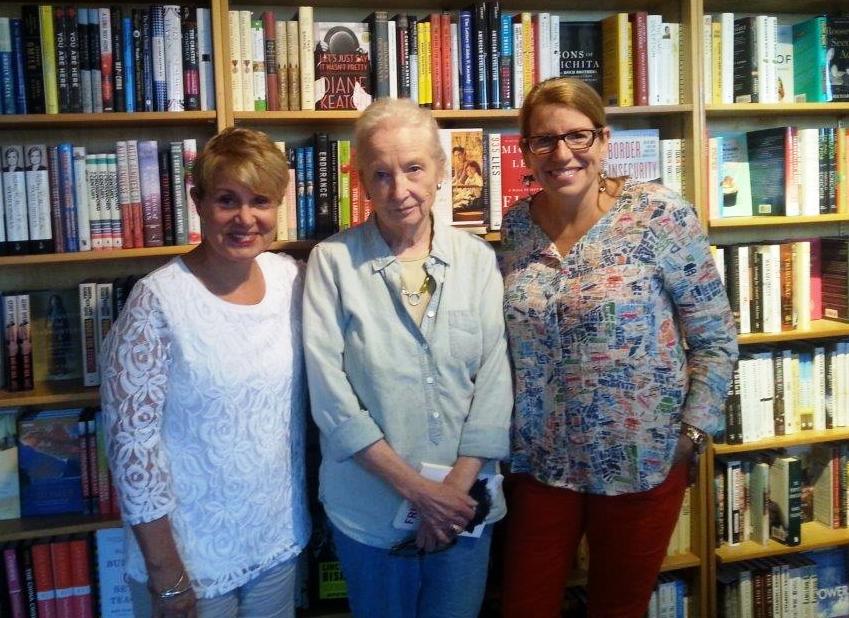 Perfect timing. Sarah Bagby (r.) of Watermark Books and Cafe in Wichita, Kans., was in Santa Fe, N.Mex., this week and stopped in to see Dorothy Massey (c.) at Collected Works Bookstore. While she was there, the store got a surprise visit from Barbara Peters (l.) of Poisoned Pen, Scottsdale, Ariz. The three booksellers posed for a photo to commemorate the occasion.


Carmichael's Kids Debuts Monday in Louisville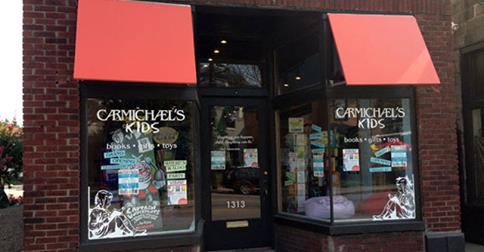 On Monday, Carmichael's Bookstores, Louisville, Ky., will open Carmichael's Kids, a dedicated children's bookshop across the street from its Bardstown Road location. A street party is planned for August 10 to celebrate the new venture, WDRB reported.

"We feel like growing new readers, and new customers is really an important part of our mission," said owner Carol Besse. "Children's books are thriving--they are one of the categories that is up in the industry. Who wants to read an e-book with their child? They want the physical book in their hands with the child on their lap."

Kelly Estep, manager of Carmichael's third store, told Louisville.com: "We've wanted to open a store devoted to children's books for some time now, but the right opportunity hadn't come along. With a space becoming available virtually next door to our Bardstown Road store, we knew it was time to make this idea a reality."


'Top 5 Book Stores Around Boston'
Readers of the Boston Parents Paper picked their best bookstores around Boston as part of the publication's 2014 Family Favorite Awards, featured in its annual Best of the Best issue. The top five picks were Brookline Booksmith in Brookline, New England Mobile Book Fair in Newton Highlands, Porter Square Books in Cambridge, the Coop in Cambridge and Wellesley Books in Wellesley.

The overall winner was the New England Mobile Book Fair. "Get lost in a maze of books at this independently owned book warehouse," Boston Parents Paper noted. "With no fancy frills, the New England Mobile Book Fair is known for its huge size, diverse selection and great discounts. You could spend hours upon hours reading titles. The discount room is a fan favorite, with hardcover books for as little as $2."


Pennie Picks The Illusion of Separateness
Pennie Clark Ianniciello, Costco's book buyer, has chosen The Illusion of Separateness: A Novel by Simon Van Booy (Harper Perennial, $14.99, 9780062248459) as her pick of the month for August. In Costco Connection, which goes to many of the warehouse club's members, she wrote:


"Some books sneak up on you, and it's not until you turn the last page that the heft of the story settles in. And then there are novels like this month's book pick, The Illusion of Separateness, by Simon Van Booy, that leave you dog-earing pages so that you can easily return to the sentences that are so pure and true they stop you in your tracks.

"As the title implies, the novel is a story of six people, from a boy orphaned in World War II to a contemporary blind museum curator, who at different times and in different places feel they are completely alone. Van Booy helps us realize that even in our darkest moments the people who have been here before us, people who will come after us and those who are not so far away right now all create a web of inter-connectivity that we can barely begin to see."


Book Trailer of the Day: Muddy Max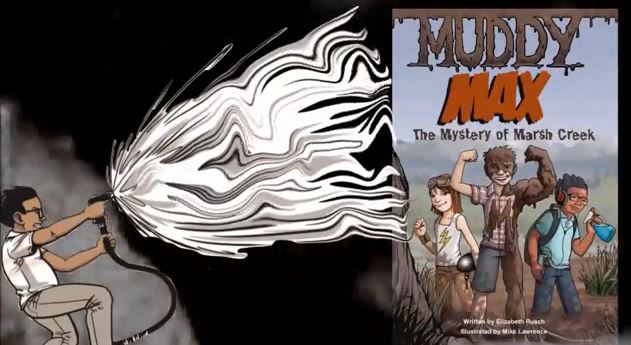 Muddy Max: The Mystery of Marsh Creek by Elizabeth Rusch, illustrated by Mike Lawrence (AMP! Comics for Kids/Andrews McMeel), a video made by the author and her tech-savvy 13-year-old son.


Media and Movies
Media Heat: John W. Dean on Face the Nation
Sunday on Face the Nation: John W. Dean, author of The Nixon Defense: What He Knew and When He Knew It (Viking, $35, 9780670025367).

---

Sunday on TLC's new Sunday Brunch: Lauren Rothman, author of Style Bible: What to Wear to Work (Bibliomotion, $22.95, 9781937134709).


Harry Potter Global Franchise Development Team Formed
Warner Bros. Entertainment "has conjured up" the Harry Potter Global Franchise Development team, based in London and Burbank, Variety reported. The mission of the new group is to "develop and execute a high-level strategic vision for the Harry Potter brand and its ancillary businesses," according to Warner Bros.

The team, "which will work closely with Rowling's people at the Blair Partnership," is led by Josh Berger, president and managing director, Warner Bros. U.K., Ireland and Spain, who adds president of HPGFD to his role.

"With Harry Potter's consumer touch-points continuing to grow and flourish, I am confident that this talented, cross-company global team will enable us to take full advantage of the many opportunities ahead--helping to bring Harry Potter in all its future incarnations to fans all over the world," he said.


Movies: All the Bright Places; The Calling
Elle Fanning (Maleficent) will star in a film adaptation of All the Bright Places. Variety reported that producers Paula Mazur and Mitchell Kaplan (owner of Books & Books) acquired the screen rights to Jennifer Niven's YA novel, which will be published by Knopf in January.

"Jennifer is such a gifted writer, and we are thrilled to be publishing her YA debut," said Allison Wortche, senior editor at Knopf Books for Young Readers. "All the Bright Places is a beautiful, heart-wrenching story, and readers are going to fall in love with Violet and Finch. They're funny, quirky, irresistible, and impossible to forget."

---

A trailer has been released for The Calling, based on the book by Inger Ash Wolfe. The movie, starring Susan Sarandon, Ellen Burstyn, Donald Sutherland and Topher Grace, opens August 29 in limited release.


Books & Authors
Awards: Scottish Crime Book Shortlist; Polari Longlist
On this year's £1,000 (about US$1,690) Deanston Scottish Crime Book of the Year Award shortlist, "some of the biggest names in Scottish crime writing have been joined by rising stars of the genre to compete for the prestigious prize." The winner will be announced September 20. The shortlisted titles are:

Flesh Wounds by Chris Brookmyre
The Amber Fury by Natalie Haynes
Falling Fast by Neil Broadfoot
Entry Island by Peter May
A Lovely Way to Burn by Louise Welsh
In the Rosary Garden by Nicola White

---

The longlist has been revealed for the £1,000 Polari First Book Prize, which is given annually to a first book that "explores the LGBT experience and is open to any work of poetry, prose, fiction or non-fiction published in the U.K. in English." The Polari shortlist will be announced September 8 and the winner October 8. You can find the complete Polari longlist here.


Book Brahmin: Mark Chiusano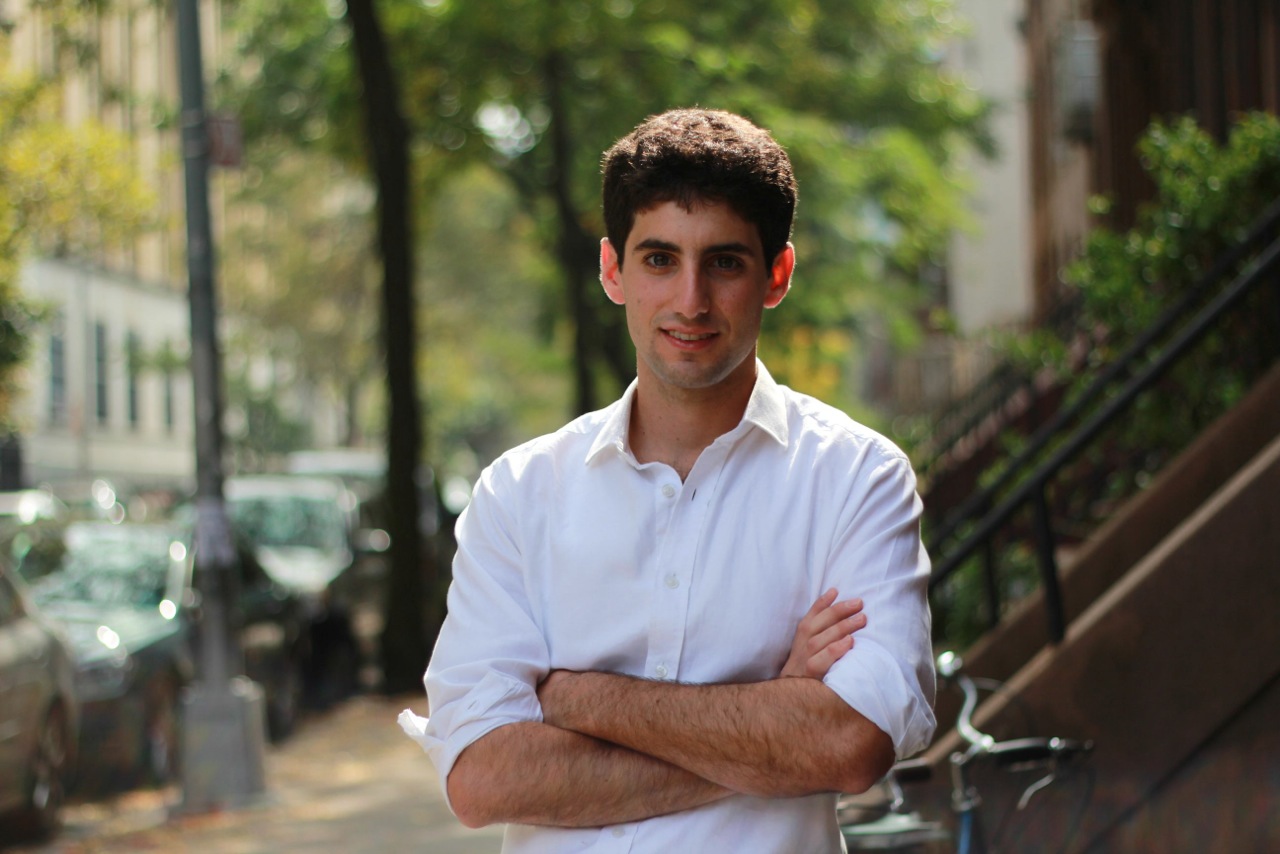 photo: Charlotte Alter
Mark Chiusano is the author of Marine Park (Penguin, July 29, 2014), a collection of stories. His fiction and essays have appeared in Guernica, Narrative magazine, Salon, the Harvard Review, Tin House, FiveChapters and the Paris Review, among other places. He was born and raised in Brooklyn, N.Y., educated at Harvard College and is now an assistant editor at Vintage Books.
On your nightstand now:
I've been reading Robert A. Caro's unbelievably authoritative The Power Broker: Robert Moses and the Fall of New York. When you're reading it, you have the sense that you're learning everything there is to know about the city of New York in one perfect book. I'm noticing some uncomfortable similarities between Moses and me, such as a pathological love of swimming and unmitigated power over the legislature of New York State. Haruki Murakami's After Dark is up next, although I work at a publishing house and am always finding (and squirrelling away) new books for the nightstand.
Favorite book when you were a child:
Other than Jude Watson's entire Star Wars: Jedi Apprentice series? (To say the least of the Harry Potter books?) As a kid I loved the strange Roald Dahl book The Wonderful Story of Henry Sugar and Six More, which includes the story of a yogi in India who has natural psychic powers--which in turn led me to W. Somerset Maugham's strange and somewhat magical The Razor's Edge. At age 11, I was vaguely convinced that I was on the verge of getting a letter by owl post about acceptance to Hogwarts, but that's another story. I would be remiss if I didn't mention Mark Twain's A Connecticut Yankee in King Arthur's Court, which has blurred my perception of both Connecticut and medieval history ever since.
Your top five authors:
In alphabetical order (and sticking with fiction), Roberto Bolaño, Willa Cather, Junot Díaz, F. Scott Fitzgerald and Ernest Hemingway. But that's mostly a "top reread" list.
Book you've faked reading:
Working at a publishing house, there's a real danger that you could get caught doing something like this. Your bosses have read far more than you have. That being said, my favorite ploy to beg off the embarrassing admission of ignorance is, "I think I've read some of her/his stories."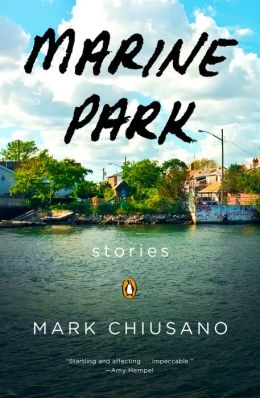 Book you're an evangelist for:
First, everything that Willa Cather has written. The rap against her, I suppose, is that she's "dry," but that's totally not true--Cather wrote better adventure and origin stories for the American psyche than anyone else. Second, Neil Sheehan's masterpiece on the Vietnam War, A Bright Shining Lie, which has one of the best nonfiction twists I've ever seen in an 800-page book, and is also a devastating warning for American conflicts up to and including the present.
Book you've bought for the cover:
The Last Best League by Jim Collins, on a season with the Cape Cod Baseball League. The cover is a night scene on a baseball field with two players high-fiving and is romantic as all hell.
Book that changed your life:
I think Junot Díaz's story collection Drown, which I read in high school when the best player on our baseball team leant me his copy on a spring-training trip to Florida. I was completely blown away. I think we lost every game that year, which also convinced me that I might try for the writing route as opposed to the MLB one.
Favorite line from a book:
Michael Chabon's description of summer in The Mysteries of Pittsburgh: "Then [my father] asked me what my plans were for the summer, and in the flush of some strong emotion or other I said, more less: It's the beginning of the summer and I'm standing in the lobby of a thousand-story grand-hotel, where a bank of elevators a mile long and an endless red row of monkey attendants in gold braid wait to carry me up, up, up through the suites of moguls, of spies, and of starlets, to rush me straight to the zeppelin mooring at the art deco summit, where they keep the huge dirigible of August tied up and bobbing in the high winds."
Which character you most relate to:
The narrator from Jay McInerney's Bright Lights, Big City, without the late nights.
Book you most want to read again for the first time:
Jane Eyre by Charlotte Brontë (for the flight from Thornfield), or A Supposedly Fun Thing I'll Never Do Again by David Foster Wallace. I could read that cruise-ship essay in particular again and again.


Book Review
Review: Mr. Tall
Mr. Tall: A Novella and Stories by Tony Earley (Little, Brown, $25 hardcover, 9780316246125, August 26, 2014)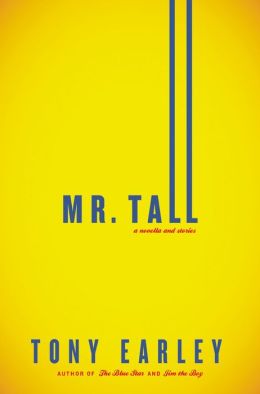 Aspects of human frailty and damaged psyches permeate the stories in Mr. Tall, the latest collection of short works by Tony Earley. Earley's fiction (Jim the Boy and Here We Are in Paradise) delves into the lives of ordinary people and addresses complex themes in a pared-down style. This time around, Earley tackles stories about characters that include, in "Yard Art," a divorced 28-year-old midwife and a rough-around-the-edges, bluegrass-singing plumber who spend an afternoon searching for what may or may not be a valuable piece of sculpture. "Haunted Castles of the Barrier Islands" explores the relationship of a North Carolina couple forced to come to terms with the state of their marriage now that their daughter has left for college. Four taut scenes frame "Just Married," a beautiful story about a recently wed older couple that bears witness to the intersection of random events and memory. An isolated, elderly Nashville widow becomes rapt by the disappearance of a seventh grader in "Have You Seen the Stolen Girl?" The incident conjures remembrances of the widow's own child and Jesse James, who legend says once lived for a time at the woman's address. "The Cryptozoologist" centers on a widow who believes she has spied a "skunk ape," a type of Bigfoot creature, wandering outside her home. The presence of the wildly elusive beast compels her to reconcile her past and her true feelings for her misunderstood artist husband.
Elements of the surreal resurface in the novella, "Jack and the Mad Dog," a story about how a young man's misdeeds come back to bite him via a talking dog and a clever play on the Jack and the Beanstalk fable. And in "Mr. Tall," the most suspenseful story of the collection, a young woman living in the 1930s marries a man who whisks her away from her family into a new life filled with uncertainty. Amid loneliness, the young wife is drawn to a mysteriously widowed, reclusive neighbor nicknamed Mr. Tall, who inhabits the only other farmhouse nearby. The young wife is warned to stay away, but can she resist learning more about this man's past?
Earley deftly compresses whole life histories into just a few pages that successfully blend humor and poignancy, reality and myth. All of the stories feature Southeastern locales and characters who are ripped from the familiarity of their lives--the comfort, however good or bad, they know and depend upon--only to be thrust, oftentimes unwillingly, into new realities. Along the way, unearthed secrets and epiphanies lead to revelatory moments infused with regret and grace. --Kathleen Gerard, blogger at Reading Between the Lines
Shelf Talker: Tony Earley's vivid, well-crafted short stories speak volumes about the startling realities of life and the complexities of human relationships.


Deeper Understanding
Robert Gray: Booksellers' Private Beach Reads, Part 2
Where are you spending your summer vacation? For David Enyeart of Common Good Books, St. Paul, Minn., this year's destination is directly connected to his choice of "mountain read."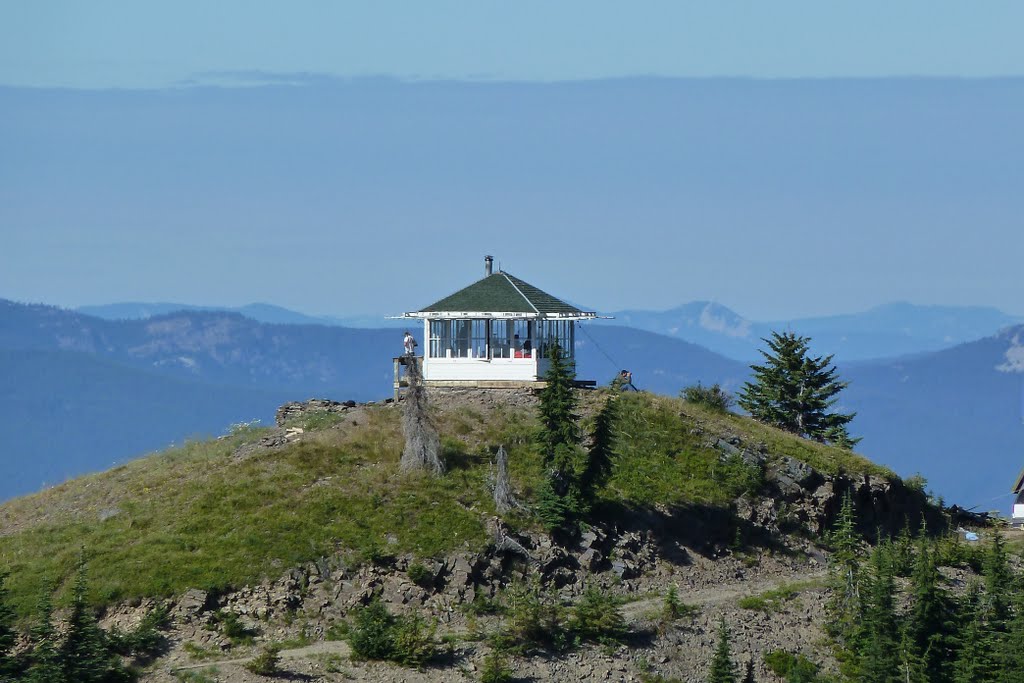 David Enyeart's summer reading getaway spot in Montana.

"I am eagerly anticipating a galley of All the Wrong Places: A Life Lost and Found by Philip Connors," he said. "I'll be reading it on vacation in a decommissioned fire lookout in the mountains of Montana, and I'm going there in large part because I read and loved Connors's previous book, Fire Season: Field Notes from a Wilderness Lookout. That first book tells of his time honing his writing craft while working as a firespotter in New Mexico. In his new memoir, Connors looks back a bit farther, to the period when he'd lost his way in the wake of his brother's suicide at 22 and was struggling (and failing) to connect with people, work and his new home."

It's hard to top a decommissioned fire lookout in the mountains of Montana as a reading venue, so let's backtrack momentarily to where we left off last week and share three personal favorites from Emily Crowe of the Odyssey Bookshop, South Hadley, Mass., beginning with The Hawley Book of the Dead by Chrysler Szarlan.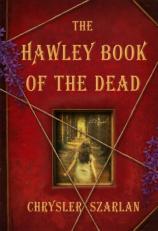 "Full disclosure: this book is the debut novel from my co-worker," Crowe admitted. "But even if I didn't work with Chrysler, I would have thought that The Hawley Book of the Dead was fun from start to finish. Filled with 'real magicalism,' including a mysterious falconer, a prognosticating length of twine, and names brimming with double entendre, this debut novel is an uncanny blend of The Night Circus meets The Crucible.

"David Mitchell's The Bone Clocks was like nothing I've ever read before. I'm told that if you loved Cloud Atlas, then there's an excellent chance that you'll love this one, too, so now it's time for me to read some David Mitchell backlist. The character of Holly Sykes is one of the great females of 21st-century literature so far. I don't read very much short fiction, as I prefer to really sink my teeth into a book and get absorbed by its world. However, if all short stories were as good as Eric-Emmanuel Schmitt's Invisible Loves, I would have to change my reading habits. These stories are exquisite, elegant, and enchanting--perfect little gems of literature that are full of philosophy and quiet moments of epiphany."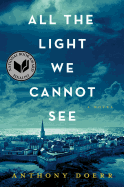 Two booksellers praised Anthony Doerr's All the Light We Cannot See. Sarah Pishko of Prince Books, Norfolk, Va., said the author's "writing is beautiful and very evocative about a girl amidst the backdrop of World War II." And Lynne Reed of Misty Valley Books, Chester, Vt., called it a "lyrical story of how war affects two young people from opposing sides."

"Why would you choose light reading, when your vacation is the only time you have to really get into a wonderful book?' Reed asked. "I'm always looking for that one (or two) book that is different." Her other selection was I'm Having So Much Fun Here Without You by Courtney Maum, a "love story in reverse between a British artist husband who tries to woo back his wonderful French lawyer wife (and their child) after an affair. It could be a trite book but it's not, and I couldn't put it down, wondering if he'd get her back... you'll root for both of them! A great summer read."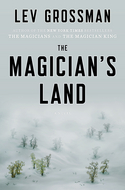 Matt Norcross of McLean & Eakin Bookstore, Petoskey, Mich., said his "great escape this summer has been Lev Grossman's The Magician's Land. It's not fair, you see; I've been pre-wired to love this series. At age eight, I was given the complete Chronicles of Narnia on tape and literally wore out the cassettes that gave me the adventures of Peter, Susan, Edmund and Lucy. Lev's series has brilliantly brought back the wonder I felt on those late nights listening to Lewis, but this story is definitely not for little boys and girls. Like the previous two novels, The Magician's Land packs enough twists, turns and surprises to fill several books, but it's greatest feat lies in how the story is brought to an end. This is one of the most satisfying ends to a series I have ever read, and although that in and of itself is deserving of high praise, the fact that it can make you feel the excitement and wonder of childhood makes it truly magical. Happy late nights!"

The final words this week go to Matt's wife, Jessilynn. In McLean & Eakin's e-newsletter, she observed that "it's been more of a 'reading day summer' than a 'beach day summer,' but we are confident that more beach days are on the way in August.... June and July flew by so quickly, that it almost feels like they were both a week shorter this year! Everything has been so fast and furious that we are worried there hasn't been enough focus on fun, relaxing, and lightening up for the summer. Here's to a lazy August, full of beach days, beach reads, and most of all s.l.o.w.i.n.g. down and relaxing in the sun." --Robert Gray, contributing editor (column archives available at Fresh Eyes Now)