Shelf Awareness for Friday, January 30, 2015

News
Amazon Fourth Quarter: Sales Up 14.6%, Net Income Slips

Net sales at Amazon in the fourth quarter ended December 31 rose 14.6%, to $29.3 billion, and net income fell 10.5%, to $214 million. Because net income fell less than predicted by Wall Street analysts--45 cents a share instead of about 20 cents a share--Amazon stock rose in after-hours trading yesterday. Net sales were below expectations of as much as $29.8 billion.
Analysts in particular approved that Amazon's operating expenses didn't rise as high as expected. "They're getting far more efficient at delivery," Wedbush Securities analyst Michael Pachter told the AP. "They're spending like slightly tipsy sailors rather than drunken sailors."
For the full year, Amazon net sales rose 19.5%, to $88.99 billion, and the net loss was $241 million, compared to a net gain of $274 million in 2013. Amazon predicted that in the first quarter of 2015, net sales will grow between 6% and 16% to between $20.9 billion and $22.9 billion.
Sales in North America of media, the Amazon category that includes books, rose 1% during the quarter, a major slowdown compared to the 21% gain in 2013 over the same period in the previous year. International media sales in the fourth quarter fell 8%, compared to a gain of 3% in 2013. Overall, media sales were down 4% in fourth quarter and represented 24% of the company's fourth quarter sales, down from 28% in the fourth quarter of 2013.
Strikingly, in its long release announcing results and highlights of the year, Amazon never mentioned books.


Pages Bookshop Finds Detroit Location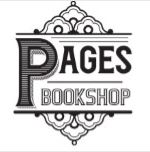 Pages Bookshop owner Susan Murphy, who had been searching 18 months for a space in Northwest Detroit, has found a permanent bricks-and-mortar location. On Facebook, she wrote that she "was so fortunate to lease a building at 19560 Grand River that is owned and managed by the Grandmont Rosedale Development Corporation. If you aren't familiar with this area, read about it at My Grandmont Rosedale. I will be surrounded by a wonderful group of neighborhoods that have welcomed me during my pop-up inside Always Brewing Detroit. No date on my opening yet, but stay tuned!"


Sophie's Books & Puzzles Opens in Plattsburgh, N.Y.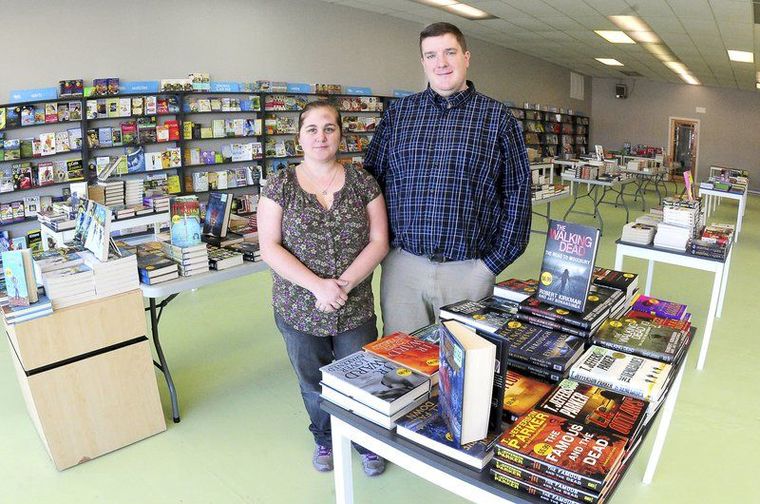 photo: Rob Fountain/Press Republican
Craig and Tina Rock have opened Sophie's Books and Puzzles at 345 Cornelia St. in Plattsburgh, N.Y. The Press-Republican reported that the Rocks "have a similar venture at University Mall in Burlington [Vt.], but decided to open in Plattsburgh to be closer to home."

"We're excited to work in our hometown again," Craig Rock said, noting that they plan to work with local authors and one area of focus will be books that cover the region's rich history. "More and more people are becoming aware of that. The history and biography books sell really well in Burlington. I think that will do well here."

"We've worked with the public a lot; I really enjoy meeting new people," he added, noting that the store's name is in recognition of his grandmother, a real "people person."

The 3,200-square-foot space "required minimal renovation over the past month, as the landlord had done a lot of work for the previous tenant," the Press-Republican wrote, noting: "A wide bank of windows on the north side of the building floods the interior with light, while the pastel wall and floor colors provide a relaxing atmosphere."


Ruth Liebmann Promoted at Penguin Random House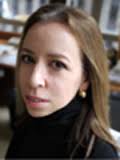 Ruth Liebmann, v-p, account marketing, at Random House, is expanding her role to include Penguin. As v-p, account marketing, Penguin Random House, she will "provide the same critical support to the Penguin Publishing Group with our independent booksellers as she does currently for the Random House divisions," Jaci Updike, president of sales, Penguin Random House said in an announcement. Liebmann "will supplement the ongoing efforts of the Penguin Random House field reps and their managers, whose account responsibilities and duties remain unchanged."
After working as a bookseller in New York City, Liebmann joined Random House in 1995 as a Manhattan sales rep. She has held several other positions since then and has become, Updike added, "an important resource for our independent accounts, as both an unflagging in-house proponent for their needs, as well as a persuasive early advocate who rallies them in support of our publishers' books. Her expert insights into the indie marketplace are a tremendous advantage for our publishing and rep colleagues, and have been invaluable in advancing our integration efforts."
Liebmann will now be the company's primary contact with the American Booksellers Association and Indie Next, as well as with all regional bookseller associations and their marketing programs. She maintains her oversight of the Random House Events Department. Working with Penguin and Random House sales and publishing staff, she will help develop and implement strategies for the company's increasing range of initiatives, programs and trade conferences, which include enhancing and streamlining sales communications internally as well as bookseller-directed outreach. Most important, Updike said, Liebmann will work closely with company reps to help craft plans for building even stronger relationships with individual booksellers and with the bookselling channel overall.


S&S Launching North Star Way
Simon & Schuster is launching North Star Way, a publishing unit that will partner with its authors to develop strategies that amplify and increase their reach. In addition to book publishing, services offered by North Star Way will include online courses and subscriptions; seminars, workshops & panel discussions; mobile applications; original videos and audio books; sponsorships and business partnerships; and podcasts.

Led by v-p and publisher Michele Martin, North Star Way will have an editorial focus on nonfiction in the fields of self-improvement & inspiration, mind-body-spirit, motivation, wellness & business inspiration and leadership. Titles acquired thus far include On Fire by John O'Leary (spring 2016), as well as two books by teenage entrepreneur and motivational speaker Maya Penn (summer 2016).

Martin said the imprint is "looking for client-authors--entrepreneurs, experts, inspirational figures, sometimes even well before they have written a book--with whom we can partner to build an audience and generate revenue, whether it be from publishing or other sources."


Obituary Note: Rod McKuen
Rod McKuen, "a ubiquitous poet, lyricist and songwriter whose work met with immense commercial success if little critical esteem," died yesterday, the New York Times reported. He was 81.

In 2012, Shelf Awareness columnist Robert Gray recalled that McKuen had been his "gateway drug" to a lifetime of reading poetry, which prompted similar responses from other people in the book world.


Notes
Image of the Day: Amy Poehler's Parade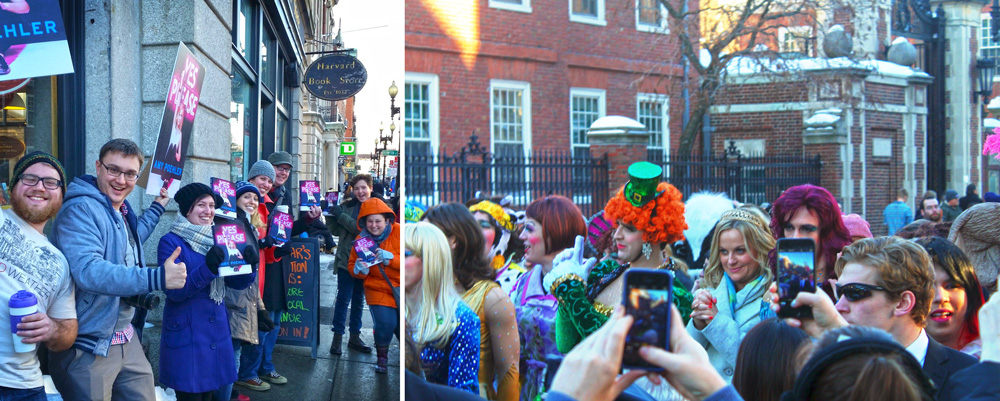 Thursday afternoon, Amy Poehler--actress, comedian, producer and bestselling author (Yes, Please, HarperCollins)--led a parade through the streets of Cambridge on her way to receive Harvard's Hasty Pudding Woman of the Year Award. Outside Harvard Bookstore, her fans cheered her on.


Personnel Changes at Houghton Mifflin Harcourt
Brittany Frick has been promoted to specialty retail sales manager at Houghton Mifflin Harcourt. Since joining the company in 2009, she has held a variety of positions in the Special Sales Group.


Book Trailer of the Day: Cascade Falls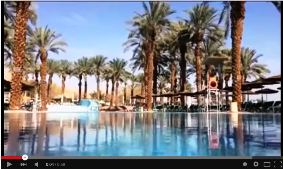 Cascade Falls: A Novel by Bruce Ferber (Rare Bird, distributed by PGW).


Media and Movies
Media Heat: Jennifer Senior on Fresh Air
Today on Fresh Air: Jennifer Senior, author of All Joy and No Fun: The Paradox of Modern Parenthood (Ecco, $15.99, 9780062072245).
---
Tomorrow on CNN's Smerconish: Gerald Posner, author of God's Bankers: A History of Money and Power at the Vatican (Simon & Schuster, $32, 9781416576570).
---
Sunday on Face the Nation: Joseph A. Califano, author of The Triumph & Tragedy of Lyndon Johnson: The White House Years (Touchstone, $18, 9781476798790).


TV: Legends & Lies
Bill O'Reilly is moving on from "Killing" historical figures--Jesus, Lincoln, Kennedy and, most recently, Patton (Holt, $30, 9780805096682)--to "docudrama" tales of the Wild West in a TV series and companion book. Legends & Lies: Into The West will debut on Fox News April 12 with stories about gunslingers, lawmen and outlaws like Doc Holliday, Jesse James and Billy the Kid.

The companion book (Holt, $35, 9781627795074), to be published April 7, will be written by David Fisher with an introduction by O'Reilly. It will feature illustrations and photographs of the material covered by Fox's show (of which O'Reilly is executive producer).


Books & Authors
Awards: Hayek Book Shortlist
The Manhattan Institute has announced the shortlist for the $50,000 Hayek Book Prize, which celebrates authors who best represent the principles of F.A. Hayek, a "key figure in the twentieth century revival of classical liberalism." A winner will be named in late February. The shortlisted titles are:

The Forgotten Depression: 1921: The Crash that Cured Itself by James Grant (S&S)
The Rule of Nobody: Saving America from Dead Laws and Broken Government by Philip K. Howard (Norton)
Recasting India: How Entrepreneurship is Revolutionizing the World's Largest Democracy by Hindol Sengupta (Macmillan)
The Market and Other Orders (The Collected Works of F.A. Hayek) by F.A. Hayek, edited by Bruce Caldwell (University of Chicago Press)
Putin's Kleptocracy: Who Owns Russia? by Karen Dawisha (S&S)
The Tyranny of Experts: Economists, Dictators and the Forgotten Rights of the Poor by William Easterly (Basic Books)


Book Brahmin: Tina Seskis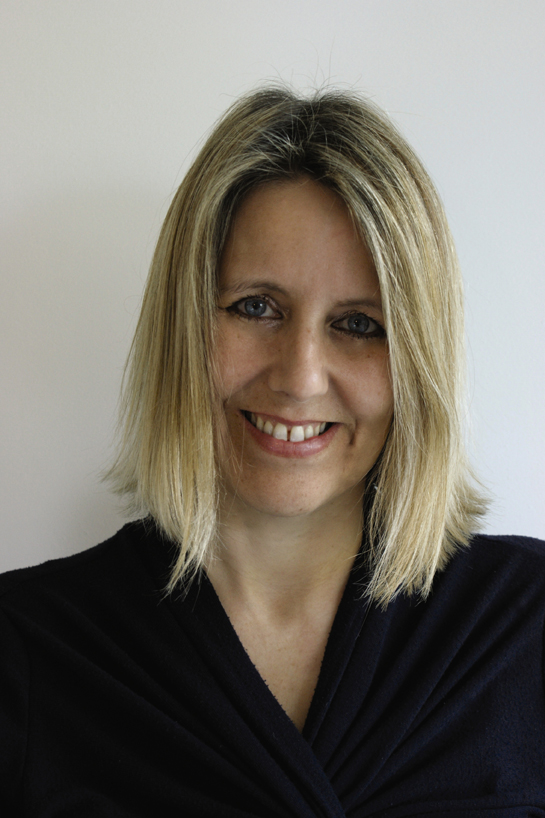 Tina Seskis grew up in Hampshire, England, and worked for more than 20 years in advertising and marketing. Her first novel, One Step Too Far, was published in the U.K. in 2013 and released in the U.S. this month by Morrow. Seskis lives in North London with her husband and son.
On your nightstand now:
Hotel du Lac by Anita Brookner, because I am trying to go back to the books I've always wanted to read but never managed to get to; Daughter by Jane Shemilt, a fellow Penguin author in the U.K. who managed to make me miss my tube stop yesterday as her book is so gripping; and Slash: The Autobiography--I love reading about other people's lives and have always had a fascination for where someone starts off and how they turn into the person they become, and this is also research for my third book, but it's an insane, eye-popping read.
Favorite book when you were a child:
Watership Down, partly because I won it in a competition and partly because I became so consumed with hope and fear and terror for a bunch of fictional rabbits. I read in an interview with Richard Adams last month that he thinks now that he made the story too dark, with rabbits being gassed and snagged on barbed wire, but I loved the way it opened me up to emotion in that way, and what the story put me through. However, when my son and I read it together recently, he wouldn't finish it because he thought it was too sad, perhaps because he has experience of bereavement, whereas I hadn't.
Your top five authors:
I will interpret this as the five authors who have both given me the most pleasure over the years and have helped influence my writing. I am a sucker for a) the great storytellers of any genre, so to pick two, I'll choose Thomas Hardy and Jilly Cooper; b) mystery--Agatha Christie was the master; and c) the wielders of magic quills/keyboards, so Salman Rushdie and William Shakespeare.
Book you've faked reading:
Pretty much every management book I was meant to read for my degree in business administration. The problem with being a school-leaver in the rather dour U.K. economy of the mid-'80s was that I was encouraged to choose a course that would help me get a job. If I'd done my first love, which was English Literature, I'm sure I would have read more of the course books.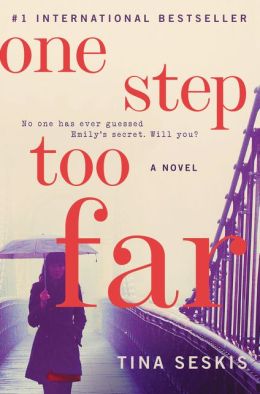 Book you're an evangelist for:
Well, possibly The Sea by John Banville, which was an extraordinarily hard slog, but the ending makes it worth it. I know so many people who have given up on it so I tell them to keep going. And G by John Berger, which hardly anyone seems to have heard of but which is brilliant.
Book you've bought for the cover:
Where'd You Go, Bernadette by Maria Semple. I saw it around the time I was hoping One Step Too Far would get published one day, and thought the cover was so brilliant I didn't even look at what the book was about.
Book that changed your life:
The Other Hand [published as Little Bee in the U.S.] by Chris Cleave. I picked it up on impulse at the airport on my way to spend Easter in Venice, because the editor had put a personal message on the cover about how extraordinary she thought it was. It was the book I was reading when I had the idea for One Step Too Far. I was so convinced that the editor would think my book was special, too, that, months later (once I'd written it, obviously), I even cold-called her to try to persuade her. She was so nice that she did agree to look at my manuscript, but sadly didn't agree with me, and as it was a very rough draft, I think I was somewhat precipitous in my approach. I will always be grateful to her, though, both for being so kind on the phone and for taking the time to take a look and get back to me. I called her two days after my mother had died, and I think she probably thought I was some kind of nutter.
Favorite line from a book:
"The problem these fifty-nine years has been this: how can a novelist achieve atonement when, with her absolute power of deciding outcomes, she is also God?" --Ian McEwan, Atonement
Which character you most relate to:
Sherman McCoy in Bonfire of the Vanities--not because I am like him (I certainly hope not), but because Tom Wolfe does an amazing job of making Sherman's life come alive on the page. Wolfe sucks you into Sherman's dilemmas, and the character development as well as the story itself is masterful. I found myself deeply involved with the journey of a man in a life I had no experience of, and the depiction of that sham way of living has always stayed with me. In fact, I'm going to read it again, now I've thought about it.
Book you most want to read again for the first time:
Bonfire of the Vanities by Tom Wolfe. My original answer: Jane Eyre by Charlotte Brontë (before I knew about Bertha).


Book Review
Review: Why Not Say What Happened: A Sentimental Education
Why Not Say What Happened: A Sentimental Education by Morris Dickstein (Liveright, $27.95 hardcover, 9780871404312, February 9, 2015)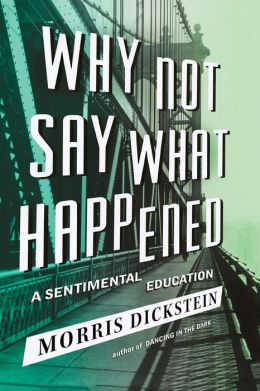 Distinguished cultural critic Morris Dickstein (Dancing in the Dark) has written a lively, impressionistic account of the intellectual and personal transformation of a "brash Jewish kid from New York" that paralleled the U.S.'s emergence from the torpor of the 1950s into the political and cultural explosion of the following decade. Why Not Say What Happened intertwines these two narrative threads to create this engaging story of "an education of the feelings as well as the mind."
In vivid and entertaining prose, Dickstein describes his educational journey as he moved from his undergraduate years at Columbia College and on to Yale, where he obtained a Ph.D. in English literature, while he emerged simultaneously from an insular Orthodox Jewish upbringing on the Lower East Side and in Queens into the wider world. A "vagrant offshoot of a venerable tradition," Dickstein realized he "would either learn to live with contradictions or perish under their weight."
Dickstein had the good fortune to experience his scholarly coming of age under the tutelage of intellectuals like Lionel Trilling (a major, if somewhat distant, influence) and Harold Bloom (who was not yet an imposing figure of contemporary literary criticism when he served as Dickstein's thesis advisor at Yale). His anecdotes about these and other figures (Susan Sontag, the great British critic F.R. Leavis) invigorate the memoir.
Dickstein's greatest stroke of luck may have been simply the timing of his birth, which made him a member of an "in-between generation" that blossomed in the middle of the societal ferment of the 1960s. More than anything, that fortuity propelled his desire to be "part of the cultural conversation about the changes in modern life" instead of settling for a life of quietude, teaching and writing about his specialty, English Romantic poetry. Whether he's describing his sexual initiation in the company of the woman who would become his wife, his struggle to maintain his fraying connection to his Orthodox upbringing by his refusal to abandon the Jewish dietary laws or his passionate engagement with Keats's poetry, Dickstein shows why his talent would have been only half-realized had he chosen the cloistered life.
The memoir ends as Dickstein enters his 30s, about to embark on the writing of Gates of Eden, his highly regarded cultural history of the 1960s. The four decades of his life that lay between then and now no doubt hold still more fascinating stories. One can only hope he's well on his way to completing another volume in which he'll share them. --Harvey Freedenberg, attorney and freelance reviewer
Shelf Talker: Cultural critic Morris Dickstein's spirited memoir of his professional and personal transformation in the 1950s and '60s.


Deeper Understanding
Robert Gray: Reading Between the Goal Lines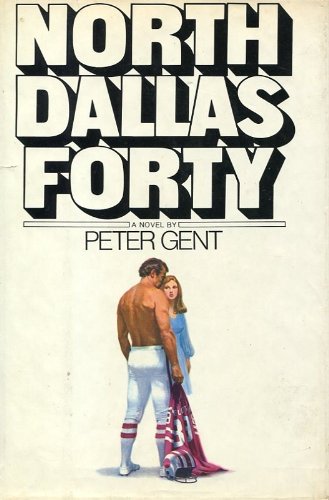 "Shoat said it was too bad we would have to miss it but the Super Bowl halftime show was going to be even more spectacular than the pre-game show.... He said there would be a water ballet in the world's largest inflatable swimming pool, a Spanish fiesta, a Hawaiian luau, a parade stressing the history of the armored tank, a sing-off between the glee clubs of all the military academies, and an actual World War I dogfight in the sky with the Red Baron's plane getting blown to pieces." --Dan Jenkins (Semi-Tough, 1972)

In his 1973 novel North Dallas Forty, Peter Gent described football this way: "There's no greater display of everything that's magnificent about sport in America and everything that's wrong with culture in America." Many of the current, "shocking" headlines about the sport were anticipated by Gent and Jenkins.



In case you haven't heard, the Seattle Seahawks are playing the New England Patriots Sunday in Super Bowl XLIX. Does the book world care about the biggest day in sports? I suspect that's a multiple-choice question, with the following options:
Yes! (This includes some of my Shelf Awareness colleagues in our Seattle office.)
Yes, with reservations.
No!
This week, I've been trawling social media and websites in the book world for Super Bowl-related chatter and events, but it seems unusually quiet. I did find a few notable items:

In Seattle, the Bookstore Bar & Café will be "pouring some cocktails for Sunday's game. These drink specials are ready for the 12th Fan with the Hawks Hottie and the Throat Lozenge. The Hawks Hottie is their take on a hot toddy with butter, brown sugar, spices, dark rum, hot water, and topped with whipped cream. The Throat Lozenge is intended to sooth your vocal cords after an afternoon of screaming with its mix of Ballantine's, lemon juice, Chartreuse, and honey syrup. In addition to the drinks, the Bookstore Bar & Café will have an all day happy hour on Sunday."

In Phoenix, Ariz., site of this year's Super Bowl, Changing Hands is getting its game face on with "Happy Hour prices all day at First Draft Book Bar ($1 off all tap and house wine and beer, plus nuts and olives), plus a screening of the Super Bowl on the big-screens in the Commons."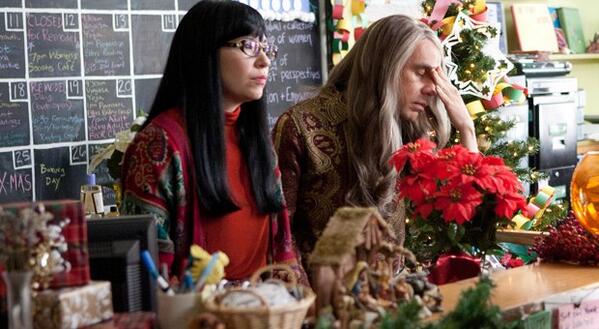 Inspired by fictional booksellers Toni and Candace at Portlandia's Women & Women First, staff from Portland's In Other Words feminist bookstore and community center will return to live-tweet the Super Bowl. On Sunday, go to @Portlandia and follow the hashtag #FeministBookstoreSaysWhat.

I also saw the expected reading lists--10 Football Books to Get You Into The Super Bowl Spirit (Even If You Couldn't Care Less About The Big Game); 7 Sporty Adaptations to Get You Ready for Some Football--and noticed that a new trailer for Insurgent, based on Veronica Roth's series, will be released during the Super Bowl pre-game show.

I learned that in 1984, Apple introduced its Macintosh personal computer with an advertisement during the Super Bowl XVIII telecast. The ad invoked George Orwell's novel. I'm still considering the long-term implications of that bit of information.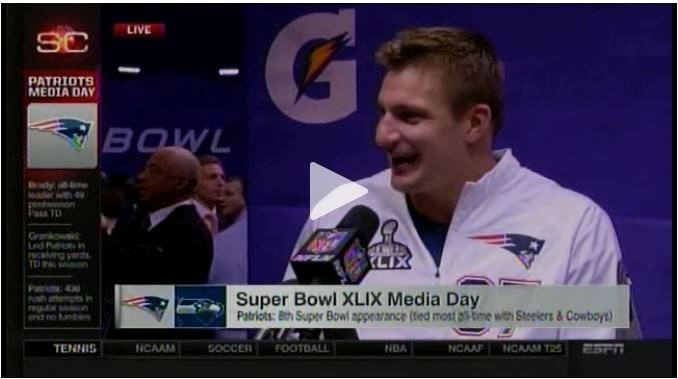 And then there was a surreal, "bookish" moment this week at the Super Bowl's annual rite of craziness known as Media Day, when New England Patriots tight end Rob Gronkowski read a passage from Lacey Noonan's Kindle novella, A Gronking to Remember: Book One in the Rob Gronkowski Erotica Series.

For the most part, however, I haven't found much commentary from the book world, despite 24/7 coverage (seems like more) of THE GAME elsewhere.

In Salon, Steve Almond, author of Against Football: One Fan's Reluctant Manifesto, observed: "Football, already the most popular and profitable sport in America, will continue to be as big as we make it. This week's showdown likely will draw the largest audience in the history of the game.... But it's a safe bet that more viewers will feel the pangs of their conscience than ever before, too."

Is that why it's quiet out there?

So I return to North Dallas Forty. In his foreword to the 30th anniversary edition in 2003, Gent quoted Joseph Conrad's Heart of Darkness:
Their talk was the talk of sordid buccaneers; it was reckless without hardihood, greedy without audacity, and cruel without courage; there was not an atom of foresight... in the whole batch of them, and they did not seem aware these things are wanted for the work of the world.

Then he wrote: "[I]t hits me that those words describe best the life I once led. In July of 1964, the right to work was all I hoped for when I arrived at my first Dallas Cowboys training camp... That September, Tom Landry gave me a job as a receiver that I kept for five years. They were great years. Terrifying. Thrilling. Happy. Sad. Most of all, they were ultimately satisfying."

But Gent also invoked another kind of reading: "We need to make a new generation realize that North Dallas Forty isn't just a book about football--it remains a prediction of the direction of America by reading the livers, kidneys, and spines of old NFL players."

It's complicated. I'll be watching anyway. --Robert Gray, contributing editor (column archives available at Fresh Eyes Now)