Shelf Awareness for Tuesday, September 2, 2014

News
With/Despite Changes, National Book Festival Thrives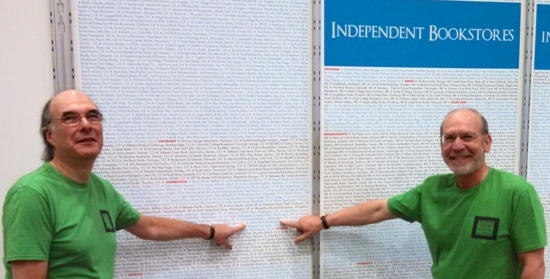 The ABA's Oren Teicher (l.) and Bradley Graham of Politics & Prose in front of the ABA's wallpaper listing 2,000 indie bookstores across the country.

Despite worries that this year's National Book Festival would be hampered by its move from the National Mall into the Washington Convention Center and by having it at the end of August rather than in September, "turnout far exceeded expectations," wrote Bradley Graham, co-owner of Politics & Prose, which was the official bookseller of the Festival, whose main sponsor is the Library of Congress. "We're waiting for an official count from the Library, but the crowds seemed as large as in previous years." The 14th annual festival took place on Saturday, August 30; last year's event drew more than 200,000 people.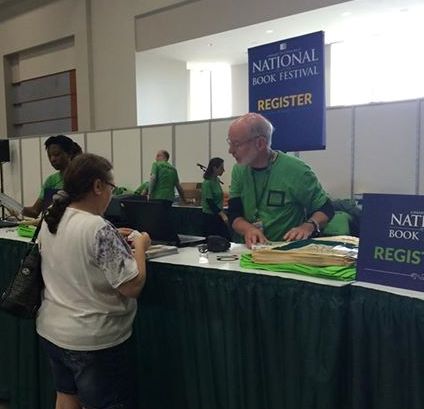 Graham called the bookselling part of the festival "a great team effort" that included Ingram, which supplied the books; IRT, which provided cash registers; and the American Booksellers Association, which provided wallpaper featuring the names and locations of about 2,000 independent bookstores. (In addition, ABA CEO Oren Teicher and several staff members were on hand and helped as booksellers.)

Jennifer Gavin, one of the festival organizers, told the Washington Post that "the crowds are huge." She added that "the author pavilions are almost full. We have 900 seats in fiction and mystery. Full. History and biography, 1,000 seats. Nearly full. The children's activities are mobbed."

Authors included former Supreme Court Justice Sandra Day O'Connor, Rep. John Lewis, Dav Pilkey and Kate DiCamillo.


NYC Stores: New Locations for Bank Street and Book Culture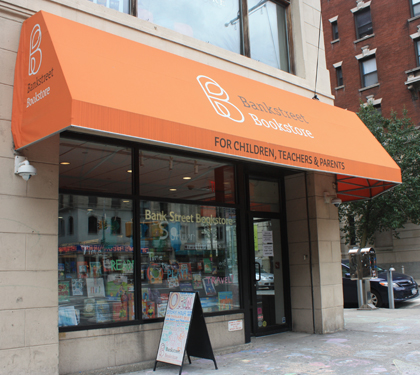 Good news about bookstores on the Upper West Side in New York City: according to the New York Times, the Bank Street Bookstore, which was in danger of closing when its lease runs out in February, has found a new location five blocks from its current site, and Book Culture is opening a third store, at 82nd and Columbus, in the old location of Endicott Booksellers, which closed in 1995.
The Bank Street Bookstore's new location, at 107th Street, is "about one-third smaller, with 2,200 square feet of retail space, but the rent is half of what the bookstore has been paying," the Times said.
"I can't tell you how many people have said to me: 'You can't close this store. My kids have grown up in this bookstore,' " manager Andy Laties told the paper.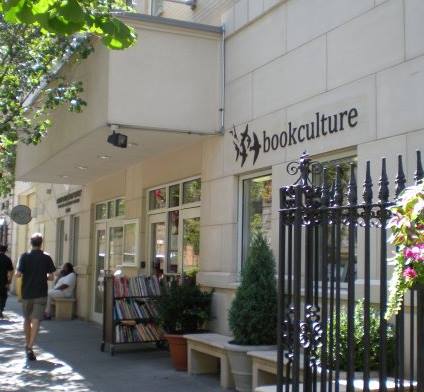 Book Culture, which has two stores near Columbia University in Morningside Heights, will open the third store in November.
Chris Doeblin, president of Book Culture, told the Times that he emptied his retirement savings to help pay for the new store's lease, which costs $35,000 a month. "The rents are definitely high in Manhattan, but where am I going to find a more condensed, more literary group of book lovers in the world?" he said.


Front Street Book Shop in Massachusetts Closes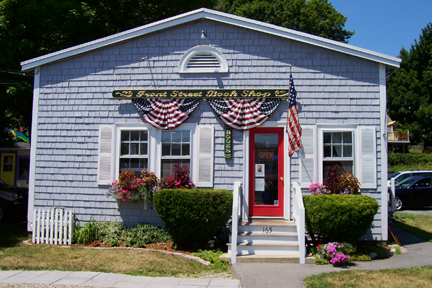 The Front Street Book Shop, Scituate Harbor, Mass., closed this past Sunday, according to the Scituate Mariner.

Peg Patten, who bought the store seven years ago and has worked there for 13 years, told the newspaper, "The decision forced itself. It took me most of this past spring to make a decision because I was fighting it. This whole journey, the last six months or so, has been extremely emotional and sad for me, but the stress of the business was taking a toll on my health."

Patten said that problems began in 2007, when she bought the business. Gas prices rose that year, and the store lost "a lot of boat traffic. I would have boaters come down from Boston Harbor. They would call ahead and ask me if I had a book, and tell me they would be coming down over the weekend. They'd come into (Scituate) Harbor, spend the night, and pick up their books. It used to be a usual situation until the gas price increased."

Then the recession hit, winters were tough, online competition increased and, finally, her insurance quadrupled last year because of "the new flood maps. It has dropped a little since then, but not by much."

Patten added that she may work with some authors she knows and host author events or readings at her home. "I will miss the customers," she said. "And I'll miss my sales reps and the authors. We had a lot of great authors come through here. And I'll miss the lifestyle. Owning a business is 24/7."


Group Seeks Support to Buy Explore Booksellers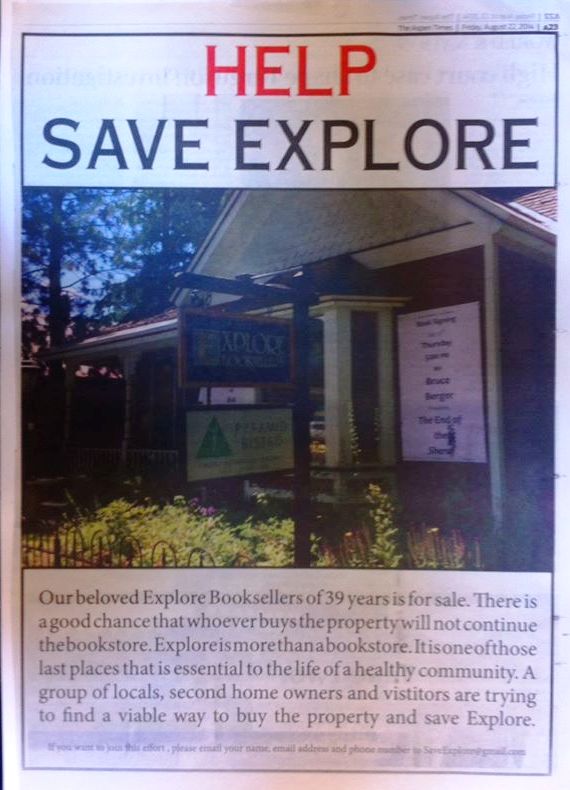 A group that includes the husband of the late founder of Explore Booksellers, Aspen, Colo., has advertised in support of continuing the bookstore, which is for sale.
The ad in the Aspen Times read: "Our beloved Explore Booksellers of 39 years is for sale. There is a good chance that whoever buys the property will not continue the bookstore. Explore is more than a bookstore. It is one of those last places that is essential to the life of a healthy community. A group of locals, second home owners and visitors are trying to find a viable way to buy the property and save Explore." The ad includes a contact e-mail.
Billionaire owners Sam and Cheryl Wyly are asking $6.5 million for the business and the building. They bought Explore in 2007 after founder and longtime owner Katherine Thalberg died in 2006 and her children put the store and building up for sale.
Thalberg's husband, Bill Stirling, a real estate agent and former mayor of Aspen, wouldn't divulge the identity of anyone in the group that is supporting the store, telling the Aspen Daily News only that the group is "working hard" on the matter.


Copperfield's First--and Hopefully Last--Earthquake Sale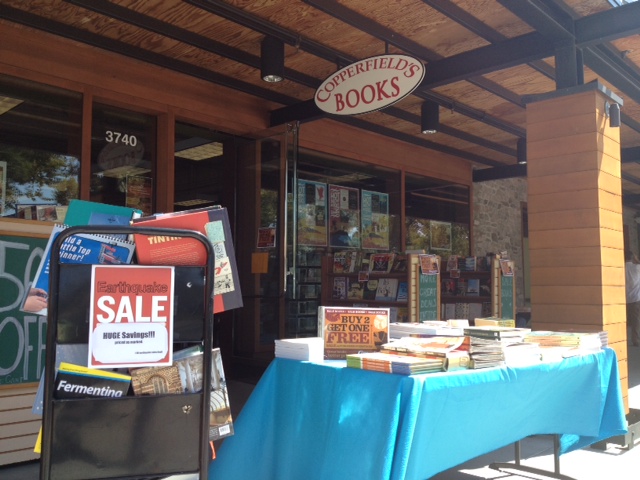 Over Labor Day weekend, for the first--and hopefully the last--time, the Copperfield's Books in Napa, Calif., included an earthquake sale in conjunction with the Copperfield's-wide "buy two, get one free" sale of remaindered books. Books damaged in the earthquake of August 24 were discounted, with many marked more than 50% off the original price. Assistant manager Jonathan Keyes said the sale was drawing "a great deal of foot traffic from the plaza. The opportunities for savings are bringing customers to the store, and even making some people come back for more!"
The earthquake knocked most inventory in the store onto the floor, damaging some books and breaking some sidelines. After a day of cleaning, the store re-opened on Monday, August 25.


Amazon Faces Tax Dispute in India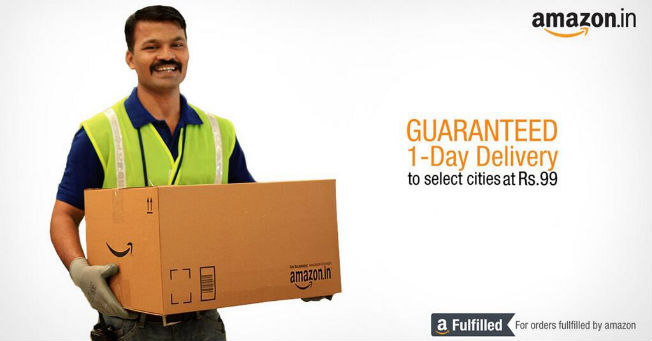 A tax dispute with the government of Bangalore, where Amazon's local operations are headquartered, has complicated the online retailer's expansion plans in India. The International Business Times reported that while Amazon "has argued that it only acts as an intermediary between sellers and buyers in the country, it has been accused of violating India's foreign direct investment, or FDI, regulations by trying to make a 'backdoor entry' into the country's retail business."

Officials at the commercial taxes department in the state government of Karnataka, of which Bangalore is capital, "have stated that if Amazon wants to conduct its business, it can do so only through an Indian subsidiary," the IBT noted. India's FDI norms permit overseas companies to be "involved in the multi-brand retail business through an Indian subsidiary or in a minority partnership with a local company." With three warehouses in Bangalore, Amazon uses the "marketplace model," which allows other companies to use Amazon's website to sell their products across the country.

In a statement, Amazon said that it is "in compliance of all FDI rules" and is working with local authorities to address the tax dispute. "We understand this to be a case where the laws have not kept pace with the new-age online business models that enable a faster, convenient and nationwide access to customers for sellers, especially small and medium businesses, at significantly low costs."


Obituary Notes: Jerry Healy; Arthur H. White
Jerry Healy, who called Boston a "rich and fertile setting" for detective fiction and whose 13-book mystery series featured John Francis Cuddy, "a man who keeps his promises, but isn't afraid to use violence to do so," died August 14. He was 66. The Boston Globe noted: "Within the community of crime writers, Mr. Healy was as loved for the time he invested as a mentor to aspiring writers as he was respected for his 18 novels and dozens of short stories."

---

Arthur H. White, a co-founder of the opinion research firm Yankelovich, Skelly & White who helped Margaret McNamara start the nonprofit organization Reading Is Fundamental in 1966 and "spent decades on the group's board, serving for a time as its chairman," died August 25, the New York Times reported. He was 90.


Notes
Image of the Day: Campaign Stop at Avid Bookshop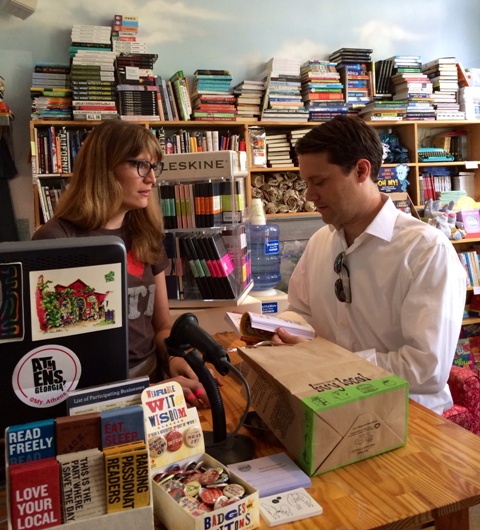 From the Facebook page for Avid Bookshop, Athens, Ga., on Saturday: "Check it out! We had a surprise visit from Jason Carter, who's running for governor of Georgia. We talked to him about books, small businesses in Georgia, our work with local schools, public education and more. It means a lot when politicians take the time to talk with citizens to see what WE are hoping for. Thanks, Jason!"
FYI: Carter is a Georgia state senator and grandson of former President Jimmy Carter.


Road Trip: Melbourne's Bookstores; Lisbon's Book Van
Australian road trip for bibliophiles: "Because you can never have too many books," Buzzfeed showcased "17 wonderful Melbourne bookstores every book lover must visit."

---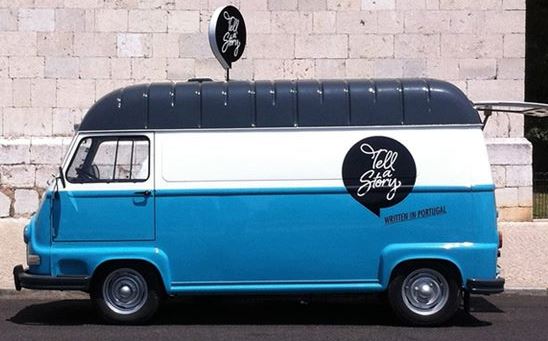 In Lisbon, Portugal, Tell a Story launched in 2013 as a "nomadic bookstore that moves around the city all year long, bringing Portuguese literature to international visitors," Ozymandias noted, adding that the "vehicle, a gorgeous 1975 Renault Estafette, has character, but the soul of this literary omnibus is its driver, Francisco Antolin. He's a 36-year-old Lisboner who loves books and talking about them with whoever stops by."

"We wanted to help people discover Portugal through our literature, because stories are a great way to understand a culture," he said. Regarding his customers, Antolin observed: "I learn so much from them. Sometimes they come back and share books with me or even teach me something I didn't know about an author.... Culture has no borders."


Don't Miss Them: Children's Book Art Exhibits
Two terrific New York exhibits are winding down this month that should not be missed:
"The ABC of It: Why Children's Books Matter," at the Fifth Avenue (at 42nd Street) location of the New York Public Library, is in its last days. Curator Leonard S. Marcus will host a farewell toast in the library bookshop on September 7, 3-5 p.m.
And "Reflections: Remembering the Work of Ann Jonas" in the Youth Wing of the Brooklyn Public Library, 10 Grand Army Plaza, Brooklyn, N.Y. The exhibit, which closes September 21, 2014, celebrates the life, words and artwork of children's book creator Ann Jonas.


Book Trailer of the Day: La Belle Créole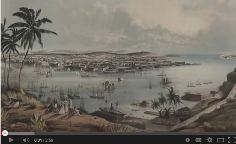 La Belle Créole: The Cuban Countess Who Captivated Havana, Madrid and Paris by Alina García-Lapuerta (Chicago Review Press), a trailer produced by the author and featuring "Air Espagnol," composed by the Countess Merlin of the title and found by García-Lapuerta during her research for the book.


Media and Movies
Media Heat: Randall Munroe on Colbert
This morning on the Today Show: Eileen Kennedy-Moore, author of What About Me?: Twelve Ways to Get Your Parents' Attention (Without Hitting Your Sister) (Parenting Press, $14.95, 9781884734861).

---

This morning on Good Morning America: Phil Robertson, co-author of unPHILtered: The Way I See It (Howard Books, $25.99, 9781476766232). He will also appear today on Nightline and Hannity and tomorrow morning on Fox & Friends.

---

Today on Fresh Air: Dana Goldstein, author of The Teacher Wars: A History of America's Most Embattled Profession (Doubleday, $26.95, 9780385536950).

---

Today on a repeat of Tavis Smiley: Stephen Dubner and Steven Levitt, authors of Think Like a Freak: The Authors of Freakonomics Offer to Retrain Your Brain (Morrow, $28.99, 9780062218339).

---

Tonight on the Daily Show: Ramita Navai, author of City of Lies: Love, Sex, Death, and the Search for Truth in Tehran (PublicAffairs, $26.99, 9781610395199).

---

Tomorrow morning on the Today Show: Ginger Alden, author of Elvis and Ginger: Elvis Presley's Fiancée and Last Love Finally Tells Her Story (Berkley, $26.95, 9780425266335).

---

Tomorrow on MSNBC's the Cycle: Daniel J. Levitin, author of The Organized Mind: Thinking Straight in the Age of Information Overload (Dutton, $27.95, 9780525954187).

---

Tomorrow on a repeat of the Talk: Joan Rivers, author of Diary of a Mad Diva (Berkley, $26.95, 9780425269022).

---

Tomorrow on a repeat of Tavis Smiley: Richard N. Haass, author of Foreign Policy Begins at Home: The Case for Putting America's House in Order (Basic, $25.99, 9780465057986).

---

Tomorrow night on the Colbert Report: Randall Munroe, author of What If?: Serious Scientific Answers to Absurd Hypothetical Questions (Houghton Mifflin Harcourt, $24, 9780544272996).


TV: Olive Kitteridge
The first three clips have been released from HBO's four-part miniseries Olive Kitteridge, based on Elizabeth Strout's novel, Indiewire reported. The project, directed by Lisa Cholodenko, stars Frances McDormand, Richard Jenkins, Bill Murray, Zoe Kazan, John Gallagher Jr., Martha Wainwright, Rosemarie Dewitt, Peter Mullan and Brady Corbet. Olive Kitteridge airs November 3 and 4.


Books & Authors
Awards: SiC Australia's Davitt Winners
Hannah Kent's Burial Rites won the best debut novel and Readers' Choice categories at this year's Davitt Awards, presented by Sisters in Crime Australia for books written by Australian women. The other Davitt category winners were Honey Brown's Dark Horse (adult novel), Jen Storer's Truly Tan: Spooked! (children's novel), Karen Foxlee's The Midnight Dress (YA novel), and Anna Krien's Night Games: Sex, Power and Sport (true crime book).


Attainment: New Title Out Today
What If?: Serious Scientific Answers to Absurd Hypothetical Questions by Randall Munroe (Houghton Mifflin Harcourt, $24, 9780544272996) seriously answers questions like "Are fire tornados possible?" and "What if everyone had only one soul mate?" The book is partly based on xkcd.com, Munroe's wildly popular webcomic about science, math and love, but also contains new material. As noted above, Munroe is on the Colbert Report tomorrow night.


World Literature: Iceland Beyond the Mysteries
I'm not saying that I don't appreciate a dark, moody Icelandic mystery by Arnaldur Indridason, Yrsa Sigurdardottir or Hannah Kent, but there's much more coming from the country that, per capita, has more books published, more books read, more writers than anywhere else.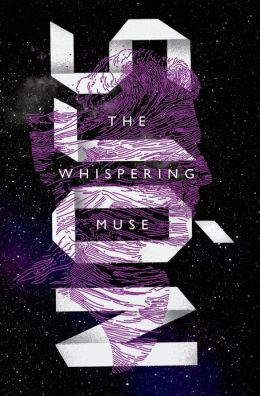 The three books by Sjón (Sigurjón Birgir Sigurðsson) released by FSG--From the Mouth of the Whale, The Blue Fox andThe Whispering Muse--are all exceptional. His fiction is mythical, magical and poetic. A.S. Byatt said of Sjón: "Every now and then a writer changes the whole map of literature inside my head."
Sjón was on the board that helped Reykjavik be recognized as a UNESCO City of Literature, and he's active in the City of Refuge Program. He's been nominated for both an Academy Award and a Golden Globe, and he's a pal of Bjork. (Check out Luftgitar on YouTube.) Rumors have it there's a fourth novel heading for translation.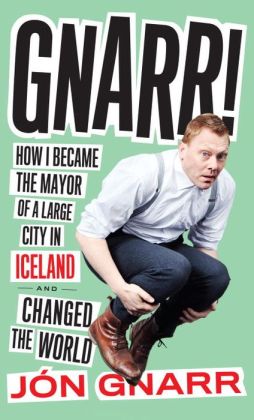 Melville House recently published Gnarr! How I Became Mayor of a Large City in Iceland and Changed the World, the story of Jon Gnarr's Best Party campaign that resulted in his mayoral election in Reykjavik. One could spend all day Googling Gnarr or one could watch the eponymous movie, released in 2010. Deep Vellum, a nascent star in world literature publishing, is releasing autobiographical fiction by Gnarr, The Indian, in spring of 2015.
From Open Letter Books, Sölvi Björn Sigurdsson's The Last Days of My Mother has a first line that sets you up: "I had decided to take Mother to die in Amsterdam."
After a failed romantic relationship in which his girlfriend bolts with a French dentist, Hermann, aka Trooper, ungracefully moves back into his mother's attic. When his mother is diagnosed with cancer, he mans up, searches the Net, and arranges for an experimental drug treatment in the Netherlands for her.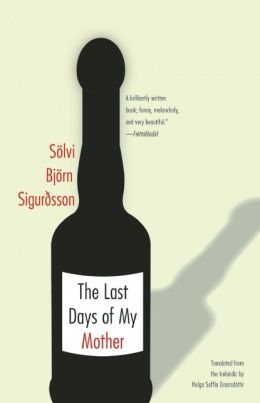 Mother, aka Eva, decides if she's going to do subject herself to daily injections, she's going to do it in style. She pals up with her son. Cue drinking. And a little dancing for Eva. And drinking. And some weed (it is Amsterdam, after all). And more drinking. Says Trooper, "I was so bloated from drink that I could see my own face without the help of a mirror."
Sigurdsson places son and daughter in strange encounters with Icelandic bankers, Nazis, con men, pot dealers. It's funny, very funny, even though you know it's not going to end well.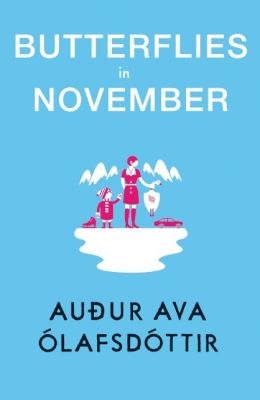 After her emotionally confused husband dumps her in Audur Ava Ólafsdóttir's Butterflies in November (Grove), a young woman attempts to leave Iceland for a vacation in the sun. But fate sets her up with two lottery wins and the caregiving responsibility of a deaf-mute boy. With her glove compartment packed with kronur, she opts for a road trip on the 800-mile Iceland Ring Road. For a visual reference of Route 1, think the really good movie Either Way or the really terrible movie Die Another Day.
The narrator is a likable character and her interactions with her mother, her ex, a new boyfriend and the boy are all thoughtful and genuine. The book has a commercial feel to it, which sort of surprises me. Except for Murakami, "world literature" and "commercial" don't usually pair up in sentences. Maybe it's the jacket image. Whatever, gangi per vel, Grove/Atlantic. --George Carroll


Book Review
Review: A Distant Father
A Distant Father by Antonio Skármeta, trans. by John Cullen (Other Press, $15.95 hardcover, 9781590516256, September 16, 2014)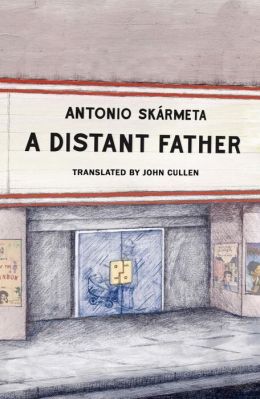 Chilean author Antonio Skármeta, whose most famous novel became the Academy Award-winning film Il Postino, has written another story that begs for the screen with its swift, dynamic storytelling, rich cast of characters and nicely planned turnarounds and surprises. Jacques, the narrator, is the anemic 21-year-old schoolmaster in Contulmo, an isolated village in southern Chile where the inhabitants are all "secondary figures, not protagonists." He has bronchitis from smoking cheap cigarettes and lives with his mother near the mill. Unfortunately, on the same day that Jacques returned to the village with his teaching certificate, his father disappeared.
In addition to teaching, Jacques translates French poems for the Sunday supplement of the local newspaper, which he submits via the laundry truck driver, sometimes slipping in a poem of his own. Jacques continues his absent father's friendship with the miller, who knows the missing man better than his own family does and mysteriously offers to take Jacques to his first whorehouse, in the larger neighboring town of Angol. While there, Jacques also hopes to buy a birthday present for a student of his, the 15-year-old brother of the 17-year-old girl who has set her heart on the young professor. Out of this slightly raunchy setup, Skármeta skilfully builds his simple drama.
Unexpectedly, when the schoolmaster gets to Angol, not only does he discover a soft-hearted whore in the whorehouse, he also finds his missing father outside the movie theater. He's become the town projectionist, but that's only the first surprise he has in store for his son. And when the young professor finally arrives at his student's climactic birthday party, the gathering is life-changing for more than just Jacques.
All of Skármeta's literary effects are achieved with simple elements and swift, economic strokes; characters are established in only a few words. At 105 pages, told in ultra-short chapters of just several hundred words each, A Distant Father is a cunning little novella that manages to pull off a couple of surprising emotional wallops that would be remarkable in any much longer work. The magical last sentence perfectly sums up everything you need to know and, long afterward, will linger fondly in memory. --Nick DiMartino, Nick's Picks, University Book Store, Seattle, Wash.
Shelf Talker: The author of Il Postino tells another cinematic story about a young professor in Chile who discovers his long-lost father in the neighboring village.