Shelf Awareness for Friday, December 6, 2013

News
General Retail Sales in November: Gains Weaker than Expected
Sales numbers were up, but weaker than expected in November, the Wall Street Journal reported, adding that "several retailers noted that November's sales were hurt by the last day of the Thanksgiving holiday weekend falling in December." For the month, Thomson Reuters said, sales at stores open at least a year increased 1.2%, which was lower than analysts' expectations of a 2.3% gain and the 5.1% jump last year.

"The consumer is still fairly cautious, and they are going to be very reactive to promotions," said Keith Jelinek of consultant AlixPartners.

According to the National Retail Federation, total spending from Thursday through Sunday of the holiday weekend "fell 2.9% from a year earlier, to an estimated $57.4 billion, even as traffic picked up at many stores, with shoppers spending an average of $407.02, down from $423.55 last year," the Journal wrote.


Perseus COO Mangan to Become Hachette COO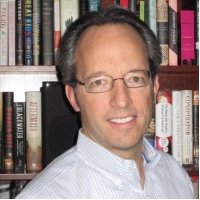 On February 3, Joe Mangan is joining Hachette Book Group as executive v-p and chief operating officer. He is currently chief operating officer at Perseus Books Group, where his last day will be January 31.

Michael Pietsch, Hachette's CEO, said, "With his deep expertise in IT and vision for our digital future, his wealth of experience building distribution businesses, and his insight into strategic business development, Joe will be a tremendous asset for us."

At Perseus, president and CEO David Steinberger commented: "Joe has made innumerable contributions to the company since arriving in 2004, playing major roles from the initial revitalization of the company to the bringing together of PGW, Consortium and Avalon, to the launch of Constellation, the industry's leading digital service platform."

At Perseus, chief financial officer Charles Gallagher is being promoted to chief operating officer, effective January 1. He joined the company in 2010.


Amazon Restarts Affiliate Program in Illinois
Amazon has restarted its Associates program in Illinois. Capitol Fax featured an e-mail sent to associates, in which the company said it was "now able to re-open the program because the Illinois State Supreme Court recently struck down legislation that had forced Amazon to close the program to residents of Illinois."

The online retailer added that--even though it has a history of bitterly fighting states over sales tax collection--it "strongly supports federal legislation like the Marketplace Fairness Act that's now pending before Congress, which is the only constitutional way to resolve interstate sales tax collection issues."


Tomorrow Is Take Your Child to a Bookstore Day

Tomorrow is the fourth annual Take Your Child to a Bookstore Day, which was created by author Jenny Milchman to "introduce children to bookstores and everything they have to offer, from the benefits of being in an environment that's visually, intellectually and socially stimulating to the sense of investment and empowerment that comes with selecting and acquiring a new book. It's also an opportunity for kids to interact with booksellers, not only to receive personal reading recommendations, just like grown-ups do, but for the chance to spend time with role models for whom books are the center of their day-to-day lives."


Scuppernong Books Cafe and Wine Bar Coming to Greensboro
"I thought I was done," said Brian Lampkin, co-owner of the soon-to-open Scuppernong Books in Greensboro, N.C. Lampkin has worked at one bookstore or another for most of his adult life, and owned Rust Belt Books in Buffalo, N.Y. After selling the store and deciding to move to North Carolina, he didn't think he'd open another. "But suddenly you find a space, and you're completely invested in the madness again."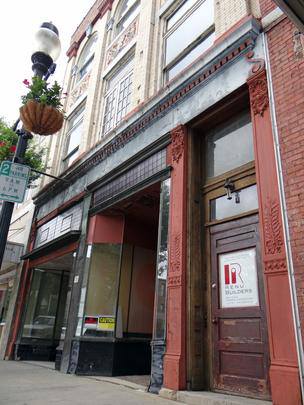 Lampkin and his business partner, Greg Grieve, found a charming old building in Greensboro's downtown that has been the home of many businesses, including a record store and used appliance store. The problem, though, was that the building, which was built in 1898, had been vacant for years and was dilapidated. After renting the building from a Greensboro city council member, Grieve and Lampkin hired contractors to bring the building up to code; floor-to-ceiling renovations, including all new electrical, plumbing, heating and ventilation systems, along with reinforcing the roof and many beams, were required.

When construction is complete, Scuppernong Books will be a 3,200-square-foot general interest bookstore with some 10,000 titles and particularly strong poetry, fiction and religion sections. Roughly 80% of the store's inventory will be new books. Scuppernong will also have a combination cafe and wine bar.

"At first, we just wanted to open a bookstore," explained Lampkin. "But we all knew the economic realities, so we were always trying to think what might work alongside it. Once we got this space, which is long and really remarkably beautiful, the space invited it."

Although they "certainly have drunk a lot of it," neither Lampkin nor Grieve are familiar enough with wine (or the logistics of food service) to operate the wine bar and cafe on their own. To that end they've brought in Steve Mitchell, a novelist and Greensboro resident, to manage that part of the store. The plan is to supplement local North Carolina wine with wine from around the country.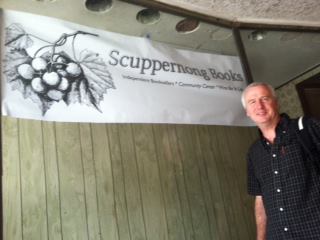 "We want good wines, but we're not here to impress anyone," stressed Lampkin. "You want to make sure you're not presenting some sort of snobbish wine bar; we want this to be a comfortable place with lots of different kinds of people."

The store's name, in fact, pertains to both wine and North Carolina. The scuppernong, a species of grape native to the South, is North Carolina's state fruit, and growing on Roanoke Island is the "Mother Vine," a 400-year-old scuppernong vine that may be the oldest cultivated grapevine in existence.

"We were looking for a name with local resonance but without baggage, and that gets a little tricky," recounted Lampkin. "But scuppernong is great. And even if you don't know what a scuppernong is, it's a nice word."

Lampkin has pulled references to the scuppernong from throughout literature, and placed the quotes around the shop. Among the most notable is a mention in Harper Lee's To Kill a Mockingbird.

Despite having a wine bar and naming the store after a grape, Lampkin is adamant that the shop is a bookstore first and foremost. "We want to be known as a great bookstore with a great little extra feature," said Lampkin. "We always try to keep that in mind; we can't let the wine bar overrun what we're really doing."

Scuppernong Books will open soon, and on December 13 will host its inaugural event. Alex Albright, the author of The Forgotten First: B-1 and the Integration of the Modern Navy, will read at the store. The book tells the story of the first African-American navy band--musicians from North Carolina, including the first African Americans to serve in the Navy at ranks higher than messman. One of the surviving servicemen, who lives in Greensboro, will be at the reading.

After that, authors Lee Smith and Michael Parker are lined up for the not-too-distant future, and the store's official grand opening celebration will likely take place during the first weekend of February. Given the anniversary of the beginning of the 1960 Greensboro civil rights sit-ins on February 1 and Groundhog Day on February 2, it seems a good time for local celebration.

The response from the Greensboro community, which has not had a new indie bookstore for a long time, has been overwhelmingly positive, Lampkin said. "It was a book town. I'm told there used to be five indies around here at one time. If you could measure your success by community enthusiasm, we'd do just fine." --Alex Mutter


BAM Opens New Store in Stroudsburg, Pa.
Books-A-Million has opened new store at Stroud Mall in Stroudsburg, Pa., and will host a grand opening tomorrow, the Pocono Record reported.


ABFFE Holiday Children's Book Art Auction Sets Record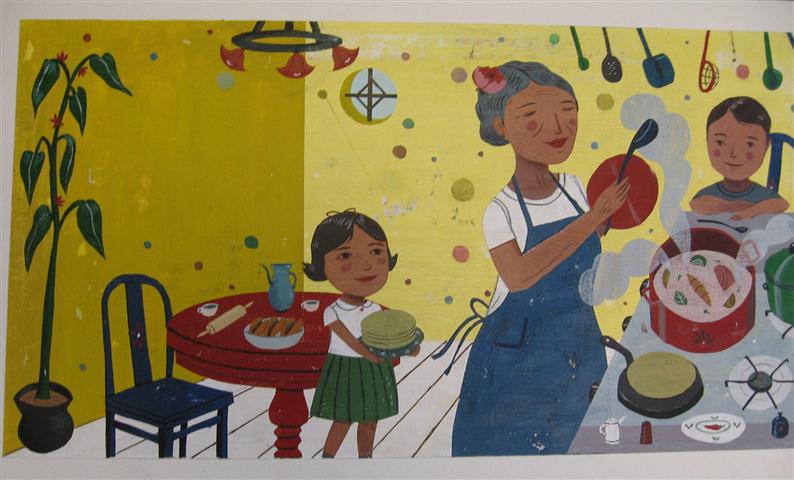 A new fundraising high of more than $10,000 was reached in this year's Holiday Children's Book Art Auction, which is sponsored by the American Booksellers Foundation for Free Expression to benefit the Kids' Right to Read Project and Banned Books Week. The auction closed Tuesday, with successful bidders acquiring 80 pieces by leading artists and illustrators.

"We are delighted by the success of this year's auction," said ABFFE president Chris Finan. "The holiday auction has grown rapidly since it was launched last year. We are very grateful to the artists for their support."


Notes
Image of the Day: Flagg Flies at Warwick's
Fannie Flagg stopped at Warwick's in La Jolla, Calif., on her tour for The All-Girl Filling Station's Last Reunion (Random House). Here she poses with the many fans who came to see her--proudly showing off their new books.


Fort Collins Indie: 'Things Are Finally Starting to Move Our Way'
Despite opening with news that BookEnds, a Fort Collins, Colo., bookshop "that sells mostly used and some new books," will close at the end of the month, the Coloradoan reported that other indies in the city are faring much better.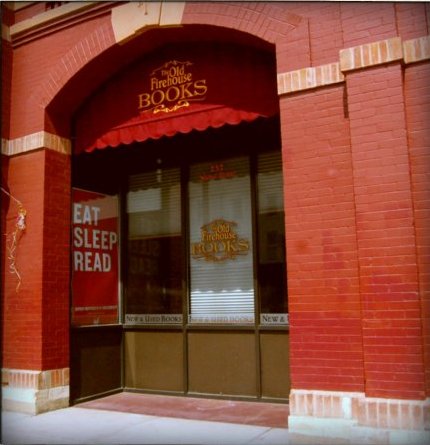 Small Business Saturday was the second-largest sales day ever for Old Firehouse Books, which is on track to have its best year, according to Susie Wilmer: "I really believe people in Fort Collins love books and love bookstores. People want to come in and talk about books, hear books being discussed and meet authors they've never encountered before. We still have people who love books, and independent bookstores are actually completing one of their best years nationwide. Independents are not struggling nearly as hard; things are finally starting to move our way."


S&S to Sell, Fulfill Reader's Digest Adult Titles
Effective January 1, Simon & Schuster will handle sales and fulfillment in the U.S. and Canada for all adult frontlist and backlist title published by Reader's Digest. S&S has sold and distributed Reader's Digest Children's Publishing titles since 1999.
Reader's Digest adult titles have previously been distributed by Penguin in the U.S. and sold by Ampersand, Inc., and distributed by Georgetown Terminal Warehouses in Canada.


Book Trailer of the Day: Everything I Needed to Know I Learned from Led Zeppelin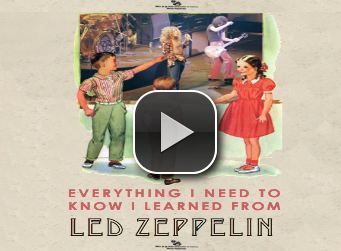 Everything I Need to Know I Learned from Led Zeppelin: Classic Rock Wisdom by Benjamin Darling (The Enthusiast/IPS).


Media and Movies
Media Heat: Laura Schroff on the Today Show
This morning on the Today Show: Laura Schroff, co-author of An Invisible Thread: The True Story of an 11-Year-Old Panhandler, a Busy Sales Executive, and an Unlikely Meeting with Destiny (Howard, $15.99, 9781451648973).
---
Today on the Rachael Ray Show: Clinton Kelly, author of Freakin' Fabulous on a Budget (Gallery, $26, 9781476715520).
---
Today on Arsenio Hall: Phaedra Parks, author of Secrets of the Southern Bell (Gallery, $23, 9781476715452).


TV: BBC to Air Christmas Day Mini-Episode of Sherlock
On Christmas Day, BBC One will release a prequel to the third season of Sherlock as an online mini-episode titled "Many Happy Returns," the Huffington Post reported. PBS has not confirmed yet whether it will air the mini-episode. Sherlock's third season premieres in the U.K. on New Year's Day and on PBS January 19.


Books & Authors
Awards: Booktrust Blue Peter Children's Book Shortlist
Finalists have been named for the Booktrust Blue Peter Book of the Year Awards, "recognizing and celebrating the best authors, the most creative illustrators and the greatest reads for children." The shortlisted books will be judged by more than 200 children drawn from 10 schools across the U.K., with the winners announced March 6 to coincide with World Book Day. The 2014 shortlisted titles are:

Best story
Whale Boy by Nicola Davies
Oliver and the Seawigs by Philip Reeve & Sarah McIntyre
Rooftoppers by Katherine Rundell

Best book with facts
Marvellous Maths by Jonathan Litton & Thomas Flintham
The World in Infographics: Animal Kingdom by Jon Richards & Ed Simkins
Tony Robinson's Weird World of Wonders: World War II by Tony Robinson & Del Thorpe


IndieBound: Other Indie Favorites
From last week's Indie bestseller lists, available at IndieBound.org, here are the recommended titles, which are also Indie Next Great Reads:

Hardcovers
Bellman & Black: A Novel by Diane Setterfield (Emily Bestler Books/Atria, $25, 9781476711959). "A stone thrown, a bird killed--this single thoughtless act committed as a boy will shadow William Bellman for the rest of his life. Setterfield's atmospheric new novel follows William's seemingly charmed life through successes, marriage, and fatherhood, until the sudden appearance of a stranger in black signals a change in the trajectory of William's good fortune. With echoes of Dickens, Poe, and Grimm, Setterfield's tale offers fascinating historical details even as it raises the hairs on the back of the reader's neck." --Kristine Kaufman, the Snow Goose Bookstore, Stanwood, Wash.

Vanished: The Sixty-Year Search for the Missing Men of World War II by Wil S. Hylton (Riverhead, $27.95, 9781594487279). "Of the more than 56,000 servicemen and women of World War II whose resting place remains a mystery, two-thirds lie somewhere in the Pacific. Hylton's fascinating account documents the search and recovery efforts of the devoted teams dedicated to finding these brave soldiers and bringing them home. By focusing on the crew of one missing B-24 and the man who became obsessed with their fate, Hylton brings the story to a personal and poignant level." --Betsey Detwiler, Buttonwood Books & Toys, Cohasset, Mass.

Paperback
May We Be Forgiven: A Novel by A.M. Homes (Penguin Books, $16, 9780147509703). "Homes' latest darkly comic novel is more poignant and moving than it appears at first glimpse, and the rudderless, hapless Nixon scholar Harold Silver's year in the wilderness is more eye-opening than he can at first admit to himself. As Harry grows and grieves in his own way over the course of the insanity-laced year, we are happily along for the ride, unquestioningly loving the person he becomes. A truly remarkable feat of storytelling that both pulsates with the underlying ache of loss and manages to crack a couple of your ribs when you laugh too hard." --Seth Marko, UCSD Bookstore, San Diego, Calif.

For Ages 4 to 8
Moonday by Adam Rex (Hyperion/Disney, $16.99, 9781423119203). "After falling asleep in the car and being carried to her bed, a little girl wakes up to find the moon in her backyard. Everyone must go about their day even though morning never really came and everyone is sleepy and wondering what to do about the moon. The little girl suggests taking the moon for a drive, during which she falls asleep again. Rex takes readers on a wonderful journey that might, or might not be, just a dream." --Melissa Oates, Fiction Addiction, Greenville, S.C.

[Many thanks to IndieBound and the ABA!]


Book Brahmin: Wallace Stroby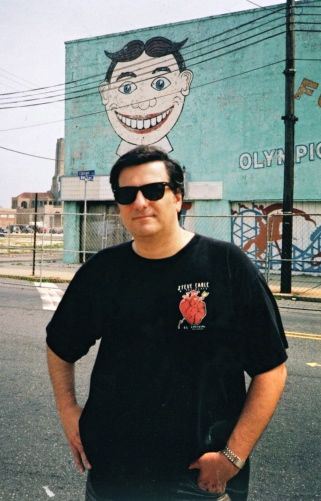 Wallace Stroby is the author of the novels Kings of Midnight, Cold Shot to the Heart, Gone 'Til November, The Heartbreak Lounge and The Barbed-Wire Kiss (a finalist for the Barry Award for Best First Novel). His newest is Shoot the Woman First (Minotaur, December 3, 2013), third in his series about Crissa Stone, a female professional thief. Stroby is a former editor at the Newark, N.J., Star-Ledger, and lives on the Jersey Shore.
On your nightstand now:
The Hunter and Other Stories by Dashiell Hammett, The Double by George Pelecanos, H.G. Wells: Collector's Book of Science Fiction--facsimile reprints of Wells's stories as they first appeared in magazine form.
Favorite book when you were a child:
Silver Chief, Dog of the North by Jack O'Brien, and its many sequels. Followed by Walter Farley's Black Stallion series.
Your top five authors:
An ever-changing list. Some standbys: Rafael Sabatini, James M. Cain, Tom McGuane, Lorrie Moore, Clive Barker. Do lists get any more eclectic than that?
Book you've faked reading:
I'll never tell.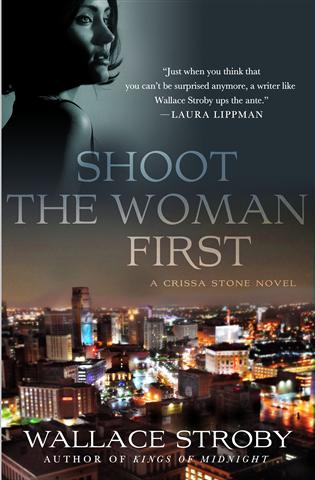 Book you're an evangelist for:
Martin Quinn by Anthony Lee. The Wolves of Fairmount Park by Dennis Tafoya. Any crime novel that gets into the hearts and minds--and soul--of its characters.
Book you've bought for the cover:
The Lancer paperback editions of Robert E. Howard's Conan stories, with cover paintings by Frank Frazetta.
Book that changed your life:
The two books that pointed me in the direction of what I wanted to write: Lawrence Block's The Devil Knows You're Dead and James Lee Burke's A Morning for Flamingoes.
Favorite line from a book:
"He was born with a gift of laughter and a sense that the world was mad." --from Scaramouche by Raphael Sabatini.
Best novel read in 2013:
Stoner by John Williams. Originally published in 1965 and recently reprinted by New York Review Books, this simple story of the life of a college professor in the first half of the 20th century is a beautiful heartbreaker of a novel. It is the only book in recent memory that I stalled on finishing because I didn't want it to end.


Book Review
Review: The Emperor's Blades
Emperor's Blades by Brian Staveley (Tor, $27.99 hardcover, 9780765336408, January 14, 2014)
An emperor has breathed his last at the start of Brian Staveley's action-packed debut epic fantasy, The Emperor's Blades, leaving behind two sons and a daughter to investigate his brutal murder--and risk being killed in the process. In the vast city of Annur, center of an exquisitely wrought culture reminiscent of East Asia, a plot is unfolding to overthrow the royal family and perhaps reawaken deadly powers that have lain dormant for centuries. Each of the emperor's offspring pursues a separate mystery, and the three plot lines eventually interweave to form a greater whole.
Kaden, the eldest son and heir to the Unhewn Throne, has been secluded from the world in a monastery for years, preparing for the throne by learning the rituals of the Blank God. His peaceful routine is unsettled when a predator begins to stalk the mountains of his home--and secrets of the monastery come to light.
Meanwhile, Kaden's younger brother Valyn is undergoing vicious training to become Kettral, a warrior more skilled than any other. To do so, he must pass an initiation that, he and his peers are told, "will break some of you, break you horribly, and for life." Yet this is not the sole challenge Valyn faces; he soon discovers that the plot behind his father's death has extended to the remote lands of his training, and that one of his own co-initiates is a traitor.
Adare, residing at the heart of power yet unable, as a woman, to do more than guard it for her brother, seeks to bring her father's killer to justice. In Annur, however, politics and magic work together, and catching a killer is a more difficult task than it would at first seem.
In The Emperor's Blades, Stavely creates a richly layered world that melds together elements of ancient magic, religion, political intrigue and battles large and small. The suspense is relentless and the moral compromises the protagonists confront, often accompanied by violence, are wrenching. Each of the heirs must ultimately betray their own instincts if they are to embrace a force greater themselves--their duty to the throne. --Ilana Teitelbaum
Shelf Talker: The assassination of an emperor sets the scene for a new fantasy series rife with violence, political intrigue, and complex systems of battle and magic.


Deeper Understanding
Robert Gray: Potluck Supper with Author Event to Follow
I first heard about Andy Sturdevant's new collection of essays, Potluck Supper with Meeting to Follow (Coffee House Press), in connection with a series of author events he'd been doing in the Twin Cities area, beginning with a potluck launch at a Polish church hall in Northeast Minneapolis.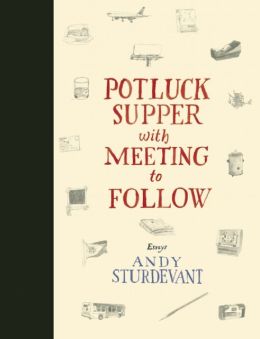 "I like to think of Andy as the hardest-working man in the art business in the Twin Cities," said Hans Weyandt, co-owner of Micawber's bookstore, St. Paul, Minn. "For years, he's been tireless in his support and work for artists of all stripes here. So it has been a joy to watch him do events and work for his own book."

Sturdevant, Coffee House and artist collaborative Works Progress have been partnering on "Potluck Supper with Projects to Follow," through which artists create works inspired by the essays and exhibit them around the area.

"These have included a poetry reading done with semaphore flags by the Mississippi River, a movie screening series in a parking lot, a game show in an Eagles Hall about historic American flags and projecting a short film on the side of a neighborhood bar during the first blizzard of the season," Sturdevant said. "I've done walking tours, too, of sites around bookstores where we've had readings. A walking tour gives the attendees something fun to do beforehand, and a chance to escape unnoticed if they get bored before the reading actually begins. I've always liked doing art and culture-related activities out of the traditional venues. It's fun to have an excuse to do those kinds of things around town because they related loosely to a book."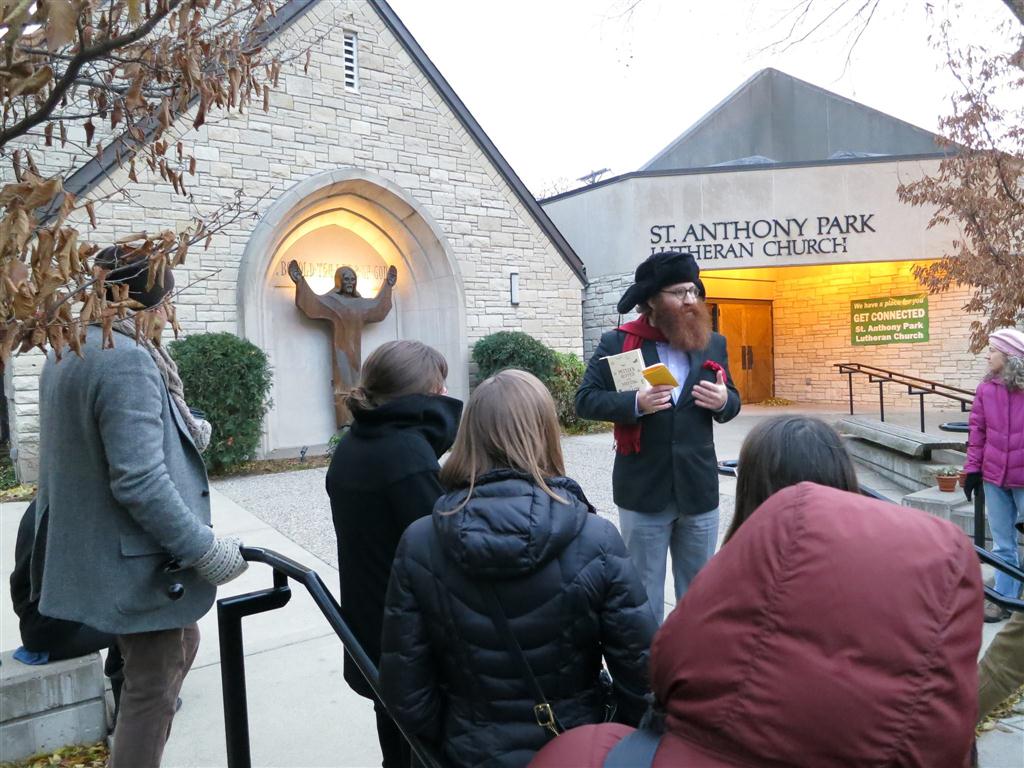 Weyandt described just such an event, held recently at--as well as near--his bookshop. Sturdevant and Carrie Elizabeth Thompson, who shot the photos in the book, "led a group of us on a short tour of the blocks near Micawber's. We saw a house built in 1917 by some artists who became Charles Schulz's mentors. And he told us about the artist whose wood sculpture adorns a church up the street and compared it to some of his work, which is near the Minnesota/Canadian border. It was, in short, no normal event. Then we returned to the bookstore where he read from his fictional letter correspondence with a management type at Buffalo Wild Wings."

I like that. It speaks to the ambition and range I discovered while reading the book. I'd probably anticipated (though would never admit so publicly) that this would be a "regional" read when I first opened it. I love the Twin Cities, so that wouldn't have been an issue, but Sturdevant's narrative voice challenged my assumptions from the first line of his acknowledgments page: "This book is named Potluck Supper with Meeting to Follow for an agenda item in a Maoist newsletter published on the West Bank of Minneapolis in the seventies..."

"I didn't write it for a local audience specifically, though a lot of the material is directly about the area," Sturdevant explained. "But some of my favorite books, both growing up and currently, have been about places where I've never lived or even visited. A lot of what I'm writing about in the book is true of anywhere--the way you see it from foot versus car, the layers of history in terms of architecture or other pieces of physical culture, the billboards and advertisements you come across, the weird stories you hear about the city from people you meet at parties or at bus stops. I hope people see where they live reflected in what I've written."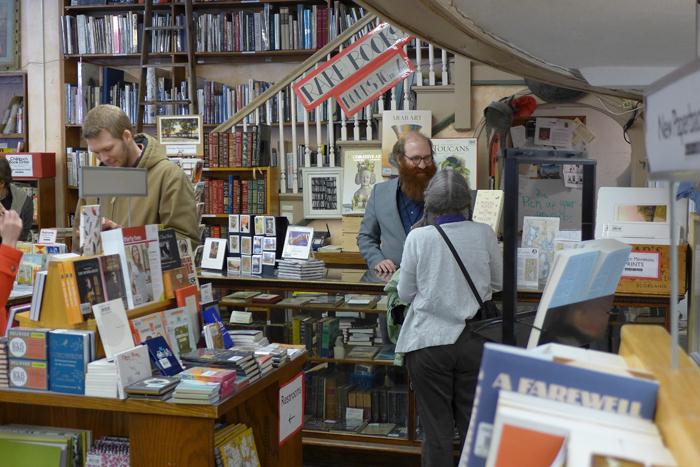 On Small Business Saturday, Sturdevant participated in Indies First by helping out at Magers & Quinn Booksellers in Minneapolis. "I haven't had my post-work performance review yet, so I can't really say if I'm any good at it or not," he reported. "But it did come to me very naturally. I worked for many years as a sales clerk in an art supply store--there's an essay about it in the book--and it's very similar, in the sense of listening to what people are interested in, and making recommendations based on your experiences using the products you're selling.

"Thinking on your feet that way is really enjoyable. It's kind of performative, like being on stage and interviewing someone and trying to figure out what to say next so you're not just looking at them blankly and saying, 'Uhhhhhhhhhh.' That's important, and so is knowing where the bathroom is. And I certainly helped a number of people find the bathroom."

Weyandt observed that "the thing I most love about Andy's work and his artistic presence is that it's nearly impossible to describe it in a way that properly showcases its power. On the face of it, the essays can seem simple. But they aren't. His willingness to do events all over town (at bookstores, in parking lots of coffee shops, you name it) goes way beyond the call of duty. He is our true artistic patron saint." --Robert Gray, contributing editor