Shelf Awareness for Friday, November 21, 2014

News
ABFFE to Become Part of ABA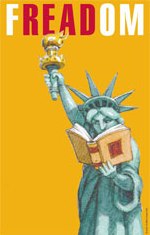 As of January 1, the American Booksellers Foundation for Free Expression will be integrated into the American Booksellers Association and be known as the American Booksellers for Free Expression Group at ABA, the organizations announced yesterday. The move is similar to the way the Association of Booksellers for Children became part of the ABA in 2010 as the ABC Children's Group.

The boards of both ABA and ABFFE approved the move in October "because they believe it will produce administrative efficiencies, making it possible to expand efforts to educate booksellers and their customers about important First Amendment issues," the organizations said.

With the change, the ABFFE board will become the ABFE Advisory Council, and ABFFE president Chris Finan will become ABFE Group director. ABFFE staff will move from the foundation's offices in New York City to the ABA's office in White Plains, N.Y., in the new year.

The move is kind of a return for ABFFE, which was founded by the ABA in 1990 to fight threats to the First Amendment rights of booksellers and their customers and was first headed by Oren Teicher, who is now CEO of the ABA. He commented on the change: "As was the case with ABC and ABA, the integration of ABFFE and ABA will make it possible to devote more resources to programming by consolidating administrative functions and reducing the need for fundraising."

Finan said, "I believe we will be able to work even more closely with independent booksellers to defend free speech."

In a first step toward integrating ABFFE and ABA, all ABA members will be recognized as official supporters of the ABFE Group and receive a sticker expressing support for free speech that can be displayed in the store's front window as well as a subscription to a new monthly newsletter, Free Speech Report.

Dues do not need to paid in the first year, but those who contribute will be eligible for premiums, including "fREADom" T-shirts, tickets to the Children's Art Auction at BEA and autographed copies of Finan's From the Palmer Raids to the Patriot Act: A History of the Fight for Free Speech in America (Beacon Press).


They'll Take Manhattan: Amazon Leases 34th Street Space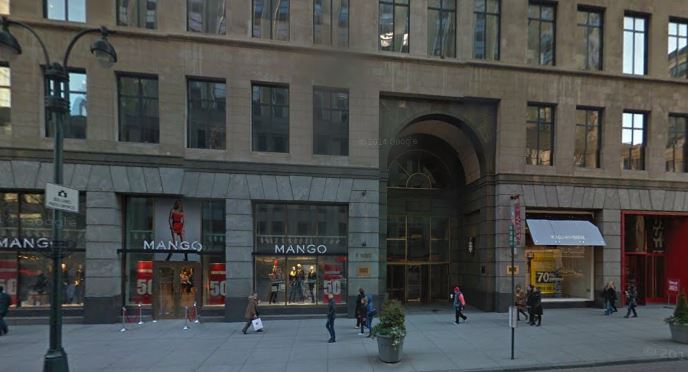 Amazon's New York City space (Google Street View)
Amazon has signed a 17-year lease for a 470,000 square-foot space at 7 West 34th Street in Manhattan. GeekWire reported that Vornado Realty Trust, which owns the property across from the Empire State Building, confirmed the deal yesterday.

Although there has been speculation the online retailer may be planning to open a bricks-and-mortar store at the location, Amazon said it "leased this building primarily as corporate office space and we intend to sublease to other tenants the ground floor retail space."

Noting that it was "unclear how much of the building Amazon is leasing," Geekwire wrote that "based on Vornado's description, it seems like all 12 floors will be used by Amazon."


Denver Pub Institute: Meskis Retiring, Smith New Director
Meskis
Smith
After seven years in the position, Joyce Meskis is retiring on January 1 as director of the Denver Publishing Institute at the University of Denver. She continues as owner of Denver's Tattered Cover Book Store.
Jill Smith, who has worked at the Institute since 2003, is becoming director. Smith has an MBA and MFA and has a background in corporate communications and business management.
Meskis called Smith "the perfect person to take over this position. Her love of literature combined with a keen understanding of the marketplace, changing technologies, business savvy, and entrepreneurial spirit will provide an excellent base upon which she can work with a first class faculty chosen from publishing companies across the United States."


Hachette Acquiring Black Dog & Leventhal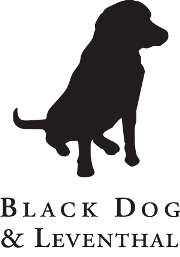 Hachette Book Group is purchasing Black Dog & Leventhal Publishers. The closing is expected to take place in the next several months, after which Black Dog & Leventhal will become an imprint of HBG's newest division, Hachette Books, led by publisher Mauro DiPreta.

BD&L was founded in 1993 by J.P. Leventhal, who will continue as publisher of the imprint. The company's management team will remain in place, with Rebecca Koh promoted to editorial director and Maureen Winter becoming associate publisher.

"I'm very excited to bring Black Dog & Leventhal to Hachette," said HBG CEO Michael Pietsch. "J.P Leventhal and his team have developed an excellent reputation worldwide for their creative, diverse list of nonfiction and illustrated visual books, a list that fits perfectly inside our Hachette Books division. The addition of the BD&L publishing program will enhance our nonfiction and backlist portfolios, important areas of focus for HBG, and will expand our strength in specialty retail stores and museum shops."

Leventhal commented: "We are thrilled to be working with the wonderful international family of Hachette companies, and especially we look forward to expanding Black Dog & Leventhal's list and being a part of Hachette Book Group's goal of building an ever stronger presence in nonfiction publishing."


S&S Expands E-book Availability to Libraries
Effective immediately, Simon & Schuster is making its e-books available to libraries across the country and no longer requiring libraries to participate in the "Buy It Now" program, under which patrons can purchase copies of S&S e-books through the library's online portal, with a portion of the proceeds from each sale going to that library.

Carolyn Reidy, president and CEO of S&S, commented: "We very much look forward to serving the broadest possible segment of the library community in order to bring our e-books to their patrons, while at the same time we hope libraries will consider 'Buy It Now' as a new and viable option to generate revenue for the library and provide a service for their patrons."

S&S e-books can be lent for one year from the time a library purchases it. The library can offer an unlimited number of checkouts during the year, although each copy may be checked out by only one user at a time.

The American Library Association and its Digital Content Working Group lauded the move. ALA president Courtney Young said, "From the beginning, the ALA has advocated for the broadest and most affordable library access to e-titles, as well as licensing terms that give libraries flexibility to best meet their community needs. We appreciate that Simon & Schuster is modifying its library e-book program to provide libraries a choice in whether or not to participate in Buy It Now. Providing options like these allow libraries to enable digital access while also respecting local norms or policies."


Tallfellow Press Publishing Again
Tallfellow Press, which was founded by the late Larry Sloan and Leonard Stern after they sold Price Stern Sloan to Penguin Putnam in 1993, is publishing again, according to Claudia Sloan, who runs the house. She described the last several years, particularly since the death of her father, Larry Sloan, in 2012, as a series of "ups and downs" and said the press hopes to publish books that are "interesting, fun, inspirational and worthy of the Tallfellow name."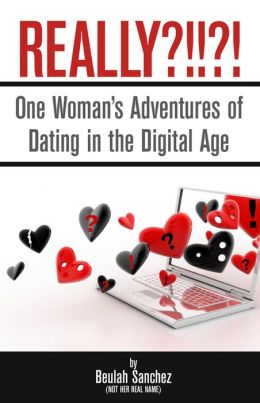 The press's first new title is Really?!!?!: One Woman's Adventures of Dating in the Digital Age by Beulah Sanchez, a pseudonym for 20-something Roslyn Fleischer, a comedy writer. Sloan called the book "very funny" and "all true." The author will hold a signing event on Monday, November 24, at Book Soup in West Hollywood, Calif. Audience members can compete in telling their "worst date" stories to win a free copy of the book. (See a trailer here.)
Upcoming titles include an inspirational book by motivational speaker Stuart K Robinson coming in the spring and new versions of the classic books Droodles by Roger Price and A Martian Wouldn't Say That!! by Leonard B. Stern and Diane L. Robison, as well as a revised version (with new contributors) of Great Failures of the Extremely Successful by Steve Young.


Obituary Note: Leslie Feinberg
Transgender pioneer and author Leslie Feinberg, whose award-winning 1993 novel Stone Butch Blues is "widely considered in and outside the U.S. as a groundbreaking work about the complexities of gender," died last Saturday, the Advocate reported. He was 65.


Notes
Image of the Day: Rep Speed Dating at Books Inc.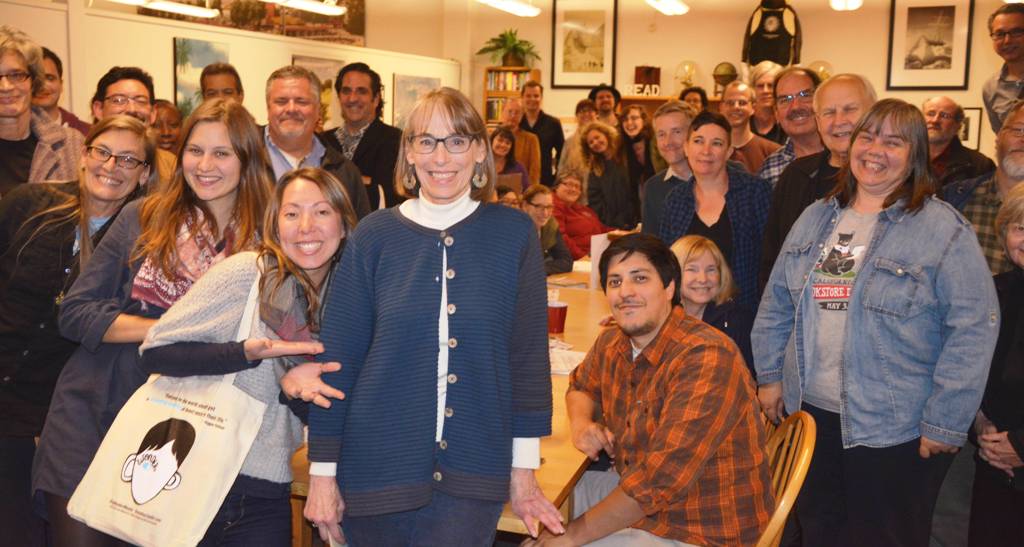 Books Inc. held a Rep Speed Dating night at its warehouse earlier this week. Sixty Books Inc. staffers from all 11 stores ate tacos, drank beer and heard about the top fourth-quarter picks from 11 Bay Area publisher reps. They also took the opportunity to salute Liz Willner, their Random House rep of 25 years, who will be retiring at the end of the year


SIBA's 40th Birthday Present: A $40,000 Grant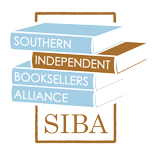 The Southern Independent Booksellers Alliance has received a $40,000 grant from the Reba and Dave Williams Foundation for Literature and the Arts to honor SIBA's 40 years of support for Southern independent bookstores. The grant will be dedicated to bringing every member store to SIBA's 40th anniversary Discovery Show in Raleigh, N.C., next September.

"It is a marvelous statement of support for the importance of independent bookselling," said executive director Wanda Jewell, "and we're going to rise to the challenge to bring 100% of SIBA member bookstores to Raleigh in 2015. Reba and Dave will be on hand to kick off the show as the keynotes at our industry breakfast." Jewell added that the Reba and Dave Williams Foundation has been a strong supporter of SIBA in the past, sponsoring scholarships for booksellers to attend the annual fall trade show in 2013 and 2014.

"As Southerners, however displaced in Yankee-land, Dave and I are big believers in Southern books and bookstores, and the Southern literary tradition," said Reba Williams.


Cool Idea of the Day: #GiveaBook Campaign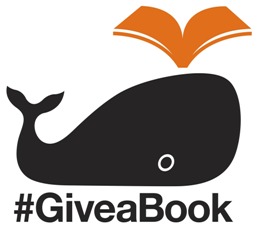 Penguin Random House has launched #GiveaBook, a social media campaign designed to promote books as gifts this holiday season and give back to U.S. children in need. For every use of the hashtag #GiveaBook on Facebook and Twitter before December 25, PRH will donate a book to the Save the Children organization, up to 25,000 times. The campaign officially begins November 29, on Small Business Saturday.

Originally conceived by PRH sales reps, #GiveaBook is designed to encompass books and authors from all publishers, for readers of all ages. It will have a presence on Twitter (@giveabooknow), Pinterest (www.pinterest.com/giveabooknow) and Facebook (www.facebook.com/giveabooknow).

The campaign has issued a #GiveaBook video challenge, encouraging people to name a book they are giving to a friend and why, challenge three friends to create their own #Giveabook videos, and then post these videos online using the #GiveaBook hashtag.

Booksellers can also create their own #GiveaBook challenge videos to share online some retailers are building #GiveaBook displays in their stores. Marketing materials are available for download at http://tinyurl.com/GiveaBook.


Photo Shoot: Indies Are 'More than Just Places to Buy Books'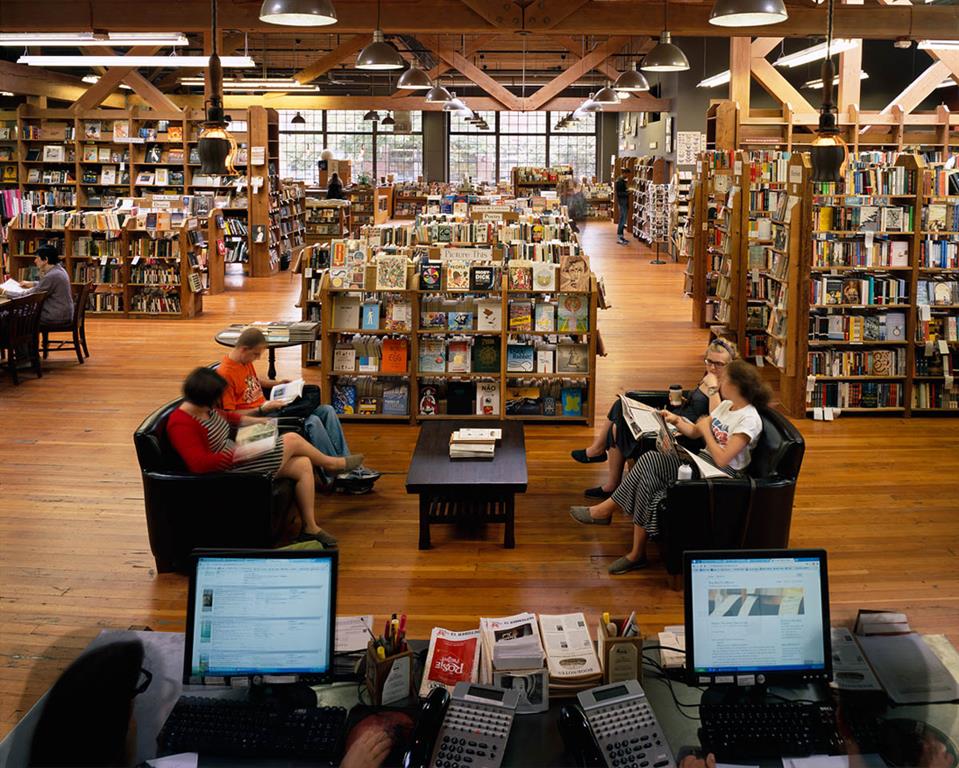 Seattle's Elliott Bay Books by Bryan David Griffith
Photographer Bryan David Griffith's "yearlong project covering more than 20 independent bookstores around the country was photographed with a large-format film camera; he travels to each location from his home in Arizona via a makeshift camper in which he sleeps, loads film, and stores his equipment," Slate reported in a piece headlined "Why Independent Bookstores Are More Than Just Places to Buy Books."

Griffith views bookstores "as a lot more than simply a place to buy books--they're a meeting place away from the often segregated, homogenous world of social media," Slate noted.

"You're going to encounter other people who work there or who will be there by chance who might have different experiences than you do," he said. "I think that's a healthy thing for our society to interact with and make friends with people who have different ideas than what we do."


Personnel at North Atlantic, City Lights, Wordstock, L,B, Barron's
Douglas Reil has been promoted to publisher and executive director of North Atlantic Books, Berkeley, Calif. He was formerly associate publisher and managing director. He joined the company in 2007.
Richard Grossinger and Lindy Hough, who founded the company in 1974, are remaining on the non-profit board, and in his new role as founding publisher, Grossinger will focus on writing and acquisitions from his home in Portland, Me.
---
Stacey Lewis has been promoted to v-p, director of publicity, marketing and sales, at City Lights Publishers, where she has worked for nearly 20 years. She earlier worked at Lonely Planet and Heyday Books.
---
Effective January 5, Amanda Bullock will become festival and events manager of the Wordstock Festival, the annual book festival in Portland, Ore., that was acquired this fall by Literary Arts. Bullock is director of public programming for Housing Works Bookstore in New York City and is founder and organizer of the Moby Dick Marathon.
---
Fiona Brown has been promoted to associate director of publicity for James Patterson Little, Brown and Little, Brown Books for Young Readers.
Morgan Moroney has been promoted to publicist at Little, Brown.
---
At Barron's Educational Series, two longtime employees are retiring this December:
Elaine Lasky, national accounts manager, who, during her 40-year career with the company, has been the rep for a diverse group of accounts, including Barnes & Noble, B. Dalton, Ingram, Baker & Taylor, Crown, Sears, Kmart, Borders, Waldenbooks and Scholastic Book Fairs. A year ago, she received the Barnes & Noble Lifetime Achievement Award from B&N chairman Len Riggio.
Stan Leff, senior sales representative in the metro New York City area, who has been the rep for accounts ranging from Bed Bath & Beyond and Buy Buy Baby to the American Museum of Natural History, Hudson News, Book Revue, Coliseum Books and Shakespeare & Co. He joined the company 33 years ago with a wealth of bookselling experience, some of which came from owning his own children's retail store.


Book Trailer of the Day: Weekly World News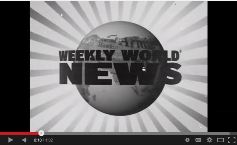 Weekly World News, edited by Neil McGinness (Roads Publishing), collects some of the material of the over-the-top tabloid that was printed from 1979 to 2007 and now continues online.


Media and Movies
Media Heat: Alan Cumming on Fresh Air
This morning on Morning Joe: Walter Isaacson, author of The Innovators: How a Group of Hackers, Geniuses, and Geeks Created the Digital Revolution (Simon & Schuster, $35, 9781476708690). He will also appear today on MSNBC's Now with Alex Wagner.
---
This morning on Good Morning America: Carter Paysinger and Steven Fenton, authors of Where a Man Stands: Two Different Worlds, An Impossible Situation, and the Unexpected Friendship that Changed… (Howard Books, $25, 9781476711409).
---
This morning on Live with Kelly and Michael: Russell Brand, author of The Pied Piper of Hamelin: Russell Brand's Trickster Tales (Atria, $19.99, 9781476791890).
---
Today on Fresh Air: Alan Cumming, author of Not My Father's Son: A Memoir (Dey Street Books, $26.99, 9780062225061).
---
Sunday on Bravo's Watch What Happens Live: Tony Robbins, author of Money Master the Game: 7 Simple Steps to Financial Freedom (Simon & Schuster, $28, 9781476757803).
---
Sunday on MSNBC's Weekends with Alex Witt: Daniel Bolger, author of Why We Lost: A General's Inside Account of the Iraq and Afghanistan Wars (Eamon Dolan/Houghton Mifflin Harcourt, $28, 9780544370487). He will also appear on Fox News's Sunday Morning Futures.


Movies: The Duff; Scary Stories to Tell in the Dark; Inherent Vice
A new teaser trailer and poster have been released from CBS Films' The Duff, based on the novel by Kody Keplinger. The movie, which stars Mae Whitman, Robbie Amell, Bella Thorne, Bianca Santos and Skyler Samuels, opens in February.

---

CBS Films has hired John August (Big Fish, Frankenweenie, GO) to write the screen adaptation of the three-book series Scary Stories to Tell in the Dark by Alvin Schwartz (illustrated by Stephen Gammell), Deadline.com reported.

---

A promo for Paul Thomas Anderson's Inherent Vice "has dropped online, featuring new snippets from the film, and capturing the gonzo vibe of Anderson's upcoming Thomas Pynchon adaptation. It's a nice little Monday treat from the director," Indiewire reported.


Books & Authors
Awards: Governor General's Literary
Winners were announced for the Canada Council's Governor General's Literary Awards. Each category winner receives $25,000 (US$22,020), which will be presented November 26 in Ottawa. This year's recipients include:

Fiction: The Back of the Turtle by Thomas King
Poetry: Lake of Two Mountains by Arleen Paré
Drama: Age of Minority: Three Solo Plays by Jordan Tannahill
Nonfiction: The End of Absence: Reclaiming What We've Lost in a World of Constant Connection by Michael Harris
Children's Literature, text: When Everything Feels Like the Movies by Raziel Reid
Children's literature, illustration: Jillian Tamaki for This One Summer by Mariko Tamaki
Translation, French to English: Peter Feldstein for Paul-Émile Borduas: A Critical Biography by François-Marc Gagnon


Book Brahmin: Meghan Daum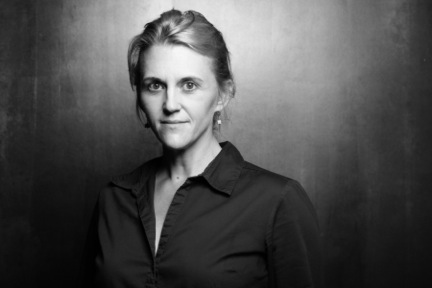 photo: David Zaugh
Meghan Daum is the author of the essay collection My Misspent Youth, the novel The Quality of Life Report and a memoir, Life Would Be Perfect If I Lived in That House. The Unspeakable: And Other Subjects of Discussion (Farrar, Straus & Giroux, November 18, 2014) is a collection of essays. Since 2005, Daum has been an opinion columnist at the Los Angeles Times, covering cultural and political topics. Daum has written for magazines including the New Yorker, Harper's and Vogue.
On your nightstand now:
A leaning tower of titles, most of them jammed with magazine subscription cards used as bookmarks: The Moral Landscape by Sam Harris, Letter to a Christian Nation by Sam Harris, The End of Faith by Sam Harris (I kind of just discovered this guy), How We Die by Sherwin B. Nuland, Being Mortal by Atul Gawande, My Struggle: Book One by Karl Ove Knausgaard (on page 7), the Lonely Planet guide to India (purchased more than a year ago, had big plans to travel to India, didn't happen, maybe next year), The Goldfinch by Donna Tartt (hardcover, sitting there for nearly a year, finished it but haven't moved it for some reason), the manuscript of a novel by a close friend that isn't out yet but is going to knock everyone's socks off when it is (don't bother asking, I won't tell), various back issues of the New Yorker, the New York Review of Books and luxury home real-estate listings from the Los Angeles Times.
Favorite book when you were a child:
On the Banks of Plum Creek, book four of the Laura Ingalls Wilder's Little House series. It was about the family living in a dugout house, and I was totally fascinated because the cover illustration showed Laura actually walking on the grass on top of the family home. It all goes back to real estate for me.
Your top five authors:
It's really difficult to answer this sort of question, but off the top of my head: Joan Didion, Mary Gaitskill, David Rakoff, Philip Roth and Edith Wharton.
Book you've faked reading:
The Canterbury Tales by Geoffrey Chaucer. Possibly vying for this title is My Struggle: Volume One by Karl Ove Knausgaard.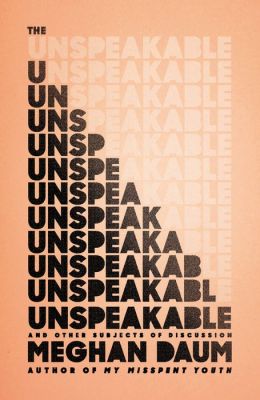 Book you're an evangelist for:
I try not to evangelize, but I've told a lot of people to read The Believers by Zoe Heller. Also any of David Gates's books. He's a journalist and critic but a fine, fine fiction writer.
Book you've bought for the cover:
Seven Plays by Sam Shepard. And, admittedly, My Struggle: Volume One by Karl Ove Knausgaard.
Book that changed your life:
Sandra Lee's Semi-Homemade Cooking.
Favorite lines from a book:
"Everyone who's anyone in the food business has told me that this book will receive the worst reviews if I include Cheez Whiz in any of my recipes! But the consistency is the perfect texture for this recipe and it tastes great on eggs." --Sandra Lee, Sandra Lee's Semi-Homemade Cooking
Which character you most relate to:
Harriet the Spy. Also, strangely, Richard Ford's Frank Bascombe character.
Book you most want to read again for the first time:
Any of the Frank Bascombe novels.
Book you wish you'd written:
Either The Purpose Driven Life or The Very Hungry Caterpillar. They both sell really well, from what I've heard.


Book Review
Review: The Paris Winter
The Paris Winter by Imogen Robertson (St. Martin's Press, $25.99 hardcover, 9781250051837, November 18, 2014)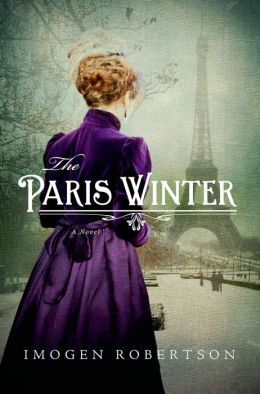 In 2010, a collection of bold, curious paintings by an anonymous artist appears at London's Southwark Picture Gallery. The paintings depict intimate scenes from the early 20th century in Paris: a life-drawing class in progress, a close-up view of the swirling waters of the Seine, a languid, beautiful upper-class woman absorbed in her opium pipe.
In the winter of 1909, Maud Heighton, a genteel Englishwoman, struggles to make ends meet while studying at the Académie Lafond in Paris, one of the few studios where drawing classes are open to women. When one of Maud's classmates, a generous Russian socialite named Tanya, secures her a job as live-in companion to a charming Frenchwoman, Maud believes her financial troubles are over. Enjoying her new life on the posh Rue de Seine with her employers, the delicate Sylvie Morel and her brother, Christian, Maud begins to flourish artistically and personally, coming into contact with the rich American Madame de Civray and other aristocrats. But amid the glitter of lavish holiday celebrations, Maud's comfortable routine is shattered by a devastating betrayal and she barely escapes with her life.
Finding herself in a Montmartre artist's garret, Maud recovers slowly, with the help of Tanya and Yvette, a former model from their art class. The three young women navigate the complex world of Belle Époque Paris, dealing with romantic and economic difficulties while plotting their revenge on the Morels. Meanwhile, Madame de Civray, who played an unwitting part in Maud's downfall, becomes a key participant in both the young woman's plan for retribution and her future career.
Imogen Robertson (Circle of Shadows; Anatomy of Murder) paints a dark, evocative portrait of the turbulent era, highlighting the limits placed on women through the three distinct protagonists. Strong-willed and resourceful, all three women must struggle against the financial and social constraints placed on them to build rich and satisfying--if unconventional--lives.
The dark story twists and turns as Maud, Tanya and Yvette are drawn deeper into the Morels' web of thievery and deception. Instead of centering on a conventional love story like similar historical works, the novel is held together by the tensile strength of the women's friendship. Occasional catalogue notes from the 2010 art exhibition appear throughout the story, their meaning made clear only in the brief epilogue. Dramatic and teeming with intrigue, The Paris Winter is a richly detailed historical novel that both thrills and satisfies. --Katie Noah Gibson, blogger at Cakes, Tea and Dreams
Shelf Talker: A young artist is swept into intrigue and treachery amid the glitter and shadows of Belle Époque Paris.


Deeper Understanding
Robert Gray: When #SmallBusinessSaturday Is Also Game Day
Like all indie booksellers, Janet Geddis, owner of Avid Bookshop, Athens, Ga., must account for the unpredictable (rogue weather systems, late book deliveries, staff health concerns, etc.) in preparing for the holiday season shopping frenzy that officially begins next weekend. But with the University of Georgia's football stadium, where the Bulldogs will face in-state rival Georgia Tech on Small Business Saturday, less than two miles from her store, her situation has an added layer of complexity.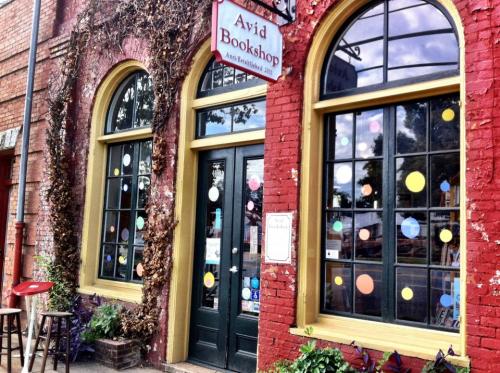 On Tuesday, Geddis solicited ideas from her customers, noting that home games have "REALLY hurt the bookshop. This past Saturday (Auburn game), our sales were about 20% of what they were the previous Saturday."

"To ever present myself and my business as anything less than wonderfully successful is a tricky proposition, so things like this must be handled very lightly," she told me. "When I created this Facebook post, I made a point to let people know that we're doing fine and even a really crappy month (let alone a few crappy Saturdays) won't come close to doing us in. So I make a point to reassure our customers, to let them know that we value them and their decision to shop at Avid--and to let them know we value their opinions as well.

"Because people see bookstores as an especially precarious and precious type of business, I have to tread even more lightly than I might if I had a different kind of storefront. In general though, we keep our financial information private while being positive and honest with customers."

Avid is approximately a 30-minute walk from the stadium. Geddis noted that on game days, "with the exception of particularly rivalrous matches, it's almost always possible to find parking within a city block of Avid, but that can be a hard sell to the uninitiated who are used to shopping at big box stores with parking lots as big as the stores themselves."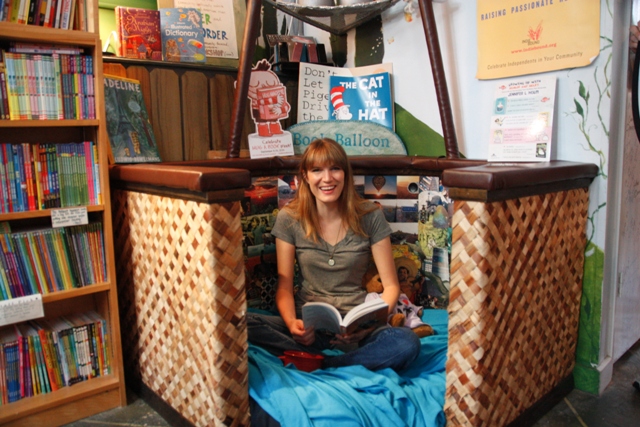 Janet Geddis (photo: Shannon Adams)

A "longtime townie" herself, she understands people's reluctance to venture downtown, but is concerned for local businesses that depend heavily on holiday season retail sales. And with the next two Georgia games at home, the immediate challenge is: "How do we make sure we still have customers on those days when our regulars and newbies are either at football get-togethers or are avoiding said get-togethers like the plague?"

Her patrons responded with numerous ideas, including game day tailgating displays out front, online promotions, and even convincing Georgia player and noted bibliophile Malcolm Mitchell to switch allegiance from B&N to Avid. "I don't want to burst anyone's bubble, but a good number of the suggestions are things we've tried before," Geddis said, though she indulged my "helpful" recommendation--a PedalPub Party Bike to shuttle customers to the store. "Ha! I love that idea! I will file that away for sure."

Of all the potential solutions she received, a "during-the-game flash sale was one of my favorites," she said. Going forward, Geddis is "definitely leaning toward a special event between the kickoff and the beginning of the fourth quarter, though I'm reticent to make a habit of giving discounts: I believe books are valuable and worth their cover prices. So we may instead turn up the radio, offer some publisher ARCs and/or other freebie books, and have complimentary drinks for shoppers. That's definitely more Avid-style than a deep discount promotion. We may do a promotion online to coincide with this, and not just to increase sales. I find that many of my customers far and wide still don't realize that we have a website where you can buy virtually any book in print. I want to increase awareness of that side of the business, and a one-day sale online might help get our website more exposure."

And on Small Business Saturday? "One issue we have had is trying to get some of our favorite local authors to come out to be guest booksellers for the Indies First event. Many people would love to be booksellers for a few hours on this day, but the game and its traffic may prevent them from participating, which is a bummer. I do think the Saturday game will have me put a little more effort toward Black Friday, and we will make a special push to get our customers in walkable neighborhoods to visit the shop on #SBS."

Geddis praised her sales reps for being "particularly helpful in brainstorming with me whenever I confess that we have encountered a hurdle. They know my region and other indies' business patterns perhaps better than anyone else (excepting Wanda Jewell, the head of SIBA and knower of all things in the Southern bookselling world). My reps have given me some great tips and have also put me in touch with other bookstores that have similar situations."

She also noted, however, that the "confusing thing about special promotions and/or events during game days is that they are unpredictable. I guess that's the nature of bookstores overall, though--you just never can be sure what events and promotions will be hits and what will be misses. We just keep trying things out and see how they go." --Robert Gray, contributing editor (column archives available at Fresh Eyes Now)