Shelf Awareness for Tuesday, November 25, 2014

News
James Patterson Aims to 'Save Our Books'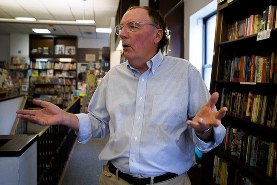 James Patterson, who has given $1 million to independent bookstores this year, is launching a new campaign called Save Our Books that aims to get the country to take action to "save our books and promote reading and literacy." In particular, he wants to support early childhood education and more funding for public libraries and librarians and emphasize "the critical importance of reading."

A key part of the campaign, which is using the hashtag #SaveOurBooks, is a 30-second video of books burning that he aims to promote widely. "I want to raise awareness in this country and get people to understand how serious a problem exists," Patterson told Shelf Awareness. "The film is very visual and will disturb a few people, but that's good. People are vaguely aware but don't do anything. They're comfortable just talking. But I'm big on doing things."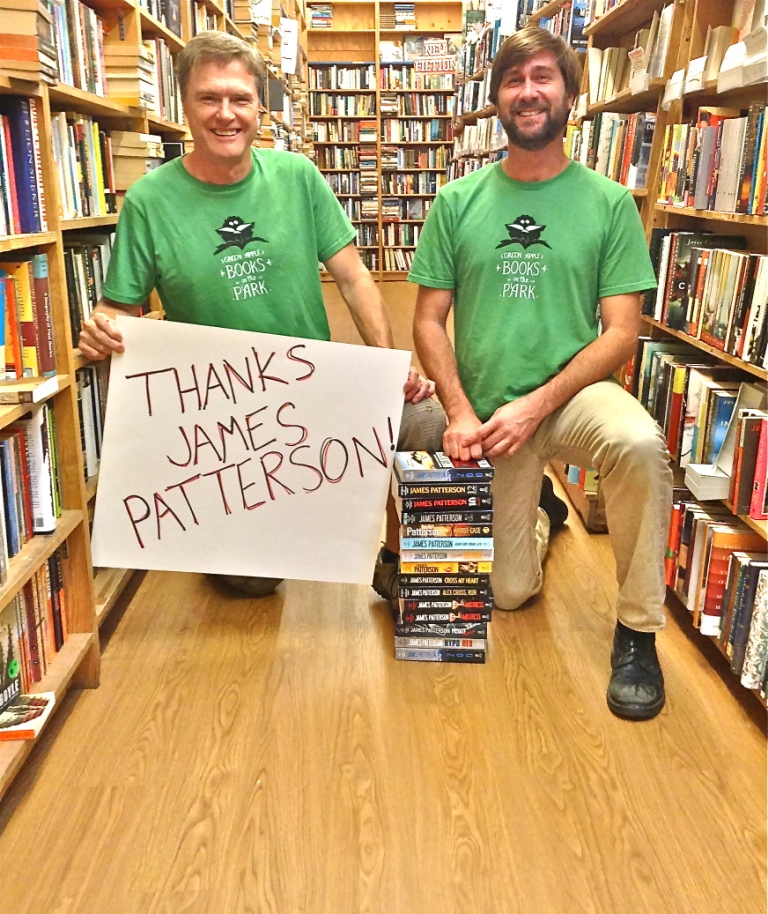 Kevin Ryan and Pete Mulvihill show off the new floor at Green Apple Books, courtesy of a Patterson grant.
Thus Patterson is asking people to e-sign letters to congressmen and e-sign a petition for increased funding for public libraries. In addition, Patterson is asking President Obama to take "a pledge to make reading a national priority... and to pledge--just once a month--to go into a library or a store that sells books, and to appear in public with a book in his hands."

The same pledge will be sent to elected officials in all states asking that they go "on record (in governmental session, at a public event, or on social media) to say that he/she is concerned about the state of reading."

Patterson explained in part: "The country is so visual that if politicians carry books around that would be a good start." He added that he is hoping Hollywood to get involved, perhaps even in movies, where "we almost never see anyone reading books."

Next year, Patterson aims to "make a big push with school libraries." Many of them don't have a lot of books, he said, while some schools don't have libraries. He also said, "I'll probably continue to do some stuff with indie stores."


Skylight Books: Williams New G.M.; Slattery Managing Partner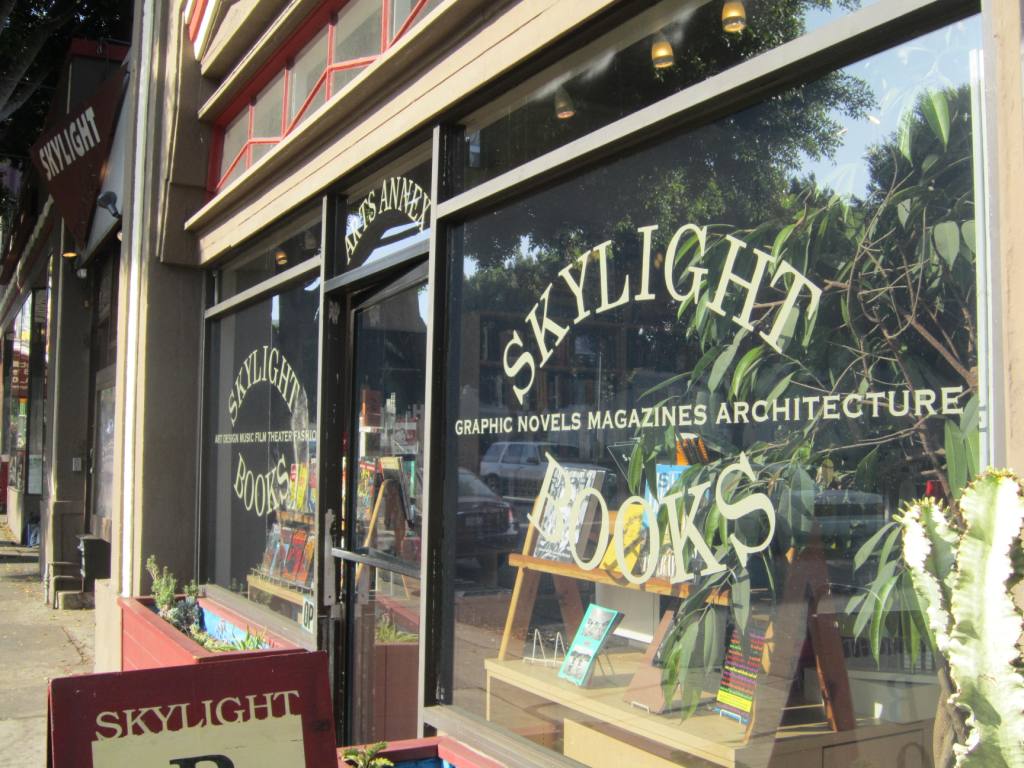 Congratulations to Kerry Slattery and Mary Williams at Skylight Books, Los Angeles, Calif.: effective in January, Williams will become general manager, and Slattery, who is the longtime general manager and co-owner, becomes managing partner.

"I have thought long and hard about what Skylight needs today, and I believe Mary has the right combination of leadership, vision, practicality, knowledge of books and the book industry, the ability to create teams, and the willingness to do whatever it takes," Slattery said.

"Eighteen years ago when we opened, we had six employees and one storefront--and no one knew who we were," she continued. "Now we have 20 employees, a popular Arts Annex, and we are included on best bookstore lists around the world. But there are new kinds of challenges, and we are constantly looking for ways to serve our customers better, become more efficient and improve our profitability. One of the first items of business will be to create a strategic plan to define where Skylight is now and where it should be in five years."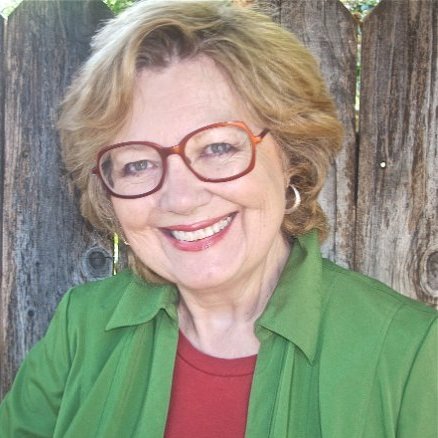 Kerry Slattery
Slattery added that at age 70, "I'd like to focus on some writing projects I've been thinking about and to take longer camping trips with my life partner, Ben DiGregorio, in our home-made teardrop trailer (Deadwood, South Dakota, is next on our list)!"

Williams has worked at Skylight for more than six years, most of that time as events manager. (The store has more than 300 in-store and off-site events per year.) She is immediate past president of the Southern California Independent Booksellers Association and has been on the SCIBA board for four years.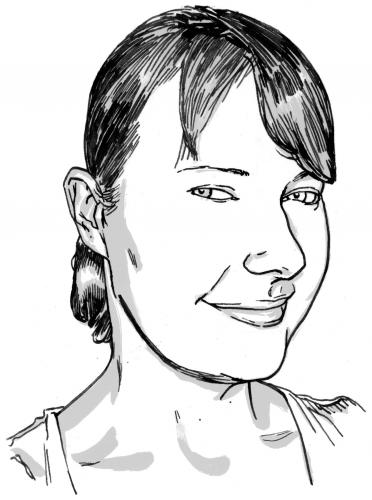 Mary Williams
Before coming to Skylight, Williams was a freelance copy editor for academic journals, an assistant publicist at Newmarket Press in New York City and a bookseller at the Strand Bookstore. She studied English literature and creative writing at UCLA, where she was arts & entertainment editor at the Daily Bruin. She facilitates a private book club and continues to write; she's working on a novel.

"As a lifelong book lover, I can think of no job I would enjoy more than managing an independent bookstore," Williams said. "What Kerry has created in Skylight is a community gathering place, a hub of Los Angeles literary culture, and a venue where some of my favorite authors have come to speak. It's been a pleasure joining her team and working with such a talented staff for these past six years, and it's a real honor and privilege to take on this new role. I look forward to tackling the challenges ahead and carrying on the work that Kerry has done so exceptionally."


Price for Aspen's Explore Booksellers Drops $1 Million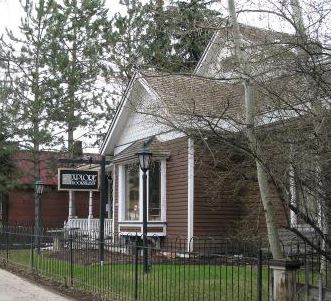 The listing price for Explore Booksellers, Aspen, Colo. has dropped by $1 million, "as the bank that holds the note on the building ramps up efforts to collect from its owner, Sam Wyly," the Aspen Times reported.

Karen Setterfield, listing agent for the Main Street property, said the asking price was lowered to $5.5 million last week. Wyly filed for bankruptcy protection earlier this fall.

Setterfield told the Aspen Times that interest has grown in the building, which is 4,922 square feet and sits on 6,000 square feet of land: "We're very optimistic that the bookstore will be sold and it will remain a bookstore."


HarperCollins Offering In-Flight Reads on JetBlue
Beginning November 26, HarperCollins will offer a selection of bestselling titles to JetBlue passengers as the book content partner for the launch of the airline's Fly-Fi content platform. Customers can read excerpts from more than 20 books, and each e-sampler includes buy buttons allowing them to purchase available titles from a variety of retailers. The offer will continue throughout the next year, with titles changing monthly.

"This is a terrific opportunity for travelers to enjoy some of the best books of the year during the busy, and oftentimes stressful, holiday travel period," said Angela Tribelli, chief marketing officer, HarperCollins. "We, like JetBlue, are committed to being at the forefront of our industry, so collaborating with them on this innovative consumer experience was a natural fit."

Jamie Perry, director of product development, JetBlue, said, "An integral part of making our Fly-Fi Hub attractive to our customers is working with world-leading content providers such as HarperCollins and joining forces to offer some of their superior media content onboard."


Netherlands' American Book Center: Helping Writers, Readers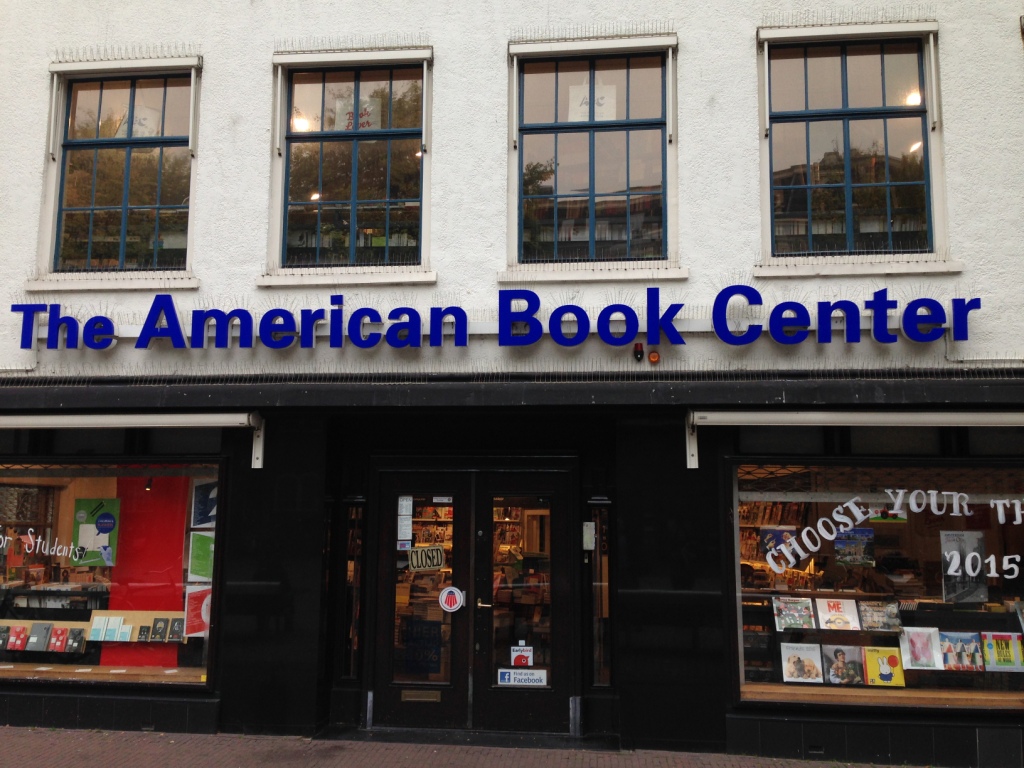 Lynn Buller, owner of the American Book Center in Amsterdam, first arrived in the Netherlands in 1972. She did not plan on staying for very long, but after stopping in the English-language bookstore, she instantly felt at home. Her first job there was to watch for thieves in the cellar; now, 42 years later, she and her family own the original Amsterdam store and its smaller counterpart in The Hague.

"My job has changed since then," remarked Buller, drily. Once thought of as the "book mother," she's stepped into a role that is more supervisory--rather than micro-manage the staff, she gives them the space and resources to do what they need to do and sets the store's long-term strategy and goals. "I've tried to hand things over. I'm pulling back, but still involved with strategic choices."

The American Book Center was opened in 1972 by Sam Boltansky and Mitch Crossfield, who were from the U.S. At first, they sold just remainders and magazines. But eventually customers began asking for other books, and Boltansky and Crossfield started ordering new books and expanding the inventory. New Age literature, gay literature, and SF and fantasy, all genres of books that were only rarely being translated into Dutch, were crucial in the store's early days.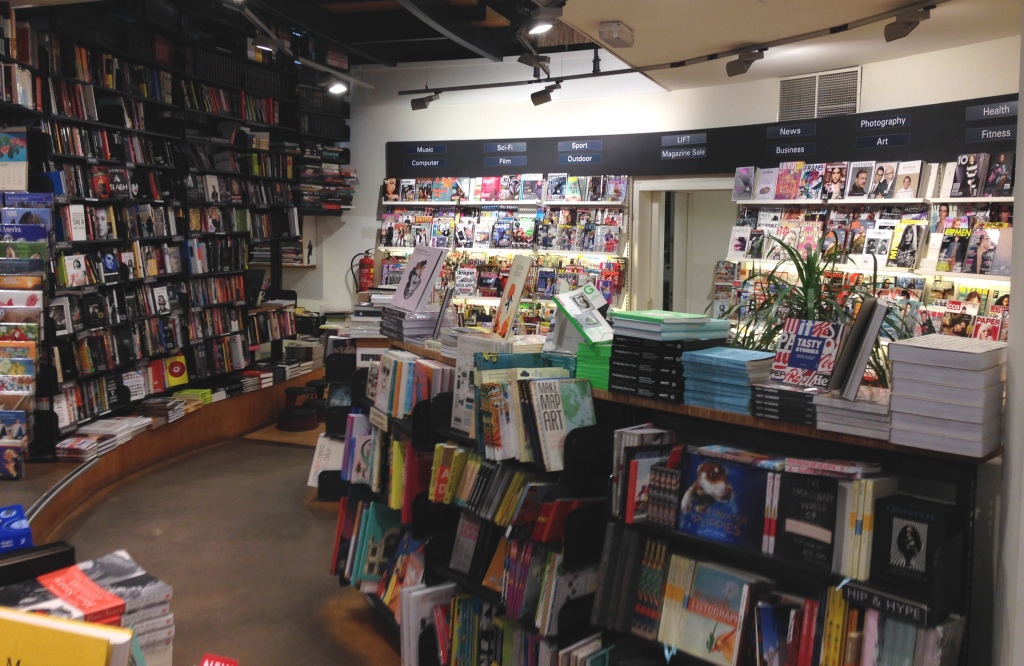 The front room at American Book Center
"Sci-fi and fantasy are huge for us," Buller explained. "They got us started."

In 1974, Boltansky and Crossfield opened a second store in The Hague. At various times over the years, there were also ABC stores in Groningen and Eindhoven, and another store in Leuven, Belgium, but they are no longer in operation. In 2006, the flagship store moved from its second location on the pricy pedestrian shopping street to a smaller location on the Spui, a square in Amsterdam's city center that is ringed by bookshops and hosts an open-air book market every Friday.

"I think of it like having a bigger purse--you'll put more stuff in it than you might actually need," said Karin van Eck, the company's marketing director, on the move to a smaller location. Van Eck has worked at the American Book Center for two decades and has held many positions there over the years, beginning as the store's science fiction buyer before becoming something of a general manager and eventually moving to marketing. "With a smaller store, we have to be smarter about what we carry."

Today, the Amsterdam store stocks over 80,000 books and magazines across more than 4,300 square feet of space. Sci-fi remains a vital part of the business, but the inventory has expanded across all genres. The fiction section is on the American Book Center's top floor, with art and design books and magazines on the bottom floor. The reason for that, van Eck explained, was that people often know what they want in advance when it comes to novels. By having the novels on the topmost floor, customers browse going up to the fiction section and coming back down.

The store's inventory is world-renowned. Earlier this year, in naming the American Book Center "best bookshop in the world," international lifestyle magazine Monocle said that the store's philosophy is "to ask regular customers what they want to read and then fill the shelves accordingly. Over the years the selection has become an eclectic assortment where literary classics sit side by side with manga and new-age poetry."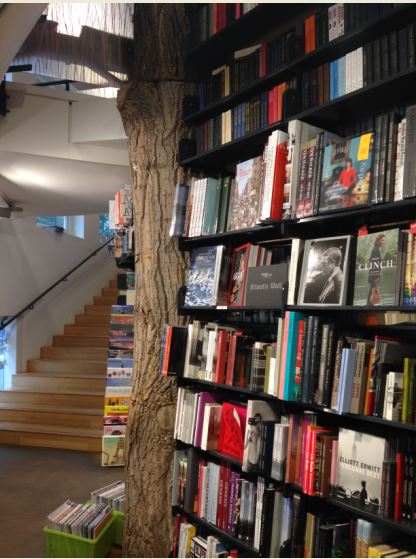 A tree grows in the American Book Center
The interior of the store, van Eck related, was inspired in part by the Guggenheim Museum in New York City. The space is modern, elegant and open, but with natural touches like tree trunks stretching from floor to floor. The building itself, though, has existed since at least the 19th century; in 1932 it became a music store, and from 1997 until 2006, it was a Ypma Piano showcase. "You would think that pianos are much heavier than books," remarked van Eck. "But the whole building had to be reinforced when we moved in--books are way heavier."

The Hague store, meanwhile, carries some 45,000 books and magazines in approximately 2,100 square feet. Both ABC stores have their own off-site event spaces, called the Treehouse in Amsterdam and the Treehut in The Hague (both spaces can be rented out by community members). Not including workshops by renters in the Treehouse and Treehut, or selling books at third-party events such as gallery exhibitions and book fairs (a program that the store calls ABC in the Wild), the American Book Center puts on approximately 75 events each year: 60 in Amsterdam and 15 in The Hague.

Among the most popular of the store's events is the monthly program Meet My Book, in which three or four local writers--sometimes unknown self-published authors, sometimes well-known authors with traditional book deals--present their work. Another recurring favorite is called Pitch Your Book Idea to a Professional Publisher, in which aspiring writers take turns pitching their ideas to Oscar van Gelderen from the Dutch publishing house Lebowski Publishing (Van Gelderen is perhaps best known for bringing John Williams's novels Stoner and Butcher's Crossing to the Netherlands, where they have been perpetual bestsellers).

Both ABC stores have Espresso Book Machines (two of only a handful in Europe), and sell books printed on their EBMs on consignment, along with homemade magazines and other self-published titles. And for €12.50 (about $15.50), the American Book Center will do three rounds of corrections on self-published novels and manuscripts. The store also has an extensive reader review program called You Review.

"We do all this to support writers. People outside the business don't understand the value of that yet," said Buller. "We believe that all writers are readers and all readers are writers." --Alex Mutter


Notes
Image of the Day: Strong Inside at Parnassus Books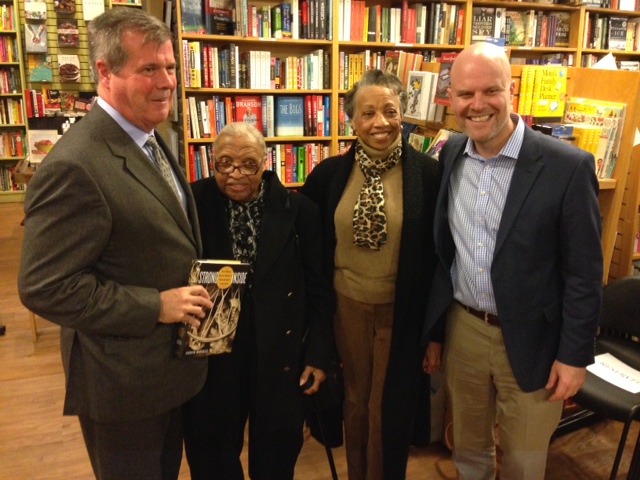 Before an audience of 140 at Parnassus Books, Nashville Mayor Karl Dean interviewed Andrew Maraniss, author of Strong Inside: Perry Wallace and the Collision of Race and Sports in the South (Vanderbilt University Press), which tells the story of the man who enrolled at Vanderbilt University in 1966 and became the first African American basketball player in the Southeastern Conference. Dean called it "an excellent book; I can't recommend it enough. You wrote a lot about our city. You wrote a lot about human nature." Pictured above are Mayor Dean (l.) and author Maraniss (r.) with Perry Wallace's sisters Annie Wallace-Sweet and Jessie Wallace Jackson.


Paul Ingram of Prairie Lights: 'Landmark Inside of a Landmark'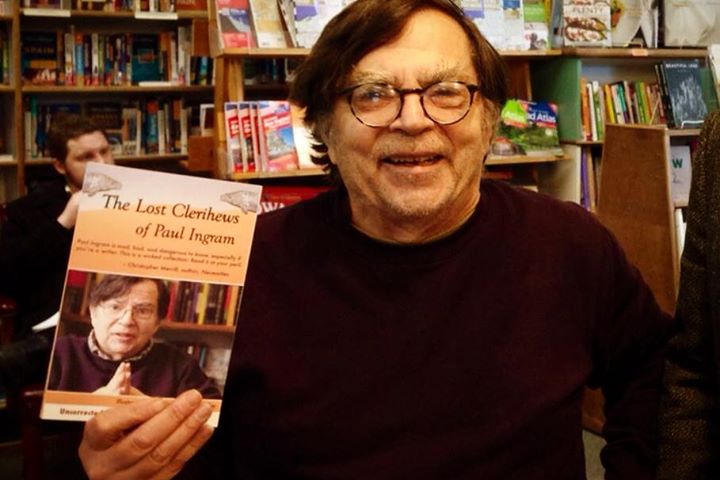 "If Prairie Lights is the wheel around which literary life in Iowa City revolves, [Paul] Ingram may well be its hub," Ariel L. Lewiton wrote in a Los Angeles Review of Books essay profiling the bookseller who also became a debut author this fall with the publication of The Lost Clerihews of Paul Ingram.

"Prairie Lights is one of the reasons Iowa City was designated a City of Literature," UNESCO City of Literature director John Kenyon said. "And Paul, a true force of nature, is one of the people that helps hold all of this together."

Ingram, who has been a bookseller for more than 40 years and primary book buyer at Prairie Lights for 25, "has the status of an icon: part master, part mascot. The epithet 'legendary bookseller' is attached to his name so often that it may as well be a formal prefix," Lewiton observed, adding: "On its culture web page, the University of Iowa describes Ingram as 'a landmark inside of a landmark.' "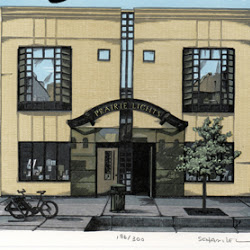 Prairie Lights co-owner Jan Weissmiller calls Ingram "one of the top five booksellers in the country."

"I've worked at six bookstores, and I've never seen a better handseller than Paul Ingram. That person does not exist," said Matt Lage, book buyer at Iowa Book. "He's institutional memory."

"I try to get people to read books that I know to be incredible, but that they've never heard of," said Ingram. "I like being a tastemaker for the community."

Lewiton noted that "people who've moved thousands of miles away make regular pilgrimages to Prairie Lights just so Ingram can tell them what to read next. He's a master bookseller for his encyclopedic knowledge and quick recall, for the full confidence of his convictions, and for his infectious enthusiasm. But he also exhibits a quality that is passingly rare in retail: a deeply felt concern for his customers as human beings that has absolutely nothing to do with commerce."


Third Grader: 'The World Needs Books'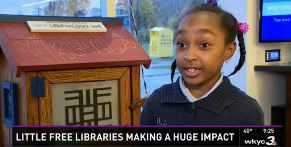 Check out this wonderful WKYC-TV interview with Madison, an eight-year-old third grader in Cleveland, who in discussing the arrival of Little Free Libraries in her area, riffs amazingly about the importance of books. Among her comments: "The world needs books. What would the world be like without books? They fuel our minds like cars and gas. The cars can't go without gas, and our brains can't go without books."


The Strand: 'How It Keeps Going'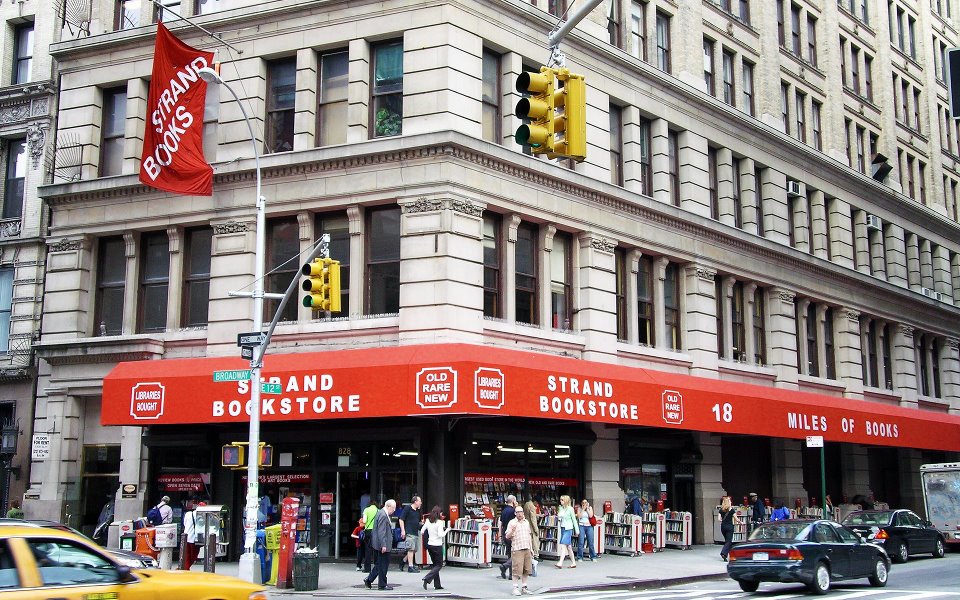 In an article headlined "The Strand's Stand: How It Keeps Going in the Age of Amazon," New York magazine explored Manhattan's legendary bookstore, noting that "the retail experience you'll have is unexpectedly contemporary. The walls are white, the lighting bright; crisp red signage is visible at every turn. The main floor is bustling, and the store now employs merchandising experts to refine its traffic flow and make sure that prime display space goes to stuff that's selling. Whereas you can leave a Barnes & Noble feeling numbed, particularly if a clerk directs you to Gardening when you ask for Leaves of Grass, the Strand is simply a warmer place for readers."

Concerning the future for Fred Bass and his daughter, Nancy Bass Wyden, New York wrote that the "only one true long-term threat to the Strand... comes from within. Bass, whose entire life has revolved around this business, loves bookselling. It appears that Nancy does, too. The store makes money, if not a crazy amount, and the family has good reasons to keep it going. But the Strand is, when you get down to it, a real-estate business, fronted by a bookstore subsidized by its own below-market lease and the office tenants upstairs. The ground floor of 828 Broadway is worth more as a Trader Joe's than it is selling Tom Wolfe. When a business continues to exist mostly because its owners like it, the next generation has to like it just as much. Otherwise they'll cash out. If Nancy stays, the Strand stays. If her kids do, too, it stays longer. Simple as that."


Cool Bookish Cocktail for the Holidays: The Mud Season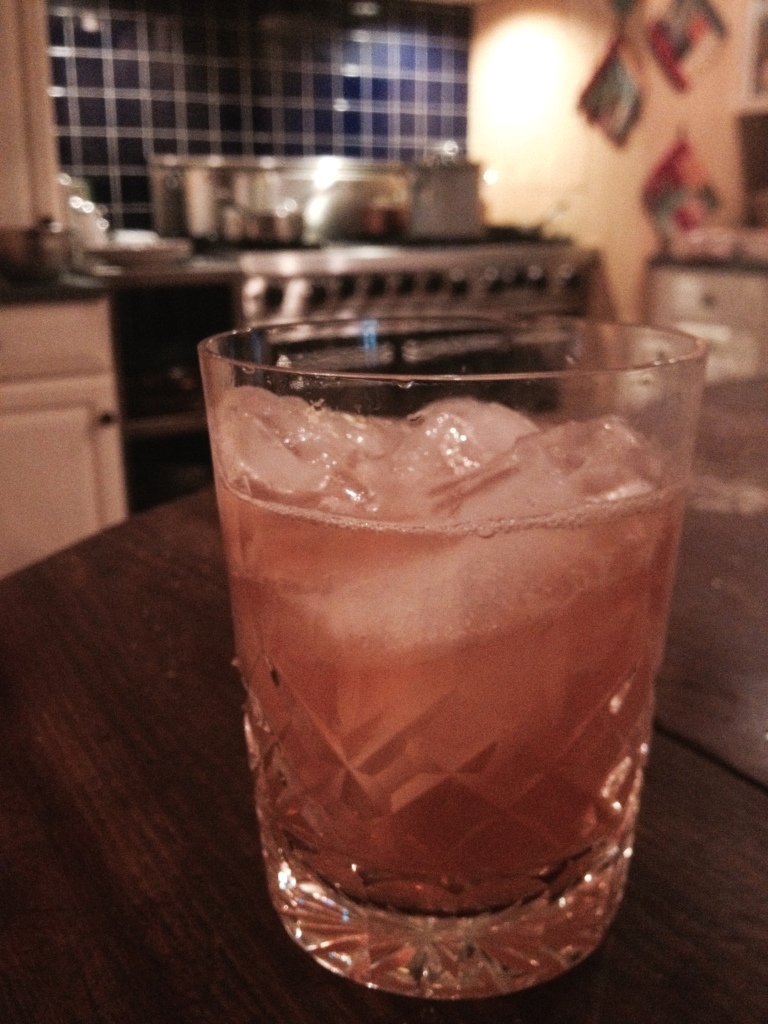 Just in time for the holidays, Ellen Stimson, author of Good Grief!: Life in a Tiny Vermont Village and Mud Season: How One Woman's Dream of Moving to Vermont, Raising Children, Chickens and Sheep, and Running the Old Country Store Pretty Much Led to One Calamity After Another, is sharing the recipe for her "famous Mud Season Cocktail" with indie booksellers:
2 Parts Whistle Pig Rye Whiskey (Another rye will do but Vermont's own Whistle Pig is mighty tasty!)
1.5 Parts Simple Syrup
1 Part Bragg Apple Cider Vinegar (Any good apple cider vinegar will do)
2 Shakes Angostura Bitters (There are others--Peycahud, Bitter Truth... but there ain't nothin' wrong with Angostura. It's a real workhorse.)
This well-balanced cocktail is shaken not stirred til it has a nice frothy top. Serve in a double old fashioned glass with a cinnamon stick for the holidays. This Mud Season will make any season brighter!


Personnel Changes at Abrams
Effective December 15, Shawna Mullen is joining Abrams as associate publisher, adult trade. She is currently an executive editor at Taunton Press and previously was editorial director at Clarkson Potter, where she helped launch the Potter Craft imprint.


Book Trailer of the Day: Autumn Falls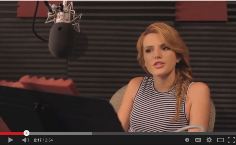 Autumn Falls by Bella Thorne (Delacorte), the author's debut YA novel.


Media and Movies
Media Heat: Phil Klay on Fresh Air
Today on Fresh Air: National Book Award–winner Phil Klay, author of Redeployment (Penguin Press, $26.95, 9781594204999).
---
Tomorrow on the Diane Rehm Show: readers review Dinner at the Homesick Restaurant: A Novel by Anne Tyler (Ballantine, $16, 9780449911594).

---

Tomorrow on the Wendy Williams Show: Russell Brand, author of The Pied Piper of Hamelin: Russell Brand's Trickster Tales (Atria, $19.99, 9781476791890).


Books & Authors
Awards: Geoffrey Faber Memorial; Voss Literary
Eimear McBride has won another award for A Girl Is a Half-formed Thing, taking this year's £1,500 (US$2,350) Geoffrey Faber Memorial Prize, which is awarded in alternate years to works of prose and poetry. The Bookseller noted that Eimear's debut novel also won the Baileys Women's Prize for Fiction, the Goldsmiths Prize, the Kerry Group Irish Novel of the Year award and the Desmond Elliott Prize.

Deidre Madden, one of the judges for the prize, praised the novel as "literature of the highest order and a true work of art. It displays a remarkable understanding of language and form and is technically brilliant. An important novel, which breaks new ground."

---

Fiona McFarlane's The Night Guest won the inaugural $6,500 (US$5,640) Voss Literary Prize, which is "awarded to the best novel published in Australia in the previous year," Books+Publishing reported. Anthony Uhlmann, one of the judges, said that in The Night Guest, "the imagined becomes real through tricks played by perception," adding that the ideas in the book "offer new insights into who and what we are."


IndieBound: Other Indie Favorites
From last week's Indie bestseller lists, available at IndieBound.org, here are the recommended titles, which are also Indie Next Great Reads:

Hardcovers
All Days Are Night by Peter Stamm, translated by Michael Hofmann (Other Press, $22, 9781590516966). "In All Days Are Night, Stamm watches his characters create art, act in plays, die, love, and mortify each other and themselves, all in the quest for something no one is quite sure of. It is a story of uncertain passion, withheld devotion, and the grief that comes simply from living. Reading this book is like reading something that exists entirely in the margins--confessional but voyeuristic, heartbreaking but apathetic. Stamm negotiates the modern love story with a careful grace and leaves readers wanting more of we don't know what." --Emily Heap, City Lit, Chicago, Ill.

Sometimes the Wolf: A Novel by Urban Waite (Morrow, $26.99, 9780062216915). "In this powerful story set amidst the lush landscape of the Northwest, former sheriff Patrick Drake has just been released from prison. As he tries to make a new start with his son, who is a sheriff's deputy in his father's old department, his past comes back to haunt him. Violence from Patrick's old life plays out in the forefront, and the issues of family loss, disappointment, and forgiveness are the backdrop for this rapidly paced, spellbinding novel." --Stephanie Crowe, Page & Palette, Fairhope, Ala.

Paperback
My Mistake: A Memoir by Daniel Menaker (Mariner, $14.95, 9780544334533). "Being a longtime reader of the New Yorker, I found Menaker's behind-the-scenes account of his career there absolutely riveting. The literary life is gutted and splayed for all to see. Menaker's professional story is interspersed with his personal life, and both fed his writing career. His years at Random House and HarperCollins are also included, with fascinating details about contemporary authors and how a book is created. This is a must-read for booksellers and serious readers." --Ellen Jarrett, Porter Square Books, Cambridge, Mass.

For Teen Readers
Black Ice by Becca Fitzpatrick (Simon & Schuster Books for Young Readers, $19.99, 9781442474260). "Britt has always been in love with Calvin, even eight months after he ended their secret relationship. Now, as a senior in high school, she wants to prove to him that she can survive without him in every way. She and her best friend, Korbie, Calvin's spoiled younger sister, plan a backpacking trip in the Teton Range. However, a chance snow storm forces them to take shelter with two young men who are not what they seem. Black Ice is an impressive book with a riotous, rapid-paced, adrenaline-laden pulse." --Krys Tourtois, Schuler Books & Music, Lansing, Mich.

[Many thanks to IndieBound and the ABA!]


Attainment: New Titles Out Next Week
Selected new titles appearing next Tuesday, December 2:

Skylight by José Saramago, translated by Margaret Jull Costa (Houghton Mifflin Harcourt, $26, 9780544090026), follows the inhabitants of a 1940s Lisbon apartment building--from the Nobel Literature laureate. (See our review below.)

Genocide of One: A Thriller by Kazuaki Takano, translated by Philip Gabriel (Mulholland Books, $26, 9780316226226) follows the hunt for a hyper-intelligent Congolese three-year-old.

Bryant & May and the Bleeding Heart: A Peculiar Crimes Unit Mystery by Christopher Fowler (Bantam, $26, 9780345547651) continues the Peculiar Crimes Unit mystery series.

When Books Went to War: The Stories that Helped Us Win World War II by Molly Guptill Manning (Houghton Mifflin Harcourt, $25, 9780544535022) explores the effort to give American soldiers books during World War II.

Star Trek: Ships of the Line by Doug Drexler and Margaret Clark (Pocket Books/Star Trek, $30, 9781476782584) chronicles ships from the sci-fi franchise.


Now in paperback:

Jason (Anita Blake, Vampire Hunter) by Laurell K. Hamilton (Jove, $7.99, 9780515156072).


Movies:

Wild, based on the memoir Wild: From Lost to Found on the Pacific Crest Trail by Cheryl Strayed (Vintage, $15.95, 9780307476074), opens December 5. Jean-Marc Vallée (Dallas Buyers Club) directs Reese Witherspoon as a woman who embarks on a 1,000-mile solo hike.


Book Review
Review: Skylight
Skylight by Jose Saramago, trans. by Margaret Jull Costa (Houghton Mifflin Harcourt , $26 hardcover, 9780544090026, December 2, 2014)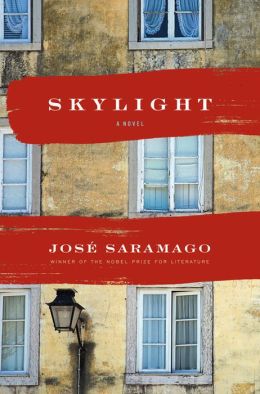 Completed in 1953 when José Saramago was barely into his 30s, the manuscript for Skylight disappeared into the rejected pile at a Portuguese publishing house. Crushed, Saramago wrote nothing more for 20 years. Only in 1989 was the single copy rediscovered, once Saramago had resumed writing and become famous. He refused to allow Skylight to be published in his lifetime. It has become the Nobel laureate's posthumous gift, and it's a literary explosion of youthful talent. The story unfolds in the Lisbon of the early 1950s, when World War II has ended, but not the Salazar dictatorship. The opening chapter alone is a bravura performance, a round-robin sequence of encounters and conversations as the tenants of the building call on each other to borrow the phone, to do a favor, to lower the noise, from apartment to apartment.
On the ground floor works Silvestre, the philosophical old cobbler. He and his adored, plump-and-getting-plumper wife need to take in a lodger to help them pay the rent. On the second floor live two seamstress sisters in their 30s, along with their mother and aunt. One sister keeps all her secrets in a locked diary. The other is about to imitate a character in a book she's reading, with disastrous consequences. Downstairs, Justina seems to still be mourning her eight-year-old daughter who died two years ago of meningitis. She hates her brutal husband, who can't keep his eyes off their neighbor Lidia, the gorgeous kept woman who has a visit three nights a week from Paulino, a man who has just hired the lovely, lazy 18-year-old daughter of another tenant to be his secretary and... well, that's when it starts to get complicated. Add to this tangled scenario the new young boarder, Abel, who doesn't intend to stay long and allows himself no ties to anyone, and you have umpteen plot threads about to converge.
Skylight is an exuberant classic farce with a philosophical spin. The tale unfolds from multiple points of view that intersect and overlap. It crackles with subtext, subtle set-ups and unexpected payoffs, turning narrative somersaults with ease. Just beneath the surface are secret rages and shames, painful memories and guilty regrets, an apartment house full of buried skeletons of lost loves and unforgiven humiliations. It's not perfect. It has flaws. Yet all the elements of Saramago's thought-provoking genius are here, and several of the story threads have profoundly satisfying endings as we watch these early Saramago characters struggle to be happy in the endless war between freedom and habit, on the tricky slope between seeming and becoming. --Nick DiMartino, Nick's Picks, University Book Store, Seattle, Wash.
Shelf Talker: Lost for 36 years and never published in his lifetime, this is Portuguese Nobel Prize-winner José Saramago's early philosophical/farcical novel about the tenants of a Lisbon apartment house.


The Bestsellers
Top-Selling Self-Published Titles
The bestselling self-published books last week as compiled by IndieReader.com:

1. Kiss of Christmas Magic by Various
2. His Secretary: Undone by Melanie Marchande
3. Ruin (Ruin Series Book 3) by Deborah Bladon
4. Ruin (Ruin Series Book 1) by Deborah Bladon
5. Nights With Him by Lauren Blakely
6. Ruin (Ruin Series Book 2) by Deborah Bladon
7. Conquer Me (Royals Saga, Book 2) by Geneva Lee
8. The Elf on the Shelf by Carol V. Aebersold and Chanda B. Bell
9. The Templar's Relic (A James Acton Thriller, Book 4) by J. Robert Kennedy
10. Game (Gentry Boys) by Cora Brent

[Many thanks to IndieReader.com!]