Shelf Awareness for Monday, March 14, 2011

News
Image of the Day: Warmed Up for March Madness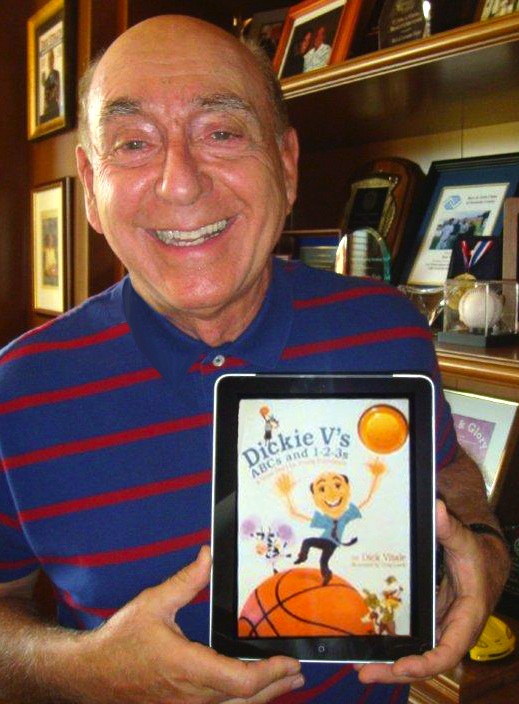 Longtime ESPN basketball announcer Dick Vitale with the iPad version of his book Dickie V's ABCs and 1-2-3s. This enhanced e-book version of the title, created by publisher Ascend Books and BookMasters Content Services, features a video intro from Dick and audio of Dickie V-isms on every page.


Borders May Close More Stores; Ending Chapter 11 in Summer?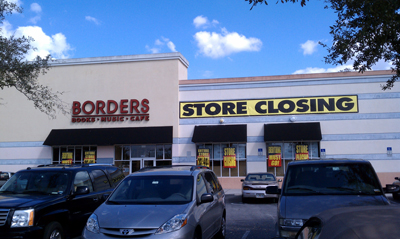 Borders Group may close as many as 75 more stores beyond the 200 currently being shut down, CEO Mike Edwards said in a conference call last Friday. The additional closings are dependent on rent reduction negotiations with landlords; a decision on more store closings will be made this week.

The company is seeking lower rents from landlords of all its remaining 285 superstores. The 75 additional stores that may be closed are among 140 of what Evans called "on-the-bubble stores," whose lease terms may make them unprofitable. If Borders closes another 75 stores, it will have closed 56% of the superstores it operated when it declared bankruptcy last month.

Borders "does not anticipate a major closure program" involving its 148 small format and airport stores, which Edwards described as "performing well." All of them won lease concessions previously, he said.

The company's top 20 vendors, who represent 63% of last year's sales, are shipping, "mostly cash on shipment," Edwards said. He called normalized trade terms "critical in the company's success" and wants those to be restored. He also called it critical for Borders to be able to return books "consistent with our ordinary business practices" and said that Borders is having "individual discussions" with major publishers about returns.

Borders continues to work on a strategic plan, which it will review with the unsecured creditors' committee in early April. Major elements will include "the refresh merchandise strategy, a new commitment to e-books and e-commerce as well as an enhanced store layout."

CFO Scott Henry said that sales at stores that will remain open have "exceeded expectation." The company has "more than adequate liquidity" and is paying all vendors and landlords "on time and consistent with their individual terms."

Henry added that Borders wants to work with all its business partners "to review our current relationships" to see how they can be made more cost effective.
---
Borders hopes to emerge from Chapter 11 by the end of the summer in time to be ready for the holiday season, Edwards told the Wall Street Journal in his first interview since the company filed for bankruptcy.
Noting that companies that have failed in Chapter 11 held on to money-losing stores too long, he said, "You've got a window, and you have to move decisively."
Borders aims to reconfigure stores so that about 15,000 square feet of the average 25,000-sq.-ft. store will be devoted to books. The rest of the stores will likely be shared by cafes, children's books and educational toys and games and consumer electronic products. The company may also add used books, which are doing well online.
Borders will continue to sell a variety of e-readers, but in exchange for receiving a share of all Kobo e-book sales in the U.S., Borders will emphasize the Kobo in its stores and online.
Concerning the unsecured creditors' committee's objections to Borders's bankruptcy financing made last week in court papers, Edwards told the paper that Borders is "confident that we have negotiated the best financing for our situation."
The committee said that the company won't have enough money to place orders for the fall season "and will have to either find new investors or sell itself by mid to late June," the Journal wrote. At the same time, it said that the $505 million made available by GE and other lenders was more than needed, "resulting in about $16 million in unnecessary fees," the Journal wrote. But formulas with the financing "make it unlikely that Borders will be able to borrow the full amount."
Borders responded that it has made several changes to its financing terms after consulting with creditors, the Journal wrote. "The remaining objections by the committee amount to a 'wish list,' Borders said, that were already discussed as part of 'hard bargaining' between the company and its lenders before the bankruptcy filing."


Notes: Australian Bookselling; Another Indie Goes to the Mall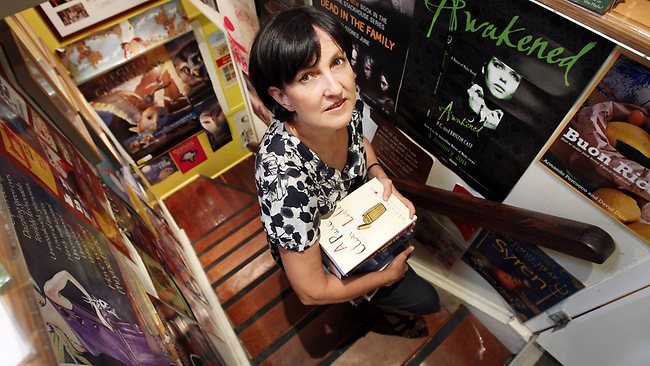 The Australian surveyed independent booksellers in the wake of the bankruptcy of REDGroup Retail, owner of the Angus & Robertson and Borders chains in Australia, and spoke to some of our favorite booksellers Down Under, including David Gaunt of Gleebooks in Sydney, Mark Rubbo of Readings in Melbourne and Fiona Stager of Avid Reader in Brisbane and president of the Australian Booksellers Association. There is special emphasis on Suzy Wilson, owner of Riverbend Books in suburban Brisbane, who, the paper wrote, "believes social projects at independent bookshops across the country are about 'all of us putting our minds to building this community to be as strong as possible, so that we've got the best chance of surviving,' although she acknowledges they require a huge amount of work, which is 'not really reflected in the returns.' "

All Australian bricks-and-mortar booksellers are competing with Amazon as well as the Book Depository, an online bookstore in the U.K. that "offers heavily discounted titles and free shipping to Australia."
---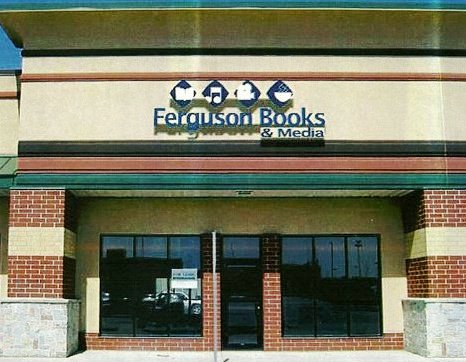 Ferguson Books & Media, Grand Forks, N.D., plans to open a second store, in a former Waldenbooks location at the Columbia Mall, the Grand Forks Herald wrote.

"We will have a soft opening later in the month and officially open by April 1," said owner Dane Jeremy Ferguson, who had posted earlier on the the bookstore's Facebook page: "It's official! Ferguson Books & Media became a chain today!"

The new store will be about "90% identical" to the original. Ferguson said community support for the store has been "immense.... Whatever chains can do, maybe we can't do as quickly, but we can make it up in customer service."
---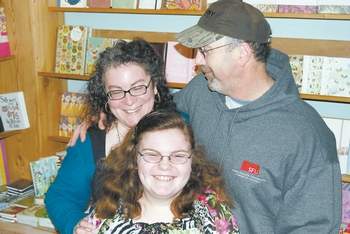 Congratulations to the Odyssey Bookshop, Port Angeles, Wash., which is celebrating its 40th anniversary tomorrow evening with a party, according to the Peninsula Daily News. Current owner April Bellerud bought the store in 2009 from founder Craig Whalley.

The party includes cake, favors and prizes. The store is also asking customers to send in stories and photographs from Odyssey's past--those people will be eligible for a drawing for a $40 gift certificate. And anyone born on March 15, 1971, the store's birthday, will have a 40% discount.
---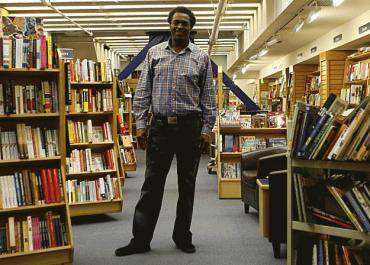 A wonderfully engaging bookseller, Bernard Henderson spoke with the San Francisco Chronicle about his life at Alexander Book Co., San Francisco, Calif., where in the last 11 years, he has built up the store's offerings of black books from a single shelf to one of the store's several specialties and made the store a stop for major black authors.

"I'd say 90% of the African American customers are women," he said. "A lot of them work here in the Financial District. But then, because of word of mouth, and because they can't find the books anywhere else in stock, they'll come from all over."

The fastest growing genre in the past few years, he said, is black Christian fiction.

Henderson produces Bernard's Bookshelf, a public-access TV show, and started Bernard's B-list, recommendations of titles in a variety of formats and categories (see them online here). He's also so adept as an emcee at events that he's begun doing standup.
---

In Other Words, the Portland, Ore., feminist bookstore and community center is "enjoying an unexpected moment in the spotlight," thanks to the popular IFC sketch comedy series Portlandia, the Oregonian reported. One of the ongoing segments is set at the fictional Women and Women First Bookstore, where "a pair of humorless workers at a feminist bookstore (played by Fred Armisen and Carrie Brownstein) give customers the grouchiest, least-helpful, most guilt-inducing service imaginable."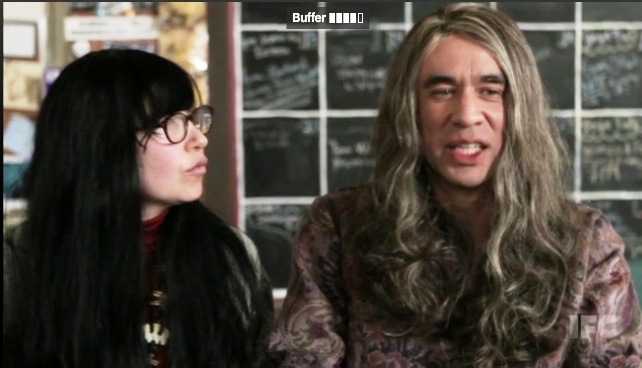 Those sketches, which were filmed at In Other Words, have "spurred a lot of discussion," said the bookstore's co-director, Katie Carter. "We're a small organization, and Portlandia has gotten a lot of national exposure. It was a surprise--people outside of here care about Portlandia? And feminism is not a concept that is seen much in mainstream media."

Despite some reaction that the fictional booksellers promote a stereotype, Carter believes the segments make fun of clichés rather than perpetuating them. "I think we were expecting some negative feedback, but there have only been a few comments like, 'Why would you let them make fun of feminism?' But Carrie Brownstein's a feminist, and it's meant to be tongue-in-cheek."

---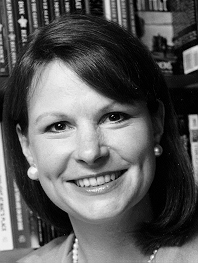 Congratulations to Susan Novotny: literary agent Susan Golomb sold Comeback Love by Peter Golden, originally published as a Staff Picks Press book, to Atria via auction. Atria editors were "intrigued with the concept of SPP and having booksellers lead the way to new authors," Novotny said.

Novotny is owner of the Book House of Stuyvesant Plaza, Albany, N.Y., and Market Block Books, Troy, N.Y., as well as co-owner of Troy Book Makers. She founded Staff Picks Press as a way for booksellers to select and publish books that eventually may or may not be picked up major publishers.

Golden describes Comeback Love as "a journey into the hearts of two lovers who came of age in the 1960s and is a sensual exploration of youth, regret, desire, and the bonds that mysteriously endure in the face of momentous change."
---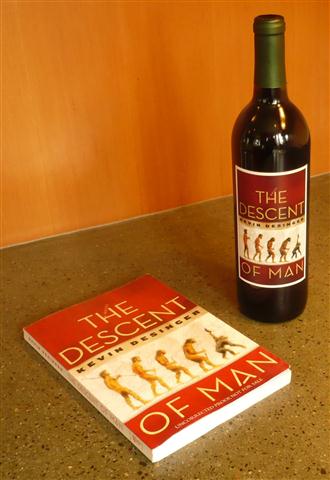 Cool (but not chilled) idea of the day. For The Descent of Man, a first novel by Kevin Desinger about a wine steward who decides to turn the tables one night on two car thieves and, as a consequence, whose life spirals into a nightmare, the author and publisher Unbridled Books worked with an Oregon vineyard to create a special Descent of Man label for a pinot. The bottles will be gifts for some lucky booksellers.
---
Book trailer of the day: Live Wire by Harlan Coben (Dutton), which goes on sale March 22.
---

As part of its "ongoing investigation into the financially fictitious" (see Forbes Fictional 15), Forbes revisited a 2007 listing of the 25 largest fictional companies, asking readers if it was time for an update. Leading the earlier ranking was CHOAM from Frank Herbert's Dune, with annual revenues of $1.7 trillion.

---

Buzzfeed featured a roundup of amazing book sculptures, including a building made out of 7,000 phone books

---

Here's a surefire conversation starter: Writer Rob Silverman chose his "10 best books about New York" for the Huffington Post: "Here are some classic fiction and nonfiction books that will help the armchair traveler, the visitor, and the newly arrived to understand the heart and soul of New York." (Check out our Facebook page for additional suggestions.)

---

Lit tatts of the day: Buzzfeed showcased "20 awesome literary tattoos" that are "classic to the bone."




Obituary Note: Nancy Landon
Nancy Landon, owner of the Brewster Bookstore, Brewster, Mass., and children's book buyer for two toy stores in Maryland, died last Wednesday, according to the Cape Codder. She was 74.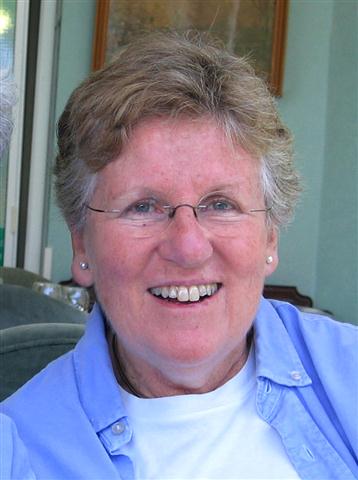 Landon taught high school English, raised a family and was involved with a variety of community causes including animal rights, before beginning work in 1979 as a children's book buyer for Toys Etc., now known as Toy Castle, in Potomac, Md. In 1982, she opened the Brewster Bookstore, which won Boston Magazine's Best of Boston 2004 Cape Cod Bookstore award, was #1 in the Community Newspapers Reader's Poll in 2006 and 2007 and won the Lower Cape Gold award from Cape Cod Life in 2007.

NEIBA executive director Steve Fischer called her "a great friend of publishers, sales reps, fellow booksellers, authors and her many loyal customers. Nancy was a great book person with a huge heart."


Media and Movies
Media Heat: M. Gregg Bloche on The Hippocratic Myth
This morning on Good Morning America: Rob Bell, author of Love Wins: A Book About Heaven, Hell, and the Fate of Every Person Who Ever Lived (HarperOne, $22.99, 9780062049643).

---

This morning on the Today Show: Daniel Radcliffe, star of the Broadway adaptation of How to Succeed in Business Without Really Trying by Shepherd Mead (Simon & Schuster, $14, 9781451627091).

---

This morning on Imus in the Morning: Rodney Crowell, author of Chinaberry Sidewalks (Knopf, $24.95, 9780307594204).

---

Today on the View: Todd Bridges, author of Killing Willis: From Diff'rent Strokes to the Mean Streets to the Life I Always Wanted (Touchstone, $14.99, 9781439148990).

---

Today on NPR's Fresh Air: M. Gregg Bloche, author of The Hippocratic Myth: Why Doctors Are Under Pressure to Ration Care, Practice Politics, and Compromise their Promise to Heal (Palgrave Macmillan, $27, 9780230603738).

---

Tomorrow morning on Good Morning America: Sammy Hagar, author of Red: My Uncensored Life in Rock (It Books, $26.99, 9780062009289).

---

Tomorrow morning on NPR's Morning Edition: Del Quentin Wilber, author of Rawhide Down: The Near Assassination of Ronald Reagan (Holt, $27, 9780805093469).

---

Tomorrow morning on the Today Show: Olympic gold medal figure skater Kristi Yamaguchi, author of Dream Big, Little Pig! (Sourcebooks Jabberwocky, $16.99, 9781402252754).

---

Tomorrow on the Rachael Ray Show: Amy E. Goodman, author of Wear This, Toss That!: Hundreds of Fashion and Beauty Swaps That Save Your Looks, Save Your Budget, and Save You Time (Atria, $27, 9781439184417).

---

Tomorrow on NPR's Diane Rehm Show: Joshua Foer, author of Moonwalking with Einstein: The Art and Science of Remembering Everything (Penguin Press, $26.95, 9781594202292).


Television: Salman Rushdie's Project for Showtime
Salman Rushdie will be the screenwriter and executive producer of Next People, a drama series for Showtime that "dissects different aspects of contemporary American life," Deadline.com reported. Rushdie "had expressed interest in branching out into TV writing, and a few months ago, his Hollywood reps at UTA and his literary agent Andrew Wylie started discussing the possibility of him doing a TV series. Word of Rushdie's intentions got to Showtime entertainment president David Nevins, a fan of Rushdie's. He flew to New York to meet with the writer and woo him to do a show for Showtime."


Movies: The Lincoln Lawyer, Cracks, Limitless
The Lincoln Lawyer, based on the novel by Michael Connelly, opens this Friday, March 18. Matthew McConaughey is a lawyer working on an important case from the back of his Lincoln Town Car. Also starring Marisa Tomei and Ryan Phillippe; directed by Brad Furman. Grand Central has published the tie-in edition ($7.99, 9781455500239).

Cracks, based on the novel by Sheila Kohler (Other Press, $13.95, 9781590512050), opens March 18. Eva Green stars in this exploration of the lives of girls attending an English boarding school.

Limitless, based on the book by Alan Glynn, opens March 18. Robert De Niro and Bradley Cooper star in this story of a copywriter who uses a secret drug to gain supernatural abilities. The director is Neil Burger. Picador has a movie tie-in edition ($15, 9780312428877).


Books & Authors
Awards: Bollingen Prize for Poetry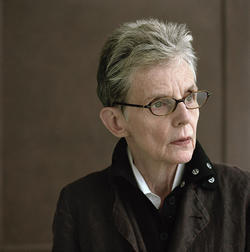 Susan Howe has won Yale University's Bollingen Prize for Poetry, which honors an American poet for the best book published during the previous two years or for lifetime achievement in poetry, the Buffalo News reported. Previous recipients include Ezra Pound, Wallace Stevens, Marianne Moore and Adrienne Rich.

Of Howe's most recent collection, the judges observed: "Susan Howe is a fierce elegist. That This, prompted by the sudden death of the poet's husband, makes manifest the raw edges of elegy through the collision of verse and prose, visionary lyricism and mundane incident, ekphrasis, visual patterning, and the reclamation of historical documents. The book culminates in a set of luminous and starkly condensed lyrics moving increasingly toward silence."


IndieBound: Other Indie Favorites
From last week's Indie bestseller lists, available at IndieBound.org, here are the recommended titles, which are also Indie Next Great Reads:

Hardcover

Three Stages of Amazement: A Novel by Carol Edgarian (Scribner, $25, 9781439198308). "I have nothing but praise for this wonderful novel! Edgarian's ability to capture the reality of the everyday routines and dilemmas of her characters results in a powerful connection with the reader. Her interconnected stories grip us not only because of the lessons they teach, but also because of her astonishing skill and wisdom as a storyteller who makes the mundane become so compelling. I truly couldn't stop thinking about these people long after turning the last page."--Roberta Rubin, the Book Stall at Chestnut, Winnetka, Ill.

Hardcover Nonfiction

Bringing Adam Home: The Abduction that Changed America by Les Standiford and Joe Matthews (Ecco, $24.99, 9780061983900). "As riveting as any thriller, as poignant as any memoir, and as powerful as any investigative journalism, Bringing Adam Home is impossible to put down. The key scenes are beautiful, simple renderings of vulnerability and truth laid bare. This is a gripping work which should become a classic of the genre, not because of the crimes it explores, but for how it casts light into darkness."--Aaron John Curtis, Books & Books, Coral Gables, Fla.

Paperback

The Journal Keeper: A Memoir by Phyllis Theroux (Grove, $14.95, 9780802145284). "The Journal Keeper is a radiant display of Phyllis Theroux's considerable talents with pen and paper but even more remarkable is her window on a mystical world of universal wisdom that she unveils in her daily task of record keeping."--Barbara Meade, Politics and Prose Bookstore and Coffeehouse, Washington, D.C.

Picture Book

You're Finally Here! by Mélanie Watt (Hyperion, $15.99, 9781423134862). "Who knew a rabbit with expressive eyebrows, huge eyes, and a small but mighty mouth could carry off a story as the solo character? Mélanie Watt, author and illustrator of the Scaredy Squirrel series, accomplishes just that in this simple but noisy dialogue between rabbit and reader. Make room for this rabbit next to a certain well-known pigeon!"--Beverly Bauer, Redbery Books, Cable, Wis.

[Many thanks to IndieBound and the ABA!]


Book Review
Book Review: Rodin's Debutante
Rodin's Debutante by Ward Just (Houghton Mifflin Harcourt (HMH), $26.00 Hardcover, 9780547504193, March 2011)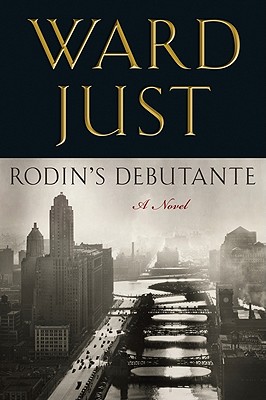 Best known for his penetrating fictional portraits of life in Washington, D.C., Ward Just returns to his Midwestern roots and the territory he visited in his 2005 novel, An Unfinished Season, to tell one of his characteristically elegant stories of the way lives are defined by troubling moral choices.
Just's 17th novel centers on the decade or so after World War II and the story of Lee Goodell, once enrolled at the Ogden Hall School for Boys, a private school in New Jesper, a blue-collar town on the outer fringe of Chicago, catering to students whose "every action implies the world is their oyster and proles will always be on hand to do the shucking." The school was founded by Tommy Ogden, a shadowy figure moved by his passions for big game hunting, art and prostitutes; his presence hovers over the story. When a teenage girl, the daughter of working-class immigrants, is raped, the crime threatens to undermine the town's placid façade.
Lee's father, a probate judge and chair of the "Committee," an informal assemblage of the town's power elite, tries to persuade his peers to soft pedal the story of the gruesome crime. The scene in which they debate that choice while Lee eavesdrops on the temporizing of his elders exquisitely displays Just's keen grasp of what goes on in quiet, dimly lit rooms, where powerful men believe they are privileged do what's necessary to "keep the lid on lest, lidless, the pot boiled over with unforeseen consequences."
Lee moves on to the University of Chicago during the era of intellectual ferment spurred by Robert Hutchins's Great Books program. Just places Lee firmly in the midst of the unruly city, where he experiences intense philosophical debates at Hyde Park dinner parties as well as sudden street violence in the South Side neighborhood where he spends late nights sculpting in a rented studio. "Chicago's alive," the young man is reminded by Tommy Ogden's aging lawyer. "Chicago doesn't wait for permission." When Magda Serra, the victim of the brutal attack, reappears in Lee's life, he's forced to reflect on "the enigma of class in America" that lay at the heart of the quiet decisions made in his father's study many years earlier.
Ward Just excels in exposing the chilly calculation that drives his characters' actions. There's probably no serious novelist working today whose productivity is so unfairly disproportionate to his public recognition. Ward Just is a grown-up writing about grown-ups, and that's only one of many reasons to read his work.--Harvey Freedenberg
Shelf Talker: In his 17th novel, Ward Just delivers another characteristically insightful look at the morally ambiguous world of those who wield power in American society.