Shelf Awareness for Tuesday, May 3, 2011

News
Image of the Day: Heaven at the Bookstore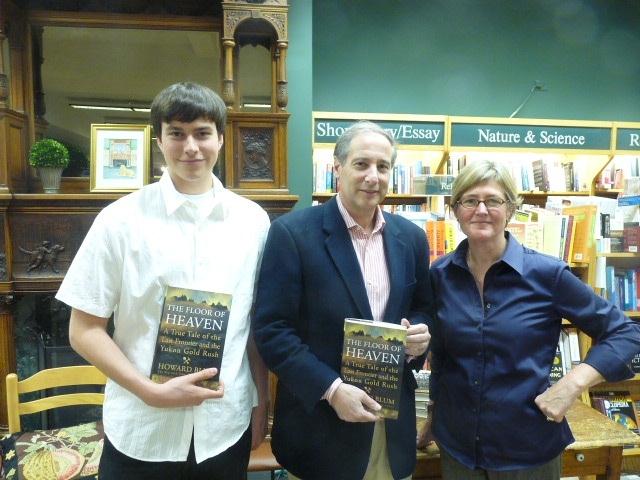 Last week Barrett Bookstore, Darien, Conn., hosted an event to celebrate the publication of Howard Blum's new book, The Floor of Heaven: A True Tale of the Last Frontier and the Yukon Gold Rush (Crown). From l.: Gianluca DeRossi, a young customer; Blum; and Rosanna Nissen, events coordinator at the store.



Children's Book Week Launches with Gala, Awards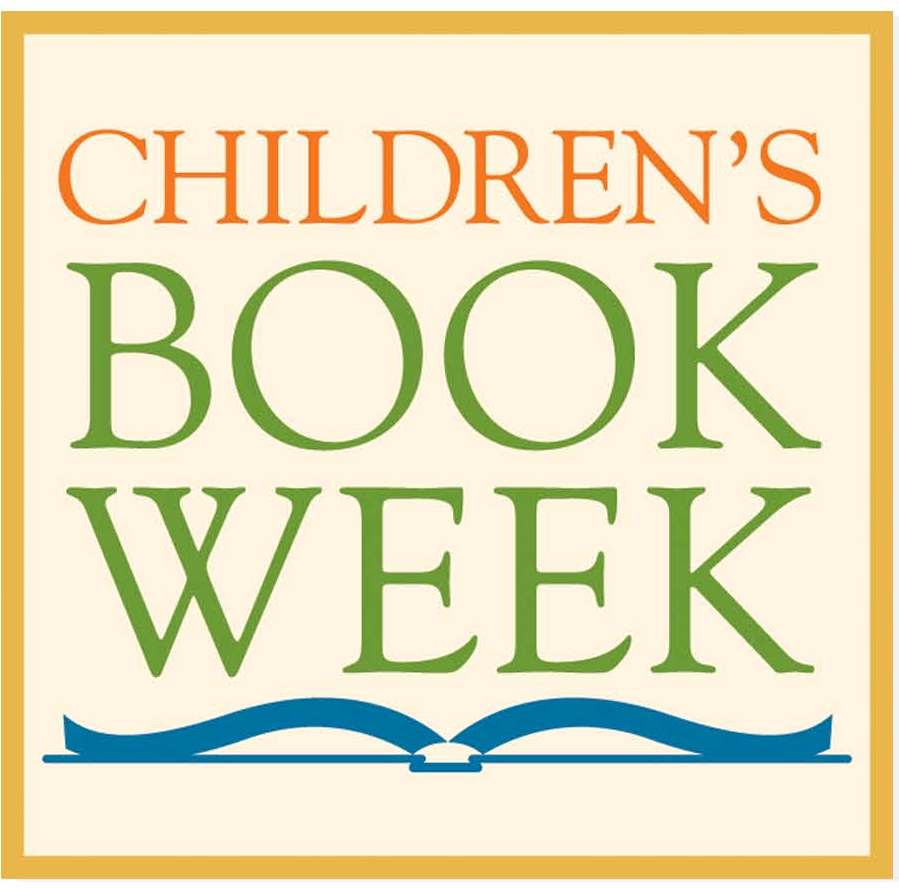 Rick Riordan and David Wiesner took the top prizes last night at a gala to kick off Children's Book Week, hosted by the CBC Foundation at the Lighthouse in New York City. Children across the country cast more than 500,000 votes for their favorite books, author and artist at bookstores, libraries and at www.BookWeekOnline.com. The total is more than the last three years' votes combined, according to the evening's host, Jarrett J. Krosoczka.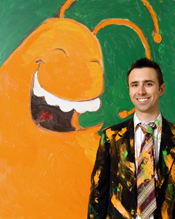 Rick Riordan won Author of the Year for The Lost Hero (The Heroes of Olympus, Book 1) (Disney-Hyperion). Riordan also won in the Fifth Grade to Sixth Grade Book of the Year category for his The Red Pyramid (The Kane Chronicles, Book 1) (Disney-Hyperion). David Wiesner won Illustrator of the Year for Art & Max (Clarion/Houghton Mifflin Harcourt). As Krosoczka tried to introduce the winners of the Newbery and Caldecott medals (to present the author and illustrator of the year awards), Snooki--bearing a striking resemblance to a spray-tanned Jon Scieszka in drag--once again tried to derail the proceedings. She seemed obsessed with "Johnny Newbery" and "Randy Caldecott," having sidelined them earlier this year in the Today Show green room.
The CBC Foundation had planned to honor Greg Mortenson's foundation, the Central Asia Institute, with its annual Impact Award. However, National Ambassador for Young People Katherine Paterson announced that, given the controversy surrounding the Central Asia Institute, the CBC Foundation would not be presenting an Impact Award this year. Paterson stressed, however, that the CBC's belief in "peace through education remains unwavering--every individual can make a difference," she said. "Storytelling is a powerful way to make a difference."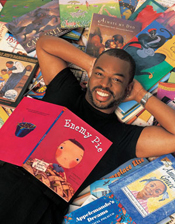 LeVar Burton, who hosted and produced Reading Rainbow for 26 years, appeared as a special guest. "In my house, reading was like breathing," he said. His mother was always reading in front of Burton and his two sisters and had two or three books going at a time. "Roots proved the power of television in eight consecutive nights," he said, emphasizing its subtitle, "The Saga of an American Family" and its reach into families' living rooms across the U.S. He continued, "It was a powerful medium to bring children back to the written word."
The nonprofit organization First Book will donate 5,000 books in the name of each of the 2011 Children's choice Book Award winners--30,000 in all. (See the Children's Book Week events taking place across the nation here.)
The complete list of Children's Choice Book Award winners: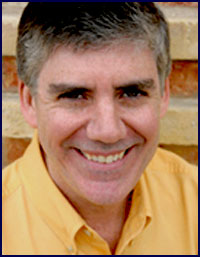 Author of the Year:
Rick Riordan for
The Lost Hero
(The Heroes of Olympus, Book 1) (Disney-Hyperion)
Illustrator of the Year:
David Wiesner for
Art & Max
(Clarion/Houghton Mifflin Harcourt)
Kindergarten to Second Grade Book of the Year:
Little Pink Pup
by Johanna Kerby (Putnam/Penguin)
Third Grade to Fourth Grade Book of the Year:
Lunch Lady and the Summer Camp Shakedown
by Jarrett J. Krosoczka (Knopf/Random House)
Fifth Grade to Sixth Grade Book of the Year: The Red Pyramid (The Kane Chronicles, Book 1) by Rick Riordan (Disney-Hyperion)
Teen Choice Book of the Year: Will Grayson, Will Grayson by John Green and David Levithan (Dutton/Penguin)



Notes: Bin Laden Book Rush; Publisher Bui Chat Arrested
The Bin Laden book rush is on. The Wall Street Journal reported that publishers are scrambling "to fill the Osama bin Laden book pipeline, hatching plans for digital titles they could publish almost instantly," including an essay collection, Beyond Bin Laden: America and the Future of Terror, from Jon Meacham, an executive editor at Random House. The publisher expects to release the work, which "will have about half-a-dozen contributors, plus an introduction written by Mr. Meacham," as an e-book next week. Free Press publisher Martha Levin said the imprint was eager to publish a digital work by journalist Peter Bergen, author of The Longest War: The Enduring Conflict between America and Al-Qaeda.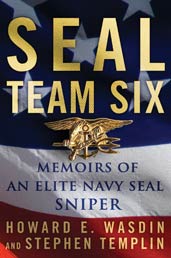 Plans are also being accelerated for print books. St. Martin's Press "is rushing up the publication date of a book by a former member of the counterterrorism unit credited with killing bin Laden." SEAL Team Six: Memoirs of an Elite Navy SEAL Sniper by Howard Wasdin and Stephen Templin was scheduled to be published May 24, but John Murphy, a spokesman for St. Martin's, told the Journal that the house hopes to have it distributed by the middle of next week.

---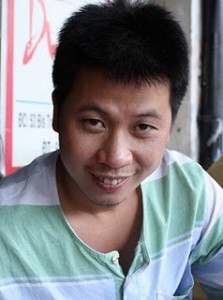 Bui Chat, who was awarded the International Publishers Association Freedom to Publish Prize (Shelf Awareness, April 28, 2011), was arrested by Vietnamese authorities on his return home. Radio Free Asia reported that the founder of Giay Vun Publishing--which is devoted to the printing and publishing of his country's "pavement poets"--was issued a "preliminary detention order" after authorities searched his home, and could face up to nine months in prison. The award and prize certificate were confiscated

"We were really hoping that nothing would happen," said Alexis Krikorian, director of IPA's Freedom to Publish panel. "I mean we have given Freedom To Publish Prize for many years and this is the first time the government arrests the prize winner upon his return to his country."

The IPA called on governments and human rights advocates to join publishers in pushing for Bui Chat's immediate release, saying the arrest appeared to be "directly linked" to his winning the prize, RFA wrote.

---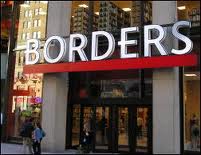 In February and March, Borders Group had sales of $330.7 million and lost $52.6 million, according to bankruptcy court filings. The company declared bankruptcy on February 16 and is nearing the end of the process of closing 226 superstores.

In the fiscal year ended January 21, sales fell 15.9% to $2.25 billion and the company had a loss of $299 million. Sales at stores open at least a year fell 10.5%. The only bright spots were "the children's toys and games and digital devices categories." The amount of money customers spent per transaction fell 6.1% and traffic decreased.
Borders has said it expects annual revenue to level out at $1.5 billion a year--if it is able to emerge from bankruptcy and continue at its present size.

---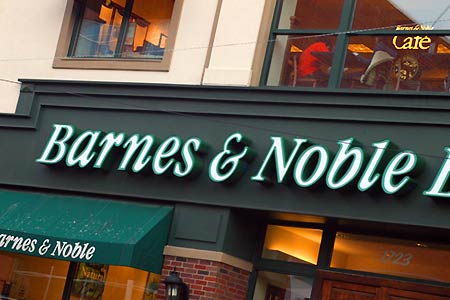 Barnes & Noble has amended its $1-billion revolving credit agreement on what it said are more favorable terms and extended the debt's maturity date. The amended credit facility "takes advantage of conditions in the financial markets that are more favorable than when the original facility was established," B&N said. The amendment also extends the previous maturity date from September 29, 2013 to April 29, 2016.

"Amending our revolving credit facility enables us to lower our anticipated cost of capital and enhance our financial flexibility as we continue to transform the company and execute our strategic plan," said Joseph Lombardi, B&N's CFO.

The company will write off $6.4 million in deferred financing fees from the previous facility in fiscal 2011. But beginning in fiscal 2012, lower interest costs and reduced amortization of deferred financing fees should reduce interest expense by $10.6 million annually. B&N ended fiscal year 2011 on April 30 with $313 million of outstanding borrowings under the facility.

---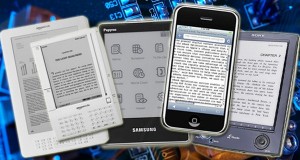 Are e-reading devices destroying the book world as we know it? That would seem to be the conclusion of a statement released last week that suggested Kindles, Nooks, Kobos and their e-kin "might dangle the prospect of convenience for millions of bibliophiles around the world, with their light weight and instant access to whole libraries of e-books, but a new analyst report suggests the devices could eventually prove bad news for the publishing industry as a whole," eWeek.com wrote.

"The book publishing industry has entered a period of long-term decline because of the rising sales of e-book readers," according to a research note from IHS iSuppli, which "predicted a decrease in book revenue at a compound annual rate of 3% through 2014--a reversal from the period between 2005 and 2010, when revenue rose," eWeek.com reported.

Steve Mather, IHS iSuppli's principal analyst for wireless, predicted that "while e-book sales will rise during that same period, the increase won't cover the revenue gap created by the decline in the physical book market. By 2014, the research note predicts, e-books will occupy some 13% of U.S. book publishing revenue, more than twice its current level." Competition from tablets will also have an impact, according to the statement.

---

Obituary note: Bill Kohler, founder of Vantage Sales and Marketing, died on April 30. Kohler worked in the book industry for 35 years as a sales director for Western Publishing and Grosset and Dunlap before founding Vantage in 1982. He retired in 2001 and served as a consultant to several publishers until earlier this year.

His funeral service will be held on Thursday, May 5, at the Godfrey Funeral Home, 809 Central Avenue, Ocean City, N.J.. There will be a viewing for family and friends at 1 p.m., immediately followed by a memorial service at 2 p.m. In lieu of flowers, the family has requested contributions be made in his name to the American Legion Morvay-Miley Post 524, P.O. Box 363 Ocean City, N.J. 08226. To e-mail condolences, visit godfreyfuneralhome.com.

---

The New York Times offered a peek inside Norman Mailer's Brooklyn Heights fourth-floor co-op, which the late author's children have put on the market for $2.5 million. They may also consider selling some of Mailer's "furniture, books and tchotchkes, but will probably divide them up." Michael Mailer, however, said they might "be open to offers for some belongings from, say, someone planning a Norman Mailer Museum."

---

Poet as frequent flier. David Kirby shared some of his experiences as a flying poet in the New York Times: "I travel quite a bit, which raises the question, Why does a poet have to travel? Here's how it works. You write a poem and you make zero dollars. You write a book of poems, and you make slightly more than zero dollars. But if someone calls you to give a poetry reading, all of a sudden you actually make some money. I bet people didn't know poetry involved such high stakes."

---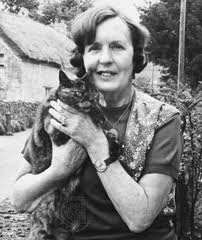 Handselling on the road. In the Wall Street Journal's "Dear Book Lover" section, a reader from Washington, D.C., shared the story of discovering an "unknown" writer: "I was on a business trip in Manhattan, eating alone at a bar and chatting with a nice man in the same boat. He was a middleman for independent booksellers and was attending a convention. We talked books all night, and he asked if I had ever read anything by Barbara Pym. I said I'd never heard of her. He recommended Excellent Women, which I read, and I was hooked."

---

For NPR, Alan Heathcock recommended three books to take to a fistfight that "follow winners who endure the slaps and stomps and gouges of a hard life fought well."

---

Flavorwire showcased Covering Lolita, "an online collection of cover designs for the classic novel that spans 33 countries and over 50 years."

---

On NPR's You Must Read This series, Elizabeth Cobbs Hoffman, author of Broken Promises: A Novel of the Civil War, shared her lifelong passion for Louis L'Amour, whose novels she discovered when she was about 12 at her uncle's house: "L'Amour made me wish I had been born on the Great Plains in the 19th century, and turned me into a historian."

---

Book trailer of the day: The Forgotten Locket by Lisa Mangum (Shadow Mountain Publishing), the third in the Hourglass Door trilogy.

---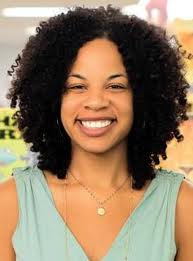 Jennifer Hunt was appointed v-p, acquisition and development, and editor-at-large for Dial Books for Young Readers, an imprint of Penguin Young Readers Group, effective May 9. Hunt was most recently editorial director at Little, Brown Books for Young Readers. In her new role, she will be responsible for acquiring and developing projects from picture books to YA fiction, and will act as liaison with the film, television and gaming community on the West Coast. Hunt was the editor of the National Book Award­winning The Absolutely True Diary of a Part-Time Indian by Sherman Alexie; Printz Award winner and National Book Award finalist Ship Breaker by Paolo Bacigalupi; and National Book Award finalist Story of a Girl by Sara Zarr, among many others.
---
Caitlyn Dlouhy has been promoted from editorial director to v-p, editorial director of Atheneum Books for Young Readers, an imprint of Simon & Schuster Books for Young Readers. She first joined Atheneum in July 1998, and, as Justin Chanda, v-p and publisher of the S&S Books for Young Readers Group put it, "In her 13 years at Simon & Schuster she has proven herself to be an inspired and meticulous editor, a tireless advocate for her books and, as our editorial director, the very backbone of the Atheneum editorial team." While at S&S, Dlouhy edited the Newbery Medal–winning Kira-Kira by Cynthia Kadohata; Kathi Appelt's The Underneath, a Newbery Honor book; and has worked with, among others, Andrew Clements, Laurie Halse Anderson, Sharon Draper, Alison McGhee and Peter Reynolds.


Lonely Planet on BEA: New York Bar Crawl
What to do after a day the Javits Center? Here Lonely Planet's Adam McCulloch offers some recommendations for a long day's drinking into night.
When it comes to watering holes, like other sybaritic pursuits, the bar is set higher in New York. Whether you're looking for a shady speakeasy, a new wave gin joint or a glamour den packed with models, this city has your number.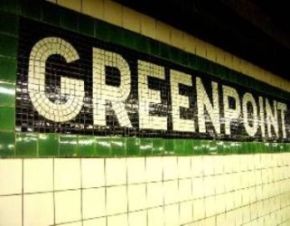 For a taste of the bar scene that spans the boroughs, start your boozy odyssey in Greenpoint. This is one of the grandest neighborhoods in Brooklyn, its wide streets lined with Dutch Colonial and Greek Revival townhouses. Relive the Jazz Age at the Manhattan Inn (632 Manhattan Ave., at Bedford Avenue, Greenpoint) where the centerpiece is a baby grand piano attracting tipsy hipsters and professionals alike, who love the braised pork belly & kimchi pressed sandwich. (Famous local and regular Joe McGinty from the Psychedelic Furs can often be found heading raucous singalongs.)
Next, catch the G train and transfer to the F at Bergen Street station to cross the East River into Manhattan. At Lower East Side/Second Avenue station get off and proceed west on foot through hipster central: 1980s nerd glasses and skinny jeans are the uniform of choice on these not-so-mean streets.
Opposite the arresting stacked white cubes of the New Museum is Double Crown, a beautiful people magnet that serves elegant Pan-Asian food in an industrial-chic space. Skip the sometimes hectic scene here and head out the back to Madam Geneva, a louche, low-lit joint featuring deep leather banquettes, quirky antique pieces and a spirited drinks list (if gin happens to be your poison, that is). Try one of the bar's signature creations, Beefeater Gin sweetened with homemade jam or fresh-mixed lime cordial.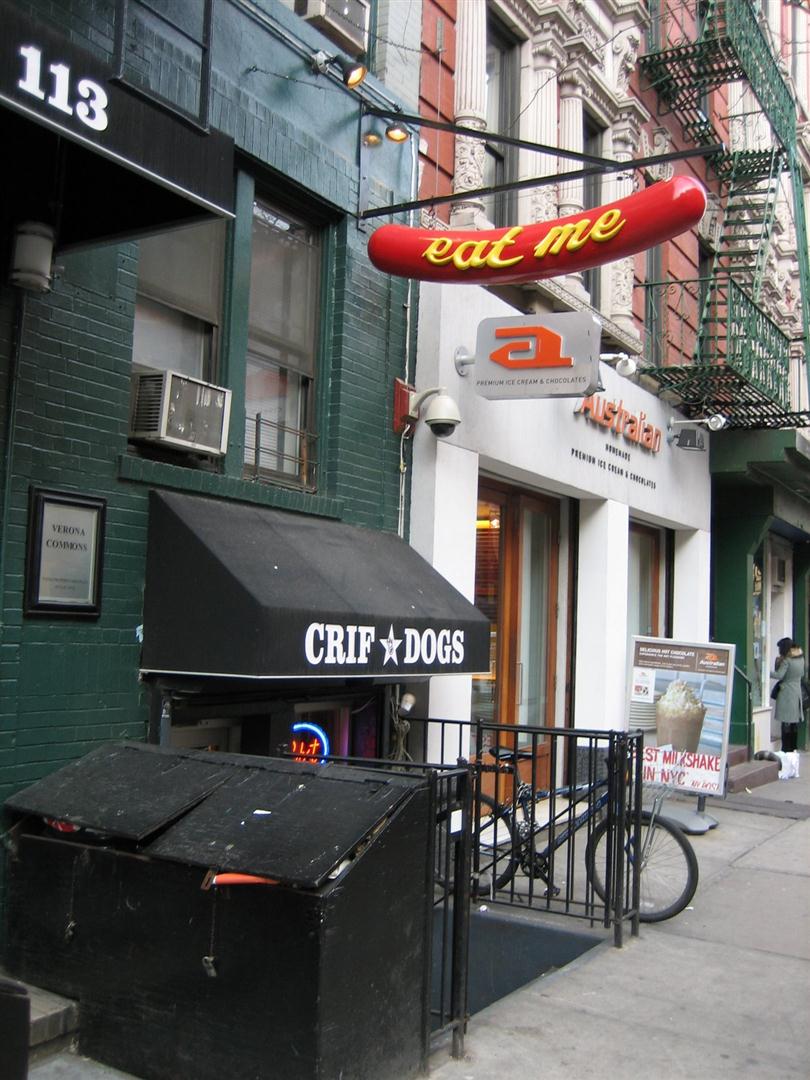 While in the East Village, make like Superman and head to a phone booth at Crif Dogs--a nouveau dog and burger joint in the heart of hipsterville. This is no ordinary phone booth: it's the entrance to Please Don't Tell, a back room cocktail lounge with all the exclusivity of secret bars like Milk and Honey and La Esquina but none of the attitude. Order a few upscale comfort food dishes and settle in at the bar to sample a few of the exotic cocktails for which PDT has become famous. Bacon infused bourbon, anyone?
Now it's time to make a choice: you could go south to TriBeCa and finish the night in a grown-up fashion or continue in search of your second wind. In TriBeCa, Terroir is the sister of a much-loved hole-in-wall wine bar of the same name in the East Village. The madcap bound drinks menu is a freewheeling compendium of everything owners Paul Grieco and Marco Canora love and hate. Riesling, they love--so much so they dedicated an entire season to it at the exclusion of all other whites. Crappy street fairs and Village Voice wine critics they hate (you can read their screeds on those subjects as you search through the bewildering array of wines). The bar snacks err on the hearty side: oxtail meatballs, bone marrow bruschetta. Terroir's gleeful myopia is sure to spark debate into the wee hours.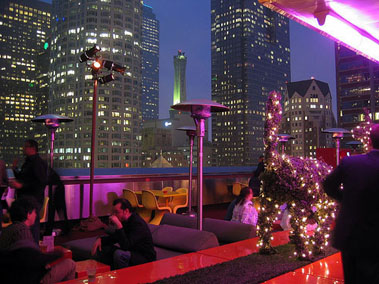 If you're still in the drinking mood, head to the Standard Hotel's late night club of the moment, Top of the Standard aka the Boom Boom Room: that's the official name, although everyone still calls it the Boom Boom Room. The scene of many a fashion soiree and celeb-filled party, don't be surprised to find yourself watching the sun rise over the Hudson River. Now, where to go for breakfast....


Media and Movies
Media Heat: Pakistan: A Hard Country
This morning on Imus in the Morning: Eric Greitens, author of The Heart and the Fist: The Education of a Humanitarian, the Making of a Navy SEAL (Houghton Mifflin Harcourt, $27, 9780547424859). Greitens is also appearing this morning on the Today Show, the Early Show and the Fox Business Network.

Also on Imus: Pete Hamill, author of Tabloid City: A Novel (Little, Brown, $26.99, 9780316020756).
---
Tomorrow on
Fox & Friends
:
Anatol Lieven
, author of
Pakistan: A Hard Country
(PublicAffairs, $35, 9781610390217).
---

Tomorrow morning on Good Morning America:

Bob Greene, author of 20 Years Younger: Look Younger, Feel Younger, Be Younger! (Little, Brown, $27.99, 9780316133784)
Jennifer Grant, author of Good Stuff: A Reminiscence of My Father, Cary Grant (Knopf, $24.95, 9780307267108)
Betty White, author of If You Ask Me: (And of Course You Won't) (Putnam, $25.95, 9780399157530)

---

Tomorrow morning on the Today Show: Ree Drummond, author of Charlie the Ranch Dog (HarperCollins, $16.99, 9780061996559).

Also on Today: Shania Twain, author of From This Moment On (Atria, $26.99, 9781451620740).

---

Tomorrow morning on Imus in the Morning: Jesse James, author of American Outlaw (Gallery, $26, 9781451627855). He will also appear on the Howard Stern Show and CNN's Piers Morgan Tonight.

---

Tomorrow on the Gayle King Show: Robert K. Elder, author of It Was Over When… (Sourcebooks, $12.99, 9781402253225).

---

Tomorrow on Fox & Friends: Richard North Patterson, author of The Devil's Light (Scribner, $26, 9781451616804). He will also appear on the Jim Bohannon Show.

---

Tomorrow on the Colbert Report: Amy Farrell, author of Fat Shame: Stigma and the Fat Body in American Culture (NYU Press, $21, 9780814727690).


Game Change: Julianne Moore as Sarah Palin Photo
Deadline.com featured a photo of Julianne Moore as Sarah Palin for the upcoming HBO film, Game Change, based on the book Game Change: Obama and the Clintons, McCain and Palin, and the Race of a Lifetime by John Heilemann and Mark Halperin.

Recent additions to the large ensemble cast include Sarah Paulson as John McCain's senior campaign adviser Nicolle Wallace, and Peter MacNicol, who will play McCain's campaign manager Rick Davis in the movie directed by Jay Roach and written by Danny Strong.

The cast also includes Ed Harris (John McCain), Woody Harrelson (Steve Schmidt, McCain's senior adviser), Justin Gaston (Levi Johnston) and Melissa Farman (Bristol Palin).


Movie: It's the First Day of School... Forever
It's the First Day of School... Forever, the most recent book in R.L. Stine's bestselling Goosebumps series, has been optioned by Gotham Group, which "will develop the title for adaptation into a family adventure movie," the Hollywood Reporter (via the Los Angeles Times) wrote. The book is set for a July release.


Books & Authors
Awards: Booksellers Choice Finalists
The finalists for the first annual Indie Booksellers Choice Awards, sponsored by Melville House and Shelf Awareness, are:

The Black History of the White House by Clarence Lusane (City Lights)
Contingency Plan by David K. Wheeler (TS Poetry)
The Instructions by Adam Levin (McSweeney's)
The Lonely Polygamist by Brady Udall (Norton)
Matterhorn by Karl Marlantes (Grove/Atlantic)
Nox by Anne Carson (New Directions)
The Orange Eats Creeps by Grace Krilanovich (Two Dollar Radio)
Orion You Came and Took All My Marbles by Kira Henehan (Milkweed Editions)
The Report by Jessica Francis Kane (Graywolf)
The Singer's Gun by Emily St. John Mandel (Unbridled)
Who Was Changed and Who Was Dead by Barbara Comyns (Dorothy)
The Windup Girl by Paolo Bacigalupi (Night Shade Books)
Wingshooters by Nina Revoyr (Akashic)

Participating booksellers have until May 20 to vote on five titles from the list as the winners of the grand prize. Prize winners will be announced at an award ceremony on May 23 at Housing Works Bookstore in New York City.


Attainment: New Titles Out Next Week
Selected new titles appearing next Tuesday, May 10, and Thursday, May 12:

The Wimpy Kid Do-It-Yourself Book by Jeff Kinney (Amulet, $12.95, 9780810989955) is the revised, updated version of this Wimpy Kid interactive book.

In the Garden of Beasts: Love, Terror and an American Family in Hitler's Berlin by Erik Larson (Crown, $26, 9780307408846/0307408841) bears witness to the increasingly tyrannical actions of the Nazis in the mid-1930s from the point of view of the American ambassador to Germany and his family.

The Notes: Ronald Reagan's Private Collection of Stories and Wisdom by Ronald Reagan (Harper, $25.99, 9780062065131) is a collection of Reagan's personal writing and favorite sayings.

I'll Never Get Out of This World Alive by Steve Earle (Houghton Mifflin, $26, 9780618820962) is a debut novel by the singer-activist about a doctor-turned-addict in 1963 San Antonio who finds redemption in an unlikely way.


Shelf Starter: The Story of Beautiful Girl
The Story of Beautiful Girl by Rachel Simon (Grand Central Publishing, $24.99, 9780446574464, May 4, 2011)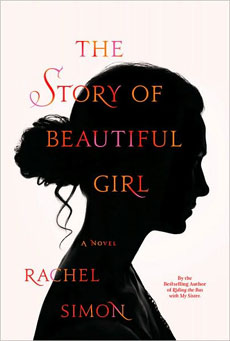 Opening lines from a book we want to read:
At the end of the night that would change everything, the widow stood on her porch and watched as the young woman was marched down her front drive and shoved into the sedan. The girl did not fight back, bound and tied as she was, nor did she cry out into the chill autumn rain, so surely the doctor and his attendants thought they had won. They did not know, as the car doors slammed shut, the engine came on, and the driver steered them down the muddy hill toward the road, that the widow and the girl in the backseat had just defied them right under their noses. The widow waited until the taillights reached the bottom of the drive, then turned and entered her house. And as she stood at the foot of the staircase, hoping they'd show mercy to the young woman and worrying about the whereabouts of the runaway man, the widow heard the sound the doctor hadn't been seeking. It was the sound that would always connect her to the girl and forever make her remember the man. It was the sweet, deep breaths of a hidden person. A sleeping stranger. A baby.--selected by Marilyn Dahl


Book Review
Book Review: Nobody's Perfect
Nobody's Perfect: Two Men, One Call, and a Game for Baseball History by Armando Galarraga and Jim Joyce with Daniel Paisner (Atlantic Monthly Press, $24 hardcover, 9780802119889, May 16, 2011)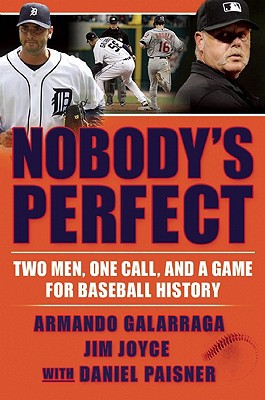 "I do not always like this, when another player is hungry. I like it when I am the only one who is hungry. Or when I am the most hungry," Detroit Tigers pitcher Armando Galarraga says of his feelings of facing Trevor Crowe, the first batter up in the June 2, 2010, game he pitched against the Cleveland Indians. Crowe, despite his hunger for a hit that would get him on base, was soon out--and so began a pitching game that will live in legend.
Galarraga would continue to strike out batters and be backed up by his teammates with astonishing plays, until he found himself, at the top of the ninth inning, just one out away from pitching a perfect game. Then he faced Cleveland rookie Jason Donald. Galarraga sized up Donald at that moment: "I do not trust this rookie.... He has something to prove, just like me."
As Galarraga tells it in this mesmerizing and emotionally complex revisit to that now-infamous game, the tension between them was nerve-wracking. And then Donald connected with a pitch and raced toward first, hell-bent on being the first man to reach base in this so-far perfectly pitched game.
What could have gone down as the 21st perfectly pitched game in the record books of Major League Baseball hung in the balance as Detroit players fielded the ball and threw it to Galarraga, who was running to first base to tag Donald before he reached the bag. Galarraga was feeling triumphant as he caught the ball and touched his foot to the base: the perfect game was his! But then Jim Joyce, the first base umpire, made his infamous call. When Joyce yelled, "SAFE!" Galarraga saw his perfect game go up in smoke.
Nobody's Perfect achieves the remarkable feat of taking us inside the heads of both the pitcher and the umpire at the moment of that call, and during everything leading up to it. Baseball players and officials pride themselves on appearing unreadable on the field but, in alternating chapters, Galarraga and Joyce reveal in their own words, with surprising candor, what was going on behind their opaque game faces. Both men came to that ninth inning on June 2, 2010, with a lot of history: as a 15-year-old in Venezuela, Galarraga signed a contract with the Montreal Expos in October 1998 and had been working his way up through the minor leagues to get the opportunity to prove himself as a game-winning pitcher in a very competitive business; Joyce had endured a long haul before he became a Major League umpire and has his share of insider tales, too. Every revelation deepens our appreciation of their love of the game and seriousness of purpose in doing their jobs; with thrilling immediacy, Nobody's Perfect delivers the personal stories behind the public face of a game that will have its own page in baseball history.--John McFarland
Shelf Talker: A thrilling, emotionally complex revisit to the legendary almost-perfect game of June 2, 2010, complete with the satisfying back story of the careers (and psychologies) of the pitcher and the umpire who shared a first-base call that made history.


The Bestsellers
Top Book Club Books in April
The following are the most popular book club books during April based on votes from readers and leaders of 29,717 book clubs registered at Bookmovement.com:

1. Room: A Novel by Emma Donoghue
2. Cutting for Stone: A Novel by Abraham Verghese
3. Water for Elephants: A Novel by Sara Gruen
4. Saving CeeCee Honeycutt: A Novel by Beth Hoffman
5. The Immortal Life of Henrietta Lacks by Rebecca Skloot
6. The Help by Kathryn Stockett
7. The Art of Racing in the Rain by Garth Stein
8. Little Bee: A Novel by Chris Cleave
9. Hotel on the Corner of Bitter and Sweet: A Novel by Jamie Ford
10. Unbroken: A World War II Story of Survival by Laura Hillenbrand

Top two risers:

The Postmistress by Sarah Blake
The Lonely Polygamist by Brady Udall

[Many thanks to Bookmovement.com!]