Shelf Awareness for Tuesday, May 10, 2011

Quotation of the Day
Book Reader vs. Book Owner?

"There is a growing distinction between the book reader and the book owner. The book reader just wants the experience of reading the book, and that person is a natural digital consumer: Instead of a disposable mass market book, they buy a digital book. The book owner wants to give, share and shelve books. They love the experience. As we add value to the physical product, particularly the trade paperback and hardcover, the consumer will pay a little more for the better experience."


News
Image of the Day: Young Lions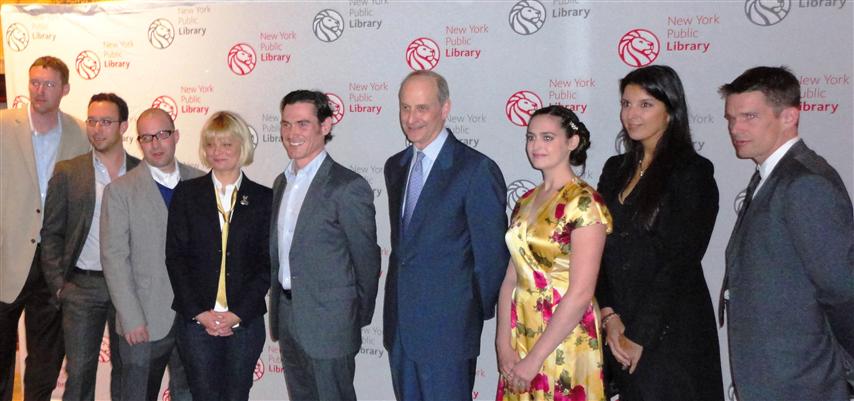 The New York Public Library's 11th annual Young Lions Fiction Award ceremony, held last night, was led as is customary by one of the prize's founding benefactors, actor and author Ethan Hawke. "The idea was to say to young writers that this library, this city, this community--we care about ideas and we care about good writing," Hawke said in his introductory remarks, before he was joined by Billy Crudup and Martha Plimpton in readings from the five nominated books. The $10,000 prize went to Adam Levin's The Instructions (which Shelf Awareness praised as "one of this year's most dazzling literary rides"), while each of the other four finalists received $1,000. Pictured (from l.): John Brandon, Teddy Wayne, Adam Levin, Martha Plimpton, Billy Crudup, Paul LeClerc, Suzanne Rivecca, Patricia Engel, Ethan Hawke.


Notes: Milestones for Google eBooks, Speak, New Publishers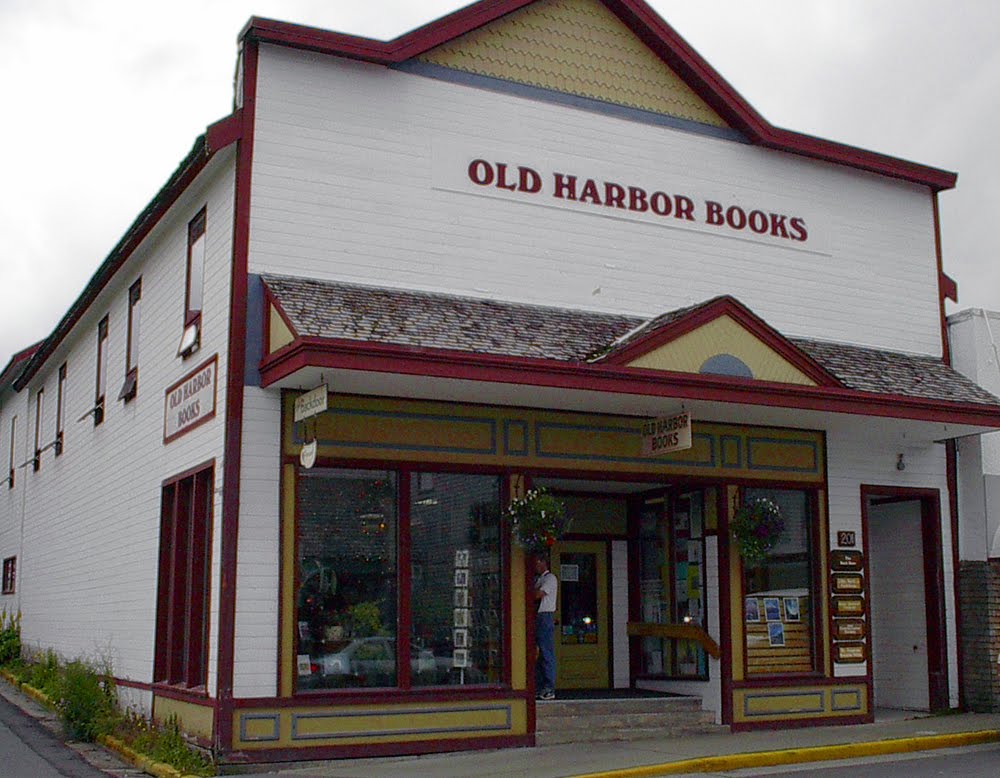 Old Harbor Books, Sitka, Alaska, is the 250th independent bookstore to begin selling Google eBooks from its website through Google's partnership with the American Booksellers Association. In honor of the milestone, Google posted an item from Don Muller, a co-founder of Old Harbor Books, who wrote in part, "We wanted to give our customers a way to buy books from us in whatever format they want--including e-books. So whether you want to read books on your computer, tablet, smartphone or e-reader, you can now choose from hundreds of thousands of Google eBooks titles we offer."

The store promises to show people how to sign up for an account and start e-book shopping--both in person and via a video from the hilarious filmmaker-booksellers at Green Apple Books, San Francisco, Calif.
---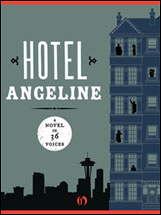 Hotel Angeline is the title of the book written last October by 36 authors during the course of six days, an event called The Novel Live! and sponsored by Seattle7Writers that raised $10,000 for literacy programs (Shelf Awareness, October 19, 2010). The book was quickly published as an e-book by Open Road Media, which now has released a printed version ($22.99, 9781453218785). Last week the organization had a launch party at Richard Hugo House in Seattle, where the book was written. See happy videos and photos here.

---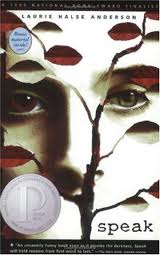 In a move that is the mirror image of what happened with Hotel Angeline, Speak by Laurie Halse Anderson, which has sold 2.5 million print copies since it appeared a dozen years ago, is making its electronic debut today from Macmillan Children's Publishing. The book is also being reissued in a paperback edition from Square Fish.

Speaking of Speak, Anderson said: "A new generation of readers is discovering the story for the first time. A new generation of parents is realizing the power of the book to start conversations and strengthen their families. I am thrilled and honored that Speak will continue to help teens find their voices, and help adults understand the need to listen, when kids speak up."
---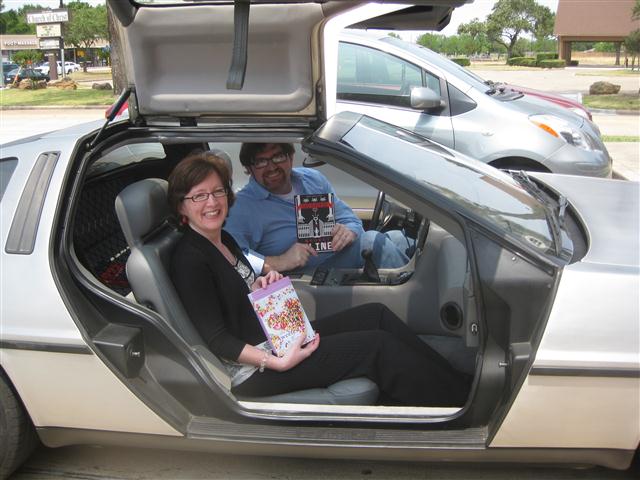 Some 15 booksellers from BookPeople, Book Woman, Blue Willow Bookshop, Katy Budget Books and Body Mind and Soul attended the Mountains & Plains Independent Booksellers Association spring meeting in Katy Budget Books in Houston, Tex., last week. Authors Ernie Cline (Ready Player One) and Christina Mandelski (The Sweetest Thing), who spent a few minutes in Cline's vintage DeLorean, met with the booksellers.
---
Five young women at Knopf put their best foot forward in Lucky Magazine's June issue. You have to see "their killer style" to appreciate them fully.
---
Our item yesterday about the New York Times Book Review's essay on writers who work in bookstores has elicited several reminders of bookseller-authors who weren't mentioned in the Times piece. Among them:
Suzy Staubach, manager of the general books department at the UConn Co-op, Storrs, Conn., who wrote Clay in 2005. (Thanks to Carole Horne!)
Sarah Willis manages the Lit Arts room at Loganberry Books, Shaker Heights, Ohio, and has published four novels. (Thanks to Brenda Logan!)
---
Congratulations on two launches:

Richard Nash, former head of Soft Skull Press, has launched Red Lemonade, the pilot for his Cursor platform, "a web-based social publishing platform that combines traditional editorial discrimination with the wisdom of the crowd, and harnesses the shared passions of writers and readers. It allows established, emerging and aspiring writers who self-identify as interested in a given aesthetic, genre, or subculture to share their work with one another. This enables a publisher to gather writers and readers simultaneously, thereby solving each other's biggest problems, finding readers who will love their work, and finding writers to love."

Magnus Books, the new LGBT press that Don Weise launched last fall, has just posted its debut list at magnusbooks.com.
---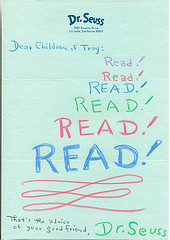 In 1971, the Troy, Mich., Public Library (which is currently "dodging closure") came up with a novel idea for attracting more young people to the newly opened facility. According to Letters of Note, children's librarian Marguerite Hart "wrote to a number of notable people with a request: to reply with a congratulatory letter, addressed to the children of Troy, in which the benefits of visiting such a library were explained in some form."

The 97 respondents included authors Isaac Asimov, Hardie Gramatky, Theodore "Dr. Seuss" Geisel and E.B. White. All of the letters are viewable on the library's website as PDFs.

---

The Guardian's world literature tour headed to China, soliciting reader recommendations of important literature from "the world's mightiest totalitarian regime, which has kept a tight lid on dissent since 1989's Tiananmen Square protests, on the basis of a vote, is acute. At the opening of the Beijing Olympic Games in 2008, International Pen identified 42 writers and journalists imprisoned by the regime, a situation which appears only to have worsened since, with 10 pages of International Pen's 2010 caselist taken up with Chinese writers and recent uprisings across the Arab world prompting a new crackdown.

"All the more reason to celebrate both great writers from the past and those contemporary authors who are bravely creating fine work despite the commercial and political difficulties which surround them."

---

Bad hair days for authors. Flavorwire showcased 10 Writers' Unruly, Manly Manes, noting: "If hair doth make the man, then the following writers stand against the grain in these times, acting as iconoclastic reminders that one can still be manly (perhaps even more so) with an irrepressible hairdo. So let your hair down and enjoy the following modern scribes' tangled tresses."

---
Book trailer of the day: Seeking Sicily: A Cultural Journey through Myth and Reality in the Heart of the Mediterranean by John Keahey (Thomas Dunne Books), which will be published November 8.
---
Debra Woodward has joined Candlewick Press as New England sales representative. She was formerly a sales rep with Watson & Woodward.
---
All in the family. Effective Monday, May 16, Stephanie A. Hargadon joins St. Martin's Press as senior publicist. She is currently associate publicist at Macmillan Audio/Macmillan Young Listeners.


Goodreads Book Club Debuts with Egan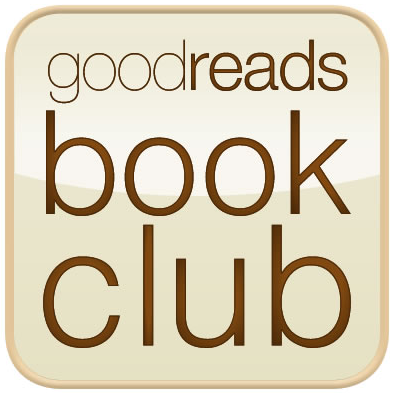 As Goodreads closes in on its 5 millionth registered member, the book-themed social networking site is launching the Goodreads Book Club on Wednesday, May 25, with a party at Housing Works Cafe in New York City, featuring musical guests Care Bears on Fire and Jennifer Egan, whose NBCC- and Pulitzer-winning novel, A Visit from the Goon Squad, will be the club's inaugural selection.
"We have a huge membership, but for each member the experience is really shaped by what friends they have, what books they choose to read," said Patrick Brown, Goodreads's community manager. "This is the first time that we're providing one place where theoretically everybody on the site can get together and talk about a book."
Although Egan has not been a member of Goodreads, she did not hesitate when approached about the project. "They were interested in using Goon Squad for their book club, and I was, of course, delighted," she said. "Book groups provide such a gigantic service to the world of books. It can be so hard if you read a book you love to find people to talk about it with. I feel like book groups have helped to maintain a sense of community around reading. That's good for the industry, and for writers, and for everyone--so I try to participate whenever I can, by Skype or by phone. I was interacting with book clubs by speakerphone long before there was Skype--and if they're local, I try to come if I can."
Egan has also been active as a book club member, reading for years with a circle of friends that revisited classic literature, "books that all of us had read at other points in our lives, but we wanted to revisit as grown-ups." Reading Proust with that group, she added, was one of the motivating factors for writing A Visit from the Goon Squad. "When we finished, though, I took a bit of a break," she admitted. "They're still meeting, and they're all friends, so I pretty much assume that I'll reintegrate. But it was hard to find even one night a month I wanted to be away from the kids for another thing."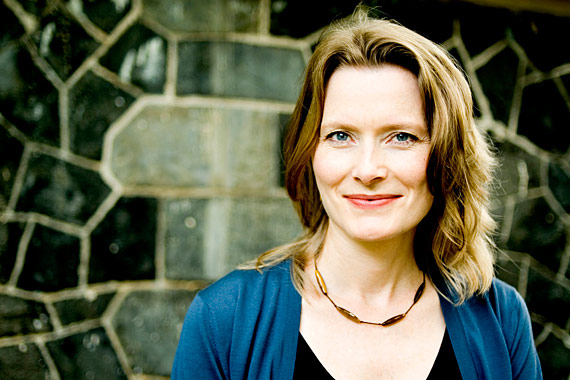 That should be less of an issue for the Goodreads club, whose members are able to participate whenever they have time to log in to the site. Although Goodreads has conducted a similar site-wide promotion before, inviting members to enter a "Jane Eyre Challenge" tied to the release of the latest film adaptation, the plans for Goon Squad are of a larger scale. Over two months of book club activity, participants will be able to engage in chapter-by-chapter discussions, show off their favorite quotes from the books, enter a writing contest thematically connected to the novel's famous "PowerPoint chapter," and submit questions for a live chat with Egan at the end of July. The chat is one of the few instances in which Egan will be directly participating in the club. "It's important for people to be able to read the book and talk about it with their friends without feeling like the author is there lurking all the time," Brown explained. (Egan will also judge the writing contest.)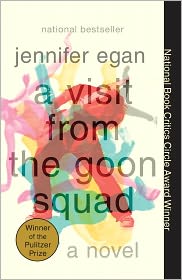 Choosing the hot book of the moment is certainly one way to call attention to a new club, but that, Brown said, is a happy accident; the selection was made several months before the novel began accumulating prizes. "It feels funny to say it now, but at the time, we thought it was a great book--people on the site who reviewed it really loved it, it was the kind of book that people wanted to tell their friends about," he said. "But I was worried that it wasn't going to win the big awards, that it wasn't going to get noticed beyond that core group of people who were already in love with it. And we just felt it was a book that offered something to lots of different kinds of readers."
What happens after they reach the final chapter of Goon Squad? Brown said Goodreads is definitely interested in taking the most successful features of this book club and rolling them over into future installments, most likely on an annual basis but possibly more often--or, like Oprah Winfrey's club, whenever they find another book the entire staff can get behind. For now, he said, "I'm hoping that a lot of people will take us up on this offer and we'll have an enormous, fun conversation for the next couple months."--Ron Hogan


Media and Movies
Media Heat: Man Down on Judith Regan
Tomorrow morning on Good Morning America: Beth Ostrosky Stern, author of Oh My Dog: How to Choose, Train, Groom, Nurture, Feed, and Care for Your New Best Friend (Gallery, $25.99, 9781439160299).

---

Tomorrow on the Judith Regan Show: Dan Abrams, author of Man Down: Proof Beyond a Reasonable Doubt That Women Are Better Cops, Drivers, Gamblers, Spies, World Leaders, Beer Tasters, Hedge Fund Managers, and Just About Everything Else (Abrams, $17.95, 9780810998292).
---

Tomorrow on NPR's Diane Rehm Show: David Goldman, author of A Father's Love: One Man's Unrelenting Battle to Bring His Abducted Son Home (Viking, $26.95, 9780670022625).
---

Tomorrow on NPR's Fresh Air: Ian Brown, author of The Boy in the Moon: A Father's Journey to Understand His Extraordinary Son (St. Martin's Press, $24.99, 9780312671839).

---

Tomorrow on the Late Show with David Letterman: Chaz Bono, author of Transition: The Story of How I Became a Man (Dutton, $25.95, 9780525952145). Bono is also on NPR's Talk of the Nation today.
---

Tomorrow on the Tonight Show: Steve Earle, author of I'll Never Get Out of This World Alive (Houghton Mifflin, $26, 9780618820962).

Also on Tonight: Dick Van Dyke, author of My Lucky Life In and Out of Show Business: A Memoir (Crown, $25, 9780307592231).

---

Tomorrow on the Colbert Report: James Stewart, author of Tangled Webs: How False Statements are Undermining America: From Martha Stewart to Bernie Madoff (Penguin Press, $29.95, 9781594202698).

Also on Colbert: Eric Greitens, author of The Heart and the Fist: The Education of a Humanitarian, the Making of a Navy SEAL (Houghton Mifflin Harcourt, $27, 9780547424859).


Movies: Heaven Is for Real
Sony Pictures has acquired screen rights to Heaven Is for Real: A Little Boy's Astounding Story of His Trip to Heaven and Back by Todd Burpo and Lynn Vincent. Deadline.com reported that Joe Roth (Alice in Wonderland) will produce with T.D. Jakes. Roth "became curious after seeing the book on the New York Times bestseller lists about six weeks ago. It reminded him of The Sixth Sense, which he made while running Disney, and he was surprised that nobody in Hollywood had called before he did. This was when the book was moving from a religious imprint to mainstream, and Roth really got in on the ground floor. The book has sold about 4.5 million copies, Roth said, and could do 10 million before the year is out. He'll meet soon with the Burpo family, and doesn't really see the movie as something that is limited to a faith-based audience."


Books & Authors
Awards: Caine Prize for African Writing
This year's finalists for the £10,000 (US$16,400) Caine Prize for African Writing--sometimes referred to as the "African Booker"--include "Hitting Budapest" by NoViolet Bulawayo (Zimbabwe) from the Boston Review; "Butterfly Dreams" by Beatrice Lamwaka (Uganda) from Butterfly Dreams and Other New Short Stories from Uganda; "What Molly Knew" by Tim Keegan (South Africa) from Bad Company; "In the Spirit of McPhineas Lata" by Lauri Kubuitsile (Botswana) from The Bed Book of Short Stories; and "The Mistress's Dog" by David Medalie (South Africa) from The Mistress's Dog: Short Stories 1996-2010, the Guardian reported. The winner will be announced on July 11 in Oxford. You can read the stories here.


Attainment: New Titles Out Next Week
Selected new titles appearing next Tuesday, May 17:

William & Catherine: Their Story by Andrew Morton (St. Martin's Press, $29.99, 9780312643409) chronicles the public and private events behind the royal wedding.

On China by Henry Kissinger (Penguin Press, $36, 9781594202711) is an analysis of past and future diplomatic relations with China from the former Secretary of State.

The Final Storm: A Novel of the War in the Pacific by Jeff Shaara (Ballantine, $28, 9780345497949) concludes a World War II historical fiction series with the Battle of Okinawa and the atomic bombing of Hiroshima.

The Long Journey Home: A Memoir by Margaret Robison (Spiegel & Grau, $26, 9781400068692) documents the life of the mother of Augusten Burroughs, author of Running With Scissors.

Not Dead & Not for Sale: A Memoir by Scott Weiland and David Ritz (Scribner, $24, 9780743297165) explores the rise, fall, and return of the lead singer from Stone Temple Pilots.

The Jefferson Key: A Novel by Steve Berry (Ballantine, $26, 9780345505514) is the latest thriller featuring American operative Cotton Malone.


Now in paperback:

The Passage: A Novel by Justin Cronin (Ballantine, $16, 9780345504975).


Shelf Starter: Alphabetter Juice
Alphabetter Juice or, The Joy of Text by Roy Blount Jr. (Farrar, Straus & Giroux, $26, hardcover, 9780374103705, May 10, 2011)
Opening lines of a book we want to read: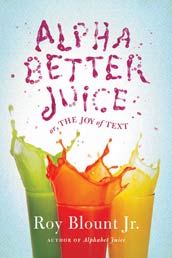 This book includes two disastrous wedding nights, several touches of romance (aside from the long-deferred union of scratch and itch), and lots of animal life (eels, crabs, elephants, flies), but it all springs from things going on among letters on a printed page.
Where almost anything can happen. I'm reading a fascinating piece by Oliver Sacks in The New Yorker about a novelist who woke up one morning and couldn't read, couldn't recognize letters (see O), which makes my blood run cold to begin with, and I'm reading that people with certain ocular disorders "may be prone to visual hallucinations, and Dominic ffytche et al. estimate...."
Oh my God, I'm having one. What the hell kind of phantasm is "ffytche et al."?
Then I go back, reread, and settle down. Some medical researcher's name is Dominic ffytche. I've heard of such names. But I want to say to this man, "Dom. Please. I have name issues myself--Blount pronunced [sic] Blunt. That is no doubt one reason I'm so hipped on phonetics, that my own name is blatantly not spelled the way it's pronounced, so I have to spend a great deal of my time arguing with people about how to pronounce my own damn name, which is a centuries-old English pronunciation and I am not about to change it. And I wouldn't try to tell you, sir, that you should turn your y into an i and lose your e. All I ask of you is this: find it in your heart to capitalize one, at least, of your f's. You don't know what a start you gave me."--selected by Marilyn Dahl