Shelf Awareness for Thursday, June 30, 2011

News
Image of the Day: Blink and You'll Miss Us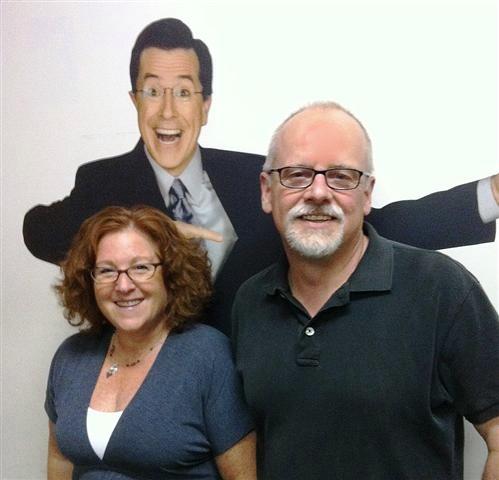 If you watched The Colbert Report last night, you might have spotted Shelf Awareness's own John Mutter and Robin Lenz in the audience.


Notes: Amazon Terminates Calif. Affiliate Program; Author Towns

Amazon sent an e-mail to its California Associates warning them that the affiliate program will be terminated in the state due to an online sales tax measure that was part of a budget package passed this week by the legislature and signed into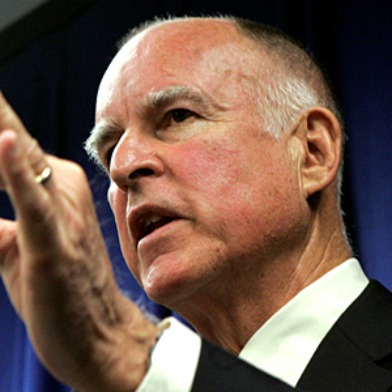 law by Governor Jerry Brown yesterday.

TechCrunch featured a copy of the letter, in which Amazon said it "will terminate contracts with all California residents that are participants in the Amazon Associates Program as of the date (if any) that the California law becomes effective. We will send a follow-up notice to you confirming the termination date if the California law is enacted."

American Booksellers Association CEO Oren Teicher noted "the good news is that, even with Amazon's announcement that they will fire their affiliates in California, the law as passed and signed requires the State Board of Equalization to issue rules and regulations that 'clarify the obligations under existing law for out-of-state retailers to collect and remit tax on sales of tangible personal property to California residents.' "

Teicher added that the governor's decision to sign the budget adopted by the state legislature "is excellent news in our decade-long fight to achieve sales tax equity in California. ABA congratulates NCIBA and SCIBA for their steadfast support in seeing this through, and, in particular, we extend our thanks and congratulations to Hut Landon, NCIBA's Executive Director, whose herculean dedication to this effort for years and years has finally paid off."

The Los Angeles Times reported the tax collection requirement for online retailers is expected to raise an estimated $317 million a year in new state and local government revenue. Governor Brown called the taxes "a common-sense idea."

On his blog Daggle, Danny Sullivan posted an open letter to Amazon's CEO. "Dear Jeff... Thank you for your letter today, informing me that after seven years of being one of your affiliates--and having earned for you about $150,000 in that time--that you 'deeply regret' unilaterally terminating my contract with Amazon to be an affiliate. I also especially appreciated the part where you reassured me that this action wouldn't affect my ability to keep buying from your company. Nice touch."

Sullivan concluded: "I don't pretend to understand Amazon's arguments with California or other states.... While I don't know the legalities, I do know that affiliates in California are clearly being used by Amazon in a fight it has with their own state. I think Amazon can fight that fight without penalizing them. And it should."

---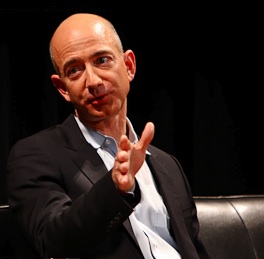 In an interview with Les Echos (original French version), Amazon CEO Jeff Bezos was asked how far along he thought we are in the digital revolution. "We're just at the beginning," he replied. "Day One. Don't you think?... With new technologies, it's very tempting to think that you're further along than you are. But usually, you're more primitive than you think. My guess is we're still pretty primitive. We as a society, as a civilization. I doubt we have figured out the new technologies very well yet. "

He said the most amazing change since he founded Amazon "is the pace at which the Internet has developed. In 1995, I had to raise a million dollars from 22 angel investors who invested around $50,000 each to fund Amazon, and the question all those investors had was 'What's the Internet?' That was just 16 years ago.... It's been such an extraordinary change, we've never seen a change that rapid. Go back and look at other major technological changes, jet travel, the automobile, radio, television, the telephone: you can look at their growth rate, and nothing has ever swept in as quickly and as globally as the Internet. If you want something that qualifies as stunning, that's probably a first in the history of civilization."

What were the last three things Bezos purchased on Amazon? "I bought soccer cleats, a science fiction novel on my Kindle called Robopocalypse and a video episode of The New Adventures of Old Christine. That was just last night."

---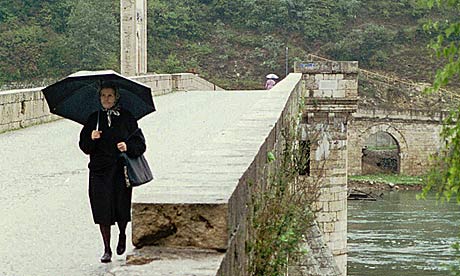 A town called Andrićgrad is being constructed to honor Bosnian novelist and Nobel literature laureate Ivo Andrić, "following plans by film director Emir Kusturica and the Republika Srpska's government," the Guardian reported. Andrić is best known for his novel The Bridge on the Drina, which inspired the town that will be located within Višegrad. Kusturica "plans to use the setting of Andrićgrad in his films Pancho Villa and The Bridge on the Drina. The director previously built a village, Kustendorf, above the Mokra Gora valley in western Serbia, equipped with an underground basketball arena, a library and a cinema."

The New Yorker's Book Bench blog responded to the concept by "thinking about some spots in the United States that might benefit by erecting a town in honor of a literary hero," including Fitz, N.Y., Rothlandia, N.J., Melville, Mass., Gassburgh ("Somewhere in the Heart of the Heart of the Country") and Wolfe's Hill, N.C.

---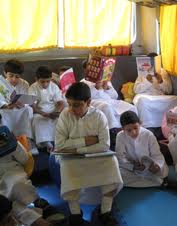 What are kids reading in Abu Dhabi this summer? The National offered "suggestions for kids of all ages," noting that from "teens to toddlers, getting to grips with a good book is a productive summer pastime."

"Primary schoolchildren are usually much better about reading, but as soon as they come to secondary other distractions come along and that's when it can start dropping off," said Faye Banks, the head of English at Al Yasmina School. "There is a huge link between children who read and children who are effective English students. They have a better vocabulary, and without even realising it, they have taken on different sentence structures, use of punctuation and ideas. They are often much more imaginative."

---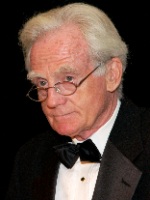 Retired businessman Malcolm O'Hagan, "an Irish engineer with a love for great literature," is working on a plan to open the American Writers Museum in Chicago. The Tribune reported that O'Hagan is optimistic about raising funds for his ambitious project.

"We don't underestimate the difficulty of the undertaking, but it will get done," he said. His initial idea was to house the museum in New England, but "the more we thought about it, we realized it needs to be in a destination city for both tourists and conventioneers, and it needs to be in a large metropolitan city with a rich literary tradition and culture. We've settled on Chicago because we think that's where it belongs."

---

Andrew Miller, author most recently of Pure, chose his top 10 historical novels for the Guardian, noting that "at its best, historical fiction is never a turning away from the Now but one of the ways in which our experience of the contemporary is revived. Janus-like, such books look both to the past and to the present, and there is no need to laboriously draw out the parallels for they suggest themselves, inevitably and plentifully.

"The books listed here share the essential virtues of all good fiction: the renewal of our sense of the world, of ourselves, of language, the extension of ourselves across time and space. And how odd it would be, how dull, if novelists and readers confined themselves, in the name of some dubious notion of relevance, to the events and style of one particular period."  

---

In the Daily Beast, Peter Stothard, editor of the Times Literary Supplement, picked "the best of Brit lit" for this week; and novelist Adam Ross chose his favorite books under 200 pages.

---

Bauhaus Bookcase of the day: The New York Times featured a bookcase that is a replica of one designed by painter Josef Albers for the reception room at Walter Gropius's office in Weimar, Germany. Made of solid white oak by Purdys' Fine Furniture and Cabinetry, it can be yours for $4,200.

---

Effective July 11, Theresa Giacopasi is joining Little, Brown as online senior publicist. For the past several years, she worked in the Holt publicity department and earlier worked in Tarcher/Penguin's marketing and publicity department. She started her career in publishing as an intern at the Penguin Press.


Pennie Picks The Imperfectionists
Pennie Clark Ianniciello, Costco's book buyer, has chosen The Imperfectionists by Tom Rachman (Dial Press, $15, 9780385343671) as her pick of the month for July. In Costco Connection, which goes to many of the warehouse club's members, she wrote: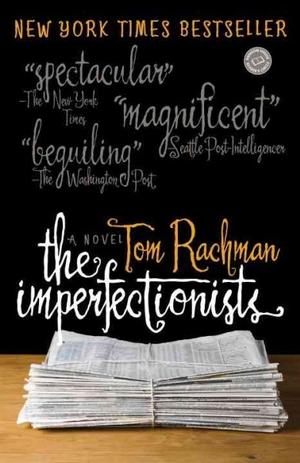 "What most delighted me about Tom Rachman's debut novel, The Imperfectionists, is the way he uses his keen journalist's eye to flesh out the fictional newsroom of an English-language newspaper in Rome filled with a cast of engaging characters.

"What's more, in today's world of Twitter and blogs, there's a very real charm to reading about the people who work in what to many readers--and the characters themselves--appears to be a dying medium. If you've heard any buzz about this book, you may have heard it labeled as a literary read. My advice: Don't let labels keep you from enjoying this glorious bit of storytelling--as penned by a new author who is most definitely worth keeping an eye on.

"It's not a traditional escapist summer novel, but if given the chance it will transport you in the way only brilliant fiction can."


Media and Movies
Media Heat: James Patterson on the Today Show
Tomorrow morning on the Today Show: James Patterson, co-author of Now You See Her (Little, Brown, $27.99, 9780316036214).

---

Tomorrow on NPR's Science Friday: Robert Zubrin, author of The Case for Mars: The Plan to Settle the Red Planet and Why We Must (Free Press, $16.99, 9781451608113).

---

Tomorrow on CNN's Piers Morgan Tonight: Bethenny Frankel, author of A Place of Yes: 10 Rules for Getting Everything You Want Out of Life (Touchstone, $24.99, 9781439186909).




This Weekend on Book TV: The Filter Bubble
Book TV airs on C-Span 2 this July Fourth weekend from 8 a.m. Saturday to 8 a.m. Tuesday and focuses on political and historical books as well as the book industry. The following are highlights for this coming weekend. For more information, go to Book TV's website.

Saturday, July 2

8 a.m. A tribute to the life and work of the late Manning Marable, author most recently of Malcolm X: A Life of Reinvention (Viking, $30, 9780670022205). Panelists include Michael Eric Dyson, Sherrilyn Ifill, Melissa Harris-Perry and Lester Spence. (Re-airs Saturday at 7 p.m., Monday at 5 p.m. and Tuesday at 5 a.m.)

10 a.m. David Reynolds, author of Mightier Than The Sword: Uncle Tom's Cabin and the Battle for America (Norton, $27.95, 9780393081329), explores the factors that influenced the novel and its role in the discussion of race in America prior to and following the Civil War. (Re-airs Sunday at 5:30 a.m. and 7 p.m.)

5:30 p.m. At an event hosted by the Heritage Foundation, Ann Coulter answers questions about her book Demonic: How the Liberal Mob is Endangering America (Crown Forum, $28.99, 9780307353481). (Re-airs Saturday at 11 p.m., and Sunday at 5 a.m. and 8:30 p.m.)

9 p.m. Andrew Roberts, author of The Storm of War: A New History of the Second World War (Harper, $29.99, 9780061228599), examines the entire expanse of WWII. (Re-airs Sunday at 10 a.m. and Monday at 7 a.m.)

10 p.m. After Words. Clay Shirky interviews Eli Pariser, author of The Filter Bubble: What the Internet is Hiding From You (Penguin, $25.95, 9781594203008). Pariser argues that corporations are undermining the original intent for the Internet by personalizing the information available to each user. (Re-airs Sunday at 9 p.m., Monday at 3 a.m. and Sunday, July 10, at 12 p.m.)

Sunday, July 3

7 a.m. Michael Willrich, author of Pox: An American History (Penguin, $27.95, 9781594202865), examines the smallpox epidemic in America in the early 1900s. (Re-airs Sunday at 11 p.m.)

9:15 a.m. Louisa Thomas, author of Conscience: Two Soldiers, Two Pacifists, One Family--A Test of Will and Faith in World War I (Penguin, $25.95, 9781594202940), recounts the life of her great grandfather, Norman Thomas and his three brothers during World War I. (Re-airs Sunday at 6 p.m. and 10 p.m.)

12 p.m. In Depth. Essayist, poet, playwright, novelist and political activist Linda Hogan joins Book TV for a live interview. Viewers can participate in the discussion by calling in during the program or submitting questions to booktv@c-span.org or via Twitter (@BookTV). (Re-airs Monday at 12 a.m.)

Monday, July 4

10:30 a.m. Adam Hochschild, author of To End All Wars: A Story of Loyalty and Rebellion, 1914-1918 (Houghton Mifflin Harcourt, $28, 9780618758289), talks about his history of World War One as it was experienced by the British. (Re-airs Monday at 10:30 p.m.)

12 p.m. A conversation with Native American authors Susan Supernaw, author of Muscogee Daughter: My Sojourn to the Miss America Pageant (University of Nebraska Press, $24.95, 9780803229716); and Walter Echo-Hawk, author of In the Courts of the Conqueror: The 10 Worst Indian Law Cases Ever Decided (Speaker's Corner, $35, 9781936218011). (Re-airs Tuesday at 12 a.m.)


Movies: Best Upcoming Adaptations; 3 Musketeers Trailer
Buzzfeed featured its choices for the 15 best upcoming movies based on books.

---

Summit Entertainment released a new trailer for the latest film adaptation of The Three Musketeers by Alexandre Dumas. Deadline.com reported that the 3D movie will open October 21, a week later than previously announced.





Books & Authors
Awards: John Llewellyn Rhys Prize Suspended
The prestigious John Llewellyn Rhys prize, which honors the best work of literature by a writer under 35 and is the U.K.'s second oldest literary award, has been suspended for 2011 due to lack of funding. The Guardian reported that the award's administrator, Booktrust, "which earlier this year was at the center of controversy after it revealed that the government was to cut a £13m annual grant for free books for children, said that the prize was being suspended this year after a 'particularly challenging' few months.' "

Winners of the award, which was founded in 1942, have included William Boyd, Jeanette Winterson, Margaret Drabble, V.S. Naipaul, Angela Carter and Melvyn Bragg.

Booktrust said, "We have not taken this decision lightly and we strongly intend to bring back the prize with a bang in the very near future." The charity has also been forced to suspend its Early Years Awards and the Teenage Prize in autumn 2011 due to lack of funding, and is currently "exploring possibilities with new sponsors" for these awards as well," the Guardian wrote.


Book Review
Book Review: Rule 34
Rule 34 by Charles Stross (Ace, $25.95 hardcover, 9780441020348, July 5, 2011)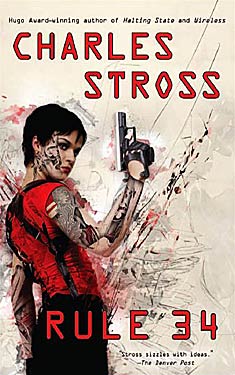 "Rule 34" is a popular online meme, which, as Charles Stross puts it, holds that "if you can imagine it, there's pornography about it on the Internet," for any value of "it." Stross uses that line as the inspiration for the "Rule 34 Squad" or, as it's officially known, the Innovative Crime Investigation Unit--a division of tomorrow's Edinburgh police department that tracks down "[the] eldritch fads and niche cultures that have zero local history until they detonate suddenly," as people try to replicate the disturbing things they find online in their own homes and neighborhoods.
The ICIU is run by 38-year-old detective inspector Liz Kavanagh, but it's not her only responsibility in the department and, as Rule 34 begins she's assigned to a bizarre homicide case involving a former spammer and an enema machine once owned by Nicolae Ceausescu. Stross interweaves her story with that of Anwar Hussein, an ex-con who's been recruited to run the Scottish consulate for Issyk-Kulistan (a brand new nation splintering off from the former Soviet republic of Kyrgyzstan), and the Toymaker, a "neurodiverse" (i.e., sociopathic) foot soldier in an international criminal enterprise that's run like a venture capital fund.
Of course all these plot threads are going to come up against each other, but Stross does an excellent job of shifting among multiple second-person narrators as he maneuvers his characters unobtrusively into position--and if any of the proceedings strike you as a bit too coincidental, there's a good explanation, eventually. He also neatly sketches out a near-future world that's been transformed by "globalization and EU harmonization and Depression 2.0 and Policing 3.0," without a lot of finger pointing and hand wringing about How It All Went Wrong (as seen in Dan Simmons's recent science fiction thriller Flashback). When the true underlying premises start to unfurl in the second half, they're grounded in fascinating economic and technological speculations but remain accessible to readers who don't consider themselves science fiction fans.
One of the novel's best aspects, though, is its handling of the police force of the future. Although Liz's experience is overlaid by CopSpace--"the augmented-reality interface to all the accumulated policing and intelligence databases around which your job revolves"--the core story is about trying to fight crime while dealing with departmental bureaucracy and tense office politics. Even with the shiny techno-flourishes, it's an instantly recognizable work environment that, if Stross were to explore it over enough stories, could be on a par with classic police procedural settings like Ed McBain's 87th Precinct. --Ron Hogan
Shelf Talker: Rule 34 is set in the same future Edinburgh as Stross's 2007 novel Halting State, but you don't need to have read that book to enjoy this high-tech thriller on its own merits.


Deeper Understanding
Cover Lust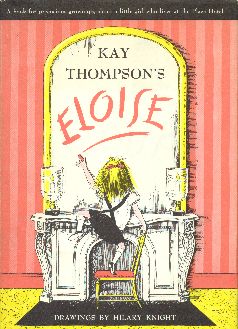 Since I plucked this copy of Eloise off the bookstore shelf when I was six years old, I've been drawn to books by their covers. At art school, in addition to painting, I studied cover design. I haunt flea markets collecting vintage book covers.

I'm one of those readers who indeed does buy books for their covers. I'm attracted to any one of a number of elements; strong graphics, unusual designs, or provocative illustrations--passionate covers that convey the uniqueness of the book within.

As a writer of 11 novels, all published in multiple countries, I've had close to 100 covers created for my own books. Sadly, I don't love even one of them. I like six of them. I viscerally cringe and hate three of them.

All in all, I suffer from cover lust.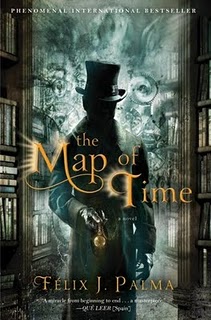 The most recent cover to make my heart beat faster is for The Map of Time by Felix J. Palma, published this week by Atria.

I first got a glimpse of this mysterious and evocative cover (as well as the wonderful back cover) when I was asked to blurb the book.

I examined the book and sighed... and I admit I started reading with trepidation--the book couldn't live up to the promise of the illustrations... but it did. The novel is strange and wonderful, magical and smart. A real supernatural tour de force combining time travel, with tragic love, murder and mystery.

The visuals have a complexity that remind me a bit of Pavel Tchelitchew's paintings mixed with imagery from a 2006 movie called The Illusionist. Everything is suggestive--down to the holographic jewel-like type treatment, which you can appreciate only on the physical book. It implies movement faster than light--passing through time itself.

Atria publisher Judith Curr said it was Palma's very visual writing--when it comes to time and place and characters--that excited the house and inspired the art. And to extend that visual impact, the book hitting stores this week has beautifully executed end papers, too.

"We wanted to carry over the whole concept of the book being very visual by including the end papers," Curr said.

Atria also created a special edition of The Time Machine by H.G. Wells, which plays an integral part in Palma's powerful novel. Curr said the e-book version of The Map of Time will include the e-book for The Time Machine.

"We like to think that the consumer is buying a complete experience, not just the words on the page," she said.

The Map of Time is truly a case where each picture is worth a thousand words and the words are worth thousands of pictures.

You can visit the book's interactive website to see all of the wonderful detailing on the cover.--M.J. Rose

M.J. Rose is the author of many novels, most recently The Hypnotist. She is also the founder of the first marketing company for authors, AuthorBuzz.com.


The Bestsellers
Top-Selling Titles in Florida Last Week
The following were the bestselling books at independent bookstores in Florida during the week ended Sunday, June 26:

1. Through My Eyes by Tim Tebow
2. One Summer by David Baldacci
3. The Sixth Man by David Baldacci
4. Keys to the Kingdom by Senator Bob Graham
5. The Beach Trees by Karen White
6. Bringing Adam Home by Les Standiford and Joe Matthews
7. Dreams of Joy by Lisa See
8. In the Garden of Beasts by Erik Larsen
9. The Help by Kathryn Stockett
10. The Paris Wife by Paula McLain

Reporting bookstores and their handselling favorites:

Books & Books, Coral Gables, Miami Beach, Bal Harbour: Tomatoland by Barry Estabrook
Book Mark, Neptune Beach: A Bad Night's Sleep by Michael Wiley
Inkwood Books, Tampa
Vero Beach Book Center: Keys to the Kingdom by Senator Bob Graham

[Many thanks to the booksellers and Carl Lennertz!]





Top-Selling Titles in Chicagoland and Milwaukee Last Week
The following were the bestselling books at independent bookstores in the Chicago and Milwaukee areas during the week ended Sunday, June 26:

1. In the Garden of Beasts by Erik Larson
2. State of Wonder by Ann Patchett
3. A Visit from the Goon Squad by Jennifer Egan
4. Go the F**k to Sleep by Adam Mansbach
5. The Hunger Games by Suzanne Collins
6. The Immortal Life of Henrietta Lacks by Rebecca Skloot
7. The Help by Kathryn Stockett
8. The Greater Journey by David McCullough
9. Smokin' 17 by Janet Evanovich
10. All of It by Jeanette Haien

The reporting bookstores and their handselling favorites:

Anderson's, Naperville and Downers Grove: The Chicago Homegrown Cookbook by Heather Lalley
Book Cellar, Lincoln Square: Of Lamb by Matthea Harvey
Book Stall at Chestnut Court, Winnetka: State of Wonder by Ann Patchett
Book Table, Oak Park: Ladies and Gentlemen by Adam Ross
Books & Co., Oconomowoc
Boswell Book Company, Milwaukee
57th St. Books, Chicago
Lake Forest Books: The Borrower by Rebecca Makkai
Next Chapter, Mequon
Read Between the Lynes, Woodstock: The Language of Flowers by Vanessa Diffenbaugh
Seminary Co-op
Women and Children First, Chicago: Once Upon a River by Bonnie Jo Campbell

[Many thanks to the booksellers and Carl Lennertz!]