Shelf Awareness for Thursday, January 5, 2012

News
Barnes & Noble to Sell Sterling Publishing

Barnes & Noble is putting Sterling Publishing up for sale, according to the Wall Street Journal, which cited "people familiar with the situation." B&N bought Sterling in 2003, and three years ago merged its longtime in-house publishing operations into Sterling. Sterling specializes in children's books, puzzles and games, gardening, cooking, crafts and other how-to titles. Sterling has a backlist of 6,000 titles, including more than 500 titles in the Barnes & Noble Classics and Library of Essential Reader series.
The Journal said the sale "would allow Barnes & Noble to focus on its core businesses," which now are increasingly digital.


Holiday Hum: Ups and Downs at Three Stores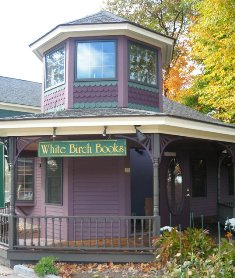 At White Birch Books in North Conway, N.H., Following Atticus: Forty-Eight High Peaks, One Little Dog, and an Extraordinary Friendship by Tom Ryan is more than just the season's bestseller. "It's probably the biggest book of our history," noted owner Laura Lucy. "We've sold lots of other books--the Harry Potter series, The Da Vinci Code, Not Without Peril, a book of local interest--but never as many as Atticus as quickly." The memoir is the story of how the author and his dog set out to climb New Hampshire's 48 4,000-ft.-high peaks twice in one winter in honor of a friend who died of cancer.
Since Following Atticus went on sale September 20, White Birch Books has sold more than 1,300 copies. As Ryan notes on his and Atticus M. Finch's blog, the store is the only place other than at author appearances where readers can get personalized, autographed and "pawtographed" copies.
Following Atticus led the way to a 30% increase over last December's sales, the store's best holiday showing in a decade. "I think the shop local message continues to sink in and convert more and more people," said Lucy. "We had many customers who were as happy to spend money with us as we were to have them spend it. That made for quite a wonderful time--a kind of mutual love fest."
Contributing to the upswing at White Birch Books was "a big late season push" with Saul Wisnia's Fenway Park: The Centennial: 100 Years of Red Sox Baseball. Also boosting the bottom line were the enormously popular Diary of a Wimpy Kid: Cabin Fever by Jeff Kinney and Inheritance by Christopher Paolini.
---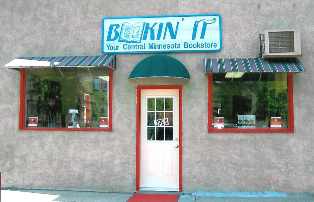 The concluding fourth volume in Paolini's Inheritance Cycle was one of the top three holiday bestsellers at Bookin' It in Little Falls, Minn., along with Mary DesJarlais's Dorie LaValle, a novel that takes place in Prohibition-era Minnesota, and Ruth Bollig's Triumph over Fears and Tears: The Franciscan Way, about her sister's life as a secular Franciscan.
But the sales of these titles weren't enough to make for a merry Christmas. November and December sales at Bookin' It decreased about 25%, due largely to a decline in special orders. "If we didn't have the book on a customer's list, they moved on," said owner Laura Hansen. "This is a real decision time for us, contemplating winding down or downsizing and sharing space with another downtown business."
Some of Hansen's favorite handsells this season were two stories set in the South: Salvage the Bones, Jesmyn Ward's National Book Award-winning novel about 12 days in the life of a poor Mississippi family, and Ann Napolitano's A Good Hard Look, a fictional account of Flannery O'Connor's life on her family's Georgia farm.
---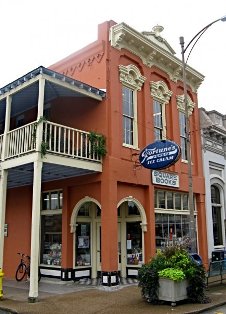 Salvage the Bones was selling well at Square Books in Oxford, Miss., even before its big win and ended up being one of the store's four bestselling titles this season. The others were The Litigators by John Grisham, The Marriage Plot by Jeffrey Eugenides and One Writer's Garden: Eudora Welty's Home Place by Susan Haltom and Jane Roy Brown.
Square Books' holiday sales were on par with last year. "We had our most successful fourth quarter ever last year with some very strong local or regional books and feel fortunate to have matched it this year," said Richard Howorth, owner and merchandising manager. The solid season was primarily attributable to exceptionally strong children's book sales and a good showing at Off Square Books, an annex store that sells lifestyle titles, remainders and used books.
After the post-Christmas cleanup, Square Books staffers are gearing up for a slew of events this month and next, including one on January 26 with Adam Johnson, author of the much-buzzed-about novel The Orphan Master's Son. --Shannon McKenna Schmidt


Season Rings in Sales Increases for Cape Cod Indies
Suggesting that it "may be the triumph of tradition over technology, or commitment to community over chain store homogenization," the Cape Cod Times reported that local independent booksellers "saw more customers come through their doors this holiday season than in the past."

Carol Chittenden, owner of Eight Cousins bookstore, Falmouth, said, "Our numbers aren't in, but anecdotally I would say that this was one of our busiest Christmases in a while.... Our adult sales are way up this year. It's hard to say at this point if that's because there is no other bookstore or if we are seeing what could be a very happy trend for booksellers. It takes a population of about 30,000 to 35,000 people to support a bookstore, so the fact Falmouth had multiple bookstores for several years is a tribute to the people in this town who live to read."


The Brewster Book Store "had a great Christmas," according to manager Val Arroyo. "I'm not sure what prompted more people to buy books for gifts, but in my estimation it is a wonderful thing, not only because I work in a bookstore, but because a book is something tangible, something you can hold and cherish throughout the years."

Caitlin Doggart, co-owner of Where the Sidewalk Ends bookstore, Chatham, credited growing interest in "supporting local businesses" for the sales boost. "More people are cognizant that when you buy local, you are supporting your friends and their neighbors who work in these places."



A Very Kindle Christmas in the U.K.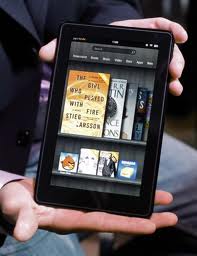 In a "seismic shift in Britons' reading habits," more than 1.3 million Kindles were sold in the U.K. during the Christmas season, approximately double the 2010 totals, according to estimates by YouGov, which also noted that people over 55 years old were twice as likely to have received an e-reader as those in the 18 to 24 age group, the Daily Telegraph reported. Kindles likely accounted for more than 90% of e-readers sold in the U.K. during the holiday season, even though the Kindle Fire is not available there yet.

Marek Vaygelt, head of technology and telecoms consulting at YouGov, said, "This is finally the year when the late-medieval technology of the printing press was challenged by a 21st century, digital alternative."

Alan Staton, head of marketing at the Booksellers Association, noted that while more indies are selling e-books, this was also a good year for traditional books: "It's great that Britain is still a book loving nation, and with all the hype about e-books, it's also important to remember that print books were the Christmas gift of choice. Indeed, 7 out of 10 books bought as Christmas presents will still have been bought in a shop, and we know that many booksellers enjoyed a significant sales uplift in the run-up to Christmas."

While noting the usual "absence of detailed Kindle sales data from Amazon," PaidContent put the numbers in perspective, reporting that YouGov's figures "are not concrete. They are based on a survey of 2,012 adults, modelled up to try representing the entire U.K. population; and the survey was online so naturally skews techy."



Notes
Cool Idea of the Day: 12/12/12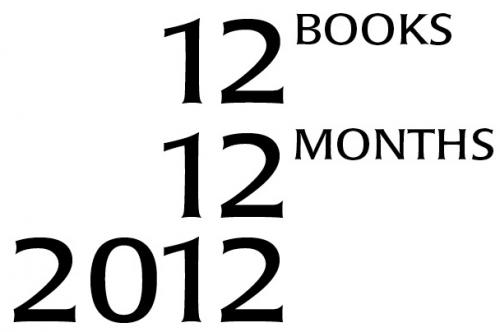 Village Books
, Bellingham, Wash., has launched 12/12/12, a program that aims to have participants read 12 books in 12 months this year. As Lindsey McGuirk, digital marketing and publishing manager, explained, "It's a reading goal for those of us who tend to be on the slower end of reading (like myself) and feel daunted by readers who can conquer a book a week."
Readers can register with the program, which is "as noncommittal as possible," on Facebook, Twitter, Goodreads or in the store. Village Books asks participants each month what book they've chosen for the month, checks in in the middle of the month about the book and asks at the end of the month how readers liked the book. "If they feel like joining any of the discussions we're holding on Facebook, Twitter, Goodreads or in the store, they're more than welcome to," McGuirk added. People who join the discussions each month are entered in drawings to win one of four $5 Village Books gift certificates.
For more information, including a downloadable PDF that people can use to track their reading lists and accomplishments,
click here
.


Book Trailer of the Day: Would It Kill You to Stop Doing That?
Would It Kill You to Stop Doing That? A Modern Guide to Manners by Henry Alford (Twelve), which features, among others, Twelve publisher Cary Goldstein ("I have a friend who is incredibly rude...") and associate publisher Brian McLendon ("What is the problem with no problem?").


Tokyo's 'Reading Recommendation' Bookshop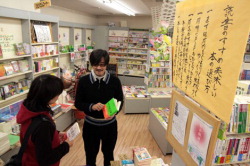 The Mainichi Daily News profiled a bookstore that "does more than sell books--it makes very personal recommendations based on customers' moods and interests." Dokusho no susume (Reading recommendation) "has no bestsellers or even any new releases. What the bookshop offers, unlike many major stores, are volumes that the owner, Katsuyoshi Shimizu, 50, personally recommends."

Shimizu founded the bookshop in 1995 because he "was angry that many good-selling books are not distributed to small bookstores. That is why I started gathering my own recommended reads.... I read books as I think about many problems in our society, such as earthquakes and uneasiness with the government. If I can recommend a book, I stock it (at the shop)." The Mainichi Daily News noted that Shimizu has recommended books to more than one million people and is often called "a sommelier (wine steward) of books."



Media and Movies
Media Heat: Conquered into Liberty
Saturday on CBS Radio's Weekend Roundup: Eliot A. Cohen, author of Conquered into Liberty: Two Centuries of Battles along the Great Warpath that Made the American Way of War (Free Press, $30, 9780743249904).


This Weekend on Book TV: Jack Abramoff
Book TV airs on C-Span 2 this week from 8 a.m. Saturday to 8 a.m. Monday and focuses on political and historical books as well as the book industry. The following are highlights for this coming weekend. For more information, go to Book TV's website.

Saturday, January 7

3 p.m. Chris DeRose, author of Founding Rivals--Madison vs. Monroe: The Bill of Rights and the Election That Saved a Nation (Regnery History, $27.95, 9781596981928), recounts the battle for a congressional seat between James Madison and James Monroe in 1789. (Re-airs Sunday at 12:30 a.m. & 7:15 p.m., and Sunday, January 22, at 12:15 a.m.)

7 p.m. Justin Frank, author of Obama on the Couch: Inside the Mind of the President (Free Press, $26, 9781451620634), offers a psychoanalytic study of Barack Obama. (Re-airs Sunday at 11 a.m. and Monday at 1 a.m.)

8 p.m. At an event hosted by the Conservative Women's Network, Marji Ross, president of Regnery Publishing, presents a lecture titled "Seven Surprising Secrets of Best-Selling Female Authors... and How Your Future Happiness Might Depend on Them." (Re-airs Sunday at 2:15 a.m. & 11:15 p.m., and Monday at 6:45 a.m.)

8:45 p.m. Steven Ross discusses his book Hollywood Left and Right: How Movie Stars Shaped American Politics (Oxford University Press USA, $29.95, 9780195181722) on a panel with actor and activist Mike Farrell. (Re-airs Sunday at 4 a.m., Saturday, January 14, at 10:45 a.m. and Sunday, January 15, at 12:15 a.m.)

10 p.m. After Words. Eliza Newlin Carney interviews Jack Abramoff, author of Capitol Punishment: The Hard Truth About Washington Corruption From America's Most Notorious Lobbyist (WND Books, $25.95, 9781936488445). (Re-airs Sunday at 9 p.m., Monday at 12 a.m. & 3 a.m., and Sunday, January 15, at 12 p.m.)

11 p.m. Juan Gonzalez and Joseph Torres, co-authors of News for All the People: The Epic Story of Race and American Media (Verso, $29.95, 9781844676873), discuss their book with Amy Goodman, co-host and executive producer of Democracy Now! (Re-airs Sunday at 2 p.m. and Monday at 4 a.m.)

Sunday, January 8

3:30 p.m. James Farwell talks about his book The Pakistan Cauldron: Conspiracy, Assassination & Instability (Potomac Books, $29.95, 9781597979825). (Re-airs Sunday at 10 p.m. and Monday at 5:30 a.m.)



Books & Authors
Pennie Picks A Discovery of Witches
Pennie Clark Ianniciello, Costco's book buyer, has chosen A Discovery of Witches by Deborah Harkness (Penguin, $16, 9780143119685) as her pick of the month for January. In Costco Connection, which goes to many of the warehouse club's members, she wrote: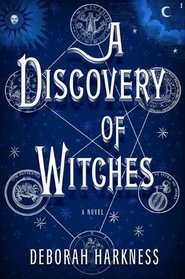 "I'm not sure why, but I will read any book about witches. Unfortunately, not all of those books are created equal. Fortunately, this month's Book Buyer's pick, Deborah Harkness's A Discovery of Witches, reminds the reader of just how high the bar is set, and clears it.

"The story begins with Diana Bishop, who comes from a long line of witches, discovering a long-lost alchemical text. The book's reappearance lures all kinds of witches, vampires and demons to her library, but Diana is the only one who can break the book's spell.

"One of the joys of this novel is reading about the otherwordly creatures operating freely in today's world. (You may never look at the person next to you in the checkout lane the same way.) Equally compelling is the author's obvious knowledge of history, which peppers the plot. I've little doubt that most readers will become as enchanted by this debut novel as I am."




Attainment: New Titles Out Next Week
Selected new titles appearing next Tuesday, January 10:
Elizabeth the Queen: The Life of a Modern Monarch
by Sally Bedell Smith (Random House, $30, 9781400067893) explores the 60 years of Queen Elizabeth II's reign.
Gideon's Corpse
by Douglas Preston and Lincoln Child (Grand Central, $26.99, 9780446564373) pits Gideon Crew against an unknown terror cell with a nuclear bomb.
The House at Sea's End
by Elly Griffiths (Houghton Mifflin, $25, 9780547506142) puts forensic archeologist Dr. Ruth Galloway on the case of a World War II-era murder mystery.
The Quality of Mercy
by Barry Unsworth (Nan A. Talese, $26.95, 9780385534772) follows the legal, financial and personal aftermath of a botched slaving voyage in 1767 London.
Lothaire
by Kresley Cole (Gallery, $25, 9781439136829) continues the paranormal Immortals After Dark series.
Greedy Bastards: How We Can Stop Corporate Communists, Banksters, and Other Vampires from Sucking America Dry
by Dylan Ratigan (Simon & Schuster, $25, 9781451642223) outlines the political and business reform ideas of an MSNBC host.
The Obamas
by Jodi Kantor (Little, Brown, $29.99, 9780316098755) examines the First Couple's relationship and the social stresses of being President.
Now in paperback:
The Onion Presents: Love, Sex, and Other Natural Disasters: Relationship Reporting from America's Finest News Source
by the Staff of the
Onion
(Quirk Books, $12.95, 9781594745492).
10th Anniversary (The Women's Murder Club)
by James Patterson and Maxine Paetro (Grand Central, $14.99, 9780446585163).
My Father's Fortune: A Life
by Michael Frayn (Picador, $16, 9781250002341), winner of the PEN/Ackerley Prize for Autobiography.
Poser: My Life in Twenty-three Yoga Poses
by Claire Dederer (Picador, $15, 9781250002334).


Book Review
Review: The Orphan Master's Son
The Orphan Master's Son: A Novel of North Korea by Adam Johnson (Random House, $26 hardcover, 9780812992793, January 10, 2012)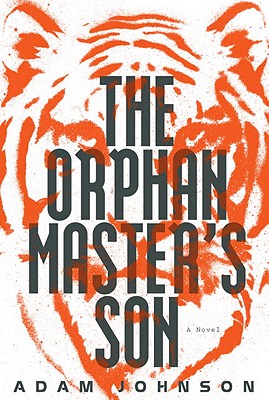 Jun Do, the eponymous orphan master's son of Adam Johnson's second novel (after 2004's Parasites Like Us), picks out the names for the orphanage's wards from a list of 114 North Korean revolutionary martyrs, which is also how he got his own name. "The revolutionaries in Pak Jun Do's unit didn't trust him because he was descended from an impure blood line," he explains to his partner in a commando squad that kidnaps Japanese citizens at the whim of Kim Jong Il and other high-ranking officials. "To prove his loyalty, he hung himself."
Such morbid fatalism pervades every scene in The Orphan Master's Son. Even at its funniest--and there's a lot of humor here--there's an underlying realization that one false move can send a character to the prison camps; when things go wrong, characters scramble to come up with plausible stories that will excuse the failure without incurring the wrath of the "Dear Leader." (When the second mate on Jun Do's spy ship steals the life raft and defects, Jun Do allows the rest of the crew to close a dying shark's jaws on his arms to make their cover story of a failed rescue convincing.)
As Jun Do's surreal odyssey builds up to a brazen impersonation of the legendary Commander Ga ("a man who'd led six assassination missions into South Korea, won the Golden Belt in taekwondo, and purged the Army of all the homosexuals"), Johnson increasingly turns to new voices, including a series of over-the-top government propaganda bulletins--"Citizens, gather 'round your loudspeakers!"--that distort the story in Kim Jong Il's favor. Yes, the Dear Leader is an actual character in the second half of the book; he obviously knows that Jun Do isn't Commander Ga, but it amuses him to accept the deception, which means all of Pyongyang must play along--including Ga's wife, the greatest actress in North Korea, Sun Moon.
"Having a character who can do anything he desires at any moment he wishes would normally be bad for storytelling," Johnson has said in a recent interview. "But the truth of North Korea is that such a character exists, and it was my job to capture him." He succeeds admirably; though there's a whiff of Dr. Evil farce to some of Kim Jong Il's scenes, Johnson recognizes that no man could maintain such absolute power without a core of cunning and ruthless competence. Though the split time structure of the novel's back half means readers can be pretty sure ahead of time what will happen, Johnson guarantees that they'll want to see just how it happens... and how many different ways The Orphan Master's Son can tell it.--Ron Hogan
Shelf Talker: The death of Kim Jong Il gives the novel an obvious timeliness, but Johnson's account of life under a totalitarian regime has the power to outlive historical circumstance.


The Bestsellers
December's Most-Downloaded Library Books
OverDrive released its lists of the most-downloaded e-books and audiobooks from U.S. libraries during the month of December. The rankings include books checked out as well as those on waiting lists at thousands of OverDrive-powered libraries.



Top-Selling Titles on AbeBooks.com in December
The bestselling books on AbeBooks.com in December:

1. The 7 Habits of Highly Effective People by Stephen R. Covey
2. The Girl with the Dragon Tattoo by Stieg Larsson
3. How to Win Friends and Influence People by Dale Carnegie
4. The Girl Who Played with Fire by Stieg Larsson
5. The Girl Who Kicked the Hornet's Nest by Stieg Larsson
6. To Kill a Mockingbird by Harper Lee
7. The Challenge of Democracy by Janda Kenneth
8. Dracula by Bram Stroker
9. Man's Search for Meaning by Viktor E. Frankl
10. Decision Points by George W. Bush

The bestselling signed books on AbeBooks in December:

1. The Help by Kathryn Stockett
2. The Art of Fielding by Chad Harbach
3. The Night Circus by Erin Morgenstern
4. Steve Jobs: A Biography by Walter Isaacson
5. Death Comes to Pemberley by P.D. James
6. The Sense of an Ending by Julian Barnes
7. Salvage the Bones by Jesmyn Ward
8. Swamplandia! by Karen Russell
9. 1Q84 by Haruki Murakami
10. A Book of Fiction by Jan Sawka

[Many thanks to AbeBooks.com!]