Shelf Awareness for Friday, March 9, 2012

Quotation of the Day
Downtowns Need 'Small Affordable Retail Spaces'
"Downtown Boston now lacks a major bookstore that carries a wide assortment of reading material, travel guides and maps, or reasonably priced gifts for young and old. To find such a selection, one must go to the Prudential Center in the Back Bay. The city needs to not only encourage bookstores but create small affordable retail spaces that can support neighborhood mom and pop retail. These are what give downtowns character, not more national chains."


News
Arizona's Online Tax Battle: Eat, Sleep, Read, Fight
By a vote of 20-8, the Arizona Senate rejected a bill yesterday that would have required Amazon to collect sales tax on purchases made by state residents, the Associated Press (via the Seattle Times) reported.

On Wednesday, Michelle Ahlmer, executive director of the Arizona Retailers Association, appeared on the PBS show Arizona Horizon to discuss the legislation. "We should note that we also invited Amazon's lobbyist to appear, but he was unable to join us," said host Ted Simons.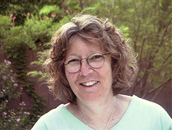 Changing Hands Bookstore, Tempe, is mentioned at the 1:42 mark on the video. In last month's store newsletter, owner Gayle Shanks wrote: "So, the battles rage on. The community-based bookstore, along with other local businesses, versus a megalithic online e-tailer. The print book versus the e-book (although we believe both can coexist peacefully, as they do on our own website). We adjust, we adapt, we reassess, we struggle to hold our ground. We smell the flowers (and soon the orange blossoms) and read great books while sipping from our cups of tea. To our motto 'Eat, Sleep, Read' we add the word 'Fight.' Stay tuned or stop by and we'll keep you posted on further developments as they occur."



Pottermore: The Wait Will Soon Be Over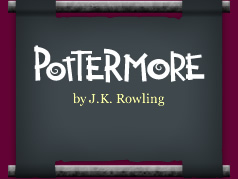 Pottermore's much-anticipated opening to everyone will happen in early April, according to the Pottermore Insider blog, which apologized to anxious muggles everywhere for the delay: "We know that the extended wait for those wishing to be part of Pottermore has been frustrating, and we'd like to thank you all for your patience so far."

The statement also noted that the extended beta testing "gathered some incredibly useful feedback," which indicated that "our original platform wouldn't be suitable when millions more users came on to the site. So we made a big decision: to move Pottermore to an entirely different platform set up. This 'invisible' change has involved a lot of work behind the scenes but it will enable our users to get the best from Pottermore as it grows and develops."

A Pottermore spokesman told the Bookseller that the site, which will sell e-books and digital audio versions of the Harry Potter titles exclusively, "is likely to open at a 'similar time' to the full launch of the site in early April, but the final date is not 'totally confirmed as yet.' "



ABA Names Board Candidates

The American Booksellers Association board has nominated three director candidates to stand for election to three-year terms (2012-2015) on the board, Bookselling This Week reported. Nominees for the upcoming elections are Betsy Burton of the King's English Bookshop, Salt Lake City, Utah; Valerie Koehler of Blue Willow Bookshop, Houston, Tex.; and Jonathon Welch of Talking Leaves Books, Buffalo, N.Y. Burton and Koehler currently serve on the board.

ABA president Becky Anderson of Anderson's Bookshops, Naperville, Ill., and Steve Bercu of BookPeople, Austin, Tex., will begin the second year of their two-year terms as ABA president and vice-president, respectively, this spring.



Kosmos Book Shop to Open in Tarrytown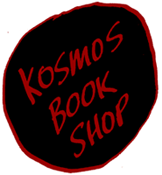 Kosmos Book Shop, Tarrytown, N.Y., is scheduled to open April 3 at 29 Central Avenue. "Good books don't go out of style. Browsing a well-curated shop for books is a joy," owner Joseph "Jos" Niforos told the Tarrytown-Sleepy Hollow Patch, adding that he decided to open the bookshop to "provide a place where people can come physically browse books. I still believe it's the best way, the most humane way to buy a book.... That it's real not virtual! There will be a real person in it that can hopefully be of service to the customer, turn them on to new things or just chat for a while."



Obituary Notes: Florence Wolfson Howitt; Benedict Freedman
Florence Wolfson Howitt, whose 2008 book The Red Leather Diary: Reclaiming a Life Through the Pages of a Lost Journal (Harper Perennial) garnered unanticipated recognition and readership for her late in her life, died earlier this week, the New York Times reported. She was 96.

---

Benedict Freedman, "whose first novel, Mrs. Mike--based on the true story of a young woman's life in the Canadian wilderness at the turn of the century--was a sensation after it was published in 1947 and inspired a Hollywood feature film," died last month, the New York Times reported. He was 92.



Notes
Image of the Day: Extra Step for Extra Yarn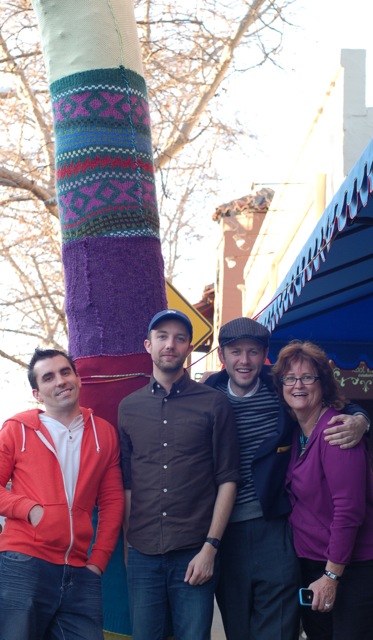 Hicklebee's in San Jose, Calif., went all out--as co-owner Valerie Lewis put it--and "yarnbombed" the store and environs in honor of Extra Yarn (Balzer & Bray) by Mac Barnett, illustrated by Jon Klassen, who visited Hicklebee's on Tuesday. Here from l.: Hicklebee's Brett Carlson, Klassen, Barnett and Lewis.


Cool Idea of the Day: Indie Booksellers Panel at Ole Miss


A distinguished group of Mississippi independent booksellers will gather later this month to discuss the current state of bookselling and how they have survived multiple and ongoing retail challenges. Panelists include Richard Howorth, owner of Square Books, Oxford; John Evans of Lemuria, Jackson; Jamie Kornegay of TurnRow Book Company, Greenwood; and Emily Gatlin of Gum Tree Book Store, Tupelo.

The discussion will take place March 20 at 11 a.m. in the Overby Center for Southern Journalism and Politics on the campus of the University of Mississippi. Overby Fellow Bill Rose will moderate the panel, which is free and open to the public.



'10 Things E-Books Won't Tell You'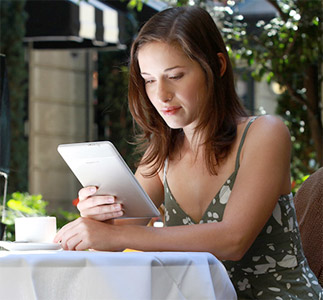 Cautioning readers not to "dismantle those bookshelves just yet," SmartMoney considered the reasons "why e-reading is still far from perfect," summing them up in a slide show headlined "10 Things E-Books Won't Tell You":
"We're not one-reader-fits-all."
"Sometimes you're buying spam."
"Good luck grabbing our sales and freebies."
"Our prices are under investigation."
"Better watch your data bill."
"Borrowing isn't as easy as we make it out to be."
"We don't have much marketing clout..."
"...But our presence is still killing bookstores."
"The extras will cost you."
"E-books are the new latte."


Book Trailer of the Day: The Book of Lost Fragrances
The Book of Lost Fragrances: A Novel of Suspense by M.J. Rose (Atria).


Media and Movies
Media Heat: Nada Bakri on the Today Show
This morning on the Today Show: Nada Bakri, widow of Anthony Shadid, author of House of Stone: A Memoir of Home, Family, and a Lost Middle East (Houghton Mifflin Harcourt, $26, 9780547134666).
---
Today on NPR's Science Friday: Barb Stuckey, author of Taste What You're Missing: The Passionate Eater's Guide to Why Good Food Tastes Good (Free Press, $26, 9781439190739).


TV: Cassandra French's Finishing School for Boys
MTV has greenlighted a pilot episode of Cassandra French's Finishing School for Boys, based on Eric Garcia's novel. Deadline.com reported that actress Krysten Ritter is executive producer of the project with Garcia (Matchstick Men), who wrote an adaptation "described as being in the tone of Heathers."



Books & Authors
Awards: NBCC Winners; Publishing Triangle Shortlists
Winners of the National Book Critics Circle Awards who were honored last night include:

Fiction: Edith Pearlman for Binocular Vision: New & Selected Stories (Lookout Books)
Nonfiction: Maya Jasanoff for Liberty's Exiles: American Loyalists in the Revolutionary World (Knopf)
Biography: John Lewis Gaddis for George F. Kennan: An American Life (Penguin)
Poetry: Laura Kasischke for Space, in Chains (Copper Canyon Press)
Autobiography: Mira Bartók for The Memory Palace: A Memoir (Free Press)
Criticism: Geoff Dyer for Otherwise Known as the Human Condition: Selected Essays and Reviews (Graywolf Press)

Kathryn Schulz was presented the Nona Balakian Citation for Excellence in Reviewing and Robert B. Silvers of the New York Review of Books received the Ivan Sandrof Lifetime Achievement Award.

---
Finalists have been announced for the Publishing Triangle Awards, which celebrate "the best lesbian and gay nonfiction, poetry, and fiction," and include the Ferro-Grumley Literary Awards. Winners will be honored at a ceremony at the New School in New York City on April 19.

Alison Bechdel will receive the Bill Whitehead Award for Lifetime Achievement. For 25 years she wrote and drew the comic strip Dykes to Watch Out For and is the author of the bestselling graphic novel memoir, Fun Home: A Family Tragicomic. Her latest book, Are You My Mother?, will be published in May.



Book Brahmin: Kevin Barry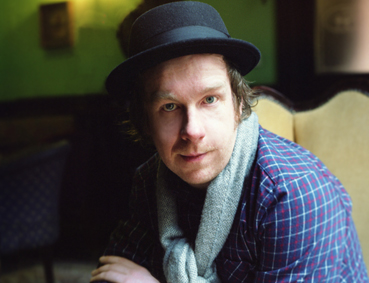 Kevin Barry's first collection of stories, There Are Little Kingdoms (2007), won the Rooney Prize for Irish Literature. His novel City of Bohane was published in Europe in 2011 and was shortlisted for the Costa First Novel Award and the Irish Novel of the Year. It will be published by Graywolf Press on March 13, 2012. Barry is also a screenwriter, a playwright and an essayist. He lives in the west of Ireland in an old police station.
On your nightstand now:
The usual toppling stack--I tend to read about 86 books at once. Last night, I was enjoying pages from the Irish novelist Dermot Healy's blissful and melancholy Long Time No See and a brilliant new David Gates short story in a recent edition of the Paris Review.
Favorite book when you were a child:
Wuthering Heights, which showed how a book could utterly transport a snot-nosed 10-year-old from his flu-ridden sickbed in a small Irish city in the early 1980s and set him down on a wind-scoured Yorkshire moor in the early 1800s. The transportation was noiseless, complete and magical.
Your top five authors:
Impossible, but if I stick to just the Bs... Emily Brontë, Anthony Burgess, Jorge Luis Borges, Saul Bellow, Samuel Beckett.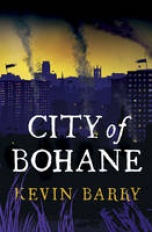 Book you've faked reading:
As a pale and interesting goth teenager, I used to take books to the graveyard of a medieval cathedral on the edge of our city, and among the many I faked reading there was Joyce's Finnegans Wake. Though I would say now that it has its moments.
Book you're an evangelist for:
The Complete Stories of V.S. Pritchett. An old-style Man of Letters, a belletristic dabbler in many forms, Pritchett could pretty much do it all, because he possessed that rare quality, Voice, and very much with the capital V. But his stories are the best of him; they are manic and strange and tender and hilarious, and they should be read by all.
Book you've bought for the cover:
Probably something by Kafka, or Poe, and probably about 1986, and likely in the hope of attracting pale and interesting goth teenage girls. Sadly the tactic was only intermittently successful.
Book that changed your life:
My own first collection of stories, There Are Little Kingdoms, which came out in 2007, and did well enough to allow me to write full-time without doing anything else. And when you write fiction all the time, every day, in a completely selfish and dedicated way, something odd and wonderful starts to happen--it becomes less the thing you do and more the thing you are.
Favorite line from a book:
Possibly the famed and un-improvable first line from Bellow's novel Herzog: "If I am out of my mind, it's alright with me, thought Moses Herzog."
Book you most want to read again for the first time:
White Noise by Don DeLillo, a wonderful comic novel about the fear of dying. I still think it's his best thing. I read it in my early 20s, when I was attempting to write seriously for the first time, and it showed me that a book could be funny as hell and serious as death, simultaneously. The comic mode is the one you're after--humorlessness is always the giveaway note of mediocrity.


Book Review
Review: The Book of Jonas
The Book of Jonas by Stephen Dau (Blue Rider/Penguin, $24.95 hardcover, 9780399158452, March 15, 2012)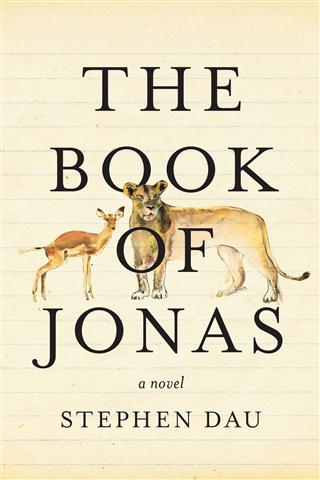 Stephen Dau's nuanced, carefully written first novel, The Book of Jonas, is divided into seven distinct parts--processional, remembrance, communion, confession, atonement, benediction and recessional--suggesting a religious aspect to the book. The writing is clean, spare, matter of fact, creating a restrained, quiet, hushed tone throughout. The content, too, is spare. The narrative unfolds in many brief chapters, withholding the key information we need in order to understand this somber and solemn mystery of a tale.
Dau shifts back and forth among three main characters: Younis, a teenage boy who lives in a remote area of what seems to be Kurdistan; Christopher Henderson, a U.S. soldier fighting near Younis's village; and Rose, Chris's mother in Youngstown, Pa. At the heart of their stories is a devastating and horrific bombing and firefight that takes place in Younis's small village: "What we did stank of intention." Younis is injured. Chris vanishes. Rose is told Chris is missing in action.
Younis is helped by an organization that treats his injuries and later sends him to live with a host family in Pittsburgh. The adjustment is difficult. The family doesn't understand his experiences or his state of mind. He is beaten at school, until he fights back in anger. He meets regularly with a psychiatrist who is trying to help Younis (who changes his name to Jonas) adjust and deal with his past. Over and over again, he tells Jonas: "We need to understand what happened."
Jonas goes to college, where he now has a girlfriend and drinks heavily. He agrees to visit Rose and talk to her, but he can't remember much about the fight or Chris. We learn about a journal Chris was keeping. We learn Chris may have helped Younis. We learn about the brutality of the firefight and killings. But we still don't know what happened. Dau does a beautiful job of creating tales shrouded in mystery, filled with pain and suffering. Gradually, we move toward confession, atonement and a hopeful blessing: "At some point, an accounting is made. Eventually, if you are human, and sane, you examine what you have done." --Tom Lavoie
Shelf Talker: A modern, Citizen Kane-like morality play about war, death, ordinary people, hope and forgiveness.


Deeper Understanding
Robert Gray: Singapore Booksellers 'Really Love What We Do'
"No one has cracked the discovery problem. In a world without bookshops, or at any rate with fewer and smaller bookshops, how will people discover the books they didn't know they wanted to read?.... Maybe a new kind of bookshop is needed, one that allows for book browsing within a stylish setting, and gives the retailer a slice of e-book revenues. After all, it is Singapore's smaller shops, like BooksActually, with their great design and active event programs, that have bucked the prevailing downward trend in bookshops over the last few years."

That paragraph appeared earlier this week in an e27 article headlined, "A City Without Bookshops," but I first learned about BooksActually last year. I followed up--in the typically 21st-century way of the Web--by joining the shop's Facebook group and began receiving event invitations.

Though the odds are slim that I'll be attending a bookstore event in Singapore any time soon, I do like being invited, and a recent notice for "Babette's Feast chapbooks LAUNCH at Kinokuniya!" prompted me to contact BooksActually bookseller Renée Ting--not with my RSVP, unfortunately, but to learn a little more about their operation.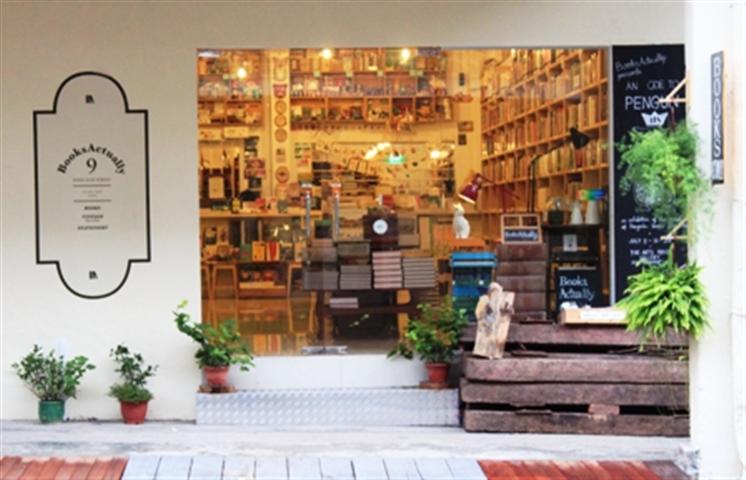 "BooksActually opened in November, 2005, on the second floor of a shophouse at Telok Ayer Street," she replied on behalf of her colleagues, who include owner Kenny Leck and bookseller Erna Marliny. "It started because of our love for literature, and the need to widen our reading appetite in Singapore. Retailers play a very big part of shaping the society's appetite. There were many readers in Singapore, but the books they were reading were limited to the ones featured at chain bookstores--self-help titles, business books, and for fiction, popular mass-market titles. We were hungry for more literary works, and wanted to bring in and showcase more breadth to the title selection available to the people, because we believed in the importance of literature."

What matters most to any bookseller is sharing great reads with great readers. Staff favorites at BooksActually include Paul Auster, Cyril Wong, Ted Hughes, Rainer Maria Rilke and John Wyndham. Popular with the shop's customers are Christine Chia, Alvin Pang, Haruki Murakami, Jeanette Winterson and Alfian Sa'at. And like all committed indie booksellers, they also champion certain underappreciated writers there--Verena Tay, Georges Perec, A.L. Kennedy, Naguib Mahfouz and Ismail Kadare.

The initial challenges BooksActually faced in the retail market may sound familiar. According to Ting, "We were the first local independent literature bookshop to appear in Singapore when we started. During that time, everyone was only familiar with the concept of a mega-chain bookstore so they found it difficult to comprehend what an independent bookshop was--it took a long time for us to convince people that we were an actual bookshop, and that we started this because of our passion for literature.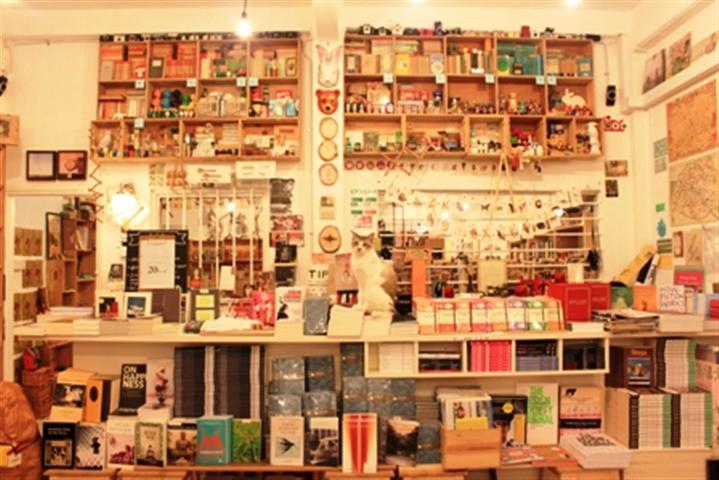 "Also, finance was always an issue for us, seeing how we don't come from well-to-do families and being a small and new player in the harsh business world. We knew nothing about running a business, but somehow found our way around by doing things ourselves, finding alternate ways of solving problems, and being self-reliant." Seven years later, the bookstore has "seen a vast increase in the readership in Singapore, but now that we've started actively publishing, we're hoping Singaporeans will be more receptive towards local literature."

Last summer, BooksActually launched its publishing arm, Math Paper Press, which features experimental novellas, poetry and essays; and distributes books by selected publishers.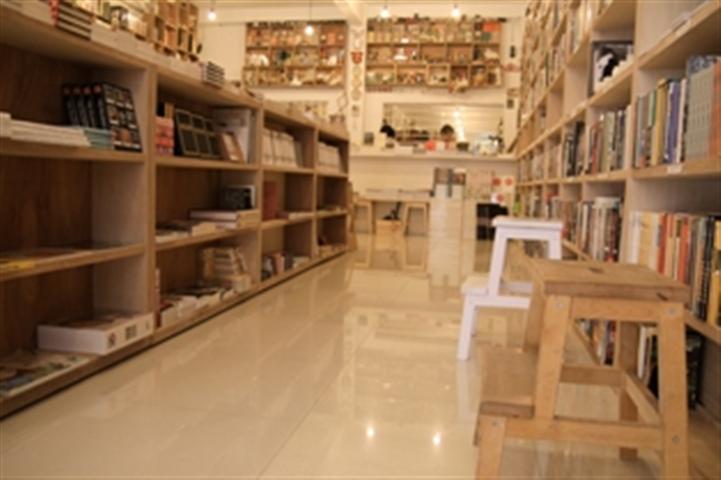 "As mentioned before, we were hoping for Singaporeans to be more receptive towards local literature, and also we wanted to be a voice for the newer writers in Singapore by publishing works that other publishers dare not publish," Ting said.

About the same time, the store began creating handmade stationery under its Birds & Co. brand, offering items in which "we always try to sneak in a literary element by subconsciously exposing them to good literature (e.g., pencils named after authors; notebooks with passages from books typewritten on their covers, or notebooks dedicated to a particular specie of plants/animals; parties and exhibitions with literary themes, etc.)."

When I asked Ting if there was anything else she would like us to know about BooksActually, her enthusiastic reply struck a familiar chord with this former bookseller: "Yes! We work really, really, really hard and we really love what we do."--Robert Gray, contributing editor (column archives available at Fresh Eyes Now)