Shelf Awareness for Thursday, April 26, 2012

News
Globe Corner Travels to Brookline Booksmith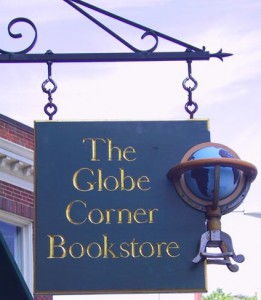 Brookline Booksmith, Brookline, Mass., has bought the rights to Globe Corner Bookstore's trademarks, trade names and website and has formally opened the Globe Corner Travel Annex in its store. With the move, Brookline Booksmith has added more than 2,000 travel maps and plans to continue to expand its already large selection of travel guides as well as increase travel accessories and outdoor recreation products.

Brookline Booksmith will eventually merge the Globe Corner website into its own website, and Patrick Carrier, founder of the Globe Corner Bookstore, who shut its Cambridge bricks-and-mortar store last year, will provide consulting services to Brookline Booksmith.

The stores' cooperative venture was first announced late last year, but with a more limited scope (Shelf Awareness, December 9, 2011).

Brookline Booksmith co-owner and manager Dana Brigham commented: "In the months since beginning our collaboration with the Carriers, we have been the recipients of an astounding body of knowledge from them. It has been our privilege and pleasure to bring their expertise to our shelves. One of the Globe Corner's unique and beautiful carved wooden signs now adorns our travel area. We're excited to be folding more of the Globe Corner into what we do and sharing that with our community and beyond."

Carrier said, "As the Globe Corner celebrates its 30th anniversary, it is a great pleasure to pass on its 'legacy' to an extraordinary local bookseller that is marking its 50th anniversary. We could not have found a better home for globecorner.com and I am pleased that greater Boston area travelers will continue to have an opportunity to browse a deep and broad selection of travel books and maps."




BookHunters Opens in Naperville, Ill.
BookHunters opened April 7 in Naperwest Plaza in Naperville, Ill., and is stocking new and "gently used" titles, according to the Naperville Sun.

The owner is Vicki Allison, who is a second-generation bookseller: her father owns Moody Books, Johnson City, Tenn., where Allison worked for many years. Allison also had a bookstore in Batavia, which she closed when her husband's job required the couple move.

She told the paper that what she most likes about bookselling is "being surrounded by knowledge, by books of every type and genre," and her favorite categories are literature and religious books.

Bookhunters is located at 548 S. Route 59, Naperville, Ill. 60540; 630-432-4604.




R. Todd Noden New CFO at Books-A-Million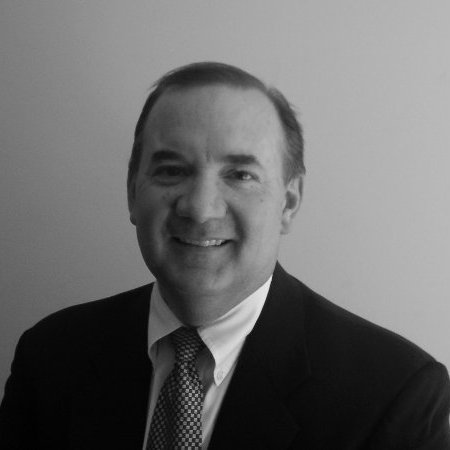 R. Todd Noden has joined Books-A-Million as chief financial officer, replacing Brian W. White, who resigned "to pursue other endeavors," the company said. A CPA with an MBA, Noden has 20 years of finance and accounting experience, most recently as CFO of Dobbs Mills and v-p, accounting and financial analysis of Racetrac Petroleum.


New York Times: New GlowLight Nook 'Brilliant'
David Pogue in the New York Times gave the new Barnes & Noble Nook Simple Touch with GlowLight a rave review: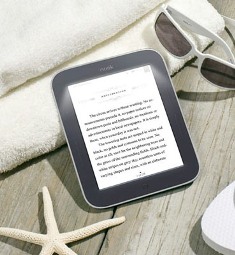 The new e-reader, he wrote, "offers glorious, clear, peaceful darkened-room reading. The illumination comes on when you press the N button beneath the screen, and detracts nothing from the natural E Ink reading experience. The factory-setting brightness is ideal, but you can make it brighter or dimmer using an on-screen slider....

"The bottom line: There's no better E Ink model than this new glowing Nook. For the first time in e-reader history, you can have spectacular, crisp pages to read in any light, from beach sunshine to sleeping-spouse darkness. To make matters even sweeter, the glowy Nook weighs even less than its $100 predecessor (the nonilluminated Nook SimpleTouch)--just under 7 ounces. And it's precisely the same size: 6.5 by 5 by .47 inches. Of course, you pay a price for these advantages. The glowing screen adds $40 to the price, compared to the nonglowing Nook and Kindle models."




Larry McMurtry's 'Last Booksale'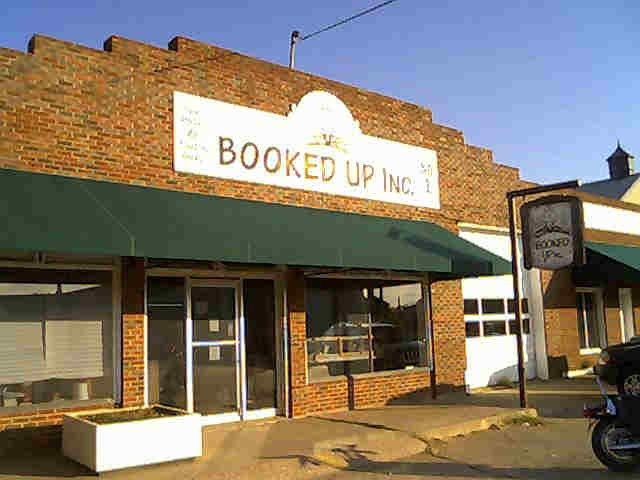 Larry McMurtry, author and owner of "colossal" Booked Up bookstore in Archer City, Tex., announced that a public auction, dubbed the "Last Booksale," will be held August 10 and 11 and will feature 350,000 books that "will be sold after a week of previews in-store. Thus the great 'book town' will shrink, just a bit," Fine Books & Collections reported.

"So why push them out?" McMurtry asked on the shop's website. "Because we believe that in the book world migration is healthy: old pages await new eyes."

McMurtry's pitch: "Experience Texas in August. Watch a great river of books as it flows on. (Parkas not required.)"



PAMA Panel: Secrets of the Librarians
At a Publishers Advertising and Marketing Association luncheon yesterday, EarlyWord.com editor and co-founder Nora Rawlinson moderated a panel called "Secrets of the Librarians: How to Create Demand for Your Books." She began by outlining the scope of the U.S. public library ecosystem--roughly 9,000 library systems, the vast majority of which have three or fewer branches. Only 70 library systems nationwide have 20 or more branches; five of the top six are based in New York City or the greater Los Angeles area. She also explained that many libraries are taking lessons from bookstore displays and other promotional techniques to inform their patrons about titles they've gotten behind, and used a Baltimore-area library's enthusiasm for Kate Alcott's The Dressmaker as an example.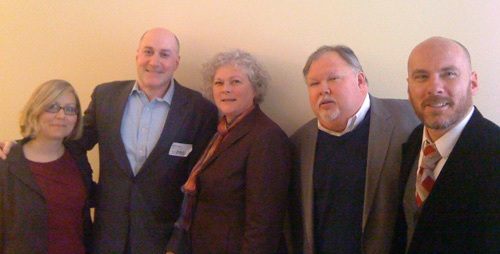 Andrea Vaughn Johnson, PAMA president David Nudo, Nora Rawlinson, Skip Dye, Chris Platt.
Skip Dye, Random House v-p, director of library and academic sales, picked up on that thread, after noting how ironic it was given that, in his previous role at the Davis-Kidd bookstores, "we did everything we could to get people into the store by mimicking libraries," including holding story hours and other in-store programming. A recent tour of several libraries taught him about the renewed enthusiasm for displays but, given that libraries are all about getting the books off the shelves and into people's hands, it's hard to use books effectively in displays. Instead, libraries are interested in cutouts and other display materials that, he noted, publishers had been cutting back on producing for bookstore markets.
Chris Platt, the director of collection and circulation operations for the New York Public Library, focused on his institution's online efforts, especially the goal of making the NYPL website the "intellectual home" for its patrons. In that framework, he explained, "discovery is as important as access," which is why the library has become a major investor in BiblioCommons, which can combine a book's "official" metadata with information uploaded by patrons, including reviews and recommended reading lists. It's also easier for patrons who want to read popular titles, but are impatient with the long waiting lists, to click through to an online retailer (or the online arm of a local independent store) and buy the book--a move that, he admitted, has met with some negative reaction, but which could do much toward making a library's website a reader's default destination for information about books or authors.
Andrea Vaughn Johnson, the coordinator of school age services at the Brooklyn Public Library, talked about BPL's approach to acquisition. She noted that many librarians were increasingly excited about using NetGalley to learn more about upcoming books, as well as the trend toward presenting more catalogues online--although, she commented, it would be great if those online catalogues were transformed even further. Instead of maintaining an imprint-based presentation, for example, they might be organized around age groups or formats. ("A lot of large libraries stopped looking at your catalogues years ago," Platt confided, explaining that wholesaler databases provided them with the same data in more useful formats.)
One important thing to consider, Rawlinson emphasized, is that although library budgets are being cut across the country, the library system is still vast. Despite a reduction of more than $7 million in library funding in Rahm Emanuel's first budget as the mayor of Chicago, she pointed out, "there are still many more libraries in Chicago than there are bookstores." It was a firm reminder to the representatives from publishing companies in the audience that they should still look at libraries as one of their most essential customers. --Ron Hogan


Notes
Image of the Day: Forget-Me-Nots at Diane's Books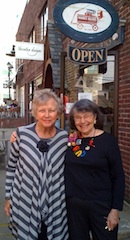 Last Saturday, Diane's Books, Greenwich, Conn., held a signing for former children's poet laureate Mary Ann Hoberman and her anthology Forget-Me-Nots: Poems to Learn by Heart (Little, Brown Books for Young Readers). Outside the store: Hoberman (r.) with Diane's owner Diane Garrett.


Grim Colberty Tales: Julie Andrews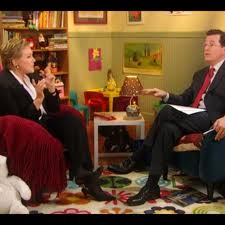 On the latest edition of Grim Colberty Tales, Stephen Colbert, whose kids' book I Am a Pole (And So Can You!) will be released next month, asked Julie Andrews, author of more than two dozen children's titles, "for help finding my way through the dark forest of children's publishing."



Hollywood Walk of Fame Star for Cusack & Bookstore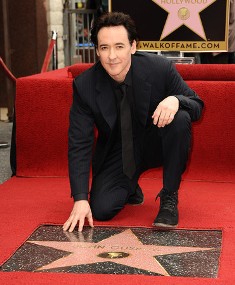 Actor John Cusack was given his star on the Hollywood Walk of Fame Tuesday. "Not surprisingly, the ceremony was timed to take place just three days before the release of his film The Raven," LAist reported, adding that the site chosen for Cusack's star, in front of Larry Edmunds Bookshop on Hollywood Boulevard, is "also meant to evoke the literary nature of the movie in which the actor plays scribe Edgar Allan Poe."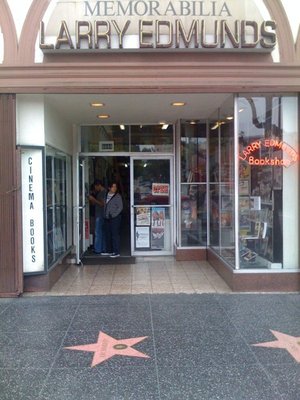 The bookstore's website proclaimed: "Who's that? CUSACK! right here at Larry Edmunds Bookshop!... It's always nice to welcome a new neighbor to the neighborhood, so we're going to roll out the red carpet. Actually it's the Hollywood Chamber of Commerce, who are awarding the 2,469th star on the Hollywood Walk of Fame to John Cusack right here in front of our humble little bookshop. We would like Mr. Cusack to know we will do our best to make sure his star is swept and shiny for all to enjoy.... and it will be an honor to have him as a neighbor right out front with Mr. Ray Bradbury & Mr. Gene Autry."



Perseus to Distribute Spry
Effective June 1, Spry Publishing will be sold and distributed in print and digitally in the U.S. and international markets by Perseus Distribution. Part of Edwards Brothers, Spry publishes mainly patient education books by healthcare experts, including Dr. Mark A. Moyad, whose two fall books are a guide for parents of children with diabetes and a guide for sufferers of chronic headaches.


Lauren Lavelle Promoted at Scribner
Lauren Lavelle has been promoted to assistant publicity manager at Scribner. She was previously a senior publicist and joined the company in 2010.


Book Trailer of the Day: The Angry Buddhist
The Angry Buddhist by Seth Greenland (Europa Editions).


Media and Movies
Media Heat: Olivia Newton-John on Livwise
Today on NPR's Fresh Air: Edward Humes, author of Garbology: Our Dirty Love Affair with Trash (Avery, $27, 9781583334348).
---
Tomorrow morning on Fox & Friends: Olivia Newton-John, author of Livwise: Easy Recipes for a Healthy, Happy Life (Lyons Press, $27.50, 9780762780099).

---

Tomorrow morning on Imus in the Morning: Zach Wahls, author of My Two Moms: Lessons of Love, Strength, and What Makes a Family (Gotham, $26, 9781592407132).

---

Tomorrow morning on CBS's This Morning: Marilu Henner, author of Total Memory Makeover: Uncover Your Past, Take Charge of Your Future (Gallery, $26, 9781451651218).

---

Tomorrow on NPR's Science Friday: Jon Gernter, author of The Idea Factory: Bell Labs and the Great Age of American Innovation (Penguin, $29.95, 9781594203282).

---

Tomorrow on CBS's the Talk: Tori Spelling, author of celebraTORI: Unleashing Your Inner Party Planner to Entertain Friends and Family (Gallery, $25.99, 9781451627909).

---

Tomorrow on MSNBC's Andrea Mitchell Reports: Robert Draper, author of Do Not Ask What Good We Do: Inside the U.S. House of Representatives (Free Press, $28, 9781451642087).

---

Tomorrow night on CNN's Piers Morgan Tonight: Ricki Lake, author of Never Say Never: Finding a Life That Fits (Atria, $25, 9781451627176).

---

Tomorrow night on 20/20: Theresa Brown, author of Critical Care: A New Nurse Faces Death, Life, and Everything in Between (HarperOne, $14.99, 9780061791543).

---

Tomorrow night on Nightline: Ryan O'Neal, co-author of Both of Us: My Life with Farrah (Crown Archetype, $26, 9780307954824).




Movie Visuals: First Peek at Life of Pi
Indiewire featured a first look at Ang Lee's 3D film adaptation of Yann Martel's novel Life of Pi, featuring Suraj Sharma as Pi "and his sizable, striped friend in their lifeboat." The movie is scheduled to open December 21.

Indiewire noted that Lee "had previously implied that he would be using CGI animals and we have to say, it looks impressively real. Either way, when things reach shore in the David Magee (Finding Neverland) script, Irrfan Khan co-stars as the adult Pi with Tobey Maguire as a writer interviewing him, Gerard Depardieu as the Chef and Tabu as Pi's mother."



This Weekend on Book TV: What Money Can't Buy
Book TV airs on C-Span 2 this week from 8 a.m. Saturday to 8 a.m. Monday and focuses on political and historical books as well as the book industry. The following are highlights for this coming weekend. For more information, go to Book TV's website.

Saturday, April 28

9 a.m. Tom Engelhardt, author of The United States of Fear (Haymarket Books, $26.95, 9781608461547), argues the U.S. government used the threat of terrorism to scare the public into supporting increased spending on war, the military and homeland security. (Re-airs Sunday at 7 p.m.)

12 p.m. Book TV offers extensive coverage of the 2012 National Black Writers Conference, which was held March 29 to April 1 and hosted by the Center for Black Literature at Medgar Evers College, CUNY. (Re-airs Sunday at 12 a.m.)

5:15 p.m. Clay Johnson, founder of Blue State Digital, discusses his book The Information Diet: A Case for Conscious Consumption (O'Reilly Media, $22.99, 9781449304683). (Re-airs Sunday at 9 a.m.)

7 p.m. William Patry, author of How to Fix Copyright (Oxford University Press, $21.95, 9780199760091), explores the current state of copyright law.

10 p.m. After Words. Nicole Gelinas interviews Michael Sandel, author of What Money Can't Buy: The Moral Limits of Markets (FSG, $27, 9780374203030). (Re-airs Sunday at 9 p.m., Monday at 12 a.m. and 3 a.m. and Sunday at 11 a.m.)

11 p.m. John Stossel presents his book No They Can't: Why Government Fails--But Individuals Succeed (Threshold Editions, $27, 9781451640946). (Re-airs Sunday at 9:45 a.m.)

Sunday, April 29

10:45 a.m. Michael Grabell talks about his book Money Well Spent?: The Truth Behind the Trillion-Dollar Stimulus, The Biggest Economic Recovery Plan in History (PublicAffairs, $28.99, 9781610390095).

3:15 p.m. Ralph Peters discusses his book Cain at Gettysburg (Forge Books, $25.99, 9780765330475). (Re-airs Monday at 5:15 a.m.)

4:30 p.m. James Hornfischer presents his book Neptune's Inferno: The U.S. Navy at Guadalcanal (Bantam, $18, 9780553385120). (Re-airs Monday at 6:30 a.m.)

10 p.m. Rodney King talks about his book The Riot Within: My Journey from Rebellion to Redemption (HarperOne, $25.99, 9780062194435).



Books & Authors
Awards: Orwell Prize Shortlist
Although the late Christopher Hitchens was described as "the heir to Orwell," he never won the £3,000 (US$4,842) Orwell Prize for political writing, and with yesterday's release of this year's shortlist, his final chance to do so has gone, the Telegraph reported. The winner will be named May 23 in London. The 2012 Orwell Prize finalists are:

The Beautiful and the Damned by Siddhartha Deb
The Opium War by Julia Lovell
Dead Men Risen by Toby Harnden
People Who Eat Darkness by Richard Lloyd Parry
Dark Market by Misha Glenny
Hood Rat by Gavin Knight




Book Review
Review: A Naked Singularity
A Naked Singularity by Sergio De La Pava (University of Chicago Press, $18 paperback, 9780226141794, May 1, 2012)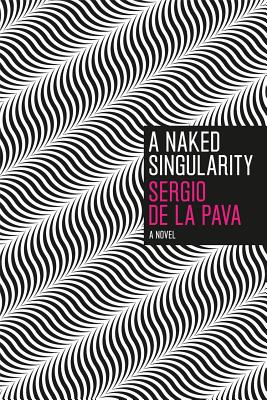 The real-life Cinderella story of how A Naked Singularity achieved publication is itself the stuff of great fiction. Sergio de la Pava originally self-published his heavyweight novel in 2008. Rather than land silently on the stereotypical scrapheap of vanity press efforts, however, de la Pava's debut began to attract the attention of critics, bloggers and authors such as Lian Hearn (Tales of the Otori). Their rave reviews caught the eye of a publicity manager at University of Chicago Press who read the book and immediately recognized its genius. Now, a wider audience will have the chance to discover this work of amazing breadth and humor.
Casi never loses a case. The 24-year-old Manhattan public defender bobs and weaves his way through the intricacies and inanities of the New York legal system as nimbly as a lightweight champ, scoring plea bargains and dismissals for a long list of drug offenders, petit larcenists and immigrants selling hotdogs without a license. Despite his talent, Casi's life is far from ideal. At work, he faces circular and surreal discussions with clients and judges as well as the passionate but illogical philosophizing of his coworkers. In his private life, financial debt piles up and he struggles with inexplicable ear pain, while his preschool-aged niece frightens his family by ceasing to speak, and his neighbors begin bizarre psychological experiments involving The Honeymooners. In his leisure time, Casi reads about boxer Wilfred Benitez, whose rise and fall mirrors Casi's own.
When a client turns police informant, Casi becomes privy to knowledge of a $10 million drug deal. His coworker Dane, whose moral compass always points to himself as true north, approaches Casi with a scheme to snatch the dough, but Casi refuses to participate, until he finally loses a case and his entire world begins to unravel.
At nearly 700 pages, A Naked Singularity is no casual read, but packed with thought-provoking Socratic dialogues, ruminations on the nature of the time-space continuum and legal satire, it is nonetheless a sometimes heartbreaking, always hilarious romp leading up to its ultimate heist. Though told primarily through dialogue, the format also encompasses court reports, an epic poem and a touching exchange of letters between Casi and a death row inmate with the mind of a child. Taking in this feast of words may require several sittings, but the bitingly funny dialogue and an inevitable attachment to Casi will keep readers coming back for another round. Challenging, addictively entertaining and not to be missed, A Naked Singularity heralds the arrival of a tremendous talent. --Jaclyn Fulwood
Shelf Talker: A public defender turns to crime in a bold mix of thriller, legal satire and philosophical humor.