Shelf Awareness for Tuesday, May 8, 2012

News
Children's Book Week Launches with Gala, Awards

Jeff Kinney and Brian Selznick took the top prizes last night at a gala to kick off Children's Book Week (May 7-13). The event, hosted by the Children's Book Council Foundation and Every Child a Reader, was held at Espace in New York City. Children across the country cast nearly one million votes for their favorite books, author and artist at bookstores, libraries and classrooms and at BookWeekOnline.com. The total is more than the last five years' votes combined, according to the evening's host, Jarrett J. Krosoczka.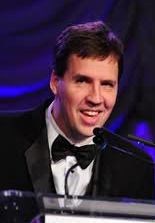 Five times was the charm for Jeff Kinney who, nominated all five years of the awards' existence, finally won Author of the Year for Diary of a Wimpy Kid 6: Cabin Fever (Amulet Books/Abrams). "I have a speech not because I thought I'd win but because I've prepared one every year," Kinney said. "I deserve to win because I'm loyal. I come every year." Brian Selznick won Illustrator of the Year for Wonderstruck (Scholastic).
National Ambassador for Young People's Literature Walter Dean Myers presented the CBC Foundation's annual Impact Award to New York Giants defensive end Justin Tuck, co-founder of Tuck's R.U.S.H. for Literacy. "My father had a phrase, 'He comes from people,' " Myers said in his introduction. "Justin Tuck comes from people who respected him as a child. I'm honored to present this award not only because I'm a Giants fan, but because Justin Tuck believes in children as I do." Tuck said that growing up in Kellyton, Ala., he and his five sisters and a brother didn't go many places. "If you want to go somewhere, pick up a book," his mother told Tuck. He addressed the audience of authors and artists and said, "You are the reason I took my education seriously. When you're building a house, start with the foundation, start with literacy." Promising to keep the good times rolling, Tuck added, referring to his team's Super Bowl championships, "I want to say to all the Patriots fans, Cowboy fans, Eagles--I got two!"
Seventh-grader Alex Shinder stole the show with her introductory remarks for S.E. Hinton, saying she loved The Outsiders because it echoed her values, her family and staying true to yourself. "Staying gold is the most important thing we do," Shinder said, quoting from the book. "Please welcome my favorite author of all time: S.E. Hinton!"
The nonprofit organization First Book will donate 5,000 books in the name of each of the 2012 Children's Choice Book Award winners--30,000 in all. (See the Children's Book Week events taking place across the nation here.) --Jennifer M. Brown
The complete list of Children's Choice Book Award winners:
Author of the Year: Jeff Kinney for Diary of a Wimpy Kid 6: Cabin Fever (Amulet Books/Abrams)
Illustrator of the Year: Brian Selznick for Wonderstruck (Scholastic)
Kindergarten to Second Grade Book of the Year: Three Hens and a Peacock by Lester L. Laminack, illustrated by Henry Cole (Peachtree)
Third Grade to Fourth Grade Book of the Year: Bad Kitty Meets the Baby by Nick Bruel (Neal Porter/Roaring Brook)
Fifth Grade to Sixth Grade Book of the Year: Okay for Now by Gary D. Schmidt (Clarion/HMH)
Teen Book of the Year: Clockwork Prince: The Infernal Devices, Book Two by Cassandra Clare (Margaret K. McElderry Books/S&S)


Food Book Fair Debuts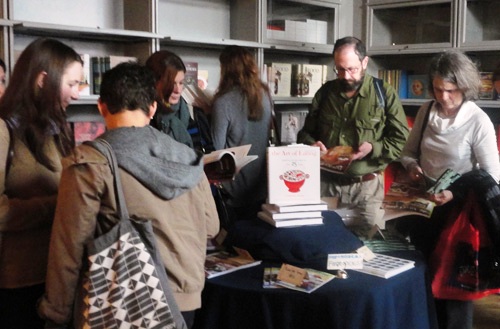 Less than a week after opening in Williamsburg, Brooklyn, N.Y., the Wythe Hotel hosted a pop-up bookstore in its lobby to accompany the inaugural Food Book Fair, a three-day celebration of books and magazines about food and food culture. Managed by Mobile Libris, an independent vendor specializing in on-location sales, the store featured more than 80 books, and not just titles associated with guest speakers such as nutrition expert Marion Nestle and chef April Broomfield. (Abrams and Rodale, which participated in the fair as "publishing partners," were healthily represented.) The Wythe's event space was set up to seat 125 attendees, and Food Book Fair organizers estimated that each panel was drawing at least a 75% capacity audience.
During one Saturday afternoon session on "Food + Cooking + Change," Peter Kaminsky (Culinary Intelligence) spoke with chefs and food activists Tamara Adler, Mona Talbott and Bryant Terry about food issues as a driver of social change. "I can't talk about food justice without talking about social justice," said Terry (The Inspired Vegan). "I can talk about these issues theoretically, but we need to talk about poverty; we need to address the material conditions that will make people feel safe and comfortable." Terry added that if food activists want to succeed in transforming eating habits, they need to abandon the model of well-meaning people of privilege coming to poor communities and teaching people how to live without actively engaging the community's stakeholders and learning from their local traditions. "If you don't have somebody in the community taking over in five years as part of your plan," he warned, "you're just playing games."
"None of the changes we need will work unless we learn how to cook," Adler (An Everlasting Meal) added; we can talk about eating less meat, but that won't matter if we continue to rely on the large portions in restaurants and fast food chains rather than learning how to prepare smaller dishes for ourselves. But, Talbott (Zuppe) cautioned, while cooking shows can inspire, "you can only learn to cook at the stove. The grandmother is the ultimate cooking teacher in the world." Luckily, as Kaminsky observed, "cooking something that's delicious, when you start with something that's delicious, is not that rarefied an art."
During the subsequent "Food + Lit + Mags" panel, editors from several food magazines discussed their publishing philosophies. "I was writing for myself about the the kinds of things a civilized person would like to know and ought to know about food," said Ed Behr, founder of The Art of Eating. "We use recipes as a hook," said Anna Dunn of Diner Journal. "They give us a gateway to talk about whatever we want to talk about." Peter Meehan concurred with this personal approach, describing how he envisioned Lucky Peach as a venue for stories he'd never been able to get accepted at other food magazines.
The panelists also spoke about the challenges of publishing on paper in the age of digital media. "To curl up with a print magazine is my favorite thing to do," admitted Sasha Wizensky of Meatpaper, "and people still want to build a library." "You have to have a compelling reason to be print, though," said Swallow creative director James Casey. As an example, an upcoming issue on Mexico City will feature about 20 sample smells bound in with the pages: "That's something you're not going to be able to do on the Internet," he boasted. --Ron Hogan


Los Angeles Times Books Editor to Retire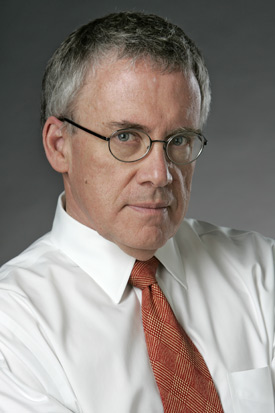 Jon Thurber, books editor at the Los Angeles Times since 2010, plans to retire early this summer after more than 40 years with the newspaper, Jacket Copy reported.

In an e-mail to staff, Times editor Davan Maharaj and Alice Short, assistant managing editor for features, praised Thurber's work as books editor, calling him "a steady guide of that important part of our mission, helping to shape daily and Sunday newspaper coverage as well as develop special sections for holiday books and summer reading."



Airline Miles for E-Books

A new deal between online retailer Diesel eBook Store and Koinz Media, a rewards points company, "lets people redeem their bank and hotel rewards points and airline miles for e-books. But Kindle e-reader owners won't benefit," paidContent reported, noting that a catalogue of only 200 e-books from Diesel's three million titles will be available under the new program.

In a statement, Diesel said "We invested in a new platform a year ago with the idea that these types of channels were going to be key markets in the future and it's great to see this playing out."

PaidContent noted that eight-year-old Diesel "has struggled to gain market share against larger players like Amazon, Barnes & Noble and Apple. This deal could help, but Diesel's titles can't be read on e-ink Kindles, only through a sideloaded app on the Kindle Fire. Since Kindle is by far the most popular e-reading platform, that limits the number of users who will actually be able to redeem points for e-books."



Banbury Cross Children's Bookshop to Close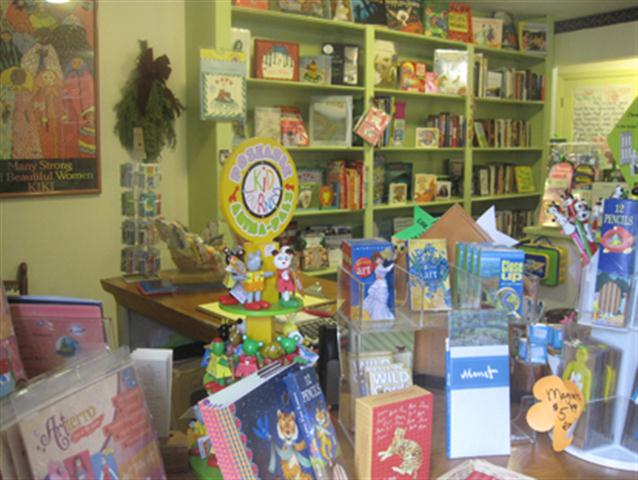 After a quarter of a century in business as a "mission-driven" store, Banbury Cross Children's Bookshop, Wenham, Mass., will close June 15. Owner Pat Purdy told the Hamilton-Wenham Patch that changes in her customers' buying habits and other factors influenced her decision.

"We've had faithful, wonderful customers that have been committed to what we do," she said, but business had still dropped "precipitously" recently.

"It is not the economy," Purdy added, noting that online sales tax breaks are a more significant issue. She has told legislators: "You are not working to make it a level playing field."

She also noted that newer parents have grown up online themselves: "That is their world. I get it.... Independent bookstores are just going to have to adapt and figure it out." Human interaction, however, is what she offered shoppers as an "integral part of what we do.... I do not fault technology. There needs to be a balance."

When ordering books, Purdy always asked herself, "What is this book going to bring to a life of a child?... We've always stayed true to our mission."



Obituary Notes: Bill Granger; David Bowman
Bill Granger, a journalist turned novelist "whose fiction alternated between international spy thrillers and police procedurals set on the gritty streets of Chicago--and occasionally blended both," died last month, the New York Times reported. He was 70.

---

David Bowman, "whose first two books, Let the Dog Drive and Bunny Modern, received wide praise in the 1990s for their satirical voice," died in February, the New York Times wrote, noting that his wife did not announce his death until last week. He was 54.



Notes
Image of the Day: Book Lovers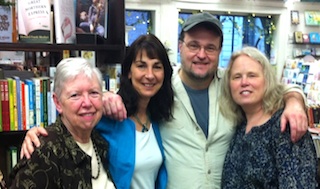 Last Friday, during the town's monthly First Friday arts celebration, Otto's Bookstore, Williamsport, Pa., hosted a signing for Maryann McFadden and her newest novel, The Book Lover (Three Women Press). The bookstore featured in the novel is based in part on Otto's, and an event that occurred in Otto's in 2007 made its way into the book: working with the staff, Bookstore Tourism founder Larry Portzline proposed to his wife. Here from l.: Otto's owner Betsy Rider; author McFadden; Portzline; and Portzline's wife, Deb.


NBF Honors 'Innovations in Reading'

The National Book Foundation announced the winners of its 2012 Innovations in Reading prizes, which are awarded "to individuals and institutions--or partnerships between the two--that have developed innovative means of creating and sustaining a lifelong love of reading."

This year's recipients are Bookends, a TV program in Fort Collins, Colo., that promotes reading through a forum to which teens can relate; Lilli Leight, who is developing a "reading ecosystem" in her community of Coral Gables, Fla.; Literacy Chicago for Reading Against the Odds, a reading discussion group committed to enhancing the reading and critical thinking skills of adult literacy learners; Street Books, a bicycle-powered mobile library serving people in Portland, Ore., who lack identification or proof of address; and Inger Upchurch for Real Men Read Storytime and Mentoring, a reading program for children enrolled in urban child care centers in Memphis, Tenn.



Cash Mob of the Day: Get Ready, R.J. Julia!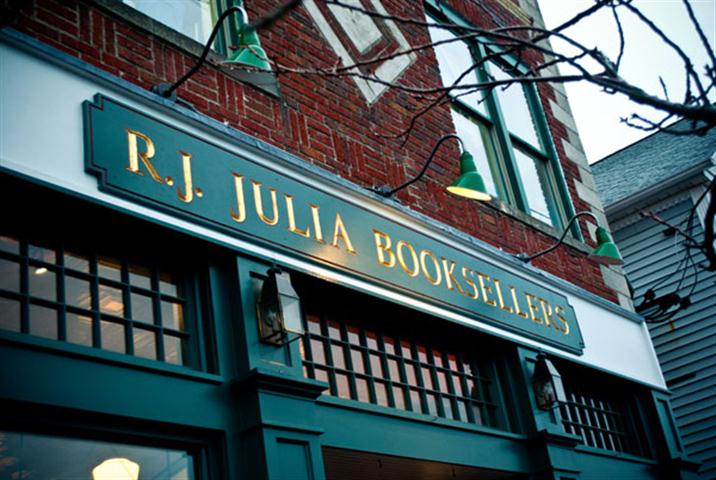 R.J. Julia Booksellers, Madison, Conn., will be invaded by a cash mob on May 19 "if all goes according to plan," the New Haven Register reported. The bookshop is scheduled to be the first in a series of cash mob events planned for the region. Cash Mob CT updates can be found on Facebook and Twitter.

"You just show the love to your local retailer," said Barbara Malmberg, director of marketing for Visit New Haven and REX, a public/private partnership promoting economic development in South Central Connecticut.

She added that the indie bookstore was chosen for the first event "because it does so much for the community and there seems to be confusion about whether the business is being sold or closing. They are selling, not closing," the Register noted.

R.J. Julia manager Lori Fazio said that the shop is "continuing to thrive" despite public confusion about its status.



Crow Bookshop: 'Buy Books Online from the Local Guy'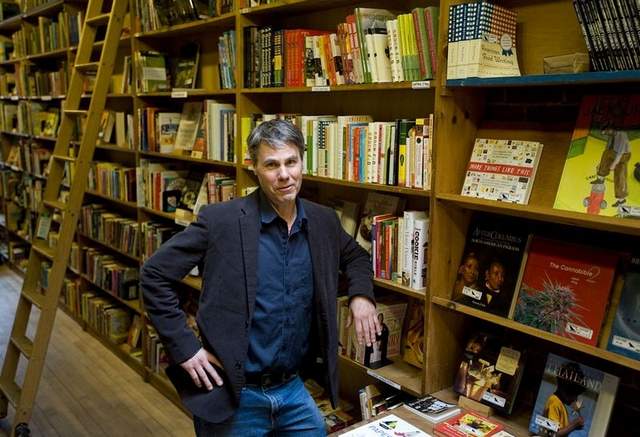 "We're going to give people a chance to buy books online from the local guy. I'm very excited about it," said Keith Terwillegar, owner of Crow Bookshop, Burlington, Vt., regarding the shop's recently launched website.

The Free Press profiled the downtown bookshop that sells new and used books as well as remainders and "hurts," for which Terwillegar offered an unusual description: "Really, it means their feelings were hurt because they were at a bookstore, they weren't sold and they were returned."

For the new website, his goal was to create an indie alternative for readers: "We are not creating algorithms based upon keystrokes and mouse clicks to hone, narrow and define our customers' interests."

Terwillegar also observed that "for the past 16 years, I haven't had to have a real job. It's been luxurious." As to the ongoing industry changes, he noted: "All of these things present challenges. We just try to do our own thing."

Even with the new website, however, he still prefers his Church Street bricks-and-mortar life: "We allow one to wander in a physical space with the hope that it will expand one's interests."
Photo: Emily McManamy, Free Press


Book Trailer of the Day: Jeneration X
Jeneration X: One Reluctant Adult's Attempt to Unarrest Her Arrested Development, or Why It's Never Too Late for Her Dumb Ass to Learn Why Froot Loops are Not Dinner by Jen Lancaster (NAL).


Media and Movies
Media Heat: Bill Bradley on MSNBC's Morning Joe
This morning on MSNBC's Morning Joe: Bill Bradley, author of We Can All Do Better (Vanguard, $24.99, 9781593157296).

---

Tomorrow morning on the Today Show: James Patterson, co-author of two new books, 11th Hour (Little, Brown, $27.99, 9780316097499) and Middle School: Get Me out of Here! (Little, Brown, $15.99, 9780316206716).

---

Tomorrow morning on CBS This Morning: Christopher Buckley, author of They Eat Puppies, Don't They? (Twelve/Hachette, $25.99, 9780446540971). He will also be on the Charlie Rose Show tomorrow night.
---

Tomorrow on NPR's Fresh Air: Gretchen Reynolds, author of The First 20 Minutes: Surprising Science Reveals How We Can: Exercise Better, Train Smarter, Live Longer (Hudson Street Press, $25.95, 9781594630934).

---

Tomorrow on the View: John Stossel, author of No, They Can't: Why Government Fails--But Individuals Succeed (Threshold Editions, $27, 9781451640946).

---

Tomorrow night on Late Night with Jimmy Fallon: Giada De Laurentiis, author of Weeknights with Giada: Quick and Simple Recipes to Revamp Dinner (Clarkson Potter, $35, 9780307451026).




Thinking Person's Summer Movie Preview
"After sorting through the piles of pulp and popcorn Hollywood plans to dole out over the next three months," Word & Film featured a "Thinking Person's 2012 Summer Movie Preview (Or 8 Reasons to Escape the Tyranny of Escapism)," highlighting films that will encourage you to "retreat into a dark, windowless space this summer.... To satisfy the statistics nerds and cultural gadflies among us, we've ranked our selections--all literary-cinematic hybrids--in terms of overall quality and potency as a fast-acting antidote to the inevitable onset of sequelitis."



Movie Visuals: Lawless; Anna Karenina
Noting that "Christmas for arthouse fans is just around the corner with the Cannes Film Festival, Indiewire featured new photos from John Hillcoat's Lawless, based on the novel by Matt Bondurant and starring Tom Hardy, Jessica Chastain, Shia LaBeouf and Gary Oldman. The film opens August 31.

A new photo from the Joe Wright adaptation of Tolstoy's Anna Karenina was also released. "To help tell the classic tale, Wright has reteamed with his frequent collaborator Keira Knightley (Atonement, Pride & Prejudice) and rounded up a pretty solid cast including Jude Law, Aaron Johnson, Matthew Macfayden, Ruth Wilson, Olivia Williams and Domhnall Gleeson," Indiewire wrote.




Books & Authors
Awards: Caine Prize for African Writing
This year's finalists for the £10,000 (US$16,197) Caine Prize for African Writing--sometimes referred to as the "African Booker"--include "Bombay's Republic" by Rotimi Babatunde from Mirabilia Review; "Urban Zoning" by Billy Kahoa from McSweeney's; "Love on Trial" by Stanley Kenani from For Honour and Other Stories (eKhaya/Random House Struik); "La Salle de Depart" by Melissa Tandiwe Myambo from online journal Prick of the Spindle; and "Hunter Emmanuel" by Constance Myburgh from Jungle Jim magazine, the Bookseller reported. The winner will be announced July 2 in Oxford. You can read the stories here.




Book Review
Review: The Listeners
The Listeners by Leni Zumas (Tin House, $15.95 paperback, 9781935639299, May 2012)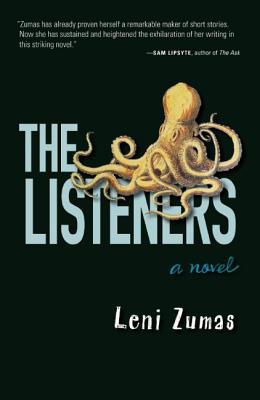 In the classic sense of the term, The Listeners is gut-wrenching in that it's the story of a life haunted by adolescent trauma, of dreams cut brutally short--a story that involves a betrayal, an eating disorder and a stray bullet. But "gut-wrenching" is also the fittest way to describe Leni Zumas's debut novel because she wants to wrench your gut, as literally as a gut can be wrenched. Sometimes gory and thoroughly stunning, The Listeners is a book concerned with the fraught relationship between psyche and flesh.
Once a rising punk rock star with the promise of a major record deal, Quinn is in her mid-30s, broke and languishing in obscurity. Her life is defined by two tragedies: the roadside disaster that destroyed her deepest friendship and her career, and the violent death of her younger sister 20 years before. Bodily intact but profoundly traumatized, she can no longer listen to music, and she marks her days with shifts at a failing bookstore, smoke breaks and obligatory dinners with her parents and brother. Raw descriptions of her perception of food puncture these forcedly cheerful dinner scenes; Quinn, who discovered her sister's body while their mother's pancakes smoldered on the stove, sees blood in every meal.
Like her lost sister, Quinn also has synesthesia--food and music not only mark her various traumas but send her into intense sensory overload. This is torture for Quinn, but gives Zumas the opportunity for wildly inventive descriptions. "My melodies were blue or silver or bruise," she remembers of her color-directed performances. "Like runny fabric they bled behind my eyes." Others are more subtle, like when Quinn poignantly remembers her sister's aptitude for smelling "on a book the reaction of the last person to read it."
Throughout, Zumas mixes up language like Quinn mixes up senses, and the effect is sublime. Quinn observes "spruce girls with calamity cuts" and describes two other characters "chattering like teeth in love." She classifies herself as "the boyest" among her siblings, and remembers playing to a crowd "bred in the suburbs but wild to catch a plague of streets."
The energy of these phrases lend a vital spark to the story as Quinn weaves dizzily between past and present. There's a twisted sort of hope in there, too, among the pain and loss. But should you pick up The Listeners (and you should!), expect both a wrenched gut and a rent heart. --Hannah Calkins
Shelf Talker: Vivid, synesthetic prose electrifies a viscerally powerful debut novel about an ex-punk rocker navigating the ever-reverberating tragedies of her life.


The Bestsellers
Top Book Club Books in April
The following were the most popular book club books during April based on votes from readers and leaders of more than 32,000 book clubs registered at Bookmovement.com:

1. The Hunger Games by Suzanne Collins
2. Fifty Shades of Grey: Book One of the Fifty Shades Trilogy by E.L. James
3. Defending Jacob: A Novel by William Landay
4. The Paris Wife: A Novel by Paula McLain
5. The Night Circus by Erin Morgenstern
6. Unbroken: A World War II Story of Survival, Resilience and Redemption by Laura Hillenbrand
7. Before I Go to Sleep: A Novel by S.J. Watson
8. Cutting for Stone by Abraham Verghese
9. Room: A Novel by Emma Donoghue
10. The Immortal Life of Henrietta Lacks by Rebecca Skloot

Rising Stars:

The Weird Sisters by Eleanor Brown
The Fault in Our Stars by John Green

[Many thanks to Bookmovement.com!]