Shelf Awareness for Friday, May 11, 2012

News
Amazon: Three Likely Stories
Amazon is "likely" to launch color Kindle e-readers in the second half of this year, DigiTimes reported.

Citing "industry sources," DigiTimes said that the new color e-book readers "will be built with multi-touch capacitive touch panels instead of infrared touch panels used in the previous mono-color e-book readers." The company is apparently using color products from E Ink Holdings.

The Kindle Fire tablet has a color screen.
---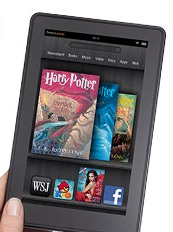 Amazon has licensed the right to lend e-versions of the Harry Potter titles in the U.S., the Wall Street Journal reported. Beginning June 19, the seven titles join the company's lending program, available to Amazon Prime members who own Kindles, that allows them to lend titles on a once-a-month basis. There are nearly 150,000 titles available for lending.

James McQuivey, an analyst at Forrester Research, called the fee Amazon is likely paying to license the titles "a wizard's ransom," adding that the company is probably paying "tens of millions of dollars" for the lending library in total. This investment suggests, as the paper wrote, that "the program is paying for itself in terms of additional book sales and the sales of unrelated merchandise that consumers may purchase when they return to the site to borrow a book."

"You're also picking up a shirt for the summer, and maybe some bug spray," McQuivey told the Journal. "They've had enough time to know if it's worth their while."
---
And in the most important Amazon news, the Onion has run the following headline: "Court Orders Amazon.com to Adopt Bankrupt Bookstores' Cats."


Japan Will Get Hogwarts Campus by 2014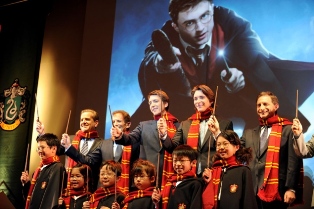 The Wizarding World of Harry Potter, which launched two years ago at Universal Orlando Resort, is heading to Japan. Yesterday, Universal Studios Japan--in partnership with Warner Bros. and Universal Parks & Resorts--announced the new development in Osaka, which will include Hogwarts castle, Hogsmeade and other themed attractions. Osaka Governor Ichiro Matsui was guest of honor for the announcement, along with more than a hundred fans dressed in Harry Potter attire.

"I was delighted to experience and enjoy the attention to detail, creativity and superb craft that went into the first Wizarding World in Orlando," said J.K. Rowling. "I am equally delighted that the same level of expertise and enjoyment will translate to the new park in Japan."

The Los Angeles Times reported that the Osaka destination is "expected to begin construction in the next few weeks with a planned opening in late 2014 and an expected cost of about $500 million."

Glenn Gumpel, president and CEO of Universal Studios Japan, said that adding the Harry Potter feature in Osaka "will create 480,000 new jobs in Japan over 10 years," Bloomberg wrote.



Deseret Opens New Idaho Store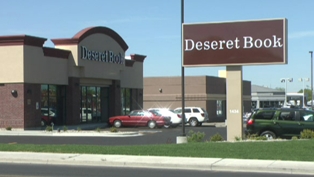 Deseret Book is opening a new location in Twin Falls, Idaho, on the southwest corner of Pole Line Road and Locust Street North. KMVT-TV reported that the shop "will also include LDS Distribution Services, which was previously located in Burley." The grand opening runs from May 11 through May 19.

"We've got a number of authors, a number of artists, musicians, movie producers, free chocolates," said store manager Rich Crowley. "I'm telling you, we've got the whole package for Mother's Day."



ABA Voting: Three New Board Terms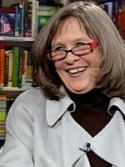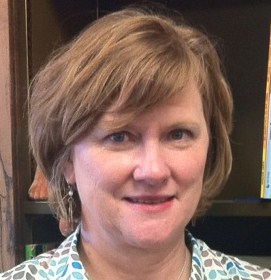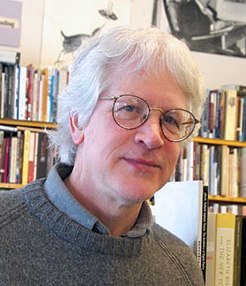 The results are in for the American Booksellers Association board vote. Betsy Burton of the King's English Bookshop, Salt Lake City, Utah; Valerie Koehler of Blue Willow Bookshop, Houston, Tex.; and Jonathon Welch of Talking Leaves, Buffalo, N.Y., have been elected to three-year terms as directors of the ABA, Bookselling This Week reported.
This will be Burton's second term and is the first term for Koehler and Welch. Koehler was appointed last spring to fill a new board seat. Welch fills the seat vacated by Beth Puffer, who has retired from the Bank Street Bookstore, New York City.


Northshire's Blue Ribbon for Green Efforts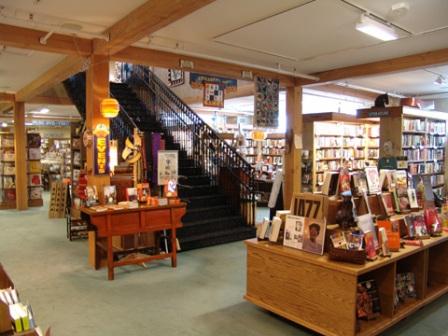 Congratulations to the Northshire Bookstore, Manchester Center, Vt., which has won, with Alan Benoit, the 2012 Governor's Award for Environmental Excellence in the small business category, according to the Rutland Herald.

Northshire said it was chosen because it "implemented renewable energy projects, installed a solar interactive education kiosk and partnered with local architect Alan Benoit, who has provided over 30 workshops on various sustainable living topics at the bookstore for the general public."

"I have strong passion for working on the myriad issues facing our species and planet," Northshire's general manager and co-owner Chris Morrow said. " 'Environment' is not separate from business or society--we live in a complex, interconnected world."




Obituary Note: C. David Heymann
C. David Heymann, "a literary biographer turned best-selling celebrity biographer," as the New York Times put it, died on Wednesday in New York City. He was 67.
Heymann began his career by publishing a biography of Ezra Pound and a biography of James Russell, Amy and Robert Lowell. He then shifted his attention to celebrities and wrote books on Elizabeth Taylor and a range of Kennedys. He was best known for Poor Little Rich Girl, his biography of Barbara Hutton, first published by Random House in 1983. Because of factual errors, the publisher recalled the book and destroyed all copies. The biography was published the next year in a different version by Lyle Stuart. Heymann blamed researchers for the errors.


Notes
Images of the Day: Peter Brown, Todd Parr Honor Sendak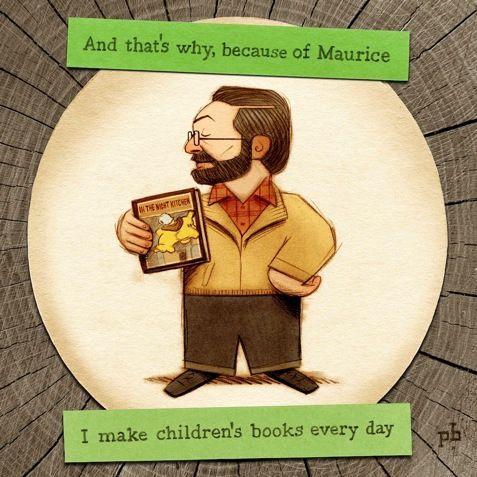 Among the many tributes to the late Maurice Sendak this week were two especially poignant ones from children's book author/illustrators Peter Brown and Todd Parr.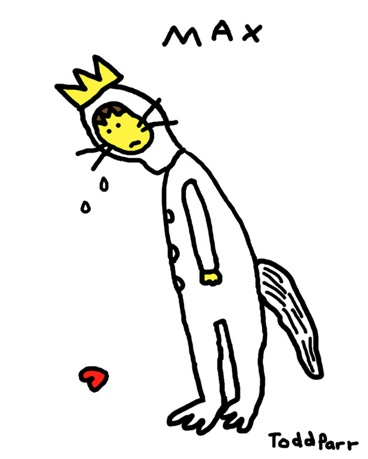 South America's 'Fabulous Libraries'
Mental Floss featured a quick tour of "11 fabulous libraries in South America."



Book Trailer of the Day: Beach House Memories
Beach House Memories by Mary Alice Monroe (Gallery).


Media and Movies
Media Heat: Martin Sheen and Emilio Estevez
Tomorrow morning on the Today Show: Martin Sheen and Emilio Estevez, authors of Along the Way (Free Press, $27, 9781451643688).

---

Tomorrow morning on Fox & Friends: A.J. Jacobs, author of Drop Dead Healthy (Simon & Schuster, $26, 9781416599074).

Also on Fox & Friends: Jill Smokler, author of Confessions of a Scary Mommy (Gallery, $26, 9781451673777).

---

Tomorrow on NPR's Weekend Edition: John Irving, author of In One Person: A Novel (Simon & Schuster, $28, 9781451664126).
---
Tomorrow on CBS's Saturday Edition: Vanessa Williams, author of You Have No Idea: A Famous Daughter, Her No-nonsense Mother, and How They Survived Pageants, Hollywood, Love, Loss (and Each Other) (Gotham, $28, 9781592407071).
---
Sunday on 60 Minutes: Henry A. Crumpton, author of The Art of Intelligence: Lessons from a Life in the CIA's Clandestine Service (Penguin, $27.95, 9781594203343).


TV: Monday Mornings
TNT has given a series order to a medical drama pilot from writer-producer David E. Kelley and practicing neurosurgeon/CNN chief medical correspondent Sanjay Gupta, Deadline.com reported. Based on Gupta's novel Monday Mornings, the project will star Ving Rhames and Alfred Molina. TNT has picked up 10 episodes for a premiere in summer 2013. Also in the cast are Jamie Bamber, Jennifer Finnigan, Bill Irwin, Keong Sim, Sarayu Rao and Emily Swallow.


"Monday Mornings is a superb drama brought to life with passion by a gifted ensemble cast and some of the best creative minds working in television today," said Michael Wright, TNT's head of programming. "Set at the fictional Chelsea General Hospital in Portland, Ore., Monday Mornings follows the lives of doctors as they push the limits of their abilities and confront their personal and professional failings. The title refers to the hospital's weekly morbidity and mortality conference, when doctors gather with their peers for a confidential review of complications and errors in patient care."


Novelists Winslow & Hogan Join Forces to Write Script
Calling it an "an intriguing pairing of two top crime novelists," Deadline.com reported that Don Winslow (Savages; The Winter of Frankie Machine) and Chuck Hogan (Prince of Thieves), are working together on a script that "is a contemporary crime thriller, of course, and it will be produced by Shane Salerno."

With a plot that involves "two men who inevitably collide," Winslow and Hogan will "each focus on one of the characters and meld the plot into a script that Salerno will bring to studios once it is completed," Deadline.com wrote, noting that "the deal comes at a time both authors are breaking out."

Salerno, who brought the two writers together, said, "While they will co-write the project together, one interesting aspect of this is that they will challenge each other on the page just as their characters face off against each other on the streets."



Books & Authors
Awards: Wolfson History Prize; Ondaatje Shortlist
The winners of this year's £25,000 (US$40,400) Wolfson History Prizes, awarded by the Wolfson Foundation to "promote and encourage standards of excellence in the writing of history for the general reading public," are Susie Harries for Nikolaus Pevsner: The Life and Alexandra Walsham for The Reformation of the Landscape.

---

Finalists have been named for the £10,000 (US$16,160) Royal Society of Literature Ondaatje Prize, which recognizes "for a distinguished work of fiction, non-fiction or poetry, evoking the spirit of a place," the Bookseller reported. The winner will be announced May 28 in London. This year's shortlisted titles are:

Thin Paths by Julia Blackburn
Edgelands by Paul Farley and Michael Symmons Roberts
The Sly Company of People Who Care by Rahul Bhattacharya
Open City by Teju Cole
To the River by Olivia Laing
Connemara by Tim Robinson




Book Brahmin: Emily St. John Mandel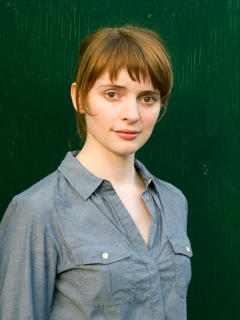 Emily St. John Mandel grew up in British Columbia, Canada, studied at the School of Toronto Dance Theatre, and lived briefly in Montreal before moving to New York. Her new novel, The Lola Quartet (just published by Unbridled Books in the U.S. and by McArthur & Company in Canada), is the #1 Indie Next pick for May. Her previous novels are Last Night in Montreal (also an Indie Next pick) and The Singer's Gun (#1 Indie Next pick for May 2010 and winner of an Indie Booksellers Choice award.) She is a staff writer for The Millions, and her short fiction will appear in the forthcoming anthology Venice Noir (Akashic, June 2012). She is married and lives in Brooklyn, N.Y.
On your nightstand now:
Paul LaFarge's Luminous Airplanes, Chiekh Hamidou Kane's Ambiguous Adventure and Jennifer Miller's Year of the Gadfly.
Favorite book when you were a child:
There were so many. I loved Alice in Wonderland, and also Susan Cooper's The Dark Is Rising series. Also, Catherine Anthony Clark's The Golden Pinecone, which seems to have been a strictly Canadian phenomenon; none of my American friends has ever heard of it. And The Lord of the Rings, the Chronicles of Narnia and a series of books involving a vampire bunny who sucked the juice out of vegetables.
Your top five authors:
I always find it impossible to narrow it down to five. But if I were to narrow it down to my top 20 or 30, and then pluck five names at random, those names might be Hemingway, J.D. Salinger, Norman Mailer, Jennifer Egan and Irène Némirovsky.
Book you've faked reading:
I've never faked reading a book. I have, however, faked liking a couple of books that I secretly found kind of mediocre, which is an unfortunate but indispensable survival tactic when one knows a lot of authors.
Book you're an evangelist for:
The book I've been evangelizing for the most lately has probably been Christopher Boucher's How to Keep Your Volkswagen Alive. It's a wonderful and wildly original novel.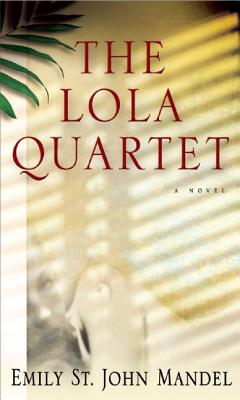 Book you've bought for the cover:
Roy Jacobsen's The Burnt-out Town of Miracles. A few years ago in Canada I bought a paperback edition with a gorgeous image of a cabin in a winter forest.
Book that changed your life:
I don't think I've read a book that truly changed my life. But I've read books that have changed the way I think, and in that category, I believe Adrian Nicole LeBlanc's Random Family should be required reading for anyone seeking to understand urban poverty in the United States. I've also read books that have changed the way I write, like Norman Mailer's The Executioner's Song--the beautiful simplicity of that prose!--and Dan Chaon's Await Your Reply, which has a remarkable structure to it.
Favorite line from a book:
From Alice in Wonderland: "'If everybody minded their own business,' said the Duchess in a hoarse growl, 'the world would go round a deal faster than it does.' " I've written this on the first page of every notebook I've owned since I was 11 or 12.
Book you most want to read again for the first time:
I wish I could read J.D. Salinger's Nine Stories again for the first time.
author photo by Miriam Berkley


Book Review
Review: Canada
Canada by Richard Ford (Ecco, $27.99 hardcover, 9780061692048, May 2012)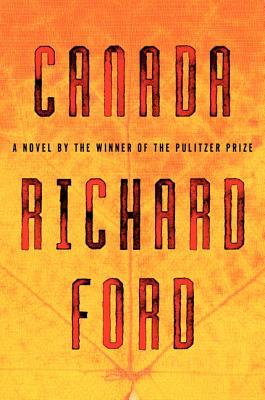 Few books begin with such a powerful narrative hook as Richard Ford's Canada: "First, I'll tell about the robbery our parents committed. Then about the murders, which happened later." Dell Parsons and his twin sister, Berner, are settled into their lives in Great Falls, Mont., in the 1950s. But their father, a World War II veteran, has a core of restlessness that is about to tear their family apart. He is aided in this by his wife, the twins' mother, whose dissatisfaction with rural life ends up dovetailing with the anarchic dreams of her husband just this one time.
Despite its forceful opening, Canada is a densely introspective novel, as Dell traces the psychological and emotional consequences of his parents' actions. He also attempts to understand their motivations, especially those of his mother, who he would have thought too smart and sophisticated to become a bank robber.
The enigma of his parents is, ultimately, one Dell will never have a chance to solve, as they are caught and imprisoned, separating him from them forever. The theme of boundaries that arises with this dilemma will resurface in the novel again and again: although the robbery has a cataclysmic effect on Dell's life, his parents did it for reasons that had nothing to do with him, with individual fates independent of his. Dell is more connected with his twin sister than any sibling could be, until she all but renounces her ties to him. There is the boundary between a normal childhood and a permanently traumatized one, which Dell crosses in the moment of his parents' arrest. And finally, Dell crosses the border from Montana into Saskatchewan, Canada, a physical boundary that represents his transition to a new life.
Ironically, though America is traditionally viewed as a place of transformation, here, Dell crosses out of the United States after his parents miserably fail to realize the American Dream. One would think that, in that case, Dell might find stability on the Canadian side of the border, where safety rather than transformation is meant to await him. As it turns out, though, once Dell reaches Canada, his troubles are just beginning. --Ilana Teitelbaum
Shelf Talker: When Dell Parsons' parents rob a bank together, he and his twin sister are thrown into a tailspin from which they never fully recover.


Ooops
Bobbling The Art of Fielding
As noted here yesterday, Costco book buyer Pennie Clark Ianniciello did indeed select The Art of Fielding by Chad Harbach as her May pick of the month, but we cited the wrong edition: the correct one is published by Back Bay Books ($14.99, 9780316126670). Its cover is at left. Our apologies for any confusion.


Deeper Understanding
Robert Gray: Good Mothers Make Great Characters, Too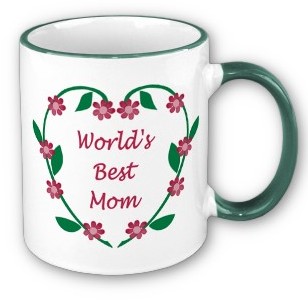 All fiction readers can easily--perhaps too easily--come up with a list of their favorite bad mother characters. There are hundreds of them on our bookshelves, dating back to ancient Greece.

Strangely enough, I can't ever recall a customer approaching me when I was a frontline bookseller and asking: "Can you recommend some great reads about really bad mothers?"

My all-time favorite bad fictional mom is tabloid journalist Hilary Winshaw in Jonathan Coe's malicious and delightful What a Carve Up! (released in the U.S. as The Winshaw Legacy). She's just one of the rotten limbs on a distinctly unscrupulous, Thatcher-era upper-class family tree.

In a great scene, Hilary is interviewed by a magazine about how she handles being a career woman and a new mother. She exults in public exclamations of maternal bliss ("But one glimpse of Josephine and it all seemed worthwhile. It was an amazing feeling.") for the reporter, but also has this brief exchange with her child's nanny:


Hilary stared malevolently at her daughter, watching her face crumple as she gathered breath for another scream.
"Now what's the matter with it?" she said.
"Just wind, I think," said the nanny.
Hilary fanned herself with the menu. "Well can't you take it outside for a while? It's showing us up in front of everybody."

As a maternal antidote to recollections of that scene, I've been monitoring my e-mail inbox for bookseller e-newsletters extolling the nicer side of motherhood, as well as a few intriguing gift options.

Green Apple Books, San Francisco, Calif., suggested buying a gift card for mom "and send her in to Green Apple this Sunday. Order online and we'll have the gift card waiting here. Further, we'll pour her a mimosa (on the house, of course), and help her pick out something good to read."

The Odyssey Bookshop, South Hadley, Mass., recommended giving "her something more interesting than your tweet updates to read."

Books & Company, Oconomowoc, Wis., noted that it had "received our first order of chocolate bars from Waukesha's own Indulgence Chocolatiers. Yummy! Just in time for Mother's Day. A few books and a bar of chocolate would make the perfect gift (moms, I think it is okay to forward this e-mail to those responsible for the gift giving in your life)."

What would your mother really like for her special day? Forbes reported that "what dads and kids think moms want for Mother's Day doesn't actually match up." A Harris Interactive survey in April found that 48% of women want a spa day, while 72% of men thought their moms wanted flowers.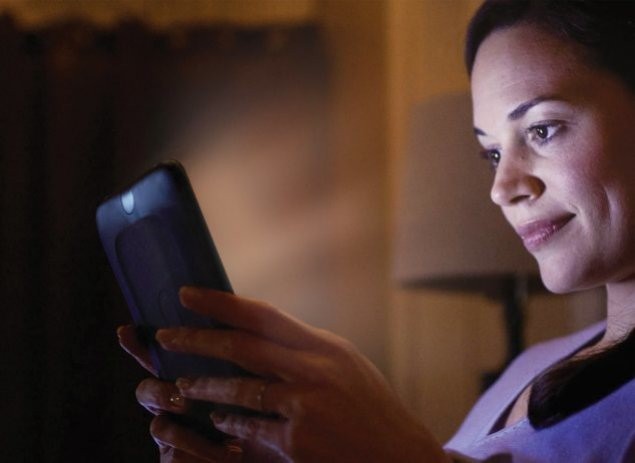 My own choice was easier this year. Since my mother is allergic to flowers and chocolate, I opted for an e-reader (don't tell her!) because of the adjustable type sizes. My choice is apparently on the crest of a new, post-Hallmark mom tech-wave. The Harris survey discovered that technology is gaining serious ground on flora in the Mother's Day gift race, with 30% of women saying they'd prefer a smartphone or tablet.

The e-newsletter monitoring strategy worked, by the way. I was able to shed my fictional bad mother obsession, especially after reading this nice story from McLean & Eakin Bookstore, Petoskey Mich.:


Last week, there was a darling little boy in the store with his mother. If he couldn't see her, he would say, "Mom?... Mom?... Mom?" until he could see her again. It was darling for about 5 minutes and darling ended when the volume of the question rose over a certain number of decibels... and until he had to show her every. single. thing. he. saw. regardless of the conversation she was having with a friend. After that, I started thinking, "How long is this kid going to depend on his mother? Seriously, he's like 5 already. Can't he grow up?" I really wanted to share the story with my mom and have a good laugh over it. She's the only one who really gets my humor about these situations... wait... How long am I going to depend on my mother? Seriously, I'm like 35 already. Can't I grow up? No, probably not. I am constantly trying to show my mother books too. She and the mother in our store had something in common: patience. I can't even count the number of times I've told my mother about a book I'm reading, and I'm sure she was bored stiff, but she has always acted interested. Just like dance recitals, cheerleading camp, band, and choir. My god. The choir recitals must have been the worst. In honor of my mom, I will list some of the books SHE'S loved lately.

Good mothers make great characters, too. Happy Mother's Day! --Robert Gray, contributing editor (column archives available at Fresh Eyes Now)