Shelf Awareness for Wednesday, May 16, 2012

Quotation of the Day
The Real Competition: 'Not Reading'
"Today the real competition for booksellers, publishers and libraries is NOT READING.... Libraries have, for a very long time, been battling competition from not reading. They're experts in this area--which is why they made such consistent inroads as an early competitor to booksellers and a thorn-in-the-side of publishers.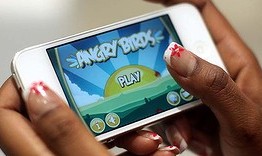 "The not reading competition is now beyond libraries, however. It is forcing libraries, booksellers and ultimately authors to move, quickly, to remain a relevant and highly valuable resource for readers.... It can be done--but booksellers, libraries and authors need even more help. Here's where the publishers come in.... Everyone in the ecosystem needs to step up to the plate and prepare to take back reading or an industry will be lost for everyone."
--
Chris Rechtsteiner
in a Digital Book World post headlined "Booksellers v. Libraries? Publishers v. Amazon? These are the wrong battles to fight"


News
Bookstore Sales Drop 3.8% in March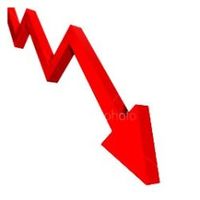 March bookstore sales fell 3.8%, to $922 million, compared to March 2011, according to preliminary estimates from the Census Bureau. For the year to date, bookstore sales have fallen 2.3%, to $3.94 billion. The Census Bureau also readjusted preliminary estimates of February bookstore sales down to $994 million from $1.05 billion.

In January, bookstore sales were even with the same period in the previous year, while in February, bookstore sales dropped 4%.

Total retail sales in March rose 7.5%, to $420 billion, compared to March 2011. For the year to date, total retail sales have risen 8.2%, to $1,157 billion.

Note: under Census Bureau definitions, bookstore sales are of new books and do not include "electronic home shopping, mail-order, or direct sale" or used book sales.




Amended Complaint: More on the States' Suit

On her Dear Author blog, Jane Little offers details from the states' amended complaint as well as the judge's decision not to dismiss the case in the class-action lawsuit about agency model e-book pricing against Apple, Macmillan and Penguin, with a focus on how, the states allege, the defendants first coordinated efforts to "window" e-books, i.e., release the e-book version months after the release of the hardcover.


Literary Life Bookstore & More... No More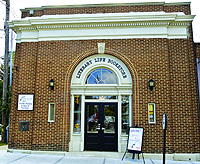 In an announcement that "leaves a bookstore-sized hole in the Wealthy Street Business District" of Grand Rapids, Mich., owner Roni Devlin said she will close Literary Life Bookstore & More this summer after five years in business, MLive.com reported.

"You have to sell enough books to keep the building paid for and the employees covered," she said. "We just didn't sell enough to do that."

On the store's website, Devlin wrote: "Sadly, the time has come to close our doors for good. We'd like to thank you for all of the support over the last few years--we've had an amazing number of wonderful literary conversations here, and your willingness to shop at our small, local, and independent bookstore won't be forgotten."

The store's financial picture "never approached true sustainability," despite operating free of state and local taxes until the city's Renaissance Zone benefits eclipsed last year, she told MLive.com, adding that she had decided from the beginning she would not continue putting personal funds into the business after the five-year mark.

"We really wanted to be a truly literary bookshop," she observed. "We had hoped to find enough people with a like-minded interest.... I don't think our closing is going to come as a big surprise to most people. A lot of customers would come in and express surprise that we were still open."



Obituary Note: Carlos Fuentes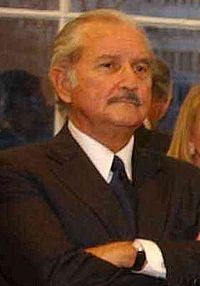 Carlos Fuentes, "Mexico's elegant public intellectual and grand man of letters, whose panoramic novels captured the complicated essence of his country's history for readers around the world," died yesterday, the New York Times reported. He was 83.



Notes
Image of the Day: And in Jimmy's Corner...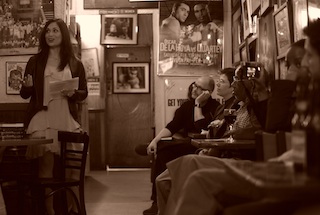 On Monday, legendary boxing bar Jimmy's Corner in Times Square, New York City, hosted an event for Theresa Runstedtler, author of Jack Johnson: Rebel Sojourner (University of California Press), a biography of the former heavyweight champion. Monday was both pub date for the book--and the 99th anniversary of Johnson's conviction for violating the Mann Act.
photo: Onrada Photography


Reading Book Spines: There's an App for That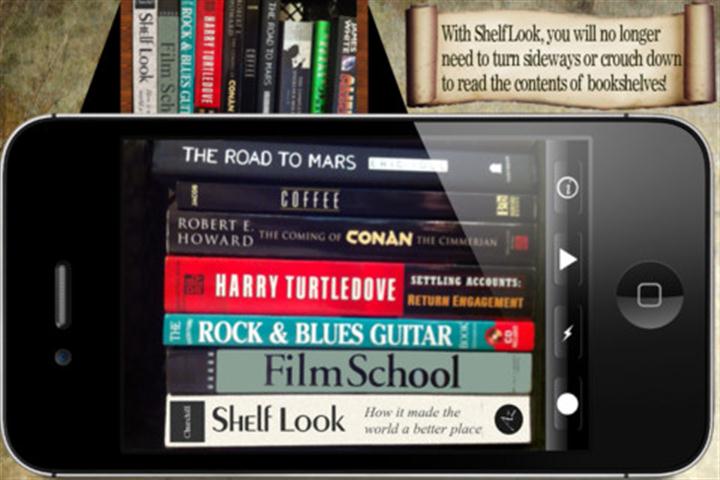 "Do you hate turning your neck sideways to read book titles at libraries and bookstores? Or scrunching down as well to view lower shelves?" If you answered yes to those questions, the ShelfLook iPhone app may be just what you're looking for. It is designed to allow users to hold an iPhone horizontally and read titles on the screen.



BIO's New Officers and Board Members
James McGrath Morris, whose most recent book is Pulitzer: A Life in Politics, Print, and Power, has been elected president of Biographers International Organization and Brian Jay Jones, who is completing a biography of Jim Henson, is the new vice-president. Both will assume the posts at the annual Compleat Biographer conference, which will be held this weekend in Los Angeles.

New BIO board members are Barbara Burkhardt, Chip Bishop, Patricia Brady and Linda Simon.

At the conference, the group's annual BIO Award will go to Arnold Rampersad.




Book Trailer of the Day: Radio Iris
Radio Iris by Anne-Marie Kinney (Two Dollar Radio).


Media and Movies
Media Heat: Ex-CIA Official Henry A. Crumpton
Tomorrow morning on Imus in the Morning: Ted Williams, author of A Golden Voice: How Faith, Hard Work, and Humility Brought Me from the Streets to Salvation (Gotham, $26, 9781592407149). He will also appear on the Tom Joyner Morning Show.

---

Tomorrow morning on MSNBC's Morning Joe: Henry A. Crumpton, author of The Art of Intelligence: Lessons from a Life in the CIA's Clandestine Service (Penguin, $27.95, 9781594203343). He will also appear on MSNBC's Last Word with Lawrence O'Donnell and CNN's Fareed Zakaria.

Also on Fareed Zakaria: Bernard Lewis, author of Notes on a Century: Reflections of a Middle East Historian (Viking, $28.95, 9780670023530).

---

Tomorrow on KCRW's Bookworm: Adam Levin, author of Hot Pink (McSweeney's, $22, 9781936365210). As the show put it: "The wild and crazy stories in Hot Pink have the mad, comic energy of the Marx Brothers. Adam Levin, who trained to be therapist, is influenced by the controversial behaviorist B.F. Skinner. These short stories are meticulously crafted as he keenly observes human behavior while the dialogue of his characters disguises and manipulates in classic Skinner fashion."

---

Tomorrow on CNN's Anderson: Billy Bob Thornton, author of The Billy Bob Tapes: A Cave Full of Ghosts (Morrow, $26.99, 9780062101778).

---

Tomorrow night on a repeat of the Colbert Report: Michelle Alexander, author of The New Jim Crow (New Press, $19.95, 9781595586438).




Movie Visuals: The Paperboy Clip; Under the Skin Pic
In anticipation of the film's debut at Cannes later this month, a brief clip of The Paperboy has been released. The project, based on Pete Dexter's novel and directed by Lee Daniels (Precious), stars Matthew McConaughey, Nicole Kidman, John Cusack and Zac Efron.

Indiewire noted that "we're still yet to be convinced that this has the heft to compete with the rest of the Cannes line-up. But it's a promising enough start for a film we certainly hope to see more of (and given that the clip is labelled #4, we imagine more footage will be revealed in the next few days)."

---

The first official image has been released of Scarlett Johansson starring in the film adaptation of Michael Faber's novel Under the Skin, directed by Jonathan Glazer (Sexy Beast, Birth). Indiewire reported called the project a "film we've been keeping an eye on, and hoping it will pop up somewhere on the 2012 calendar.... Well, the good news is two fold. Cineuropa has tweeted that the film is officially in post-production in London after shooting last fall, and they've included the first official image from the movie.... Whatever it turns out to be, our ticket is already sold."



TV: True Blood Trailer
HBO released a trailer for the fifth season of True Blood, the series based on the Sookie Stackhouse vampire series by Charlaine Harris. Entertainment Weekly called the "the bloody, fantastical" trailer for the new season--which premieres June 10--"spoilery."



Books & Authors
Awards: NYPL Young Lions; Independent Foreign Fiction
Karen Russell's novel Swamplandia! won the $10,000 New York Public Library's Young Lions award. NYPL president Tony Marx called the book "remarkable." Page Views reported that Russell was not present at the library Monday night for the ceremony, "and the award was accepted by her brother. It does not appear that Russell's lack of attendance was the result of an alligator attack."

---

Aharon Appelfeld won the Independent Foreign Fiction Prize for his novel Blooms of Darkness, the Guardian reported. The author and his translator, Jeffrey M. Green, each received £5,000 (US$8,049).

Hepzibah Anderson, one of the judges, called Blooms of Darkness "the very best book among some outstanding competition. What's so extraordinary about it is the way it continues to unfold and grow in the imagination long after you put it down. It's so sparely told, but Appelfeld somehow manages to fold entire stories into the silences between each chapter--each paragraph, even. It deserves to become a classic."



Book Brahmin: Cig Harvey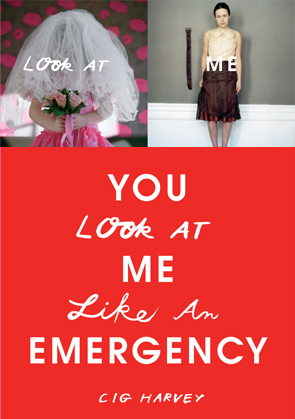 Since the age of 13, Cig Harvey has been captivated by and committed to the medium of photography. Readers will recognize her work on book covers for Katie Crouch, Joshilyn Jackson and Anita Shreve, among others. Harvey had her first solo museum show at the Stenersen Museum, Oslo, Norway, in this spring in conjunction with the release of her monograph You Look at Me Like an Emergency (Schilt Publishing, May 25, 2012). She and her husband, filmmaker Doug Stradley, live in Boston and on the Maine coast.
On your nightstand now:
1Q84 by Haruki Murakumi, but its hard-coverness is a barrier between us. I'm just not a lover of hardcovers, too formal. For me the sign of a well-loved book is just how dog-eared and scrunched the spine is and if the paper is crinkly from dropping it in the bath.
Favorite book when you were a child:
The Far Away Tree by Enid Blyton. Magical lands, slippery slopes, angry pixies and Mr. Watzisname. It all makes sense now.
Your top five authors:
All of these authors I read to the exclusion of everything else in my daily life. If ever I see someone walking down the street reading, I ALWAYS stop and find out the title. For me, there is no stronger endorsement. I think all these authors are extraordinarily visual in their approach: Michael Cunningham, Jeanette Winterson, Haruki Murakami, Raymond Carver, Wally Lamb.
Book you've faked reading:
War and Peace by Leo Tolstoy. I didn't intend to fake it, but I took it on holiday with me and it just didn't fit in with my cocktail schedule.
Book you're an evangelist for:
The God of Small Things by Arundhati Roy. It is a visual feast of a book. I have probably bought this book at least 25 times and given it to friends. I ask them not to tell me if they don't like it as I feel so strongly about this book that our friendship would shift slightly and I would look at them differently.
Book you've bought for the cover:
A vintage little number, I Married Adventure by Osa Johnson. It has a linen leopard skin cover. What is not to love? Oh, and anything by Maira Kalman; she makes the world a more magical place.
Book that changed your life:
I feel like all my favorites have changed me in some way or another. That is the beauty of a great book; some part of you will forever be different by the end of it.
Favorite line from a book:
"For any artist, time in plenty and an abundance of ideas are the necessary basics of creativity. By dreaming and idleness and then by intense self discipline does the artist live." --from Art Objects by Jeanette Winterson. I love this line because it makes me feel less guilty when I take a tiny afternoon nap.
Books you most want to read again for the first time:
The Poisonwood Bible by Barbara Kingsolver, Tinkers by Paul Harding and East of Eden by John Steinbeck.
Favorite author for whom you have made a book cover:
Joshilyn Jackson. I love her and love her books.


IndieBound: Other Indie Favorites
From last week's Indie bestseller lists, available at IndieBound.org, here are the recommended titles, which are also Indie Next Great Reads:

Hardcover

Faith Bass Darling's Last Garage Sale: A Novel by Lynda Rutledge (Amy Einhorn Books/Putnam, $25.95, 9780399157196). "Is Faith Bass Darling really selling her priceless Tiffany lamp for one dollar? Yes, and the rest of five generations of family heirlooms for whatever the customer can afford--not the thousands they are worth. Why is the richest lady in Bass, Texas, suddenly selling off her worldly possessions? Because God told her to. Rutledge's debut novel will tug at your heartstrings while posing important questions: Do our possessions possess us? Does the soul have a memory? Are the worlds you create really more significant than that which has created you? Read Faith Bass Darling's Last Garage Sale for the answers!" --Karen Briggs, Great Northern Books and Hobbies, Oscoda, Mich.

All Woman and Springtime by Brandon Jones (Algonquin, $24.95, 9781616200770). "Mr. Choy had the perfect business plan, with almost no cash outlay for staff. His porn business used North Korean refugees who had nowhere to run. Three young women who were taught from birth that there is no free will and that their every action must benefit the Glorious Leader are easy prey. One is beautiful, one brassy, and one has internalized all of her pain and thinks with numerical precision. This is a compelling and unflinching tale of personal survival, politics, and, above all, friendship that will stay with you. Astounding!" --Becky Milner, Vintage Books, Vancouver, Wash.

Paperback

A Deeper Darkness by J.T. Ellison (Mira, $14.95, 9780778313205). "Eleanor Donavon doesn't believe her son's death resulted from a car-jacking gone bad, so she asks his former girlfriend, medical examiner Samantha (Sam) Owens, to perform a second autopsy. When Sam discovers a link between Eddie Donavon and another murder victim, she is drawn into the investigation. As the death toll increases, so does the mystery, until not just Sam, but also Donavon's wife and children are at risk as well. Tightly plotted and often surprising, this story drew me in and wouldn't let go. A gem!" --Keri Rojas, Cornerstone Cottage Kids, Hampton, Iowa

For Ages 9 to 12

A Diamond in the Desert by Kathryn Fitzmaurice (Viking, $16.99, 9780670012923). "Life in the Japanese internment camp at Gila River wasn't exactly easy or comfortable, but his love of baseball allows 12-year-old Tetsu to forget, however briefly, how much he misses his home, his dog, and his father. Fitzmaurice weaves a great story told from Tetsu's point of view and with all of the attention span of a young boy--some topics continue for pages, while other observations are brief and to the point. Based on interviews and true events, this story is a good introduction to the topic of Japanese internment during World War II, and demonstrates that baseball is truly an American pastime." --Rachel Dunham, Once Upon a Time, Montrose, Calif.

[Many thanks to IndieBound and the ABA!]




Book Review
YA Review: Keeping the Castle
Keeping the Castle by Patrice Kindl (Viking/Penguin, $16.99 hardcover, 272p., ages 12-up, 9780670014385, June 14, 2012)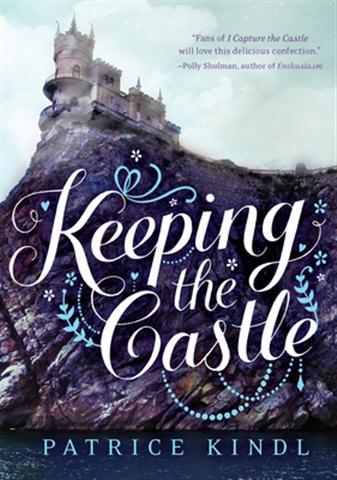 Readers who fell in love with Patrice Kindl's first novel, Owl in Love, have ceased to be surprised by the versatility with which she tackles a variety of genres, a tip of the hat to fairy tales, Greek myths and the like (Goose Chase; Lost in the Labyrinth). Her fans will feel that this latest novel was well worth the 10-year wait. Part farce, part comedy of manners, Keeping the Castle transports us to the era of Jane Austen, and a society where "ideal match" has little or nothing to do with the heart and all to do with title and, preferably, money.
Seventeen-year-old Althea Crawley may be "one of the most beautiful women in Europe," but she has no dowry and, as we say in modern society, no filter. But that makes her an irresistible narrator. Take this opening scene of courtship. "I love you, Althea--you are so beautiful," says Mr. Godalming. " 'I love you too,' I confessed. I averted my gaze and added privately, 'You are so rich.' Unfortunately, I apparently said this aloud." And there goes one of Althea's more promising prospective matches. How will she keep her family's (nicknamed "Crooked") castle from crumbling into the North Sea?
Luckily, word spreads that the heirs to Lord Boring's estate, in Lesser Hoo, plan to host a ball--and also to bring in some eligible London bachelors. Nearly everyone here masquerades as wealthier than he or she is, title or no. And narrator Althea is no exception. After her father's death, her mother remarried for wealth, but her second husband died swiftly, leaving her and Althea and little Andrew stuck with two more mouths to feed. Of marrying age, stepdaughters Prudence and Charity keep their purse strings tightly closed in order to preserve their dowries.
So with three marriageable young women in the house, and a parade of men from London, one can only imagine the shenanigans. The pleasure derives from Kindl's way with words, as when Lord Boring visits Crawley Castle: "I was pleased but not surprised to find that Lord Boring had come, and surprised but not pleased that he had brought along his unpleasant cousin." You might not think it possible to find anyone more filterless than Althea, but there he is: Mr. Fredericks, cousin to Lord Boring, who rifles through the Crawleys' tapestries and proclaims their portrait frames of "shoddy workmanship." Yet Andrew and Fido, a puppy given to Althea during a subsequent visit from Lord Boring and Mr. Fredericks, take a shine to the "unpleasant" fellow, so why can't Althea?
Kindl layers on the intrigue, some of it introduced by additional characters, such as the charming Miss Vincy, who paints Althea's portrait and to whom Althea takes an instant liking. Even though readers figure out her proper match before Althea does, her adventures are the stuff of great entertainment, and the witty repartee makes the pages fly. --Jennifer M. Brown
Shelf Talker: The latest novelistic feat from the author of Owl in Love--part farce, part comedy of manners, and all wit.