Shelf Awareness for Thursday, June 14, 2012

News
Bookstore Sales Up 3.8% in April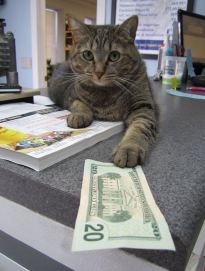 April bookstore sales rose 3.8%, to $907 million, compared to April 2011, according to preliminary estimates from the Census Bureau. For the year to date, bookstore sales have fallen 1.3%, to $4.84 billion.

In January, bookstore sales were even with the same period in the previous year, while in February and March bookstore sales dropped 4% and 3.8%, respectively.

Total retail sales in April rose 3.7%, to $398.7 billion, compared to April 2011. For the year to date, total retail sales have risen 6.9%, to $1,555 billion.

Note: under Census Bureau definitions, bookstore sales are of new books and do not include "electronic home shopping, mail-order, or direct sale" or used book sales.
image: macsworldwide.wordpress.com



Riggio Settles B&N Shareholder Lawsuit
Barnes & Noble founder and chairman Leonard Riggio agreed yesterday "to forgo $29 million from a sale of one of his companies to the book retailer in order to settle a shareholder lawsuit" regarding a controversial 2009 agreement in which B&N reacquired Barnes & Noble College Booksellers from Riggio for $514 million, Reuters reported.

The shareholders' suit alleged that the deal overvalued the college bookstores and enriched Riggio at their expense. As part of the settlement, Riggio and Barnes & Noble "agreed to support a fee for the shareholders' attorneys equal to one-third of the recovery," Reuters wrote, adding that the settlement is subject to approval by Delaware Court of Chancery judge Leo Strine.



Amazon Seeks Domain Names .book, .author, .fire...
Yesterday, Internet domain naming authority ICANN revealed the nearly 2,000 applications that have been filed, including several by Amazon. PaidContent reported that ICANN will evaluate applicants "on technical merits" and in some cases hold an auction. Applications cost a non-refundable $185,000 each.

Amazon is the only applicant for a number of the names, including ".author," ".audible," ".fire" and ".amazon," but is competing with other companies for other domain names like ".book" (Bowker has also applied for this one) and ".buy." PaidContent noted that "competitors for the '.book' name don't appear to be publishers but are instead Internet companies that make money selling website names."



N.H. Governor Vetoes J.D. Salinger Privacy Bill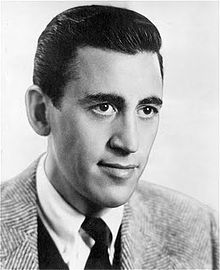 New Hampshire Governor John Lynch
vetoed a bill inspired by J.D. Salinger's family
to prevent the exploitation of his image. The
Concord Monitor
reported that Lynch exercised the veto of Senate Bill 175, which regulates the commercial use of a person's identity, because he said it "is overly broad, would potentially have a chilling effect on legitimate journalistic and expressive works that are protected by the New Hampshire and United States constitutions, and would invite rather than diminish litigation over legitimate journalistic and expressive use of a person's identity." It is not yet clear whether both houses of the Legislature have the two-thirds majority necessary to override the veto.

The bill had been filed at the request of the late author's son Matt Salinger, "who spent the last two years working with lawmakers to get it through the House and Senate," the Associated Press (via the Seattle Times) wrote.

"I'm stunned and just hugely disappointed that Gov. (John) Lynch saw fit to veto something that was the result of thousands of hours of well-intentioned, diligent, bipartisan work," Salinger said. "My father moved there in the '50s because it was beautiful but also because of a certain kind of respect for individual rights. He basically wanted to be left alone and do his work, and New Hampshire, he quickly sensed, respected that."



Book of Mormon Thief Nabbed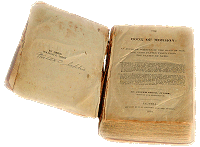 The rare original edition of The Book of Mormon that was stolen Memorial Day weekend from Helen Spencer Schlie's rare and out-of-print bookshop in Mesa, Ariz., has been found. The Arizona Republic reported that "agents from the U.S. Marshal's Service and the FBI served a search warrant at an apartment in the Washington, D.C., metro area and recovered the original 1830 copy of the book."

They arrested Jay Linford, who "is known to the victim and was present at her store during the time of the theft," said Mesa police spokesman Sgt. Tony Landato. Linford is in custody on a $40,000 cash-only bond and awaiting extradition to Arizona. Mesa police detectives "developed probable cause for Linford's arrest and asked the U.S. Marshal's Service and the FBI for assistance," the Republic wrote.

"I'm just happy that a historic piece of evidence was located and brought back to its rightful owner," said David Gonzales, U.S. marshal for Arizona.



For Sale: Phaidon Press
Phaidon Press has hired investment bank Greenhill to find a buyer. The Financial Times reported that Richard Schlagman, who purchased the publishing house from receivership in 1990, said "he had decided that it was time for another owner to lead its transition from a largely print business to the digital era of iPads, Kindles and other e-reading devices." Schlagman called the business "profitable and growing."

Greenhill "is thought to be at the early stages of the auction process, and has begun to send out an information memorandum to prospective buyers," the Financial Times noted.



Book Warehouse Store Reopens Under New Ownership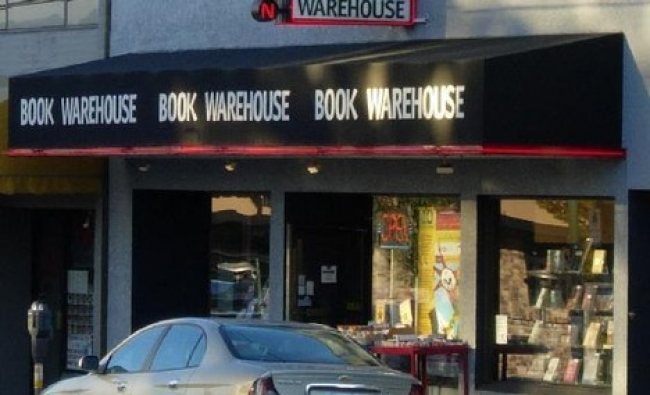 Black Bond Books has reopened the iconic Book Warehouse in Vancouver, B.C. Cathy Jesson, co-owner of the Canadian indie bookseller that now has 12 stores, told the Vancouver Sun first-week sales exceeded expectations, despite the limited time they had to re-stock or plan the reopening because of the last-minute deal to buy the bookshop.

"We were planning on a soft opening, but last Friday was far beyond our expectations," she said. "The customers have been wonderful, bringing in flowers and bringing in gifts--they're very happy."

Her daughter Caitlin is managing the Broadway store, which will retain the Book Warehouse name. "First there were the big box stores, then e-books and Amazon," Cathy said. "We just try to keep on going, which I think we have done a pretty good job of."

Book Warehouse closed its four stores last month when founder and co-owner Sharman King retired. Canada Newswire noted that King said she was "absolutely thrilled" with the development: "For over three decades Vancouver book lovers have been finding books and bargains at 632 West Broadway. We're delighted the tradition will continue in the good hands of Black Bond Books."



Notes
Image of the Day: Two Decades at IBPA's Helm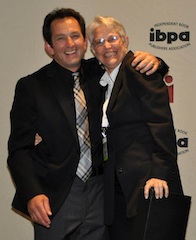 Last week at the Benjamin Franklin Awards, the Independent Book Publishers Association (formerly PMA) honored executive director Terry Nathan for 20 years of service to the association with an inscribed clock and testimonials read by legal counsel Jonathan Kirsch from president Florrie Binford Kichler, assistant director Lisa Krebs and several former IBPA board members, including Marcella Smith and Curt Matthews. Here Nathan (l.) with Jacqueline Zaleski Mackenzie, the Benjamin Franklin Award winner for education, for her title Empowering Spanish Speakers: Answers for Educators, Business People, and Friends of Latinos (Summerland Corp.).


Q: Who Is Sitting Pretty?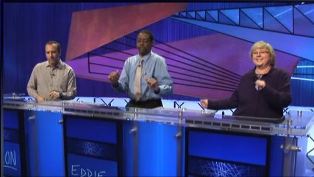 Jeopardy watch: After another night of play, Kathy Wright of the University Bookstore, Seattle, Wash., has won a grand total of $59,198.


Bookseller Video of the Day: DoJ ♥ Amazon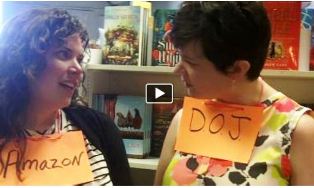 "Since we (along with other indie bookstores) sell e-books, we were saddened to find out that the U.S. State Department has entered a no-bid agreement with Amazon to provide e-readers to the DoS," noted McLean & Eakin Booksellers, Petoskey, Mich., on their Facebook page, where the bookstore noted: "We felt compelled to make a little video and share it with you all."



B&N Recommends Seating Arrangements
Seating Arrangements by Maggie Shipstead (Knopf) is the latest selection in the Barnes & Noble Recommends program, which emphasizes "the books our booksellers can't stop talking about."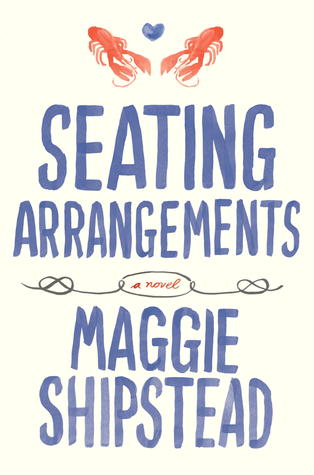 B&N commented: "By turns poignant and laugh-out-loud funny, Seating Arrangements is reminiscent of last summer's bestseller Maine by J. Courtney Sullivan, and also That Old Cape Magic by Richard Russo. A wedding may provide the setting, but it's Shipstead's characters that tell the story, a story of appearances and obligations, assumptions and expectations, avoidance and denial, with snappy, sharp dialogue. Maggie Shipstead was born in 1983 and grew up in Orange County, California. Her short fiction has appeared in Tin House, VQR, Glimmer Train and The Best American Short Stories. She is a graduate of the Iowa Writers Workshop and the recipient of a Stegner Fellowship from Stanford University."




Book Trailer of the Day: Z Is for Moose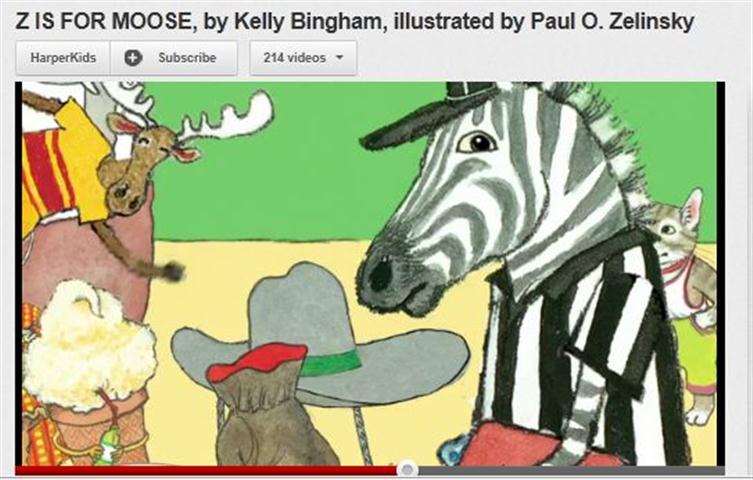 Book Trailer of the Day: Z Is for Moose starring author Kelly Bingham, artist Paul O. Zelinsky and, of course, MOOSE! (Greenwillow/HarperCollins)




Media and Movies
Media Heat: Buzz Bissinger on MSNBC's Morning Joe
Tomorrow on MSNBC's Morning Joe: Buzz Bissinger, author of Father's Day: A Journey into the Mind and Heart of My Extraordinary Son (Houghton Mifflin Harcourt, $26, 9780547816562).

---

Tomorrow on MSNBC's Dylan Ratigan Show: Dan Bucatinsky, author of Does This Baby Make Me Look Straight?: Confessions of a Gay Dad (Touchstone, $14.99, 9781451660739).

---

Tomorrow on Tavis Smiley: Chesley Sullenberger, author of Making a Difference: Stories of Vision and Courage from America's Leaders (Morrow, $26.99, 9780061924705).

---

Tomorrow on CNN's Newsroom with Kyra Phillips: Etan Thomas, author of Fatherhood: Rising to the Ultimate Challenge (NAL, $25.95, 9780451236739).




This Weekend on Book TV: Michelle Obama
Book TV airs on C-Span 2 this week from 8 a.m. Saturday to 8 a.m. Monday and focuses on political and historical books as well as the book industry. The following are highlights for this coming weekend. For more information, go to Book TV's website.

Saturday, June 16
9 a.m. Nancy Gibbs presents her book The Presidents Club: Inside the World's Most Exclusive Fraternity (S&S, $32.50, 9781439127704). (Re-airs Sunday at 11 p.m.)

2 p.m. Dan Rather discusses his book Rather Outspoken: My Life in the News (Grand Central, $27.99, 9781455502417). (Re-airs Sunday at 10 p.m.)

4:30 p.m. Ruchir Sharma talks about his book Breakout Nations: In Pursuit of the Next Economic Miracles (Norton, $26.95, 9780393080261). (Re-airs Sunday at 10:30 a.m.)

7 p.m. Book TV reports from Book Expo America, featuring interviews with authors and publishers as well as discussions on the current state of the publishing world.

9 p.m. First Lady Michelle Obama presents her book American Grown: The Story of the White House Kitchen Garden and Gardens Across America (Crown, $30, 9780307956026). (Re-airs Sunday at 4 p.m.)

10 p.m. Washington Post political reporter Nia-Malika Henderson interviews Jonah Goldberg, author of The Tyranny of Clichés: How Liberals Cheat in the War of Ideas (Sentinel, $27.95, 9781595230867). (Re-airs Saturday at 10 p.m., Sunday at 9 p.m. and Monday at 12 a.m. & 4 a.m.)

11 p.m. Bill Donohue discusses his book Why Catholicism Matters: How Catholic Virtues Can Reshape Society in the 21st Century (Image, $22.99, 9780307885333). (Re-airs Sunday at 8 a.m.)

Sunday, June 17
1 p.m. Book TV's coverage of BEA continues.

6 p.m. David Maraniss, author of Barack Obama: The Story (S&S, $32.50, 9781439160404), joins Book TV for a live interview and call-in program. Book TV documented the author's research trip to Kenya and will feature extensive video clips of that as well. (Re-airs Monday at 1 a.m.)



Books & Authors
Awards: Impac Dublin Literary; MPIBA's Reading the West
British author Jon McGregor won the €100,000 (US$125,912) International Impac Dublin Literary Award for his novel Even the Dogs. The Guardian reported that McGregor had been startled by the response to his book. "Since it came out in 2010 I've been really surprised by people's reactions to it," he said. "When I started writing it, it seemed it would be a difficult book to read--it was a difficult book to write. But I wanted to write the book I wanted to write without making concessions to how easy it was going to be to read--to people's squeamishness."

The judging panel called the winning novel "a fearless experiment" and a "masterpiece of narrative technique.... There is something bracingly generous about Even the Dogs. It credits readers with a willingness to engage with an experiment which requires us to roll up our sleeves and take authorship of the book as we piece together the lives of its characters."

---

Winners of this year's Mountains & Plains Independent Booksellers Association's Reading the West awards are:

Adult Fiction: The Voice of the River by Melanie Rae Thon (University of Alabama Press)
Adult Nonfiction: Fire Season: Field Notes from a Wilderness Lookout by Philip Connors (Ecco)
Children's: Missing on Superstition Mountain by Elise Broach and Antonio Javier Caparo (Holt)



Book Review
Review: The Frost on His Shoulders
The Frost on His Shoulders by Lorenzo Mediano, trans. by Lisa Dillman (Europa Editions, $15 paperback, 9781609450724, June 26, 2012)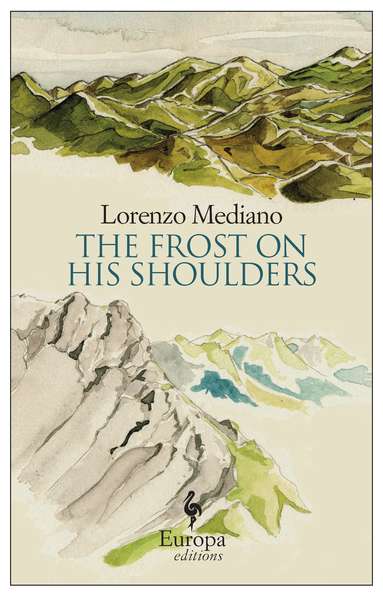 Lorenzo Mediano's The Frost on His Shoulders is a tight little masterpiece, told by an unnamed rural schoolteacher who begins by assuring us that the half column of print buried deep in the newspaper was wrong about the tragedy that happened in November 1934, in a very small, unimportant village in the Spanish Pyrenees, often confused with other villages. Despite police reports and more than 200 contradictory pages in a month of gathering evidence, only the teacher knows what really happened, because he witnessed it unfolding. "Of course, I might be wrong," he qualifies, "no one ever really knows for sure what dwells in men's hearts." He then recounts with disarming candor what he saw and heard, admitting what he doesn't know--the perfect narrator, the conscience of the village.
Ramón Gallar is a bright, handsome boy with blue eyes, a shepherd since he was eight, who loves reading and borrows books from the schoolteacher. He falls in love with Alba, the daughter of wealthy Don Mariano, the most powerful man in the mountains. Ramón works long, exhausting hours, saving the pittance he earns for a life with her. It's a harsh time, when people labor for 12 hours a day and sleep eight men to a haystack. Those who can't take it die young.
Scornfully rejected by the girl's father, Ramón defies Don Mariano, swearing that he will return with money, and becomes the legendary smuggler known as the Desperado, working the border into France. There's a folkloric, larger-than-life quality to Mediano's style of narration, like a tale told so often everyone knows it by heart--unadorned and straightforward, audience-pleasing, pure storytelling as the epic showdown between Ramón and Don Mariano draws near.
Laced with the fears and beliefs of a brutal mountain world, the novel builds relentlessly to an unexpectedly horrifying ending in which the worst of human nature seems to triumph. Every twist and turn in the story is crucial, however, and Mediano's melancholy schoolteacher brings it to a perfect surprise ending, confirming The Frost on His Shoulders as an old-fashioned folktale of forbidden love told with genuine suspense, unabashed enthusiasm for the genre and breathtaking control. --Nick DiMartino
Shelf Talker: A perfectly crafted tale of forbidden love in a Spanish mountain village in the 1930s, with tight prose that takes on a larger-than-life aura.