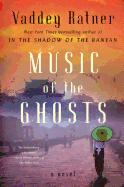 In 2012, Vaddey Ratner burst onto the literary scene with her New York Times bestselling autobiographical debut, In the Shadow of the Banyan, which told a partially fictionalized version of her childhood in war-torn Cambodia. In a second novel laden with as much beauty and sorrow as her first, Ratner returns to the blood-stained Khmer Rouge era but also leads readers into a modern-day nation still reeling from the brutalities of its recent past. With each exquisite turn of phrase, Ratner illuminates the physical and emotional landscape of a society healing while constantly confronted with reminders of its trauma.
As a child, Suteera escaped with her aunt Amara across the border of Thailand from a Cambodia where they had "no more home, only this land of open graves." The other members of her family, from her grandparents to her baby brother Rin, perished in the attempt to flee the Khmer Rouge, with one notable exception. Her father, Sokhon, disappeared into the jungle before the evacuation, and although she "can't help but believe he vanished violently," Teera knows she will likely never know how and where his life ended. Now a grown woman living in Minneapolis, a haven for refugees from many countries, Teera must make an emotionally harrowing journey back to her birth nation to lay her aunt's ashes to rest. In addition to the remains of her last relative, Teera carries a letter from an old man at the Buddhist temple of Wat Nagara who says he and Sokhon were interred together in Slak Daek, one of Pol Pot's secret security prisons. He has in his possession some musical instruments that once belonged to her father and wishes to pass them on to her. Signed "the Old Musician," his letter also includes a sentence fragment that might have become a deeper explanation of his relationship with her father had the writer not discontinued it and crossed it out. She longs for and dreads her meeting with this stranger who might tell her how her father died, ending her uncertainty but also any hope that Sokhon survived.
The Old Musician, "disfigured and half-blind," awaits Teera with mixed emotions as well, believing "[s]he will be his scourge, her loathing his final and lasting suffering." Treated with respect by the monks of Wat Nagara, he believes "that he could never be forgiven, that he did not deserve the charity and kindness he received, that his only salvation was in the realization of his own worthlessness, his evil and monstrosity," which he believes Teera will recognize. He will give her Sokhon's lute-like sadiev, the "ancient instrument used to invoke the spirits of the dead," which he plays for the temple. He will also give her the truth--that he once loved her mother, Channara, a diplomat's daughter with an imagination that could "weave an entire universe into existence, a world so intriguing you can lose yourself in it for days," and that he shared a bond infinitely more intimate and terrible with her father.
Newly returned to the land she fled, Teera confronts memories both harrowing and cherished. When she thinks of her father's sadiev, "[s]he remembers a song, not its name but its melody, each note like a drop of predawn rain on bamboo." As she comes to know the Old Musician, she also finds herself falling in love with his young friend Narunn, a former novice monk turned doctor whose drive to help others and buoyancy of spirit helps her to discover "the cartography of love, its ever-expanding frontiers."
Although less autobiographical than Ratner's first release, Music of the Ghosts also draws on the author's personal experience and invokes the hot, lush Cambodian landscape with her trademark lyrical imagery. Often achingly sad but ultimately uplifting, the story begins with a war refugee's experience of fear and flight but truly distinguishes itself by approaching the question of what comes next for a survivor. Told in three movements with a short prelude and a free-verse interlude, Ratner's story of survivors confronting their losses and rebuilding their lives resonates like a symphony. Flashbacks to Teera's childhood and the Old Musician's persecution as an educated man under the Khmer Rouge regime give the reader a visceral sense of terror and confusion and show the desperate actions torture will coerce from even the best of people. Taken in concert, their stories illustrate a nation forging its way through the aftermath of a toxic dictatorship; although the regime fell, citizens must now live alongside neighbors who hurt them or grapple with the guilt of their own actions, whether complicit or coerced. Ratner transcends the victim/villain dichotomy by bringing Teera and the Old Musician together to heal as fellow survivors rather than accuser and perpetrator. She also skillfully orchestrates Teera's emotional journey as she discovers that beneath the shroud of painful memories, her love for her first homeland still lives. Themes of loss and hope, survivors and the metaphorical ghosts that follow them, crescendo into a rich finale celebrating the resilience of the human spirit and the permanence of love despite the death of loved ones. Readers will shed happy and sad tears as they savor this reminder that regardless of past hurts, life is ours to live. --Jaclyn Fulwood