Shelf Awareness for Readers for Tuesday, September 20, 2011

Bookselling News
Found: Unpublished Novel by James M. Cain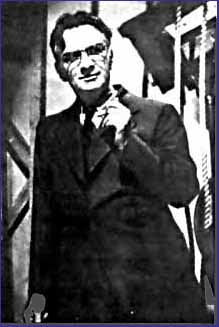 It took years to track down a rumored lost manuscript by James M. Cain, author of Mildred Pierce and The Postman Always Rings Twice, among others, but Charles Ardai, founder and editor of the small publishing house Hard Case Crime, finally found it and then obtained publishing rights. The Cocktail Waitress will be released by Hard Case Crime in the fall of 2012.

"Together with Dashiell Hammett and Raymond Chandler, James M. Cain is universally considered one of the three greatest writers of noir crime fiction who ever lived," said Ardai, "and for fans of the genre, The Cocktail Waitress is the Holy Grail. It's like finding a lost manuscript by Hemingway or a lost score by Gershwin."

In The Cocktail Waitress, a beautiful young widow whose husband died under suspicious circumstances takes a job as a waitress in a cocktail lounge, where she meets two new men: a handsome young schemer she falls in love with and a wealthy older man she marries.
Interior Design: Oxford University Meets Harry Potter
Traditionalists may be aghast, but Oxford University "has put its name to a range of sofas, dining tables and interior accessories to capitalize on its links with the Harry Potter films," the Telegraph reported, noting that the "400-year-old Bodleian Library gives its name to a £3,800 bookcase while John Radcliffe, physician to William III, is commemorated with a £1,700 red leather writing desk. A £2,650 refectory table in the range, called the Oxford Collection, is described as a 'Harry Potter-style dining table.' Many of the scenes set in the Great Hall of Hogwarts in the blockbuster wizarding franchise were filmed in Christ Church's dining hall."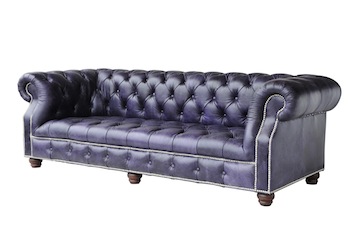 Serge Gander, managing director of Halo Licensing, which bought the rights to manufacture the furniture, said, "It is inspired by 800 years of history and archives.... The bookcase was inspired by a doorway. The sofa was a reproduction of one I found in a senior common room. We have an amazing coffee table inspired by the ceilings of the colleges and a rug inspired by the floor of Christ Church. We want to introduce the brand as a home and lifestyle brand. The possibilities are endless."

But Peter Oppenheimer, an emeritus professor at Christ Church, was more than a little perturbed by the idea: "Words fail me. It is vulgar, inappropriate and unauthorized by the university at large. This does absolutely nothing for the university other than cheapen its image."
Book Candy
Book Art: Edinburgh's Beautiful Paper Sculptures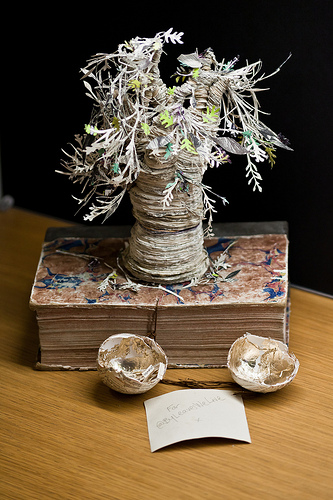 The mysterious case of Edinburgh's beautiful paper sculptures, which have been placed by an anonymous artist in various locations as gifts "in support of libraries, books, words, ideas," began last March, when the staff at the Scottish Poetry Library discovered a "poetree" left on a table, Central Station wrote.

In June, the National Library of Scotland "found themselves the recipient of a similar piece," and since then new works have made their stealthy appearance at the Filmhouse and the Scottish Storytelling Centre. In late August, two more were found during the Edinburgh International Book Festival, followed by yet another in the Central Lending Library on George IV Bridge.
Great Reads
Further Reading: Habibi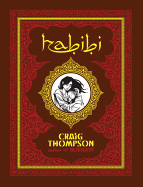 Graphic novels have come such a long way in the past five years or so--not necessarily in how they're written and illustrated, but in how they're received. Readers who once would have scorned "comic books" are embracing works of graphic fiction and nonfiction rich in character development and artistic detail. Along the way they're also realizing that editorial cartoons of all sorts and subjects have a long literary tradition.
This week's lead title, released today (and reviewed below), looks so traditional that readers might believe it's a vintage book. Habibi by Craig Thompson has a gorgeous red-and-gold "tooled" cover that draws attention to a cameo portrait of its protagonists, Dodola and Zam. The pair, originally child slaves in Arabia, must follow a mythical and fated path that involves multiple transformations until they assume new human forms and can be together at last. It's an intricate and culturally sensitive look at Islamic culture, art forms, and beliefs.
Here are a few more graphic books that examine other cultures, with remarkably different editorial and illustrative approaches:
Japanese manga: Love as a Foreign Language. Authors J. Torres and Eric Kim combine the manga tropes (large eyes, stylized clothing) with a more American comic-book narrative sensibility. Joel, an English teacher and Amercian expat, thinks he hates Seoul, until his feelings for a new school secretary named Hana lead him to see a Korea beneath the urban brusqueness and commercialism. Any reader who has traveled to a place that confused him or her will relate to this tender story, even if you didn't happen to fall head over heels in love while traveling.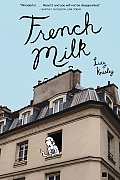 European chic: French Milk by Lucy Knisley tells the story of six weeks she and her mother spent in a Parisian apartment to celebrate their respective 22nd and 50th birthdays. Knisley's pastiche style, which combines quick sketches with more highly detailed narrative sequences as well as photographs, lends itself well to an experience that many readers have had: a youthful stint in a magical place filled with unfamiliar foods, people, even light switches. It's also a terrific title for girls who might be unsure about where to start when reading graphic novels.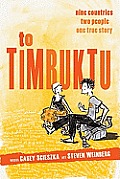 Rugged-travel raw: To Timbuktu: Nine Countries, Two People, One True Story by Casey Scieszka and Steven Weinberg may be the technically least-accomplished book on this list (that's not necessarily a bad thing; it's written by two very young people, which is its strength), but its big heart and big ambitions overcome any weaknesses. Scieszka and Weinberg meet in Morocco and wend their way toward Mali, where Scieszka has a Fulbright grant. Their travelogue is in Scieszka's voice, accompanied by Weinberg's almost retro charcoal sketches. --Bethanne Patrick
Txting Mks U Stupd. Rd Thes Bks.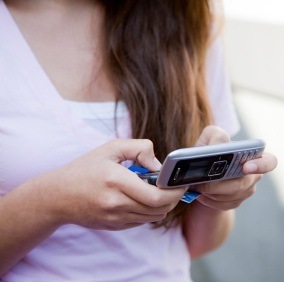 In a Newsweek essay, author Niall Ferguson offered a dire prediction: "Seconds before the earth is hit by a gigantic asteroid or engulfed by a super tsunami, millions of lithe young fingers will be typing the human race's last inane words to itself: C u later NOT :( ."

Contending that "children who don't read are cut off from the civilization of their ancestors," Ferguson advised parents to "take a look at your bookshelves. Do you have all--better make that any--of the books on the Columbia University undergraduate core curriculum? It's not perfect, but it's as good a list of the canon of Western civilization as I know of." With the list in hand, a four-step solution is then required:


Order the ones you haven't got today. (And get War and Peace, Great Expectations, and Moby-Dick while you're at it.)
When vacation time comes around, tell the teenagers in your life you are taking them to a party. Or to camp. They won't resist.
Drive to a remote rural location where there is no cell-phone reception whatsoever.
Reveal that this is in fact a reading party and that for the next two weeks reading is all you are proposing to do--apart from eating, sleeping, and talking about the books.

"Welcome to Book Camp, kids," Ferguson added.
Literary Lists
If Only Characters Could Meet; 10 Books About Censorship; Snooki
What do Holden Caulfield (
The Catcher in the Rye
) and Draco Malfoy (Harry Potter series) have in common? How about "Jo" March (
Little Women
) and Katniss Everdeen (
The Hunger Games
)? They were among Flavorwire's choices for "
literary characters who would be best friends in real life.
"
---

In anticipation of Banned Books Week, September 24-October 1, the Huffington Post showcased "ten books about censorship for kids & teens," noting that despite the "high visibility of the event, there are few stories for kids and young adults with censorship as the theme."

---

Tanned and tome'd. Fast Company offered its picks for the "10 best Amazon reviews. Ever." The only book to make the list was Snooki's A Shore Thing, which one reviewer called "an oeuvre d'art, one that outshines all of the former greats such as Shakespeare, Melville, Austen, or Pamela Anderson.... A coming of age tale filled with romance, love, friendship and enlightenment."
Mixed Media
Bookish Emmy Winners
Many moviegoers are aware that many movies have their roots in books. The bookish foundation of much TV fare is less well-known. Sunday's Emmy awards were a reminder of the importance of books in what we watch. Here are Emmy winners with book connections: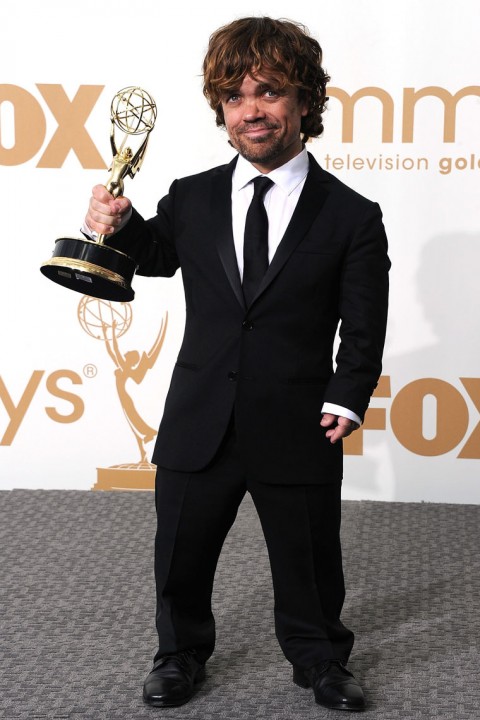 Game of Thrones, based on A Game of Thrones by George R.R. Martin: Peter Dinklage (r.), who plays Tyrion Lannister, won best supporting actor in a drama series.

Mildred Pierce, based on the book by James M. Cain and the movie based on the book, won two awards: Kate Winslet, who plays Mildred Pierce, won for best actress in a mini-series or movie, and Guy Pearce, who plays Monty Beragon, won for best supporting actor in a mini-series or movie.

Friday Night Lights, based on the book by Buzz Bissinger and the movie based on the book, scored two awards: Kyle Chandler, who plays Eric Taylor, won for best actor in a drama series, and Jason Katims won for best writing in a drama series.

Boardwalk Empire, the series based on the book by Nelson Johnson, was a winner in the best directing for a drama series category: Martin Scorcese won for the series pilot.

Justified, based on a character in several Elmore Leonard novels and a short story, claimed one award: Margo Martindale, who plays Mags Bennett, won best supporting actress in a drama series.
Songs Inspired by Poets
Poets as unintentional songwriters. Flavorwire showcased "15 wonderful songs inspired by poets," noting that "musicians have long been enchanted by the masterminds behind poetry. Whether it be the mention of a poet's name, appropriation of lines from their works, or some other tribute, literary references pervade many bands' lyrics."
Movies, Books & Music: Adapting Soundtracked Novels
While conceding that a consensus "Great Rock Novel" may not exist--and citing the adage that "writing about music is like dancing about architecture"--Word & Film nonetheless put together a list of "what we consider some of the best adaptations of soundtracked novels."

"Arguably, the best novels about rock are grounded in existing music, rather than creating a fictional band from scratch," Word & Film observed. "These soundtracked novels are less about detailing the music than about expressing its pleasures, tapping into the personal shorthand we have with a favorite song or artist."
Book Review
Fiction
REAMDE
by Neal Stephenson
Mystery & Thriller
Or the Bull Kills You
by Jason Webster
A Single Shot
by Matthew F. Jones
Science Fiction & Fantasy
Prospero Regained
by L. Jagi Lamplighter
Romance
Red Velvet and Absinthe
by , Mitzi Szereto, editor
Graphic Books

Habibi
by Craig Thompson
Nonfiction
In the Light of Darkness: A Photographer's Journey After 9/11
by Kate Brooks
On Bicycles: 50 Ways the New Bike Culture Can Change Your Life
by Amy Walker, editor
Biography & Memoir
Newspaper Titan: The Infamous Life and Monumental Times of Cissy Patterson
by Amanda Smith
One Day It'll All Make Sense
by Common, with Adam Bradley
Cabin: Two Brothers, a Dream, and Five Acres in Maine
by Lou Ureneck
Sports
The Concussion Crisis: Anatomy of a Silent Epidemic
by David Rosner , Linda Carroll
Children's & Young Adult
Hound Dog True
by Linda Urban
Down the Mysterly River
by Bill Willingham , illus. by Mark Buckingham
--- SPECIAL ADVERTORIAL OFFERINGS ---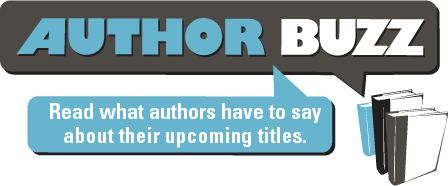 Dear Reader,

I'm thrilled to present THE MAPMAKER'S CHILDREN, a historical-contemporary hybrid novel with a literary mystery twist! Set in West Virginia over 150 years apart, Sarah Brown, the daughter of abolitionist John Brown, and Eden Anderson, a modern-day woman struggling with infertility: two fates woven together when dark secrets are unearthed. History and destiny are interconnected in a riveting story map. Fans of Charles Frazier, New York Times bestselling author of National Book Award winner COLD MOUNTAIN, will delight in this untold adventure in the Civil War south. "THE MAPMAKER'S CHILDREN is marked by rich, closely observed storytelling full of warmth and heart," said Frazier. New York Times bestselling author Laura Moriarty (THE CHAPERONE) agreed: "…defining moments of bravery and resilience echo across generations for a truly satisfying story." As a thank you for your amazing support of this new release, I'm giving away 5 THE MAPMAKER'S CHILDREN copies. To win, "Like" my Facebook Fan Page and send me a message there.

https://www.facebook.com/AuthorSarahMcCoy.FanPage

Yours truly,
Sarah McCoy
http://www.sarahmccoy.com




Publisher: Crown/Penguin Random House

Pub Date: 05/05/2015

ISBN: 978-0385348904

List Price: $25.00
Dear Reader,

I spent many years seeing men lack interest in what it meant to be a man of God. The Bible, they thought, was boring. I realized no one had written about the gritty battles of the Bible, the epic adventures of the warriors that God used to do great things. Shadow of the Mountain: Exodus is the first book in a series recounting the life of Caleb from the Old Testament, from his early days as a mercenary in Egypt to the battle for the Promised Land. If you'd like a chance to win one of five copies, email my publicist at agreen@bethanyhouse.com.

Cliff Graham
http://cliffgraham.com/




Publisher: Bethany House Publishers

Pub Date: 05/05/2015

ISBN: 9780764214752

List Price: $15.99
Dear Reader,

I'm thrilled to bring you Ming Tea Murder, the 16th book in my New York Times bestselling Tea Shop Mysteries. This is a book you can identify with – from my entrepreneurial main character, Theodosia, to the cozy environs of her tea shop. With pacing that moves like a thriller, highly relevant story lines, and a carefully crafted sense of place, many readers tell me that reading a Tea Shop Mystery is like taking a vacation in Charleston. And they're just as enthusiastic about the tea lore and recipes. Please give this mystery your careful consideration – I think you'll love it!

Laura Childs
www.laurachilds.com




Publisher: Berkley Prime Crime

Pub Date: 05/05/2015

ISBN: 978-0-425-28164-2

List Price: $25.95
Dear Reader,

My new book 'The Seven Sisters' is the first of a seven book series based loosely on the mythical stories of the star cluster. All the modern-day sisters have been adopted from around the globe by a mysterious billionaire. When he dies they are left clues to their real heritage. This is Maia's story and follows her journey back to the Bel Epoque of the 1920's, in Rio and Paris. Not only does she discover her past, but in the process, herself too. I only hope you enjoy it as much as I loved writing it.

I'm giving away five books. Write to me – Lucinda@lucindariley.co.uk - to win!

And please visit www.thesevensistersseries.com




Publisher: Atria Books

Pub Date: 05/05/2015

ISBN: 9781476759906

List Price: $24.99