Shelf Awareness for Readers for Tuesday, March 6, 2012

Book Candy
Bookcases; Authors' Houses for Sale; Authors' Homes
"Are you pedantic when it comes to arranging your books?" asked the Guardian, inviting readers to "upload photos of your bookshelf... and tell us why you chose the books, what they mean to you and the idiosyncrasies of your cataloging system."

---

Bookcase of the day: "Fireplace, schmireplace." Lovely Listing introduced a unique fireplace book storage system with an admission: "I know, I know: BROKEN SPINES! THE HORROR! But you guys! Look how pretty!"

---

Bookish real estate listings: With the recent news that Ernest Hemingway's childhood home is on the market in Illinois, the Daily Beast featured "10 big authors' houses for sale."

---

Inside a writer's study: The Guardian's "Room of My Own" series visited Kathy Lette's "vibrant study in her London home."
Great Reads
Now in Paperback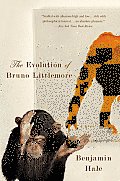 The Evolution of Bruno Littlemore by Benjamin Hale (Twelve, $14.99)
Bruno dictates his life story from an institution where he's been confined "due to a murder that I more or less committed." Bruno is a philosophical actor, an eloquent alcoholic and an unrepentant killer. He is also a chimpanzee, plucked from a primate house and sent to a laboratory where he is run through constant behavioral experiments intended to demonstrate that he has the capacity to understand human language. He does, to a degree, wherein lies the tragedy of frustration and rage of thwarted ambition and shattered dreams.
Gryphon: New and Selected Stories by Charles Baxter (Vintage Contemporaries, $16)
Even if you're an avid reader of literary fiction, there's a chance Charles Baxter is one of those writers whose quiet, underappreciated output you may have missed. With the publication of this volume of 23 stories, seven of them not previously collected, there's no longer any excuse to overlook a body of work that's noteworthy for its keen, often startling, insights into human character and its consistent craftsmanship. In one penetrating scene after another, Charles Baxter demonstrates his mastery of the nuances of character, plot and language. While there's little that's tidy about the lives depicted in this collection, taken together they offer some revealing pieces of the puzzles that are love and life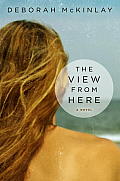 The View from Here by Deborah McKinlay (Soho Press, $14)
The moral dilemma thoughtfully explored in this debut novel is whether good deeds cancel bad ones. Can we expiate our past sins by leading an exemplary life? Frances is grappling with this question as she, at 42 and diagnosed with terminal cancer, revisits an episode of her youth--an affair on Mexico--that still shames her. McKinlay engages the reader in a meditation, going back and forth between the Mexican sojourn and Frances's illness and discovery of her husband's indiscretion, laying out the events, her feelings and the understanding she has gained over time.
The Wise Man's Fear by Patrick Rothfuss (DAW Trade, $19)
Patrick Rothfuss's 2007 debut, The Name of the Wind, reaped tons of critical acclaim and landed on the New York Times bestseller list--no small feat for an epic fantasy of nearly 700 pages. With the publication of the long-awaited follow-up, The Wise Man's Fear, it becomes increasingly clear that what we're dealing with is not strictly speaking a future trilogy but a contemporary (and jumbo-sized) variant on the Victorian "triple-decker"--a single novel, called The Kingkiller Chronicle, published in three volumes. There is a rich verisimilitude in Rothfuss's finely rendered fantasy realm; it is also, fundamentally, a coming-of-age novel and deserves its accolades.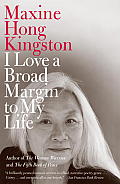 I Love a Broad Margin to My Life by Maxine Hong Kingston (Vintage International, $15)
This autobiographical memoir-diary-journal-reminiscence-meditation-stream-of-consciousness poem is 240 pages long. Not exactly blank verse, it is exactly Maxine Hong Kingston: original, captivating, revelatory and important. She looks back over her life as a writer, political activist, friend, wife and mother. In rambling ruminations that go forward and fold back on each other, change direction repeatedly, move from ancient Chinese history to current events, she opens for the reader the "broad margin" that has been her life. It's a tour de force.
The Bitter Waters of Medicine Creek: A Tragic Clash Between White and Native America by Richard Kluger (Vintage, $16.95)
Isaac Stevens--brilliant, self-assured, fierce and mightily ambitious--was first governor of Washington Territory, setting the stage for the tragic clash that Richard Kluger (Pulitzer winner for Ashes to Ashes) recounts in this powerful, disturbing and heartrending history of Stevens's program to commandeer Indian lands for white settlers. In this account of government-sanctioned monomania and land grabbing in the 1850s, Kluger stops short of actually asking, "How do we make this right?" but every thoughtful reader will be profoundly challenged by the question.
The Writer's Life
Howard Frank Mosher Explains Himself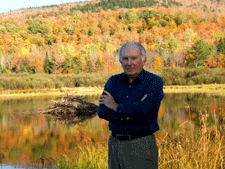 Howard Frank Mosher's new memoir, The Great Northern Express: A Writer's Journey Home (Crown, March 6, 2012), begins with bad news. The author walks to the post office and finds not a long-awaited MacArthur Fellowship, but a prostate cancer diagnosis. "I began to think this was kind of a wakeup call--not that you really need a wakeup call at age 65," he said. The prognosis was good, but the scare made him think about how he wanted to spend the time he might have left: "I thought, maybe I will spend some of it taking a tour across the country, coast-to-coast, border-to-border. I'll visit all the independent bookstores I can find, see some country, and"--since his 11th novel, Walking to Gatlinburg, was soon to hit stores--"at the same time, maybe this would be a way I could help my career." Long known as a regional writer focused on his fictionalized Northeast Kingdom, Mosher wondered whether a barnstorming 100-city book tour might move the needle.
And so, the day after finishing his radiation treatments (which ended, by coincidence, on his 65th birthday) Mosher set out in a 1989 Chevy with 280,000 miles on it--dubbed the "loser cruiser" by his wife's students. Between an early standoff with a mother moose and mid-Saturday afternoon car troubles, the start was a bit rocky. But Mosher quickly hit his stride--and began to realize he might have a book on his hands. In time, he said, "I realized this was the right thing to do, and taking this kind of trip is almost always the right thing to do. It was a great fun adventure, and I decided when I got back I would write about it and intersperse chapters about our first year here in the Northeast Kingdom."
The road memoir is a time-honored tradition, but why weave in stories from that particular chapter of his life? Well, he'd already distilled several into a slideshow, which he often used on the tour. "I began to think it might be fun to try to show in whatever I wrote about the tour how I had become a writer, a somewhat regional writer focusing on life in this little fragment of an earlier New England," he explained, adding, "What we found here, and what led to my career and ultimately the insane 100-city book tour, was a goldmine of stories." It quickly becomes clear where Mosher found his literary material and how his early years in Vermont shaped him as a writer. These sections of The Great Northern Express are full of the anecdotes--and antics--of locals, especially Prof, the hard-charging, even harder-drinking superintendent who takes Mosher under his wing. "It was very fortuitous for me, as a country kid who was interested in hunting and fishing and old country storytellers, to find this little enclave of Robert Frost's New England," Mosher said.
That's not to say Mosher has taken a straightforward, traditional approach to memoir writing. In fact, he's upfront about having written the book like he would have written one of his novels: "I did take some episodes from earlier and later book tours, and some of the characters are not untrue, but they're composites." (The outrageous Prof is an example--he's a combination of the first principal the Moshers worked for, as well as some other local characters.)
But perhaps his boldest choice was how he represents his time alone in the Loser Cruiser. Mosher has dramatized his cogitations by inventing a series of improbable companions, including his (deceased) Uncle Reg, neuroscientist Oliver Sacks and, most boldly, a West Texas incarnation of Jesus Christ. Mosher explained, "I needed to invent some way to illustrate some of the things I was thinking about when I was alone, everything from human mortality to politics. The admittedly outlandish method I chose was to invent imaginary characters with whom I could have conversations." But he admitted he also wrote these characters "for the sheer hell of it."
Mosher is comical and self-deprecating when discussing his motives behind both the journey and the memoir, but asked why one would leave home after such a sobering experience, he became serious. The book tour offered a great excuse to light out for the territories, but his reasons were more complicated: "As much as I love to write, I live to read. Every time I stepped into one of those wonderful independent bookstores and saw that array of books, some of which I had read and some of which I would go on to read, I felt a certain validation in my life as a reader and writer."
He added, "You know, I'd never seen the desert in flower. I'd never been to Holland, Michigan, when the tulips were blossoming. I'd never seen the Rocky Mountains in the spring." And that's what makes even the craziest journey worthwhile. --Kelly Faircloth, freelance writer
Literary Lists
10 Powerful Female Characters; Dickens' Fake Library; Villains
To launch Women's History Month, Flavorwire showcased "10 of the most powerful female characters in literature."

---

The fake library of Charles Dickens. According to Lists of Note, in 1851 Charles Dickens decided to fill two spaces in the study of his new house "with bookcases containing fake books, the witty titles of which he had invented. And so, on October 22nd, he wrote to a bookbinder named Thomas Robert Eeles and supplied him with the following 'list of imitation book-backs' to be produced."

---

Lysley Tenorio, author of Monstress, recommended "3 tales of spectacular failure" on NPR, observing: "Don't let the theme fool you. These three books are anything but failures. They are, in fact, full of sharply rendered and utterly original characters who fail spectacularly in their attempts to do right (or what they think is right)."

---

Derek Landy, author of the Skulduggery Pleasant series, chose his top 10 villains for the Guardian, noting that there is "a largely inescapable rule about storytelling: the better the villain, the better the hero."
Book Gatherings
A Writer at the Savannah Book Festival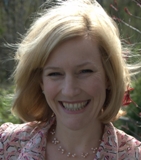 Tess Hardwick is a novelist and playwright. She lives in Seattle, Wash., with her husband, young daughters and mischievous puppy, Patches. She writes a blog, "Inspiration for Ordinary Life" at tesshardwick.com. Here she writes about her visit last month to the Savannah Book Festival in Savannah, Ga.:
A writer works in solitude. Readers devour books in much the same way. During rare and sacred occasions, writer and reader come together, as was the case last month at the Savannah Book Festival. Despite a forecast of rain, more than 11,000 book lovers came out to spend the day in lecture halls and book lines, to dwell and bask in the glow of 40 authors, including Stephen King, Hillary Jordan, Brad Thor and Douglas Brinkley.
I'm a reader and a writer, and unable to separate the two, I was part avid fan and part seeker of wisdom. Like a child in a toy store, I wished to attend every session, but like Robert Frost, could choose only one road, so I began the day with Jamie Ford, author of Hotel on the Corner of Bitter and Sweet. Having read his book last year, I was keen to hear him speak, not only to gain insight into a man who wrote an epic, historically detailed, love story set against the U.S. detainment of Japanese-Americans during World War II, but also because we both spent our childhoods in southern Oregon.
He did not disappoint. Beginning his discussion by snapping a photo of the audience to post on his Facebook page, he went on to share his original aspirations to write serious literature to his eventual acquiescence that the grand love story of Hotel on the Corner of Bitter and Sweet was the story he had to tell. When an aspiring author asked him for advice on finding an agent and publisher, he generously told her about his first novel, now sitting in a drawer. The main thing, he said, is to keep writing. "There are no wasted words," he said. "Write what's in you."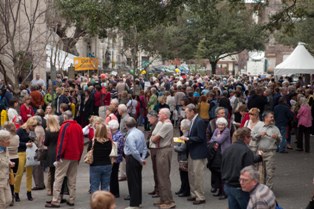 Later I heard novelist, playwright and lyricist Laura Harrington read from her debut novel, Alice Bliss, a coming-of-age story about a teenage girl whose father is away at war. Harrington said she is compelled to write about wars in large part because of the haunting experiences of her father and brother in World War II and Vietnam. Although her father woke in the night screaming, she was not able to get him to speak of the war, and questions never asked or answered influence all of her work. "My father's silent war, made me desperately curious," she said.
Next, I heard Hilary Jordan, author of Mud Bath, read a short excerpt from her new dystopian novel, When She Woke. Afterwards she told of how she went from advertising executive to bestselling author. As so often happens, the need for practical items like food and rent got in the way of artistic aspirations, and she found herself writing clever advertising copy, married to the wrong person, instead of writing fiction. But in an act of bravery, she left her executive position at an advertising firm, divorced her husband and enrolled in an MFA program. For a long time she regretted "the wasted years," but she now understands that her mastery of the art of clever advertising copy enhances her fiction. She encouraged all of us to pursue something we love, despite how unrealistic it might seem, since everything you've done before prepares you for what comes next.
I finished the afternoon listening to Pat Conroy and his lifelong friend from his days at the Citadel, novelist John Warley, telling stories and answering questions from the audience. I didn't think anyone could love Pat Conroy more than me. I've read all his work so many times I feel I know him intimately. Apparently I'm not alone. The love in the room for this southern hero was palpable, a mixture of adoration and pride and familiarity, because his words have mattered to us, have been an expression of our own failings and longings and heartbreaks.
"I cannot seem to write anything without my family looming up," Conroy said, and we all nodded in agreement, because regardless of our work, we are always seeking clarity from both the past and present, imbedded in the complexities of family. I thought, then, of all the writers I'd heard that day, how the bends and forks and unexpected potholes in the trajectories of their lives and loves have inspired and shaped their stories and subsequently does the same for their readers. Their brave explorations toward their own truths are why writing and books matter to those of us out here in the dark, reading the night away, seeking clarity.
Book Review
Fiction

Chair of Tears
by Gerald Robert Vizenor
After Annie
by Michael Tucker
The Variations
by John Donatich
Science Fiction & Fantasy
Arctic Rising
by Tobias S. Buckell
Biography & Memoir
Burn Down the Ground
by Kambri Crews
The Last Pre-Raphaelite: Edward Burne-Jones and the Victorian Imagination
by Fiona MacCarthy
Pot Farm
by Matthew Gavin Frank
History
If Walls Could Talk: An Intimate History of the Home
by Lucy Worsley
Psychology & Self-Help
The Mindfulness Prescription for Adult ADHD
by Lidia Zylowska; foreword by Daniel Siegel
House & Home
Knit Your Own Cat: Easy-to-Follow Patterns for 16 Frisky Felines
by Sally Muir , Joanna Osborne
Children's & Young Adult
Ballerina Swan
by Allegra Kent , illus. by Emily Arnold McCully
Chomp
by Carl Hiaasen
--- SPECIAL ADVERTORIAL OFFERINGS ---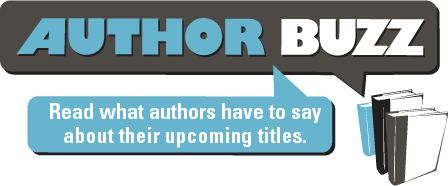 Dear Reader,

When I first set up a "demon graveyard," of sorts, for my Demonica/Lords of Deliverance series, I never imagined that the characters who populated it would become so central to the series. But here we are, following up the Grim Reaper's story with that of his right-hand man, Hades.

Dark, lethal, and a little playful, Hades will take a beautiful, brave fallen angel on a journey that will lead them both to danger and, possibly, love.

Please write to 1001DarkNights@gmail.com to win one of five copies.

http://www.1001darknights.com/authors/2015-books/larissa-ione-hades/




Publisher: Evil Eye Concepts, Inc

Pub Date: 5/26/15

ISBN: 978-1-940887-54-8

List Price: $2.99