Shelf Awareness for Readers for Friday, March 16, 2012
Bookselling News
Polls Open for Children's Choice Book Awards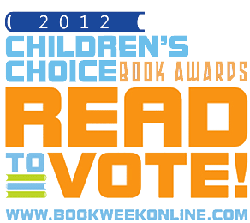 The Children's Book Council's fifth annual Children's Choice Book Awards, in association with Every Child a Reader, are now in full swing. Children and teens may vote to help determine the winners among 30 finalists in six categories, including Author and Illustrator of the Year. Last year a record-breaking 525,000 children and teens took part in the contest.
Young readers may now cast their votes for their favorite books, author and illustrator at bookstores, schools and libraries, and at www.BookWeekOnline.com until May 3. The winners will be announced at the annual Children's Choice Book Awards Gala on May 7 at Espace in New York City as part of Children's Book Week (May 7-13).
Book Candy
Book Club No Nos; Bookcases; Book Reader of the Future
Conceding that "every now and then, somebody says something that we really, really wish they hadn't--especially, gulp, when that somebody is us," Oprah.com featured "9 things never to say in a book club."

---

Bookcases on the brain, literally: Bookshelf Porn showcased the Brain Bookshelf.

---

Retronaut unveiled the book reader of the future, as envisioned by Everyday Science and Mechanics magazine in 1935.

---

On the Sundance Channel's Beginnings series, Marjane Satrapi (Persepolis; The Sigh) talked about growing up in Iran and finding the need to tell her own story.
Great Reads
Further Reading: St. Patrick's Day
With St. Patrick's day just around the corner, people everywhere are readying themselves for the inevitable onslaught of green beer, soda bread and corned beef. There's more to this holiday than food coloring, however; why not celebrate by taking a deeper dive into Irish literature?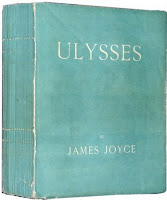 One of the most well-known works of Irish literature, of course, is Joyce's daunting Ulysses. While those who have read this in its entirety should surely be commended, readers looking for a more approachable way to encounter Joyce might consider Dubliners, a collection of Joyce's short stories originally published in 1914. Each of the 15 stories gives readers a glimpse into Dublin as both a city and as a collection of people, ranging from a simple tale of two young boys playing hooky from school to a more complex story about the nature of life and death.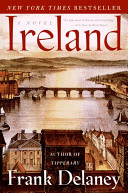 Frank Delaney's Ireland is a rich novel of storytelling and narration, in which Ronan, a nine-year-old boy, is captivated by the stories told by a traveling storyteller. After the storyteller leaves, Ronan vows to find him once again, traveling Ireland by foot on search of his mentor, becoming entranced by Irish myth and culture along the way. Delaney's novel is complex and inviting, weaving together well-known stories of Irish folklore with the story of Ronan and his family; the result is as much a celebration of Ireland as it is of storytelling itself.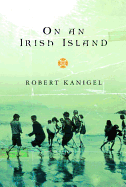 On an Irish Island by Robert Kanigel, takes a close look at the history of the Blasket Islands, known in the early 20th century for its community and for the unadulterated Irish language still spoken there. But as more and more visitors came to experience this linguistic rarity themselves (the Irish language was in steep decline throughout most of the 20th century), the self-contained community of the Blasket Islands began to erode, culminating in a government-ordered evacuation of the islands in 1953. Kanigel's work is well-researched and thoughtful, asking critical questions on the nature of linguistics, cause and effect, and the preservation of culture.
Beannachtaí na Féile Pádraig oraibh! (rough pronunciation: bahn-ach-tee na faw-leh paw-dreg oh-riv) Happy St. Patrick's Day! --Kerry McHugh, blogger at Entomology of a Bookworm
Inklings
Downton Abbey: The Cold Truth
Remember Lady Mary's alluring crimson silk dress? Lady Sybil's shockingly modern evening bloomers in sea green and blue organza? Poor Lady Edith's never very flattering high-waisted lace? The ladies of Downton always appear fashionably dressed; even the Dowager Countess, more modestly attired in black taffeta and net from cuff to neck, follows fashions, only hers tend to be from her glory days in about 1888.
Not quite the latest fashions, though the Crawford fortunes, having been invigorated by the Earl's fortunate marriage to the American daughter of Isodore Levinson, the dry goods millionaire, would make this possible. The aristocracy is very anxious about anything too new, and that goes for high fashion, recent titles, telephones and plumbing. Mama may occasionally go to Paris where the famous dressmaker, Poiret, is providing couture for the most elegant ladies of Europe, but the girls visit a local dressmaker.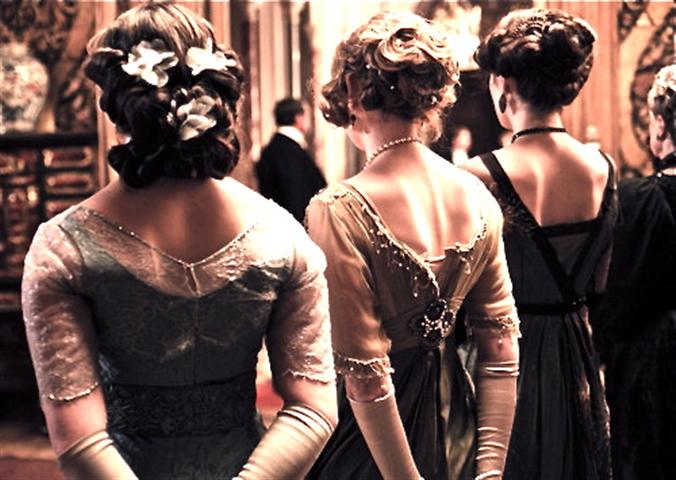 Even in midwinter Lady Mary looks relaxed in a watered silk evening dress, figure-hugging, sleeveless and all the better to show off her milky white skin before her arms plunge into her fine kid, elbow-length opera gloves. But even if you were close enough (and lucky enough) to dance with her, you would encounter a mystery. Neither Lady Mary nor any of the Crawfords (save, perhaps, granny) are wearing knitted chemises or lined liberty bodices. Nor are they swathed in woollen shawls, or knitted jackets trimmed with swansdown. Their noses are not red, nor do they sniff.
The truth is that large English country houses were (and are) freezing. Even now, when great houses have central heating, few old families turn it on except in exceptionally severe weather. In the early years of the 20th century, maids rose at 6 a.m. to light fires in all the reception rooms and, very quietly, in occupied bedrooms. But the huge rooms of most family seats had no further heating. Vast windows were often lined with whorls and stars of ice, winds whistled down long stone-flagged corridors, cold rose from vaulted cellars, drafts swirled upwards to glass cupolas in magnificent entrance halls. Every time a servant entered a room with a new tureen or chafing dish they brought with them the even icier blast from the hall. Even in summer a deep chill rose from the foundations; those who inherited ancient houses also inherited ancient damp.
The desirable blue blood may simply have been an effect of centuries of thermal endurance.
Unlike the leisurely and warm world of Downton, evenings could be hell in a great house and dinners a ritual that everyone longed to be over. The many courses served at meals in Edwardian England were offset by the calories required for the body to keep warm, and tragedies involving cold beauties, evening dresses and open fires were not unknown.
Most female diners looked like untidy parcels of velvet, fine wool, quilted satin and elderly fur. The lure of bed with a hot bedpan (or, yes, an illicit foreigner) was almost irresistible--though the lover might require considerable patience and skill as he unhooked, untied and unwrapped his prey.
But new and unashamed money soon bought new inventions and didn't see discomfort as somehow lower class, and central heating and piped hot water as scandalous luxury. The warm winds of change were on their way. --Elizabeth Speller, author of The Return of Captain John Emmett and The Strange Fate of Kitty Easton (Houghton Mifflin Harcourt; June 26, 2012)
Literary Lists
Irish Books; Strong Female Characters; Book Inscriptions
If you'd like a good read to go with your pint of Guinness on St. Patrick's Day tomorrow, the New York Daily News suggested "5 classic Irish books that have volumes to say."

---

To celebrate Women's History month, Flavorwire enhanced its recent list of the most powerful female characters in literature by sharing reader suggestions for "10 more of the most powerful women in literature."

---

ScienceFiction.com showcased the "top 10 female science fiction characters," with the choices based "on leaders, on characters who demonstrated strength and authority and on those who left a lasting impression on me."

---

"Writing gift inscriptions is hard," but Buzzfeed managed to find "10 awesome book inscriptions."
Book Brahmin
Book Brahmin: Esi Edugyan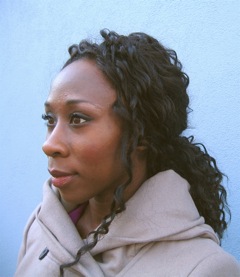 Esi Edugyan's most recent novel, Half-Blood Blues (Picador, February 28, 2012), won the 2011 Scotiabank Giller Prize and was longlisted for the 2011 Man Booker Prize, the Rogers Writers Trust Fiction Prize and the Governor General's Award for Fiction. She lives in Victoria, British Columbia.
On your nightstand now:
'Twixt Land and Sea by Joseph Conrad. I'm on "The Secret Sharer" right now, which I can't believe I haven't read before. Conrad is an absolute master of atmospherics. I'm also reading What to Expect: The First Year.
Favorite book when you were a child:
A.A. Milne's When We Were Young. It was my sister's favourite book; I would snatch it up before bedtime and be delighted when she couldn't find it.
Your top five authors:
Leo Tolstoy, Jane Austen, George Eliot, Mordecai Richler and Roberto Bolaño.
Book you've faked reading:
Half-Blood Blues.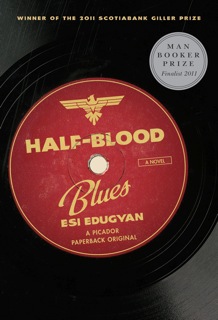 Book you're an evangelist for:
Roberto Bolaño's 2666. I've bought countless copies and thrust them on everyone I know. He breaks all the rules to splendid effect.
Book you've bought for the cover:
David Foster Wallace's Brief Interviews with Hideous Men.
Book that changed your life:
Dostoevsky's Crime and Punishment. This was one of the first "adult" books I read. After years of dross, it was a revelation.
Favorite line from a book:
"The world is what it is; men who are nothing, who allow themselves to become nothing, have no place in it." --V.S. Naipaul.
Book you most want to read again for the first time:
Tolstoy's Anna Karenina.
photo ©Steven Price
Book Review
Fiction
The Affair
by Alicia Clifford
Clair de Lune
by Jetta Carleton
The Book of Lost Fragrances
by M.J. Rose
The O'Briens
by Peter Behrens
The Vanishers
by Heidi Julavits
Mystery & Thriller
An American Spy
by Olen Steinhauer
Murder at the Lanterne Rouge
by Cara Black
Hide Me Among the Graves
by Tim Powers
Essays & Criticism

Grey Album: On the Blackness of Blackness
by Kevin Young
Children's & Young Adult
Chitty Chitty Bang Bang Flies Again
by Frank Cottrell Boyce , illus. by Joe Berger
Seeds of Rebellion: Beyonders, Book Two
by Brandon Mull
I've Lost My Hippopotamus
by Jack Prelutsky , illus. by Jackie Urbanovic
Performing Arts
Squeeze This! A Cultural History of the Accordion in America
by Marion Jacobson
SOLITUDE CREEK
by Jeffery Deaver
ISBN-13 978-1455517152
Grand Central Publishing
5/12/2015
#4 in the Kathryn Dance Series


an exclusive interview with
NYT bestselling author Jeffery Deaver
SOLITUDE CREEK is the fourth in the Kathryn Dance series, following the amazing, XO. What's in store for Dance this time around?
Oh, mayhem, chaos, and terror, of course! In this novel, Kathryn gets busted down to "buck private" for making a serious mistake during an interrogation; she's relegated to civil work for the CBI, like checking health certificates and bottle deposit receipts. But you can't keep a strong woman down and she secretly runs an investigation on a villain obsessed with turning people's panic into a weapon.
THE BIG THRILL caught up with Deaver to talk about mayhem, chaos, and of course, SOLITUDE CREEK. Read about it here.

ALSO FEATURED ON THE
the big THRILL…
RUINS OF WAR by JOHN A. CONNELL: It took a decade, four defunct novels, and countless rejections before Connell landed a publishing deal. But the hard work and determination paid off. His novel, RUINS OF WAR—a unique, historical thriller set in postwar Germany—is already garnering national acclaim. And Connell, well, he's considered a debut-to-watch. Read about him in THE BIG THRILL.
THE TAPESTRY by NANCY BILYEAU: As a trained Journalist, whose editorial credentials include Rolling Stone and Entertainment Weekly, Nancy Bilyeau understands the value—and importance—of a well-researched novel. Particularly in the case of her Tudor-inspired thrillers. For THE TAPESTRY, the third book in her bestselling Joanna Stafford series, Bilyeau pits her protagonist against none other than King Henry VIII. Check it out in THE BIG THRILL.
THE SHADOW CARTEL by LAYTON GREEN: International man of action, Dominic Grey, has fought cults and criminals all over the globe. In his next escapade, he takes on THE SHADOW CARTEL. We recently sat down with Dominic's creator, Layton Green, and asked the world-traveler-turned-bestseller about his journey to the top of the bestseller list and where he plans to go from here. Catch the whole interview in THE BIG THRILL.
STONE COLD DEAD by JAMES ZISKIN: A taut tale of mystery and suspense that is at once a reminder of how a sleuth got the job done in the era before CSI and an antidote to nostalgia, James Ziskin's STONE COLD DEAD is just too cool to miss. Read all about it in THE BIG THRILL.
DYING BRAND by WENDY TYSON: In the third installment of Wendy Tyson's Allison Campbell mysteries, Campbell ends up investigating the brutal murder of her former boyfriend. As her hunt for truth reveals each secret, Campbell's past and present collide, in a mystery that is not just deadly, but the most personal yet. Get the full scoop on DYING BRAND in THE BIG THRILL.