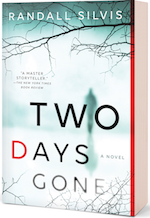 By all accounts, novelist Thomas Huston has a perfect life. He's a bestselling author with a beautiful wife and three adorable children, looks like a movie star--which doesn't hurt when he's "chatting with Katie on Good Morning America"--and is a popular professor of English at Shenango College in Pennsylvania.
People in the small college town feel "both pride and envy in [Huston's] sudden acclaim.... Maybe you claimed, last spring, that you played high school football with Tom Huston. Maybe you dated him half a lifetime ago... were quick to claim an old intimacy with him, so eager to catch some of his sudden, shimmering light."
Until they wake up one morning to the unbearable news that Huston's entire family was slaughtered in the night, and Huston is nowhere to be found.
One of the locals who knew the author is Sergeant Ryan DeMarco of the Pennsylvania State Police. DeMarco is assigned to the case, and though the evidence doesn't look good for Huston--a kitchen knife is also missing from the house--DeMarco hesitates to jump to conclusions. Having spent time with Huston and his family, DeMarco can't fathom the man being capable of such violence. But then again, Huston's bestseller The Desperate Summer is about unspeakable violence, based on a tragedy involving Huston's parents. Could that personal trauma have changed a good man in ways no one could have imagined?
In the course of his investigation, DeMarco finds Huston's notes and a rough drafts of the beginning of his next novel. The protagonist, an alluring stripper named Annabelle--a modern interpretation of Nabokov's Lolita--is based on a real person; DeMarco tracks her down. According to the girl, who turns out to be a nice college student, Huston met her at the strip club every Thursday for research, but he missed their appointment before the weekend his family was murdered. When DeMarco discovers the reason, he begins to see how it might be related to the mass killings, but not in a way anyone anticipated.
To tell the story of what happened to Huston's family that awful night, Randall Silvis uses dual points of view: Huston's and DeMarco's. The chapters spent inside Huston's psyche are full of unbearable pain. At times, Huston has to dissociate himself from reality in order to survive, telling himself he's a "character pretending to be a corpse pretending to be normal when in fact the world had ended, the bomb had gone off, all was devastation." When reality does seep in, Huston wants only to lie down and wait for death, but survive he must, at least until he can reach Annabelle, for reasons not immediately known.
DeMarco may at first seem like the opposite of Huston--he's a loner, and more analytical than creative. But as the cop delves further into the author's life, it seems the two men have several striking similarities. For one, DeMarco knows what it's like to lose a son. He's well acquainted with grief, listening to "Ry Cooder's agonized guitar weeping all the way from Texas.... Then he turned the radio off because he did not need a soundtrack for what he was feeling."
Two Days Gone isn't all pain and suffering, though. DeMarco's scenes with his commander are welcome comic relief, with the two engaging in wiseass banter. When the commander asks DeMarco before a press conference to brief him on the case because "I'd like to not come off as a complete moron," DeMarco replies, "It's a little late in life to be making that decision, isn't it?" Some of the descriptions also offer unexpected levity in the midst of a grim scene: "[DeMarco] knelt beside the bed to look underneath. Three balled-up socks and what appeared to be the twentieth-year-reunion of a large class of dust bunnies."
Aspiring writers, even those who don't usually read crime fiction, might be interested in all the details about Huston's writing process, which author Silvis modeled on his own. Silvis, who teaches writing, provides an informative look at all the research and effort that goes into creating a novel.
A book can't be judged, however, on how it came about, but on whether or not readers care about its characters and what happens to them. The big revelation about the murders of Huston's family is gut-shredding, and will likely make readers ponder what they would do if caught between a rock and a hard place--nay, between two pits in hell. That central question alone might be enough to make this novel linger in readers' minds well after Two Days Gone. --Elyse Dinh-McCrillis