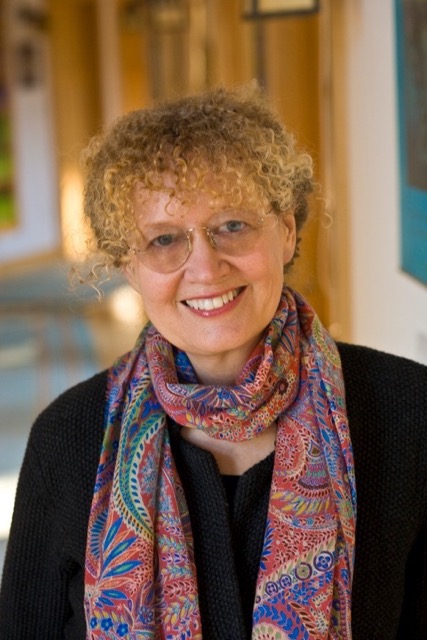 photo: Elena Seibert
This year marks the 25th anniversary of Mary Pope Osborne's Magic Tree House series, with more than 134 million copies sold since 1992. In these popular illustrated chapter books for early readers, siblings Jack and Annie discover a magic tree house full of books that launch them on time-travel adventures around the world. Osborne lives in Connecticut with her husband, actor and author Will Osborne.
What excites you most about writing for children?
I love writing for children because I'm still a child at heart. I had a great childhood traveling from army post to army post with my military family, playing with my sister and two brothers (one of them my twin). Everywhere we lived, we were free to roam around by ourselves. We constantly shared imaginative adventures, from being pirates and cowboys to spies and soldiers. Writing about Jack and Annie's journeys in the magic tree house matches my childhood love for make-believe adventures.
Why are these books so effective in boosting literacy?
Over the years I've gotten thousands of letters that say the series has not only taught children how to read, but has given them a love for reading. I think the kids identify with Jack and Annie, and love their mysterious and wild adventures. Readers also seem to like that the books have factual information about animals, sports, the arts, science, and famous people and historical events. Kids like the facts so much that my husband, Will, and my sister, Natalie Pope Boyce, have authored a series of Magic Tree House Fact Trackers--these are nonfiction companion books to the fiction books. So if readers like Stallion by Starlight, they might also enjoy the Fact Tracker Horse Heroes. If they like Midnight on the Moon, they might like the Fact Tracker Space. The combination of fiction and nonfiction titles works well in the classroom.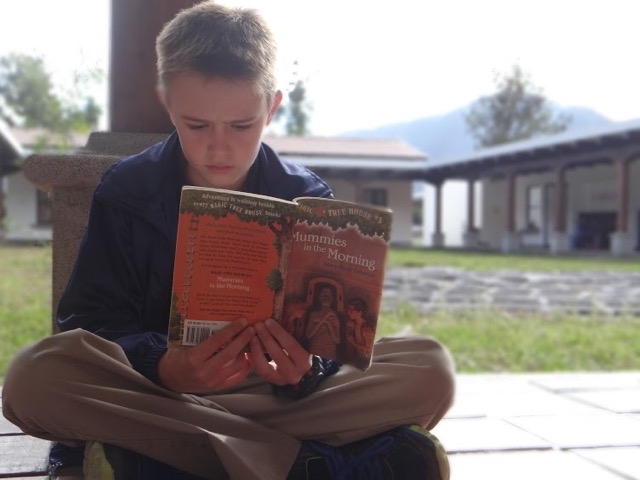 A child in Guatemala absorbed in reading.
Children in Ghana use an e-reader provided by Osborne's donation to Worldreader.
Do you have any stories about children who have learned to love to read through your books?
A teacher once wrote to me that he had an extremely shy student who was unable to speak in class. The girl loved Annie in the Magic Tree House books, so one day the teacher urged her to pretend that she was Annie. For the first time ever, she spoke up in class. From then on, the teacher frequently encouraged her to "Be Annie," until eventually she fully emerged from her shell.
Did you have any idea when you wrote the first book in the Magic Tree House series, Dinosaurs Before Dark, that the series would become an international phenomenon?
Before the Magic Tree House series, I'd written a number of young adult novels, retellings of mythology and folktales, biographies and mysteries. When Random House asked me to develop a series of four early chapter books, I quickly came up with the idea of time travel. But it took over a year for me to develop the idea. I tried magic whistles, a magic cellar, a magic artist studio, a magic museum... none of these ideas worked. I was about to give up on the series idea altogether and return to my other writing, when Will and I came across an abandoned tree house in the woods of Pennsylvania, near a cabin we owned. By nightfall, we had come up with the idea of a magic tree house.
Dinosaurs Before Dark came quickly after that. Then The Knight at Dawn, Mummies in the Morning and Pirates Past Noon. By then, the letters from teachers and parents and kids had started to arrive, and the school visits started. Soon I had a new life's passion: inspiring young kids to read. I kept writing the books, Sal Murdocca kept illustrating them, and Mallory Loehr, our wonderful editor at Random House, kept working with us and her team, until four books grew to 55 that are now published all over the world. In my wildest dreams, I never imagined this on the day I first saw that tree house.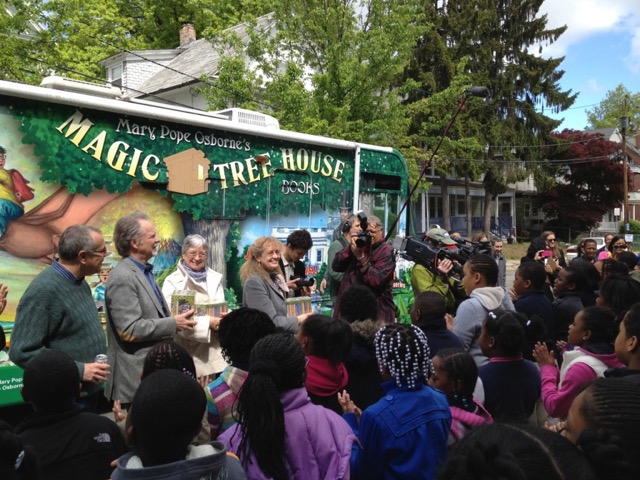 The Magic Tree House RV travels to Newark, N.J., to encourage literacy and share the magic of the series.
You've donated Magic Tree House books worth $2.5 million through your Gift of Books program. How does the program work?
For the last 25 years, I've visited hundreds of schools and talked with countless educators about how they use Magic Tree House (MTH) books in their classrooms to inspire kids to read. So, as a way of giving back to all the teachers who have supported the series, I created the MTH Classroom Adventures Program (CAP). CAP's website provides teachers with all kinds of fun teaching tools, free of charge. It also offers a MTH book giveaway component for Title I classrooms. Beyond that, I've made large contributions to underserved kids in cities such as Chicago, Newark and Trenton. Handing a free set of MTH books to a boy or girl who has never owned even one book has been the most rewarding part of writing the series.
What is the number-one message you like to share with the children you meet around the world?
I want to share a hopeful message: kids are the same everywhere. I've encountered thousands of kids--in every part of the U.S., as well as Japan, Italy, France and Germany. I've met with kids in times of great disorder and angst, including after 9/11 in New York, after Hurricane Katrina in New Orleans, and after the terrible tsunami in Japan of 2011. I've met kids from orphanages and kids dying of cancer. And all the kids I meet give me more than I give them. I've found that most kids from ages six to 10--no matter where I've met them--are positive, open, kind and eager to learn. Most amazingly, the kids I meet today are just like the kids I met over two decades ago. There is a universality to childhood innocence that seemingly cannot be altered by geography or time.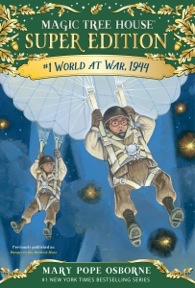 You have two Magic Tree House books coming out on March 17, 2017: World at War, 1944 (previously published as Danger in the Darkest Hour) and its nonfiction companion, World War II. What are you working on now?
I've just completed A Big Day for Baseball, which involves Jackie Robinson's first game with the Brooklyn Dodgers in 1947. Jack and Annie will magically become "batboys" at that game... and of course, get into lots of trouble. My sister, Natalie, has written the Magic Tree House Fact Tracker Baseball as the companion nonfiction book.
Anything else you'd like to share with the readers of Shelf Awareness?
One of the most exciting things to happen in the last few years has been the development of a number of Magic Tree House musicals. My husband, Will, has collaborated with composer Allen Toussaint, as well as composer Randy Courts and playwright Jenny Laird to create shows based on Jack and Annie's adventures. Often productions of these musicals go hand in hand with our book giveaways. It's been thrilling to bring both live theater and books to lots of underserved kids throughout the U.S. --Emilie Coulter, freelance writer and editor
(You can watch a video featuring Osborne and her young readers, commemorating the 25th anniversary of Magic Tree House.)