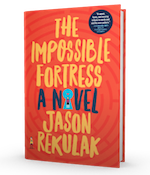 It is 1987, and 14-year-old Will has an ordinary, perfectly boring teenage life. His time and energy are spent on fitting in in high school, obsessing about hot girls, ferreting out the secrets of computer coding--and, wherever possible, combining those three things for greatest effect. Case in point: his coding of the game "Strip Poker with Christie Brinkley," in which a string of computer code allows players to battle the computer in poker, removing an article of clothing from Brinkley (rendered in punctuation marks) for every hand the computer loses. His mother works the late shift at the local grocery store, leaving Will and his two best friends, Alf and Clark, with ample un-chaperoned time to spend as they see fit--biking around town, renting videos and generally acting like teenage boys. "But then Playboy published nude photographs of Wheel of Fortune hostess Vanna White, [Will] fell head over heels in love, and everything changed."
So begins The Impossible Fortress, Jason Rekulak's debut novel, which features the world's most unlikely heist: the theft of the Vanna White issue of Playboy (since they're too young to purchase it) from a local office supply store. With wily ingenuity, Will and his friends plot their caper, complete with a scale model of their small hometown that would leave even Ocean's Eleven envious of their planning skills.
Part of the boys' plan to steal the magazine involves Will romancing the office storeowner's daughter, Mary. But as Will sets out to befriend and ultimately seduce the awkward, computer-obsessed girl who codes in the back of the store, he finds he's more intent on working with Mary to build a new computer game than he is in kissing her. As the two work together to teach themselves a new coding language and design a game to enter in a nearby gaming contest, their friendship turns into something more real than Will had ever envisioned--and the already complicated heist becomes more tangled than any scale model could predict. As Will's feelings for Mary intensify, he begins to realize the potential for his reckless actions to hurt those he cares most about.
The Impossible Fortress is set in 1987 Wetbridge, N.J., a working-class town, and the novel feels entirely a part of this time and place. Will is captivated by early-days computer coding on a Commodore 64, and dreams of winning an IBM PS/2 in a video game design contest. He and his friends visit the local video store to rent and re-rent the same movies time and again. Their town is marked by a main street full of shuttered or struggling shops, "squeezed by competition from all the new shopping malls." The very center of the heist--the Playboy and the boys' plan to sell photocopies of the pictures to classmates--is inherent to the year. But while The Impossible Fortress is fully immersed in 1980s culture, what is most remarkable about Rekulak's story is the way his reflections on being a teenager on the cusp of adulthood prove as relevant today as they would have been then.
Rekulak's tale takes place during a few months of Will's freshman year of high school, when Will and his friends are still poised on the edge of young adulthood. In many ways, the three are still little boys, dreaming up wild adventures to fill their empty afternoons that feature themselves as the heroes of their own stories. But they are also beginning to recognize their place in the world, the hardships their parents face and the realities of moving into adulthood. Will, in particular, seems to realize the potential for his actions to help (or hurt) those around him as he grows into himself (a transition represented by his switch from the childhood nickname "Billy" to the more adult "Will" over the course of the book). This coming of age is brought more fully into focus as the relationship between Will and Mary becomes ever more meaningful.
Rekulak has carefully nested these thoughtful reflections on growing up within the absurd story of the boys' attempted burglary, which keeps the book squarely in the camp of "funny" over "serious." But the funny here serves to further underscore the importance of the serious: the heist provides a unique framework for a sweet and memorable coming-of-age love story. Rekulak's ingenious novel is sure to appeal to anyone who likes an endearing tale. --Kerry McHugh