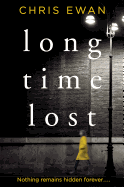 Chris Ewan (Safe House) has wrought more hairpin twists and turns than a mountain road in the adrenaline-spiked thriller Long Time Lost.

Widower Nick Miller lives a covert life protecting compromised witnesses from a ruthless British crime family. When Miller falls hard for his latest charge, Kate Sutherland, his carefully managed program begins to disintegrate, threatening to expose every witness he's helped, as well as his own dark secrets.

Ewan, channeling his inner Robert Ludlum, wheels his characters across various European locales to great dramatic effect. What begins as a botched hit on the Isle of Man becomes an ever-tightening game of cat-and-mouse in Rome, Prague and the Swiss Alps. Although the plot's machinations strain credulity at times, Ewan more than compensates with sly, self-conscious campiness, poking fun at the well-trodden tropes of the Euro crime thriller genre. Ewan also succeeds in drawing his characters' flaws and foibles with genuine insight and tenderness, including the novel's duplicitous villains. These adroitly developed dimensions allow for nice character depth and more than one surprising reversal.

Above all, though, Long Time Lost offers skillful and dazzling prose. Ewan revels in the atmospherics of his attractive settings. Descriptions of a standoff in a remote Swiss chalet, near the end of the novel, achieve a tense, foreboding grandeur: "She could still hear the distant boom of thunder far away across the Alps and glimpse the muted stutter of lightning." --Scott Neuffer, freelance journalist and fiction author.