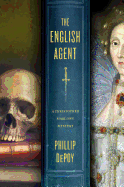 The historical figure Christopher Marlowe left few biographical clues. But in The English Agent: A Christopher Marlowe Mystery, Phillip DePoy mines what little is known about the secret agent to create a fully realized portrait of a man desperately racing to stop the one person "there to kill a queen and destroy a country."

In 1584, young Marlowe is a student, playwright and an operative in Queen Elizabeth's secret service. He is charged with preventing the assassination of William the Silent in Spain, thereby halting a plan to overthrow Elizabeth and place Mary, Queen of Scots (currently under arrest), on the throne. When he fails, Marlowe discovers that the plot is more complex than he was led to believe. With Queen Elizabeth's life still in danger, he must act quickly to foil that plot and save the queen and the fate of England. Along the way, a murder of enormous personal consequence leads Marlowe on a parallel mission to find the killer--who also may be tangled together with "the larger fabric of betrayal" involving the nation and the Queen.

The coarse world of theater in the 16th century looms over the novel's swashbuckling action, which races from Spain to the Netherlands and back to England. DePoy (A Corpse's Nightmare), himself a playwright as well as a novelist, creates an exciting, well-researched sequel to A Prisoner in Malta. Fans of The Name of the Rose and Wolf Hall will relish this intelligent mystery. --Cindy Pauldine, bookseller, the river's end bookstore, Oswego, N.Y.