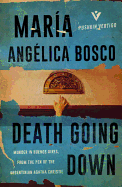 Buenos Aires after World War II is filled with émigrés who escaped the horrors of war and would like to forget their pasts. Death Going Down, María Angélica Bosco's (1917-2006) first novel, opens with German citizen and war bride Frida Eidinger found dead in the elevator of a building not her own. Her killer is one among a cast of suspicious characters motivated by past trauma and current jealousies: "This case is one of a passionate obsession and its resulting resentment and devastation."

Inspectors Ericourt and Blasi discover that Frida conducted secret evening trips to the apartment building where she died. Her husband was aware of her activities, and residents of that building have murky connections to her past. They include a Bulgarian photographer and his sister; a physician quick to dispense tranquilizers; a womanizing drunk; and an invalid with a dependent wife and rebellious daughter. There are plenty of possible clues and motives to consider, but Blasi slyly warns readers to be wary of red herrings. "I don't like clues. Their interpretation often leads us the wrong way." The suspects are caught in a web of evasions and fabrications before Ericourt and Blasi piece together the facts of the case and re-create the fateful night and reveal the murderer.

Death Going Down won the inaugural Emecé Novel Award in 1954, initiated to recognize new Argentinean authors. This is a fine example of translated fiction newly brought to the attention of English-speaking readers. --Cindy Pauldine, bookseller, the river's end bookstore, Oswego, N.Y.