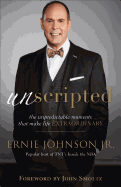 Fans probably know Ernie Johnson Jr. best as the Sports Emmy Award-winning host who sits alongside basketball greats Charles Barkley, Kenny Smith and Shaquille O'Neal on TNT's
Inside the NBA
. While Johnson always shows up meticulously prepared to talk sports on-camera, off-camera he's had an unscripted life that has thrown many obstacles his way. Johnson is a man whose Christian faith has been tested, and, in the process, his spirituality has been strengthened.
Unscripted
, a moving and multifaceted memoir, probes some of Johnson's personal detours while sharing the many joys that have defined who he is and how he has come to lead his life.
Johnson followed in the footsteps of his father, a great major league baseball pitcher who later became a legendary sportscaster. Father and son forged a strong bond that instilled a sense of integrity and character in Ernie Jr. as he built his own 40-year career in broadcasting.
Unscripted
offers stories from Johnson's childhood, as well as funny and unforgettable on-the-job anecdotes. Details about Johnson's personal life include his marriage to loving wife, Cheryl; their six children, four of whom were adopted; one son's battle with muscular dystrophy; and Johnson's own non-Hodgkins lymphoma, an ordeal that deepened his faith and wisdom. Throughout, he offers positive, inspirational lessons for readers and a hopeful message about learning to appreciate every moment of life. --
Kathleen Gerard
, blogger at
Reading Between the Lines