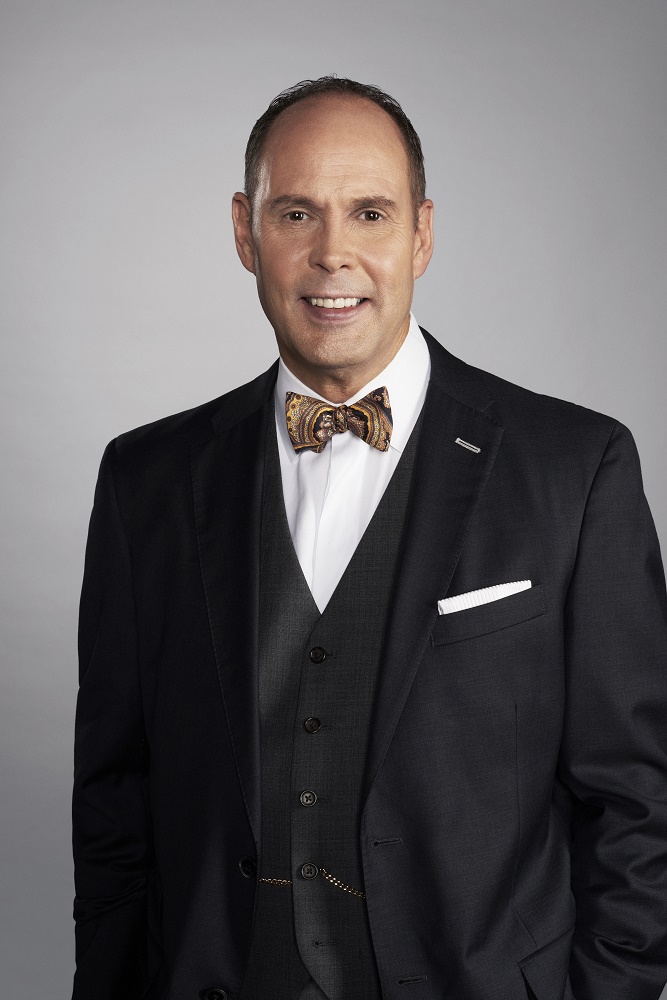 photo: Edward M. Pio Roda/Turner Sports
Ernie Johnson Jr. is a three-time Sports Emmy Award winner and host of Inside the NBA on the TNT network. Throughout a career that spans 40 years, he's broadcasted a range of sporting events--from major league baseball to Wimbledon to the Olympics--and he's traveled the world. In his memoir, Unscripted (see our review here), Johnson shares inspirational stories about some of the special, unpredictable and unscripted personal moments that have enriched and defined his life.

Unscripted is more about your personal life than your broadcasting career.

I consider myself very fortunate--blessed--to have the job I've had at Turner Broadcasting for so many years. But that's what it is--my job.... Episodes of my work life are intertwined in Unscripted. But to me, my work provides texture to a bigger story about what means the most in my life and how my family and I have navigated cancer, adoption, raising special needs children, the father-son dynamic and the matter of faith.

The theme of the book is learning to appreciate the unscripted moments of life. Are you, by nature, a spontaneous person or do you prefer having structure in your life?

I would say that's been an evolving process. My wife, Cheryl, will tell you that, early in our married life, she could predict exactly what I was going to order if we went out for dinner. I was a meat and potatoes guy who very rarely went outside the culinary box. I was sort of that way, too, when we had kids and figured that when we had a boy and a girl, that was that. End of story. Cheryl is really the one who opened my eyes to adoption, and it changed our lives. I've been much more of an unscripted guy ever since.

You have six children?

Eric and Maggie, our biological children, were so accepting from the moment they first laid eyes on Michael (adopted from Romania) and Carmen (adopted from Paraguay). Michael has developmental delays and muscular dystrophy, so his special needs have been ongoing for more than 25 years now. Eric, Maggie and Carmen experienced the adoption process as kids and now that Cheryl and I have adopted two more girls--Ashley and Allison in 2011--they see, as adults, the demands placed on a family, and they know the difficulties that come along with the blessings.

Family anchors the book. Your father was a great baseball player and a lauded sportscaster. Did you ever work together?

The greatest thrill I've ever had as a broadcaster was working with my father for parts of four seasons in the mid-1990s. We would do the play-by-play for an Atlanta Braves Game of the Week on regional cable, and it was a blast. My dad had come out of retirement to work the games, and to be able to sit there with him shoulder to shoulder was tremendous.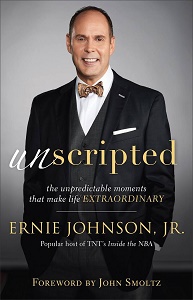 Over the course of Unscripted, you demonstrate how faith became the grounding force of your life.

I was raised a Catholic, but lapsed. When Cheryl and I went the non-denominational church route in 1997, it was, in a way, "unscripted," and we were encouraged to read the Bible, which I had long considered outdated and irrelevant. I found the messages that were being taught from the pulpit captivating and incredibly useful on a day-to-day basis. I've realized that although I came to a real Christian faith relatively late in life (at the age of 41), even when I wasn't paying attention to God, He was paying attention to me.

You've been in remission from non-Hodgkin's lymphoma for 10 years. How did your faith play a role?

My faith enabled me to frame my illness so I wasn't asking, "Oh, no. Why me?" Rather, I focused on how this battle would be used to shape me. Those years--from diagnosis through treatment (2003-2006)--were a time when I leaned in heavily on my faith. The words "Trust God. Period" became my mantra.

Has cancer changed your perspective on sports and/or the world?

Cancer did make me slow down and enjoy the moment more. When you go through something like that, with all of its inherent worry and anxiety, and you're a father--and you don't know if you're going to be around for graduations and weddings and grandchildren and anniversaries--it's pretty scary. I've always felt that sports are simply a pleasant distraction from the real world, so cancer didn't change that perspective a bit.

Is it as much fun as it looks broadcasting for Inside the NBA?

Charles Barkley, Kenny Smith and Shaquille O'Neal--the great people I work with--are as close to brothers as I'll ever have. We do a show that's spontaneous, free-wheeling and unpredictable. No one has ever been at a loss for words on the show, and often it's the loudest voice that gets heard. Things do get out of hand on occasion, but I think the spontaneous nature of the program is what attracts viewers. They don't know what's going to happen next. And sometimes, neither do I.

What moments from the many sporting events you've covered over the years stand out most for you?

When we talk about "moments" that I'll remember, there was Jack Nicklaus playing his final round of major championship golf at the British Open at St. Andrews in Scotland. Broadcasting from the grounds at Wimbledon, and from the NFL sidelines. And calling major league baseball playoff games from Yankee Stadium and Wrigley Field.

Has sports broadcasting changed over your career?

When I was working in Macon, Ga., CNN had just started up and people said, "That'll never work. Nobody wants a 24-hour news channel." They said the same thing about ESPN. They were wrong. Once upon a time, if you wanted to cover the NBA, the NFL, major league baseball or the Olympics, you had to work for one of the Big Three--CBS, NBC or ABC. Cable changed all of that, and being at Turner (TNT and TBS), I've had the chance to cover all those events. These days, digital has become such a major force in our industry--watching games online, on your phones. I have no idea how viewers will be consuming sports even five years from now. It's a very exciting and unscripted time to be working in TV.

Do you have a favorite spectator sport?

I don't know if I have a favorite, but there's something cool about watching a hockey game live. The chill in the air, the sound of the skates and the puck on the boards.

Care to offer your prediction about the NBA Finals in 2017?

Golden State is gonna be there out of the West. And if it's not the Cavs in the East, then it just might be Washington. That's as far out on the limb as I'll go.

You have a propensity for wearing bow ties. Why?

Four years ago, I decided to wear a bow tie to a Christmas party just for fun. I've been wearing 'em ever since--but only for basketball. When I'm broadcasting baseball and golf, I stick with the traditional necktie.

Why different styles? Why not keep consistent?

It's probably because the NBA has been more of a fashion forward/fashion statement kind of league, where thinking outside the box is more the norm, so I've felt comfortable going away from the traditional tie. But one thing that is a constant--no matter what sport I'm broadcasting--is my sock game. I've got some beauties. Life is too short to wear boring socks! --Kathleen Gerard, blogger at Reading Between the Lines