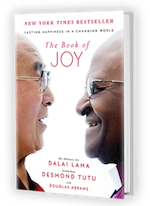 Imagine spending a week with Archbishop Desmond Tutu and His Holiness the Dalai Lama, absorbing their wisdom and insights on life. It would be impossible not to emerge transformed, enlightened and irrevocably changed. Such was the experience of Douglas Abrams, who joined his longtime friend and literary collaborator Archbishop Desmond Tutu in April 2015 for a week-long visit with the Dalai Lama at the latter's home in Dharamsala, India.
The Book of Joy: Lasting Happiness in a Changing World gives readers an opportunity to journey alongside Abrams as he shares his extraordinary experience, capturing the two world leaders' conversations and reflections on life and on one of its most essential--and often challenging and elusive--emotions.
"We are fragile creatures," Archbishop Tutu said. "It is from this weakness, not despite it, that we discover the possibility of true joy."
Envisioned as a gift to the world to celebrate the Dalai Lama's 80th birthday, The Book of Joy is structured as a symbolic three-layer cake that aims to provide a practical foundation for cultivating and sustaining joy. Beginning with a "first layer" consisting of the Dalai Lama and Archbishop Tutu's teachings on joy, Abrams elicits answers from the two spiritual leaders on questions reflecting the immediacy of life's real challenges.
"How do we embrace the reality of our lives, deny nothing, but transcend the pain and suffering that is inescapable? And even when our lives are good, how do we live in joy when so many others are suffering: when crushing poverty robs people of their future, when violence and terror fill our streets, and when ecological devastation endangers the possibility of life on our planet?"
Abrams recognizes that these are not simple questions with pat answers; The Book of Joy explores them without caving to convenient platitudes like "don't worry, be happy." Nor does the book reflect any one faith or religion.
"On this planet," the Dalai Lama said, "over the last three thousand years, different religious traditions developed. All these traditions carry the same message: the message of love."
In his symbolic second layer of The Book of Joy, Abrams supports the concept of joy with a jargon-free overview of current scientific explanations that reinforce the neurological benefits of meditation, generosity and compassion. Volunteering, for example, reduces the risk of death by 24%, and people who develop and curate a sense of purpose in life are half as likely to develop Alzheimer's disease after seven years.
"Research suggests that cultivating your own joy and happiness has benefits not just for you, but also for others in your life. It is a virtuous cycle. The more we turn toward others, the more joy we experience, and the more joy we experience, the more joy we can bring to others. The goal is not just to create joy for ourselves but, as the Archbishop poetically phrased it, 'to be a reservoir of joy, an oasis of peace, a pool of serenity that can ripple out to all those around you.' "
This takes practice and, according to the Dalai Lama, developing "mental immunity" is key. "So much of our unhappiness originates within our own mind and heart--in how we react to events in our life. 'Mental immunity,' the Dalai Lama explained, 'is just learning to avoid the destructive emotions and to develop the positive ones.' "
Easier said than done, perhaps, but certainly possible when recognizing how to put into practice the eight pillars of joy: perspective, humility, humor, acceptance, forgiveness (both of ourselves and others), gratitude, compassion and generosity. The first four of these are "qualities of the mind" and the second quartet are "qualities of the heart." Abrams explores each concept with examples, followed by simple and sustainable "joy practices," such as meditation and prompts for further reflection based on these eight pillars. Those, he says, are designed to help overcome the challenges and obstacles that we encounter on our path to true joy.
Sprinkled into the third layer of Abrams's literary confection are delightful morsels of his week with the Dalai Lama and Archbishop Tutu, whom he occasionally affectionately refers to as "Arch," a term of endearment bestowed on the visionary by those closest to him. Despite not having an opportunity to see each other often, the Dalai Lama and Archbishop Tutu enjoy a friendship based on mutual respect and admiration--and one filled with laughter, goodhearted teasing and fun. Abrams frequently describes the octogenarians as mischievous and akin to schoolboy pranksters. "When a Dalai Lama and an Archbishop walk into a bar," he writes, "you don't expect them to be the ones cracking the jokes."
"They and everyone around them were constantly guffawing, chortling, giggling, and belly laughing throughout the week, as moments of great levity were spliced together with moments of profundity and sanctity."
Such is the beauty of this life we live, one that holds tremendous suffering and heartbreak alongside moments of beauty and happiness. It is also the essence of this exquisite book, one that offers an intimate glimpse into the minds of two of the world's spiritual guides, and their foundation for an attainable and practical approach to experiencing a more enriching and sustainable life of abundant joy. --Melissa Firman