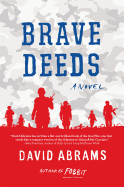 Brave Deeds by David Abrams (Fobbit) is the story of six American soldiers in Iraq, who steal a Humvee to drive across Baghdad to attend the officers-only funeral of their sergeant, killed by an IED. When the vehicle's drive shaft freezes an hour into their mission, they abandon the disabled vehicle, radio and maps to avoid a potential sitting-duck attack, and begin to hoof it to the funeral through unfamiliar streets amid Iraqi citizens.

In short chapters, Abrams fleshes out each of these unlikely comrades. As the favorite of the dead sergeant, Dmitri "Arrow" Arogapoulos steps up to take charge, but is as clueless as the others when it comes to navigating the city's dicey alleys and open-air markets. Cheever is an overweight whiner. Fish has a history of crime and violence back home. O hasn't gotten over losing his ex-wife. Park is a silent Korean American with overbearing parents. Drew is obsessed with the high school sweetheart who got away. Some are gung-ho for the war and "worship at the First Church of Bush." Others joined up for the money.

The men in Brave Deeds (and they're all men) crack funny, gripe at their buddies and, with reason, fear the unseen. With compact precision and the amusing patter of a sardonic narrator, Abrams captures the unusual histories of these ordinary men shuffling through Baghdad as they encounter the horrors of war. They may be AWOL on a personal mission outside command protocol, but they are heroes in their own ways and perform small brave deeds in the midst of half-baked chaos. --Bruce Jacobs, founding partner, Watermark Books & Cafe, Wichita, Kan.