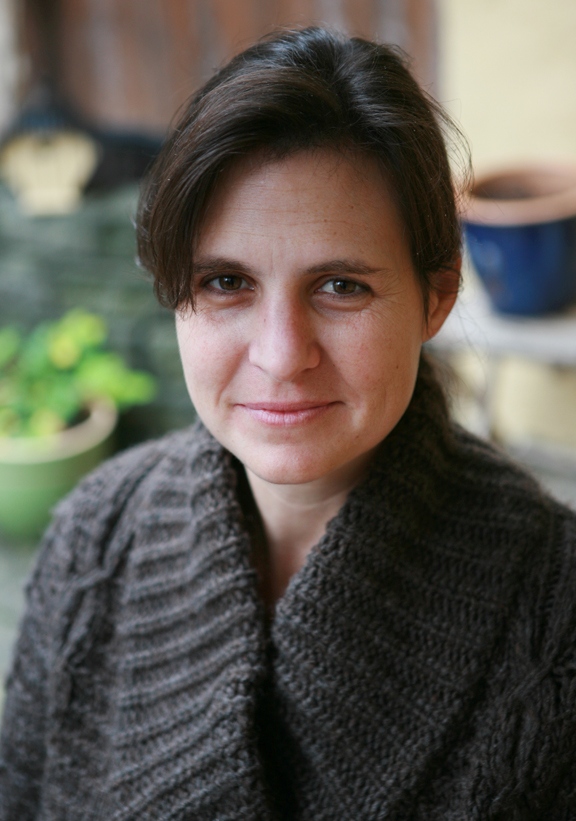 Kristin Keith
Booksellers, colleagues and her many friends in the industry have been mourning Kristin Keith, the beloved Norton sales rep who died on Tuesday at age 45 after a battle with myelofibrosis.
A celebration of her life is planned for 11 a.m.-1 p.m., Saturday, January 14, at the Church of St. Luke and the Epiphany in Philadelphia, Pa. In lieu of flowers, donations may be made to Be the Match, operated by the National Marrow Donor Program.
On Tuesday, Frazer Dobson, a Como Sales rep, expressed the feelings of many in the book business when he wrote, in part: "Our hearts are broken today. Our good friend and faithful Norton rep Kristin Keith had a bone marrow transplant a little over a year ago for a rare form of leukemia called myelofibrosis. Her recovery was slow but steady. Until it wasn't. Fungi got into her lungs, and they couldn't get them out. She went home to hospice Sunday, and then today I got the e-mail I didn't want to get. Kristin passed early this morning with her wonderful wife, Catherine, and her family by her side. If you're one of my friends from the book world, you've met Kristin; if you're not, you wish you had met her. She was simply the kindest, sweetest, most charming, and most positive people I've ever known. I never saw her in anything remotely resembling a bad mood. Her smile could light up not just a room but a shopping mall."
Among the many other tributes:

W. Drake McFeely, Norton's chairman: "Kristin's passion for books, for Norton, and for life itself were a model for us all. Her accounts adored her. All the rest of us who knew her felt the same way."

William F. Rusin, Norton: "Kristin was the epitome of an exceptional colleague and sales rep, knowledgeable, passionate, dedicated and loved by the booksellers. She will be deeply missed."
Eileen Dengler, executive director, New Atlantic Independent Booksellers Association: "Kristin was loved by everyone in our region. She will be missed, not only as an incredible book person, but as an inspiring person who lit up a room with her smile and humor. Our hearts go out to those who loved her most, her wife, Catherine, her parents and her three sisters."
Todd A. Dickinson, Aaron's Books, Lititz, Pa., president, New Atlantic Independent Booksellers Association: "I had the honor to know Kristin as a field rep to our store for almost a decade, and I was so pleased to be able to serve with her for several years on the NAIBA board of directors. Kristin was a remarkable rep for Norton and an even more remarkable person. She took her job as a field rep seriously, understanding what would work best for our unique small store, but she never took herself too seriously. She would laugh at the slightest thing and we loved her visits to Lititz. It's tough to think about going another season without a visit from Kristin, or another NAIBA conference without her.
"She contributed greatly during her time on the NAIBA board, offering important advice and direction while also doing so much of the underlying work that a nonprofit needs to keep going. Her passing is a loss to my wife Sam and myself, to the NAIBA community, and to the publishing world."
Cathy Fiebach, Main Point Books, Wayne, Pa.: "Kristin was the first person who greeted me that first rainy morning I opened and she will be sorely missed."
Mark LaFramboise, Politics & Prose, Washington, D.C.: "I met Kristin when she took over our territory for PGW. She always brought high quality chocolates to all of our appointments. She trained us in her Pavlovian way to always look forward to her visits. Not that we wouldn't anyway. We're all devastated over here."
Karen Spencer, Syracuse University Bookstore: "Kristin will be deeply missed. I remember the first time she visited my office, and how amazingly funny, witty, patient and knowledgeable she was. She was a treasure and a resource. She presented her book reviews like she was telling a story, she made every book sound captivating and I would read whatever she brought me. And then there was the chocolate... premium stuff! I miss her and feel privileged to have met her."
At Flyleaf Books
Jamie Fiocco, Flyleaf Books, Chapel Hill, N.C.: "Kristin was a class act, a star in a sea of really wonderful book people. I, too, thought she'd beat this and walk through our doors sometime soon. It's a silly thing, but I'm going out and buying some chocolates and putting it on the store counter in her memory."
Kate Weiss, Carmichael's Bookstore, Louisville, Ky.: "After a few appointments with Kristin, I began to look forward to our sales meetings an embarrassing amount. She always began by presenting me with a chocolate and helped me--a brand new buyer (who didn't exactly know what I was doing)--feel at ease. Since those days, I've often thought about how much I looked forward to hearing about her adventures in New Zealand, finding out about the books she was excited about, and getting to discuss (with someone so knowledgeable) the workings of how to make a better bookstore and better buying decisions. Her company in that windowless, tiny office in the basement of the bookshop meant so much to me as a young woman and young bookseller. It's a terrible injustice that she will no longer be brightening up the back rooms and basement offices of bookstores with her smile."
P.K. Sindwani, Towne Book Center & Café, Collegeville, Pa.: "I have known Kristin for over five years professionally and personally. I always looked forward to our appointments. She was not only incredibly passionate about books but many other things as well. We talked about our families, politics and how it feels to not fit the norms that a society has set for us. She always took the time to talk to my staff and was very personable. She knew what everybody likes to read and brought galleys and chocolates for each one of us. It does not seem fair because she fought hard but she is in a better place now. May her Soul Rest in Peace."
Elise Cannon, PGW: "Once upon a time almost a decade ago, I wrote a note to colleagues and publishers telling them how much we would miss our dear, lovely Kristin Keith as she bid farewell to PGW for a new life representing Norton. Even though I was sad to see her leave, I had a vision of her looking out at a beautiful horizon: statuesque, smiling, steady and so very smart. She seemed possessed of some knowledge that the rest of us were still trying to figure out. I smiled as I typed the subject line: 'Kristin Sets Sail.'
"I like to think that she is still standing tall in the way she always did, looking out at a place we don't yet know. She was one of the most stalwart fellow travelers, weathering many changes with our industry and our company with incredible grace and a strong commitment to hard work. She navigated PGW through the tough times of Koen's bankruptcy, she dazzled us with her sales acumen at the indies, and she eagerly took on new accounts and challenges. When Perseus came along, she found new ways to tweak old practices, she went out of her way to be useful to her fellow reps, she dove into new technologies, gently guiding us through new systems, and most of all, she warmly shared her knowledge and love of books with buyers, publishers, authors and colleagues everywhere. Through it all, she sparkled and shone.
"Sail on, Silver Girl. We will miss you in so many ways."
Joe Murphy, Norton: "I first knew Kristin when I was a buyer at Olsson's in D.C. and she was my PGW rep. She would meet with me together with the other five or six buyers, and we were an unruly lot: we talked over reps, made off-color jokes, asked a battery of questions that were often of no discernable relevance to the books being discussed, and generally made life hell for our reps. Kristin never for a second lost the smile for which she was so well known, and never lost her patience for a moment--yet she also managed to keep us on track and get a good set of orders out of us. And she always brought chocolate.
"When I was hired by Norton and getting ready to move to California, Kristin made the most magnanimous gesture: she put together a five- or six-page document that was a top-to-bottom master class on How to Be a Sales Rep. It was so helpful on knowing what to expect, how to organize, how to map a territory, and how to curry favor with accounts (that chocolate, again). I made use of pretty much every one of her dozens of suggestions. I've been digging frantically for that document today--the hard drive on which it existed was three or four computers ago--but I'm holding out hope I can find it on paper somewhere. In any event, I've never forgotten her amazing act of kindness.
"I then had the delight of seeing her join the Norton sales force. Hanging out with her at sales conference was the best. She started only shortly after me, while I was still adjusting to the move to California. She was as impossibly kind, attentive, genuinely interested, and deeply helpful listening to the dreary details of my personal life over late-night drinks as she was dealing with the circus in the buying room at Olsson's. She was absolutely there and totally present when I needed her the most, as I'm certain she was for everyone who knew her.
"She was a wonderful, wonderful friend and the greatest of pros as a colleague. The thought of no longer seeing her smile at sales conference is terribly sad. I'sm so grateful for all she brought to my life."
Cindy Heidemann, PGW/Perseus/Legato: "I worked with Kristin at PGW and she ended up being one of my closest rep friends. We would burst into song at any provocation at sales conference and laugh ALL THE TIME. She was so smart, funny and so very kind. And that smile! We will all miss her so very much."
Charlie Young, Scholastic: "Kristin was known for her radiant smile, her positive attitude and professionalism. Just seeing her for a brief moment at a bookseller gathering would brighten the day immeasurably. Kristin's loss leaves a big gap in the bookselling community, but her loving manner, her laughter, her spirit and that Cheshire Cat smile will live on forever among those of us lucky enough to have known her."
Steven C. Ballinger, Princeton University Press: "I met Kristin in her role as a buyer/manager for Tower Books in Fairfax, Va. We got to chatting about where we were originally from and it turned out that we were both exiles from Salt Lake City, Utah. Then we discovered we were from the same neighborhood and that we went to the same high school, East High, on 13th East, only with about 20 years difference. We both had the same French teacher, Miss Hemstead, a wisp of an English woman, who could terrify 16-year-olds. All the best to you Kristen. You will be sorely missed."
Tim Hepp, Simon & Schuster: "Kristin was amazingly kind with heart of gold. EVERYONE who encountered her was enriched by knowing and spending time with her. This is a great loss to our NAIBA community and to all of us who loved her so much."
Andrea Tetrick, PGW/Perseus/Legato: "I met the 22-year-old Kristin Keith back in December 1993, when she accepted seasonal work for Tower Books in Portland, Ore. The quality of Kristin's work soon made her a valuable full-time member of the crew, while her charm and indefatigable good cheer and boundless enthusiasm for life endeared me to her, personally. Big smile, bright flashing eyes, smart as a whip--what wasn't to love? Within seven months or so of our meeting, I was on my way to the Washington, D.C., as regional manager for Tower Books at the beginning of an optimistic company-wide expansion of bookstores.
"Soon thereafter, while juggling the opening of two bookstores in the D.C. metro area, it struck me rather resoundingly one day that I could sorely use the help of a stalwart and enterprising young bookseller like Kristin to help shape the face of Tower Books in the region. I telephoned Kristin on a whim, to see if she might want to relocate to D.C. to work with me. She had since left Tower to work at the Portland Opera, and I had no forwarding number for Kristin beyond the opera's box office. I called and left a message for her, a sort of Hail Mary that I did not really expect to bear fruit. That very same day Kristin tracked me down, independently, having no idea about my own call, since she had decided the opera job wasn't for her. She found me on the floor of the Rockville Tower Records store and while Pearl Jam blasted over the stereo system, she asked me over the phone if I had a job for her, as she was intrigued by the idea of living on the East Coast. It was one of those synchronicitous moments when you realize that a person's path is, for a time at least, inextricably combined with your own.
"Kristin worked with me at Tower in the D.C. area for two years or so before Koen very savvily enticed her to move to Philadelphia to buy books for their distribution business. When she told me a bit nervously that she had accepted the Koen position, she broke the news by handing me a bottle of Glenlivet 15, when it really should've been me giving her such a gift in tribute to her friendship and superior work over the years. But that's the way Kristin's heart worked--generous at every turn.
"Several years later when I left Publishers Group West to move to the mountains of California, I again rang up Kristin, this time asking her if she would be interested in taking my job as Mid-Atlantic sales representative for PGW, knowing that without a doubt she would be a natural. Kristin was indeed interested and worked at PGW for a time before moving to W.W. Norton, where she honed her considerable skills to become one of the very best reps in the business.
"For my part, I am only happy Kristin and I were able to work together in so many different capacities over the years. It has been an honor and a delight to know such a beautiful soul and see Kristin blossom in so many ways. She flew planes! She ate fire! She kicked ass at pool! She fashioned intricate origami jewels! The list goes on... The bittersweet reality that we all must face is that we can now only witness Kristin's flowering through the continued example her influence seeds in her many friends, family and colleagues. This is more than hard to take. But just as Kristin faced the challenges of her illness with such grace and good humor, so too must we endure her absence in our lives with the kind of inner mettle she would have applied to such. We owe her this and so much more."