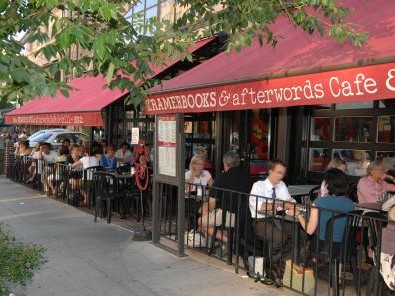 Following the sale late last year of Kramerbooks & Afterwords Cafe, Washington, D.C., by founders Bill Kramer and David Tenney (who retains an interest) to Steve Salis, co-founder of the local chain &pizza, the store has undergone major management changes.
Kramerbooks announced last week that Perry Hooks, president and co-founder of Hooks Book Events, which creates specialized book events for large organizations, has been named senior adviser for the bookstore and will "provide counsel on the operations, growth and revenue opportunities for the brand."
At the same time, "the longtime management team" at the store has quit, the Washington Post reported. The move was "a coordinated effort" that came after "clashes" with Salis. The bookstore's events director resigned in January, and five others, including the general manager and head buyer, quit early last week. Among the causes, according to the Post, were "concerns about the work environment." Salis told the newspaper in an e-mail, "We don't know why they left--no notice and no explanation. Just did not show up one day."
Commenting on the appointment of Hooks, Salis said, "My priority in cultivating a strong sense of identity around the Kramerbooks brand for the next generation has always required the best minds to elevate our relationships with our team, guests and community for whom all are a part of this beloved institution. We are thrilled to welcome Perry to our team as we develop a new paradigm for the independent bookstore."
Concerning her appointment, Hooks said, "I got my start in the book business more than 20 years ago working with a wonderful indie store in Tennessee. We have entered a period where independent bookstores are thriving once again and this moment in working with the Kramerbooks brand and helping to fulfill Steve's vision for creating an experiential bookstore is an exciting one. I look forward to providing my counsel and expertise to Steve and his team."