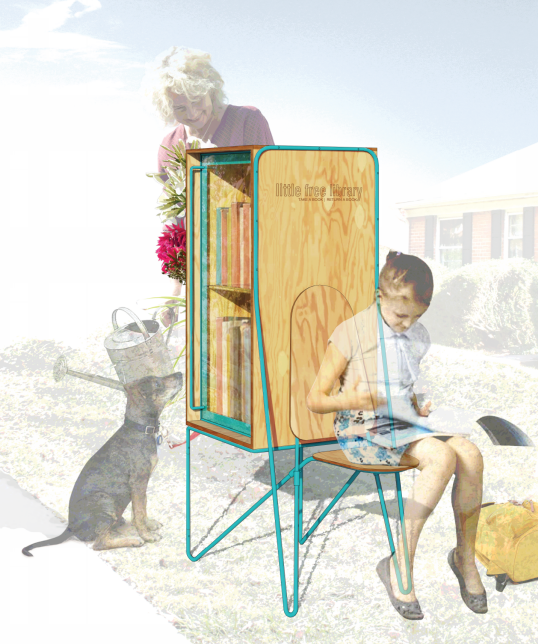 The Chronicle Books Choice winning design
Chronicle Books has announced the winners of the first Little Free Library Design Competition, which the publisher sponsored in partnership with the Little Free Library organization and the American Institute of Architects San Francisco. View all the winners and honored designs here.
Designers were challenged to create an LFL that "would be durable in all weather, usable at night, accommodate the height difference between adult and child readers, and suit the community where it is sited." The judging panel received 300 submissions from 40 countries, including the U.K., India, China, Iran, Germany, Italy and Japan.
Judges selected Owlie by Bartosz Bochynski (FUTUMATA/London) as the overall winner. Owlie is a wooden owl, standing approximately four feet tall. Books are accessed through plexiglass doors in the back and are visible though its eyes. A metal roof protects it from the elements. As Bochynski explained, Owlie "is made from affordable and ecological materials, and it can accommodate around 40 books which are visible in her eyes. There is a shelf for kids' books, a shelf for adult books, and a shelf for a notebook for visitors' comments. All shelves are highlighted with the LED lighting." Competition judge Renée Elaine Sazcı of AIASF noted: "I love that in the evening, with the help of the LED lights, the owl's eyes light up as a feature. This not only attracts people, but creates safety for the tiny library."
The Chronicle Books Choice winner by Rachel Murdaugh and Clark Nexsen (Asheville, N.C.) is a free-standing kiosk with a hinged frame and optional fold-down seat. It would ship in a flat pack and could be assembled with the included hardware and instructions. Chronicle's design team praised it as "a thoughtful and impressive alignment of style and substance, and the materials chosen were very smart from a production standpoint."