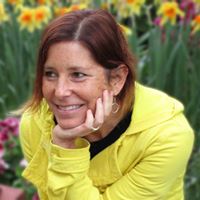 Amy Krouse Rosenthal
Amy Krouse Rosenthal, the popular author, filmmaker and speaker "who brightened lives with her wide-eyed and generous spirit--and broke hearts when she wrote of being terminally ill and leaving behind her husband Jason," died yesterday, the Associated Press reported. She was 51. Her longtime literary agent, Amy Rennert, said she "was the most life-affirming person, and love-affirming person."
Rosenthal wrote more than 30 books, including journals, memoirs and the picture stories Uni the Unicorn and Duck! Rabbit!. She made short films and YouTube videos, gave TED talks and provided radio commentary for NPR, among others. Beginning in the late 1990s, she published at least a book a year, and sometimes three or four. Rennert told the AP that Rosenthal had completed seven more picture books before her death, including a collaboration with her daughter, Paris, called Dear Girl. Her many books include I Wish You More; That's Me Loving You; Little Pea; Chopsticks; Spoon; and Encyclopedia of an Ordinary Life.
Describing her as "a brilliant writer, and an even better friend," author John Green told the Chicago Sun-Times: "It's hard to imagine what my professional life or my personal life would look like without Amy's influence. Amy taught me that, for writing to work, it has to be a gift for the reader, rather than an attempt to impress them or an attempt to think you're cool or whatever."
Green tweeted yesterday: "As a parent, a writer, a spouse, and a friend, Amy Krouse Rosenthal was what I wanted to be when I grew up. Her last book, the brilliant Textbook Amy Krouse Rosenthal, ended: 'Bye. I love you. Thank you.' Goodbye, Amy. I love you. Thank you."
In that book, Rosenthal observed: "If it is wonderful, splendid, remarkable--a view outside a window, a lit-up fountain at night, that fig-chorizo appetizer--I am compelled to seek some sort of saturation point, to listen/stare/savor on a loop, to greedily keep at it until I've absorbed, absconded with, and drained it of all its magic.... Invariably, I will have to move on before I have had enough. My first word was 'more.' It may very well be my last."