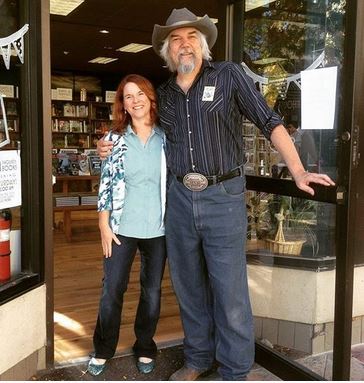 Gary Robson at This House of Books' opening.
Gary Robson, who was CEO and general manager of This House of Books, which opened last September in Billings, Mont., has been let go by the cooperative bookstore, KTVQ reported. Gwen Gunn, manager of the store's newly opened tea bar, has also left. Robson and Gunn plan to open a tea store in Red Lodge, where Robson had owned Red Lodge Books and Tea, whose assets the cooperative purchased last year when it hired him to run the store.
At the same time, Gustavo Belotta has been promoted to general manager of This House of Books, and Jamie Winter is manager of the tea bar. Belotta has worked at This House of Books since it opened and earlier worked for 16 years at the now-defunct Hastings store in Billings, 13 years as manager.
A member of the cooperative's board of directors told KTVQ that sales had been very slow in January and February and that "we definitely need to sell more shares and increase sales."
Robson said that he and Gunn have not been paid "in some time" and said about his departure only, "This was the culmination of ongoing discussions dating back to early February."
He added that he was "surprised by the seasonality of sales in Billings, and foot traffic in downtown Billings was less than Red Lodge."
Belotta said he hopes to draw more customers with "as many events as we can get in here," including readings, signings and book club meetings, in addition to the game night held every Thursday. At Hastings, he stocked books by local writers and hosted events for them, which he also plans to do at This House of Books.