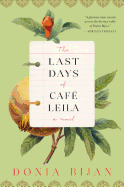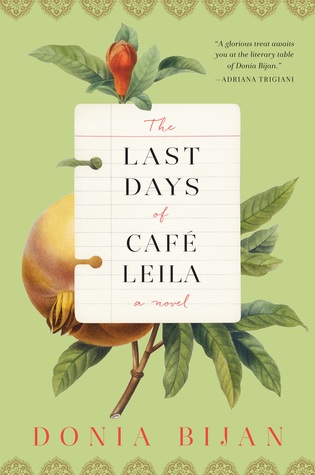 Since Noor Yadegar was sent from her homeland of Iran to the U.S. as a teenager, she's missed her father, Zod, and their family's café--a neighborhood institution. After discovering her husband's infidelity, Noor heads back to her family's home in Tehran with her teenage daughter, Lily, in tow. The world they discover is both familiar and unknown to Noor and totally new to Lily. Iranian American chef and writer Donia Bijan--who also came to the U.S. as a teenager--paints a rich portrait of family, food, love and loss in her debut novel, The Last Days of Café Leila.

Bijan (the memoir Maman's Homesick Pie) alternates among the perspectives of three generations: Zod, firmly rooted in the house and restaurant established by his parents, Russian immigrants who taught themselves to cook Persian food; Noor, caught between her painful past and an uncertain future; and Lily, reluctantly learning to navigate an unfamiliar culture and the extended family she has never known. Bijan evokes the loneliness of leaving and being left behind as she recounts Noor's college years in California and Zod's endless patient waiting for her letters. Ever-present in both their minds is the shadow of Noor's mother, Pari, a beautiful opera singer who was murdered by the Islamist regime.

Although Noor came to Tehran hoping to escape her heartbreak, she must deal with the weight of her family's history and the realities of life in Iran, harsh and beautiful, gracious and violent. When Lily convinces Karim, the café's errand boy, to join her in a daring escapade, the resulting events will have consequences for the entire Yadegar household: Noor, Zod and the café's small staff of loyal employees. Meanwhile, Noor must confront her father's mortality and decide how she wants to shape her own future.

In the end, Noor comes to know what Zod and the café's employees have always known: "She couldn't change the conditions, she couldn't deny her awareness, and she couldn't stand in the way of death or love." As she takes refuge in the familiar tasks of the kitchen, Noor realizes that "the only thing to do was to keep moving, to do something, to show courage, to give everything she was capable of giving." Bijan's novel is a tribute to everyday resilience, love in the face of deep grief and the power of a good meal to nourish body and soul. --Katie Noah Gibson, blogger at Cakes, Tea and Dreams

Shelf Talker: In her debut novel, Iranian American chef and writer Donia Bijan stirs up a powerful, nourishing story of family, love and loss.