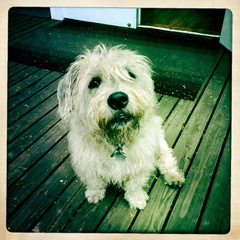 Shelf Awareness staffer Fergus
Beginning this year, HarperCollins Publishers India will be granting "pawternity leave" to employees who are adopting a pet. Huffington Post India reported that staff "will be entitled to a week's--or 5 working days'--paid leave if they have just adopted a cat, dog or other type of pet they fancy.... In addition to pawternity leave, HCI will allow employees who find it difficult to leave their pets at home to bring them to office, which is based in Noida. The animals will be kept in a designated area for the day."
"At HarperCollins we want the very best of work-life balance for our colleagues, and that includes being mindful about their family needs," said HCI CEO Ananth Padmanabhan. "Pet children need as much attention [as human children], if not more. We don't want colleagues to worry about the number of leaves they have before deciding to start a family."