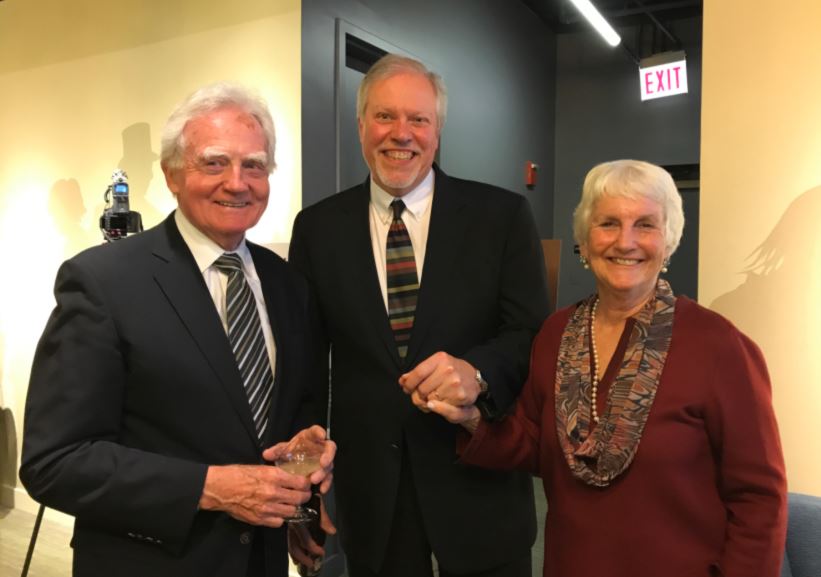 At the pre-opening party for the American Writers Museum: (l.-r.) museum founder Malcolm O'Hagan; Andy Anway, chief designer and creator of the exhibits; and board member Roberta Rubin, former owner, the Book Stall at Chestnut Court in Winnetka.
The American Writers Museum, the brainchild of retired executive Malcolm O'Hagan that was created with nearly $10 million in privately raised funding, will open in Chicago May 16. The New York Times reported that "rather than a temple to solitary creation, the nearly 11,000 square feet of galleries--housed on the second floor of an office building on North Michigan Avenue, not far from top tourist draws like the Art Institute and Millennium Park--might be seen as a convivial shared apartment."
Eight years ago, O'Hagan incorporated a nonprofit dedicated to the project and hired lead designer Andrew Anway, founder of the Boston firm Amaze Design. Anway organized brainstorming sessions with writers, publishers, scholars, teachers and booksellers in various cities. "One of the things we got asked a lot when we started was whether the museum was going to be an athenaeum, with leather chairs and lots of oak," he said. "That was something we really wanted to dispel. We want people who come here to have different kinds of experiences around literature."
The museum features "interactive touch screens and high-tech multimedia installations galore, like a mesmerizing Word Waterfall, in which a wall of densely packed, seemingly random words is revealed, through a constantly looping light projection, to contain resonant literary quotations," the Times wrote. "Homier touches" include cozy couches in the children's literature gallery and "even the occasional smell of cookies" that fill the air when a visitor pushes the plaque for Julia Child's Mastering the Art of French Cooking.
On loan to the museum for the first six months is the 120-foot scroll on which Jack Kerouac wrote his iconic novel On the Road, "a treasure that seems perfectly matched to the museum's populist, D.I.Y. spirit--and not just because it's displayed near a table of vintage typewriters, loaded with paper and ready for visitors to use," the Times noted.
"It really illustrates the idea of process, the way that Kerouac taped together tracing paper, cut it and then went nuts," said Carey Cranston, the museum's president. "To be able to physically look down and see the amount of work that went into it is a great way to show what writers actually do."
Roberta Rubin, former longtime owner of the Book Stall at Chestnut Court in Winnetka, Ill., commented: "I have been on the board of the American Writers Museum since it was chosen to be located in Chicago, three years ago. I am excited that Chicago responded to supporting a museum such as ours--a first in this country. As Carey Cranston (our president) says, 'Beyond our exhibits, I am just as excited about the programming we look to bring into the space. We are working with authors and book people to create opportunities for readings, dialogues, and workshops that will engage and inspire our membership in exciting new ways.' I hope you will visit the museum in the near future and share in the excitement we feel as it opens its doors to a new and creative experience for everyone."