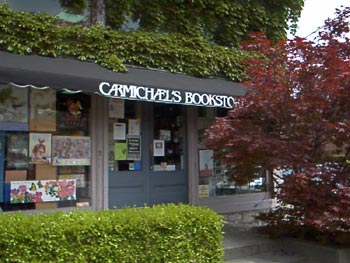 Early yesterday afternoon, Kelly Estep, manager/buyer at Carmichael's Bookstore, Louisville, Ken., e-mailed us regarding what was turning into a very busy day for booksellers there: "@sheaserrano (Shea Serrano, author of The Rap Year Book, Abrams) unleashed his FOH Army today on Carmichael's Bookstore. After one of our staff members ribbed him about pointing his twitter followers to Amazon, he decided to show some love to Indie stores by asking his followers to send us 1,000 orders today. As of 1p.m. we are over 600 orders!"
And the book frenzy continued for a store that averages about 1,000 online orders annually:
@ABRAMSbooks: ".@SheaSerrano strikes again! Now engaging a community that's very near and dear to our hearts--indie bookstores!"
@carmichaelsbook: "With @SheaSerrano's help, we're racing towards 700 orders, and have easily cleared 700 books sold! #FOHArmy"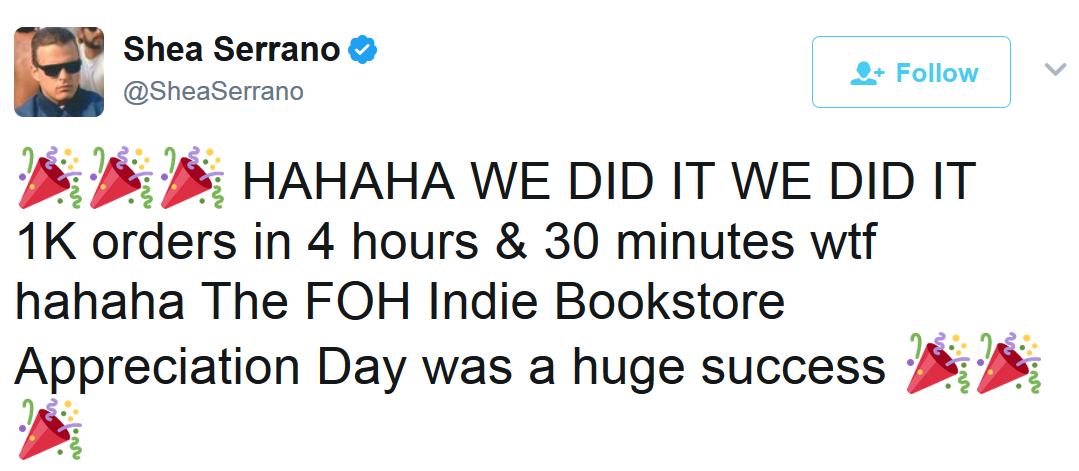 @SheaSerrano: "1K in a Day--we're really gonna get it done--we gotta hang an FOH championship banner from the @carmichaelsbook rafters after this"
@carmichaelsbook (about 3:20 p.m.): "Alright Shea. That's it. We just hit 1K orders!! A special gift and message is coming for customer no. 1K. WE CANNOT THANK THE FOH ENOUGH!"

@SheaSerrano: "HAHAHA WE DID IT WE DID IT 1K orders in 4 hours & 30 minutes wtf hahaha The FOH Indie Bookstore Appreciation Day was a huge success"
"We are going to need a lot of mailers! It's been really fun to see what people are ordering since it isn't his book--just all kinds of stuff!" Estep told us later, adding: "The messages from people coming in with the orders are also really fun (and a lot of twitter mentions)! Everything from the Whole 30 cookbook to Neil Gaiman to Catch 22." Carmichael's is also "working on a special something to put in each order."
"All thanks for Mark Schultz, bookseller extraordinaire," Estep noted.