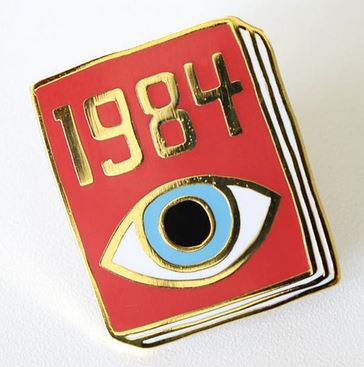 Ideal Bookshelf pin
At Mysterious Galaxy Bookstore in San Diego, Calif., assistant manager and sidelines buyer Kelly Orazi has seen "enormous success" with enamel pins, particularly with pins of a literary theme such as those made by Ideal Bookshelf. Among some of the store's perennial favorite sidelines are T-shirts and socks from Out of Print and tote bags from a wide variety of sellers. Orazi noted that while vendors such as Unemployed Philosopher's Guild and Out of Print are extremely popular at Mysterious Galaxy, she predicts that "we're going to see a huge upswing in local and independent artists in bookstores across the nation. I'm always on the lookout for artists that tie their products to books and popular science-fiction and fantasy culture."
One such example of sidelines from independent, local artists, and one of Mysterious Galaxy's more recent and surprising successes, has been Harry Potter-themed wooden wands made by none other than Orazi's father, who is a woodworker. She first commissioned him to make wands for the store's Harry Potter and the Cursed Child midnight release party last summer. The wands were such a success that the store continues to carry them, since customers have "never really stopped buying" them. Added Orazi: "Customers really do seem interested in things they're not likely to see anywhere else, or items that tie in with their favorite authors or books in a fun and creative way."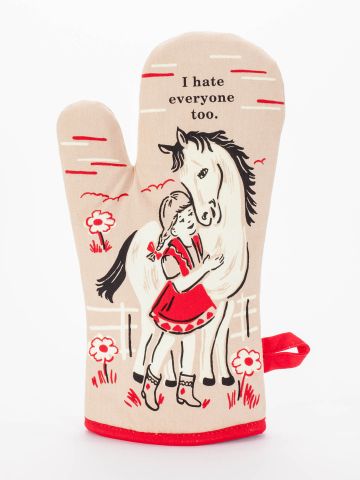 Blue Q oven mitt
Suzanna Hermans, co-owner of Oblong Books & Music in Rhinebeck and Millerton, N.Y., reported that the six square feet of Blue Q and Sock It to Me socks that she carries make up the most profitable section per square foot at her store. She began selling the socks about two years ago, and has recently added new oven mitts made by Blue Q. The company has come out with dish towels that Hermans and her staff expect to be popular. Lately Hermans has also expanded the store's selection of adult board games, which are doing very well.
Oblong's bestselling board games are Exploding Kittens, The Settlers of Catan and Pandemic. Hermans explained that she started carrying more board games as her own interest in them has increased, and it helps that "there's really nowhere in our area that carries a good selection of curated games." To decide to what board games to bring in, Hermans does online research to figure out which games are highest rated by board game players. She pointed to the website BoardGameGeek as a helpful resource, and suggested that the games "Catan, Exploding Kittens, Pandemic, Codenames and Mysterium" are good places to start. Her two main distributors are Alliance Games and Everest.
For BookBar in Denver, Colo., the term sidelines doesn't quite fit when describing the store's beer and wine offerings, as they are a pillar of BookBar's business. They are, however, still nonbook items, and this summer owner Nicole Sullivan and her staff have been offering a selection of specialty rosé wines rotated on a close to weekly basis. During the summer, BookBar makes extensive use of its own fruit, vegetable and herb garden in its menu items. Sullivan is getting ready to switch to the bar's winter menu in October, which will focus on heartier dishes and drinks.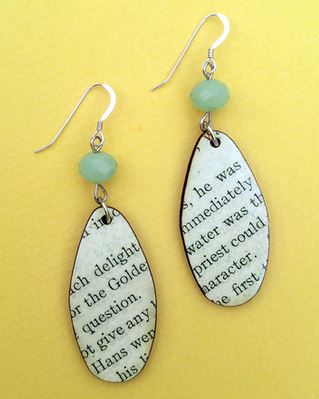 Earrings from Yes & Yes
Among more traditional nonbook items, BookBar does very well with literary-themed buttons, novelty pens, erasers, booklights and greeting cards. Sullivan explained that the store is on a very pedestrian-friendly street with plenty of retail but no other shop that sells cards, so "people go straight to the bookstore for cards." Local candies made by Hammond's and caramels by Hellie Mae's are also popular, and some recent sidelines additions include earrings and jewelry produced by Yes & Yes Designs, which are made from parts of books. "All the sidelines we do are very specific as bar items or literary items," Sullivan noted. "Everything we do is either related to wine, beer, coffee and tea, or literature." --Alex Mutter