It's still early to report on the effects of Hurricane Irma on book people in Florida, but we fear the wind and flood damage in some areas is great and that there won't be power for days in major parts of the state. Coming so soon after Hurricane Harvey's destruction in Texas, we hope for the best (and hope that some people stop dismissing climate change and global warming so casually).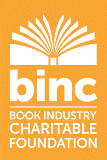 The Book Industry Charitable Foundation (Binc) continues to work hard to support booksellers affected by Hurricane Harvey--and is gearing up to help those in Hurricane Irma's path.
Others have been helping Binc in its important work. The American Booksellers Association has made a special contribution of $5,000 to Binc and will match any additional contributions that Binc receives through September 15 up to another $5,000. ABA CEO Oren Teicher wrote (before Hurricane Irma neared Florida), "The booksellers affected by Harvey are hard at work in helping their communities rebuild; let's do what we can to support them."
Another fundraiser for Binc, Chuck Robinson, former co-owner of Village Books and Paper Dreams, Bellingham and Lynden, Wash., completed the first stage of his cross-country biking trip, which will benefit Binc and two other charities. He began on September 1, in North Dakota, where his first cross-country trip, in 2015, ended prematurely after a dog attack. He rested Friday and Saturday in Minneapolis--visiting several bookstores--and headed for Wisconsin yesterday morning. If all goes according to plan, he arrives in Bar Harbor, Maine, on October 12, after traveling about 2,000 miles. Some of his co-riders on parts of the trip are Binc's Lori Tucker-Sullivan, Richard Hunt of AdventureKEEN and Shelf Awareness's own Matt Baldacci.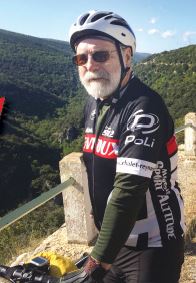 Chuck Robinson
As on the trip in 2015, which raised nearly $30,000, Robinson is again pledging $1 a mile to Binc and two other charities. Keep up to date with his ride here and make your own pledge to support Robinson and Binc here.)
Chronicle Books raised $2,603.97 for the Hurricane Harvey Relief Fund and the Texas Gulf American Red Cross from a bake sale in the lobby of the company's building in San Francisco. With a corporate match, the total donated was $5,207.94.
One bookstore is reaching out to help people and communities farther south affected by the hurricanes of the last few weeks. Through Friday, Greenlight Bookstore, Brooklyn, N.Y., is donating 10% of all sales in both its stores and online to Oxfam America for hurricane relief and rebuilding efforts in the Caribbean. As the store wrote, "We've been thinking a lot about what we can do to help our fellow humans affected by the many crises and natural disasters of recent weeks. We feel it's high time for us as a community institution to give back, and we want to direct our efforts to those most likely to be overlooked by the global community... As we did in 2010 and 2011 in the aftermath of the earthquake and cholera epidemic in Haiti, Greenlight is honored to partner with our community to pitch in and help. The more books your buy from your local independent bookstore next week, the more funds we can donate... We think independent bookstores, and the communities they serve, have a role to play in troubled times. With your purchase at Greenlight this week, your book-buying dollars can contribute to something greater... We hope you'll join us in offering our support to the organizations working to help the people of the Caribbean."