Independent bookstores "have stepped in to help those affected by the deadly Wine Country wildfires that have destroyed more than 1,500 structures, forced thousands from their homes and left many others without power," the San Francisco Chronicle reported.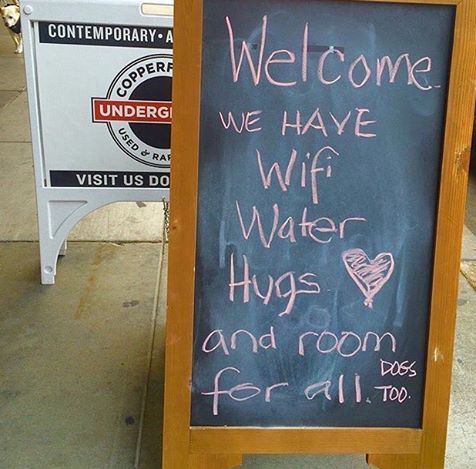 As Shelf Awareness noted yesterday, several Copperfield's Books locations are providing free wi-fi, charging stations for phones, bathrooms and a safe kid- and dog-friendly space for all who have been impacted by the tragic fires.
Mimi Figlin, Copperfield's general manager, told the Chronicle, "There's always a safety net in bookstores, I believe. We're here for the community." Although she hoped the Napa and Calistoga stores would reopen Wednesday, she said it was difficult for booksellers to get to the Calistoga location and the Napa store was still without power.
Readers' Books in downtown Sonoma closed Monday, but was back in business on Tuesday. "We want to be here for people who need a place to go," said buyer Jude Sales. "We feel like we want to do something--if nothing else, we want to be a safe place for people."
Treehorn Books in Santa Rosa also opened Tuesday after being closed Monday. "Pretty much the whole block is closed here," said store manager Grant Hotaling. "I feel so bad for the community, and if there's anything I can do at all, it's to open the store and offer a place for people to come in and perhaps take their minds off their troubles."
Napa Bookmine bookseller Paul delivered copies of John Green's new novel.
On Tuesday, Napa Bookmine offered a special John Green delivery service: "The last 36 hours have been something from a nightmare, and we are sending well wishes to all of you, your friends, and families. Our community will come together just as we did after the earthquake. For all of you staying safe at home, we are offering a special delivery service... a signed copy of Turtles All The Way Down could be in your hands, delivered personally by a Napa Bookmine bookseller!!!" The store reported that they'd had a few requests for delivery, "and lots of positive response for good vibes. Very sweet and a fun thing to do during a very scary couple of days!"
In an update on the fires' ongoing effects on "the bookstore-rich Sonoma and Napa counties," Bookselling This Week reported that Northern California Independent Booksellers Association executive director Calvin Crosby is working out of Marin since the NCIBA offices in Sonoma are without power.

"Most stores are open (with low expectations of sales), but they are opening more as a community gathering place," Crosby said. "Most event schedules for the area have been canceled. Homes, stores, and businesses, including our office, still have no power." He added that NCIBA's Fall Discovery Show, scheduled for October 18-20 at the South San Francisco Conference Center, will be held: "Things were going according to plan, and we were feeling really good about it. This has kind of thrown a wrench in things."

Crosby also suggested that anyone who feels the need to do something immediately should make a donation to the Book Industry Charitable Foundation.