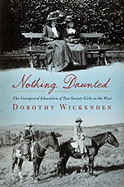 The first years of the 20th century saw a U.S. frontier "settling up" at astonishing speed, with dugout homes and canvas-roofed log cabins hanging on alongside new hotels and ever-increasing railroad lines. It also brought a number of changes for women, with the suffrage movement in full swing and young ladies of means being urged to work for the social good before (or in addition to) arranging a "good" marriage.
Into this world came best friends and fellow Smith graduates Rosamond Underwood and Dorothy Woodruff, later grandmother of author Dorothy Wickenden (executive editor, the New Yorker). Bored with the endless round of tea parties, picnics and dances in New York but not yet ready to marry, Ros and Dorothy set out in 1916 to teach school in Elkhead, Colo., miles from the nearest town.
Nothing Daunted, based on the women's letters home during those nine months, is more than mere history. It's also an enthusiastic and clear-sighted look into the lives of two women who started teaching as an adventure and finished better than they began. To Dorothy and Ros, everything in Colorado was exciting, from the beautiful mountain views to the neck-deep winter snows and the knee-deep spring mud.
Although their tale could easily have become a stereotypical "rich woman's burden" story, Wickenden skillfully avoids this trope by focusing on the humanity of the settlers, the schoolchildren and her main characters. The result is an intimate and joyful work that captures the best spirit of the 1910s--and today. --Dani Alexis Ryskamp, blogger at Intractable Bibliophilia