"Have you seen Skyfall yet?" Sir Roger Moore asked as we chatted "backstage" at a Manhattan Barnes & Noble before he met the crowd that gathered to have him sign Bond on Bond, a look back on his 12-year run as James Bond--a part he played an exquisitely apt seven times--as well as his thoughts on all the other films, from Sean Connery's 1962 debut in Dr. No to the most recent portrayal of 007 by Daniel Craig, who, Moore said, is "quite extraordinary" in the part: "It's the first time, I think, that Bond is completely vulnerable."
Sir Roger cheerfully describes the origins of Bond on Bond: an invitation from Lesley O'Mara, the director of the British publishing house O'Mara Books, to write, as he put it, "something that might just coincide with the 50th anniversary of Bond." (The book is being published simultaneously in the U.S. by Lyons Press.) Working with his personal assistant, Gareth Owen, Moore sifted through a half-century of anecdotes and photographs, offering his insights into Bond's archvillains, his gadgets, his fancy cars and, of course, his female companions.
In the book, Moore discusses how he worked out his version of 007's personality, finding a line in one of Ian Fleming's stories that says Bond didn't enjoy killing. "That was my key to playing it," he explained during the interview--although, he quipped, "I was going to play it the same way I play everything else--they all look like me and sound like me. It's just sometimes the wardrobe changes." He also joked about how the film's producers made him lose weight and get a haircut to better look the part: "It was agony. Not the working out and dieting, but the haircut. It was like Samson, every lock falling on the floor."
All kidding aside, though, Moore still lights up with emotion when he recalls working with co-producer Albert R. "Cubby" Broccoli, whom he first met in a London gambling club in the early 1960s, when he was still starring in The Saint and Sean Connery was just starting out as Bond. "Cubby was one of the dearest people I knew," Moore recalled. "He was one of the only caring producers you could find in the world. Working on the Bond films was like working with family--family that you like! It was invariably the same crew, many of the same technicians. Some of the directors would do two or three films in a row. It was really family time. Cubby and I had a running backgammon game; we totted it up every day and paid up on the last day of production."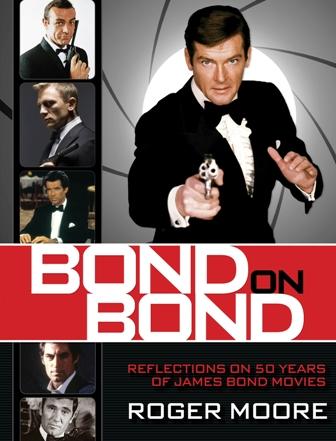 The feeling of familial warmth extends to the current producers of the Bond franchise, Cubby's daughter Barbara Broccoli and Mike Wilson, the son of Cubby's wife Dana from her previous marriage. Barbara also played a crucial behind-the-scenes part in the making of Bond on Bond: as Sir Roger tells the story, after he and Owen had gathered together photographs from over the years, they heard from somebody at MGM who tried to assert copyright over the pictures. "Barbara quite properly told them to get stuffed," Moore said with a smile; her firm stance made it possible to do the book without shelling out exorbitant fees for the images.
One thing many Bond fans might be surprised to learn from Bond on Bond is that Moore almost made his first appearance as 007 several years before Live and Let Die. After Connery had walked away from the role following You Only Live Twice, Broccoli's partner Harry Saltzman (with whom Moore also enjoyed a close friendship) began clearing the path for Sir Roger to play Bond in a film set in Cambodia. That film was shelved when the political situation there made on-location filming impossible; Moore went back to The Saint for a final season, and George Lazenby made his single appearance as 007 in On Her Majesty's Secret Service.
There are a few jokes in Bond on Bond about how he's ready to come back to the franchise and play a villain, but in real life Sir Roger isn't even looking for a small part. "A cameo might be all right if I came back as Bond's grandfather who somehow survived falling over the rapids," he admitted, "but otherwise it wouldn't work." At any rate, he has nothing but praise for the way the films are going these days; although he didn't see Skyfall in time to include it in the book, he did attend a private screening a few weeks ago, and is eager to see how audiences will respond to what he calls "the best Bond, without a doubt." --Ron Hogan