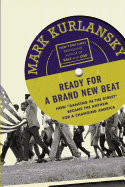 Released as the "Freedom Summer" of 1964 began, "Dancing in the Street" by Martha and the Vandellas became the unlikely anthem of a generation. Written and recorded at Motown's Hitsville U.S.A., the record began as a party song but took on new layers of meaning as civil rights workers, Vietnam War protesters and other groups used it for their own purposes.
Mark Kurlansky's Ready for a Brand New Beat uses the song to explore the twin histories of the civil rights movement and popular music, which occasionally intersected but often ran on parallel tracks. He traces the history of pop music in mid-century America from jazz to blues to Elvis Presley and the rise of rock 'n' roll. He portrays Motown as a close-knit studio family (with all the infighting and tangled relationships of a blood family), centered on founder and chief producer Berry Gordy, Jr.
As the country's social and political scene spiraled into turmoil, Motown churned out romantic hits, purposefully keeping its songs separate from the country's racial upheaval. But "Dancing," with its driving beat and undertones of protest, escaped the studio's tight control. Kurlansky ably highlights the song's use by various groups agitating for change, though the book's final chapter (a laundry list of later covers of "Dancing") falls flat.
For readers interested in a new angle on the 1960s, Ready for a Brand New Beat provides both a slice of social history and a fascinating inside look at the Motown machine. --Katie Noah Gibson, blogger at Cakes, Tea and Dreams