Jenny Milchman has embarked on what may be the longest author tour ever. This is the first installment of her notes from her trip: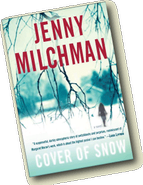 On February 1, my husband and children and I set out on the first leg of a bookstore-to-bookstore odyssey across America. The reason for the tour is the release (after a 13-year journey of its own) of my debut novel, Cover of Snow (Ballantine). Seven months on the road is a long time, though, and there is more to it than the publication of just one book. We are also celebrating a cultural resource: bookstores and the people who are keeping them alive.
During the tour, we are "car-schooling" our first- and third-grade children. Part of their education will be seeing the landscape change as the bookstores do--and maybe the bookstores change the landscape. I believe that bookstores are a force with the potential to shape the industry during this time of upheaval and change, even as they are shaped by it.
Here's the thing about the tour so far.
Every single day has been different.
At Otto's, a Booklover's Paradise, in Williamsport, Pa., I was seated at a table that customers could come up to. Our conversations ranged from the bitter cold outside (12 degrees) to why I wrote my book. But the most unusual and personal aspect of the night was that after the signing we spent the night in the bookseller's own quaint Victorian home. Paradise, indeed.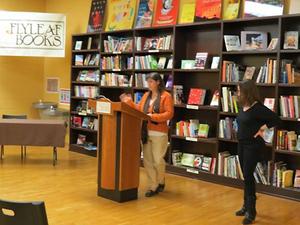 Jaimie Fiocco of Flyleaf Books
Another early event was hosted by Politics & Prose in Washington, D.C., but held at the Washington Club, which wanted to offer a roster of literary events for its members. The bookstore hosted a dinner, preceded by cocktails and hors d'oeuvres, in the historic mansion that houses the club.
I was joined by authors Allison Leotta and Anthony Franze to discuss balancing work, writing and everything else. Some of the attendees were emerging writers, others were readers out for a night on the town. The conversation flowed as generously as the wine. Authors, guests and booksellers Sarah Baline and Liz Hottel all felt like dear friends by the end of the night. It was like a wedding, but with books.
There was a Barnes & Noble in Greensboro, which proved that booklovers inhabit the biggest of the big box stores. Two nights later was a small, intimate event at Flyleaf Books in Chapel Hill, where I met the sales rep from my own publishing house.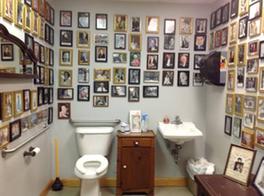 The Throne Room and Wall of Fame at Quail Ridge Books
At Quail Ridge Books in Raleigh, 60 people turned out to see a hometown debut novelist named Lee Mims who was kind enough to pair with me for a joint event. As a new novelist, there's little like addressing a large crowd where you don't know a single person. Or getting to be in the lofty company of all the authors who have come to this bookstore--and who are on display in the bathroom. Yes, the bathroom.
Pete Mock of McIntyre's in Pittsboro took the two-writers format a little further, choosing to interview me and a self-published author named Nora Gaskin about the pros and cons of publishing with a major house or on your own.
At Park Road Books in Charlotte, the booksellers are human "you might also like" buttons. One customer told me that she found my book on the shelf after the bookstore owner told her about it. "And if Sally says something, I know it's true," this woman added, demonstrating that handselling is still one of the most powerful ways to discover a book.
Here are three takeaways from the trip so far:
Bookstores are finding ways to support local authors, even as the authors support them, in a perhaps unsurprising symbiosis.
Publishers working with booksellers can put an author on the map in a way that isn't done virtually.
People keep asking me if answering the same questions is getting boring, and I can honestly say that even when the question is the same, the audience and the response are totally different.
Our last stop in North Carolina was Malaprop's Bookstore Cafe in Asheville, and that's where I discovered the real meaning of the tour so far. This event was a small one, perhaps six people in the audience. But two of them were writers I'd known virtually for years, who had traveled all the way from South Carolina so we could meet in person. Another was a woman I hadn't seen since high school. One was a stranger, one a colleague of my husband. And there was a bookseller named Virginia, whose passion for books was surpassed only by her love of readers. By the end of the night, this wildly disparate group of people had come together over a talk about writing and struggling toward your dreams. If connections like these can keep being made, then I know that every single mile will be a meaningful one.
Hope to see you somewhere on the road!