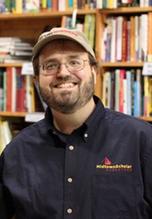 Following in a tradition of booksellers running for political office, Eric Papenfuse, owner of Midtown Scholar Bookstore, a used and rare bookstore, is running for mayor of Harrisburg, Pa., according to WHP-TV.

"Our platform is bringing Harrisburg together," Papenfuse told the station. "It's healing the divisions which have held Harrisburg back. It is modeling a new style of leadership that is built upon coalition building and consensus building and creating a positive image for the City of Harrisburg."

The capital of Pennsylvania, Harrisburg has struggled with severe financial problems stemming in large part from more than $300 million in debt associated with the renovation of the city's incinerator. In 2011, the city council voted to file for bankruptcy but was blocked by the mayor and governor.