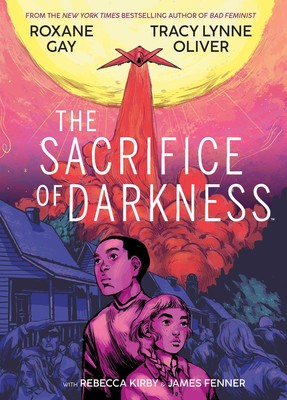 The Sacrifice of Darkness by Roxane Gay, Tracy Lynne Oliver, art by Rebecca Kirby, coloring by James Fenner (Archaia/BOOM Studios, October 2020)
The Sacrifice of Darkness is the full-length graphic novel adaptation of Roxane Gay's 2013 short story "We Are the Sacrifice of Darkness." Set in a world that has lost the light of its sun, the story follows the journey of a woman and a man through this new, frightening landscape. As the narrative explores notions of identity, guilt and survival, the characters find that sources of light and hope remain, even in perpetual night.
Gay is the bestselling author of the books Ayiti, An Untamed State, Bad Feminist, Hunger: A Memoir of My Body and Difficult Women, in which "We Are the Sacrifice of Darkness" was originally published. She is a contributing opinion writer for the New York Times and her writing has appeared in a plethora of publications and collections, including Best American Nonrequired Reading 2018, Best American Short Stories 2012, McSweeney's, Tin House, Virginia Quarterly Review and many more. The Sacrifice of Darkness is also not her first foray into the graphic medium: in 2017 she wrote six issues of Marvel's Black Panther: World of Wakanda.
"Some stories don't leave you and such was the case with my short story 'We Are the Sacrifice of Darkness,' " said Gay. "When BOOM! Studios approached me about writing a graphic novel, I immediately knew what kind of story I wanted to tell--one about family and sorrow, faith that survives in a world of darkness, true love and an indelible bond between two people with the world against them."
Writing with Gay is Tracy Lynne Oliver. Based in Los Angeles, Oliver has published pieces in Medium, Fanzine and Occulum, and her story "This Weekend" appeared in the anthology Best Microfiction 2019. The Sacrifice of Darkness is her first graphic novel.
" 'We Are the Sacrifice of Darkness' was one of my favorite Roxane Gay stories, so I was more than thrilled with the opportunity to transform it into a graphic novel format," said Oliver. "I once again fell in love with the characters and their struggles and yearning for love, warmth and light in this dark, cold world they were thrust into. I am so excited for readers to see this story brought to life in such a visually stunning way."
Gay called it a "thrill" to work with Oliver to bring breadth and depth to the world she created in her short story. "She is an amazing collaborator who always pushes me creatively."
Comic artist and illustrator Rebecca Kirby drew The Sacrifice of Darkness. Based in Philadelphia, Pa., she is the creator of Biopsy and Cramps, original comics that were featured on Vice and Waves as well as in Fantagraphics Now: The New Comics Anthology #4.
Kirby said she had a great time illustrating the story Gay and Oliver crafted. "It's been an incredible experience working with everyone as we create a graphic novel full of striking contrasts and tender moments splashed across the page. I hope fans will have just as great an experience reading it."