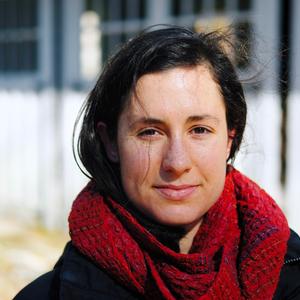 Anna Pitoniak (photo: Andrew Bartholomew)
Anna Pitoniak is the author of Necessary People, The Futures and Our American Friend, which will be published on February 15, 2022. Before becoming a full-time author, she worked in book publishing, including as a senior editor at Random House. She is joined by her editor, Carina Guiterman, in conversation with Shelf Awareness.
Shelf Awareness: Tell us about the inspiration for Our American Friend, and how the novel came together.
Anna Pitoniak: The seed of this idea was first planted in the spring of 2016, when I read a profile of Melania Trump. And as the months and years went by, I kept thinking about this woman who grew up in a Communist country and eventually occupies the pinnacle of power in the ultimate capitalist society. I've always been interested in how women navigate the tension between personal ambition and wider loyalties. But, I knew that I didn't want to write about the real First Lady. I wanted to let my characters emerge from my imagination, and branch off in different directions.
Carina Guiterman: As with any job, there's a fair share of tedium (e-mails! Zoom meetings!) and disappointment (lost auctions! Bookscan numbers!) that come with being an editor. But then there are those exhilarating moments that more than make up for it, including the best feeling in the world as an editor: seeing an author you've worked with for years writing at the very top of her game. Our American Friend is very much Anna's best novel yet, and she turns the pressure way, way up. It's not an exaggeration to say that the decisions the two women at the heart of this novel make could change the global political order.
SA: Our American Friend incorporates contemporary relationships, historical settings, suspense, espionage—it's difficult to categorize into one genre! Tell us about how these elements came together in writing the novel.
AP: I knew that, in the world of Our American Friend, things weren't going to be quite as they appeared. Perhaps inevitably, this led me toward those spy-thriller elements. I've always loved espionage novels (John le Carre, Graham Greene, Alan Furst; the list goes on!). The notion of the world not quite being as it appears—that the world is shaped by this hidden machinery, by these figures in the shadows—I find it irresistible.
I knew, too, that the ghosts of the past were going to play a big role in shaping the drama of the present day. The past was just as important as the present, in my conception of this book, so the pacing and suspense of both sections had to go hand-in-hand. I knew that one wouldn't work without the other!
CG: I'm also excited to publish this book because we need more female-centered spy thrillers! And this isn't just a feminist spy novel; it's a wonderful story of deep and unexpected friendship, a transporting work of historical fiction, and it's an epic love story to boot. It's genre defying in a similar manner as The Secrets We Kept by Lara Prescott, American Wife by Curtis Sittenfeld, and The Alice Network by Kate Quinn.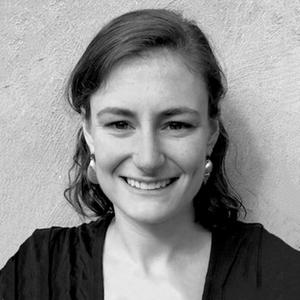 Carina Guiterman
SA: Do you have a favorite line from the novel?
AP: I like when Sofie muses about our relationship to history: "Some moments in history arrive quietly. In graduate school, we talked about the hidden turning points, which are only revealed with plenty of retrospect. Who could imagine the ripple effects of these contingencies—the heir born with hemophilia; the Austrian boy rejected from art school; the invisible mutation of a spike protein structure? But other moments in history arrive like a screaming meteorite. You can't help but know that you're living through something."
CG: That's the line I picked out, too! While Our American Friend is clearly a work of fiction, I hope readers come away from it with a deeper understanding of the fact that while we often think of history as being shaped by the big things—wars and governments and global pandemics—the course of history has just as much been forged by smaller, more unseen forces—sometimes even just a single person, a single interaction, a single personal decision, can change history. I hope that Our American Friend helps readers see their world anew and cause them to question what forces, both big and small, seen and unseen, have shaped that world.