Jessamine Chan (© Beowulf Sheehan)
Jessamine Chan's short stories have appeared in Tin House and Epoch. A former reviews editor at Publishers Weekly, she holds an MFA from Columbia University and a BA from Brown University. Her work has received support from the Elizabeth George Foundation, the Bread Loaf Writers' Conference, the Wurlitzer Foundation, the Jentel Foundation, the Kimmel Harding Nelson Center, the Anderson Center, the Virginia Center for the Creative Arts, and the Ragdale Foundation. Her debut novel, The School for Good Mothers, will be published January 4, 2022. She's joined by Marysue Rucci in conversation with Shelf Awareness.
Shelf Awareness: Tell us about the inspiration for The School for Good Mothers and how the novel came together.
Jessamine Chan: In 2014, in the midst of wrestling with my ambivalence about whether or not to have a baby, I read an article about a mother fighting to regain custody of her son after leaving him home alone. The clinical language used by Child Protective Services, and the keen sense of injustice I felt on that mother's behalf, lodged in my memory. So much about parenting, and especially motherhood, in America is heavy on rules. The societal pressure to make the right choices for your child and the feeling of being watched (and perhaps judged) by other parents is part of daily life.
Marysue Rucci: I loved The School for Good Mothers immediately for its premise, its originality, its chilling supposition that still feels so terrifyingly possible. Chan mines the impossible standards to which mothers are held, the inequity of demands on mothers versus fathers; and she explodes issues of class, race, power. In that sense, I think Jessamine's novel will resonate with readers of Red Clocks and The Handmaid's Tale. The best fiction opens our minds to the experiences of others, and The School for Good Mothers does that in spades.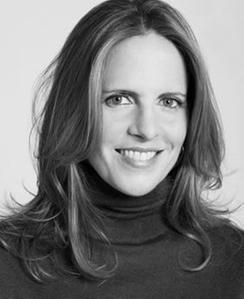 Marysue Rucci
SA: You explore many facets of identity through your main character, Frida, as a mother and daughter of Chinese immigrants. Was it important for you to have a Chinese-American perspective as the main character?
JC: Yes, representation is important. Frida is in many ways the thorny, complicated Chinese-American heroine I've always wanted to read. She's vulnerable and flawed. She's messy. It means so much that the book's jacket copy describes Frida as an "everywoman." I think Frida's heart is in the right place, even if she doesn't always make the right decisions. Part of what I hope the book calls into question is whether any mother can be judged as "bad" or "good," since such judgments are influenced by race, class, and culture.
SA: Which indie bookstore were you/are you excited to visit once Covid restrictions allow?
JC: I just moved back to my hometown, so I've popped into The Book Table in Oak Park, Illinois. Right before leaving Philadelphia, I discovered Joseph Fox Bookshop. In Philly, I've also heard great things about Harriett's Bookshop and Uncle Bobbie's.
SA: Do you have a favorite line from the novel?
JC: "I am a bad mother, but I am learning to be good."
MSR: Has to be the final two sentences—but no spoilers!