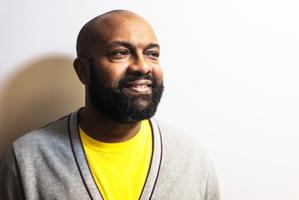 Jabari Asim (photo: Shelf Reynolds II)
Jabari Asim is a writer and multidisciplinary artist. He directs the MFA program in creative writing at Emerson College, where he is also the Elma Lewis Distinguished Fellow in Social Justice. His nonfiction books include The N Word: Who Can Say It, Who Shouldn't, and Why; What Obama Means: For Our Culture, Our Politics, Our Future; Not Guilty: Twelve Black Men Speak Out on Law, Justice, and Life; and We Can't Breathe: On Black Lives, White Lies, and the Art of Survival. His books for children include Whose Toes Are Those? and Preaching to the Chickens: The Story of Young John Lewis. His works of fiction include A Taste of Honey, Only the Strong and his latest, Yonder, which will be published on January 11, 2022. He is joined by his editor, Eamon Dolan, in this conversation with Shelf Awareness.
Shelf Awareness: Did you have a character or question which inspired you to begin writing?
Jabari Asim: I had been reading about William "Billy" Lee, an enslaved man and able assistant to George Washington. William was "married" to a free Black woman named Margaret Thomas, but records indicate that Lee lived alone. William's story got me to thinking about what might happen if law and custom prevented two people who loved each other from being together.
SA: You've written fiction and nonfiction previously, as well as children's books. How does Yonder compare to your previous works?
JA: I like to think that my books are in conversation with each other. They tend to have themes and through-lines that reflect the power of story, the value of bringing hidden experiences to light, and finding joy in simple things. They have often begun in my imagination with a question along the lines of "what would happen if —?"
Eamon Dolan: The legendary Dawn Davis actually acquired this novel, but when she left, I quickly volunteered to work with Jabari. Years ago, I'd published The N Word, his brilliant book on language and race, and I was eager to benefit again from his wise mind and huge heart. Yonder is a thoroughly original and ultimately uplifting take on what has become a popular subgenre: the quest-for-freedom novel. If asked, I would shelve Yonder between The Underground Railroad by Colson Whitehead and The Water Dancer by Ta-Nahesi Coates.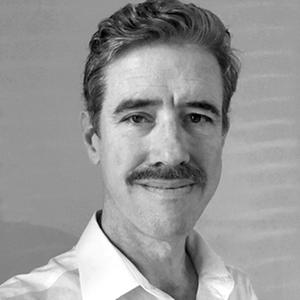 Eamon Dolan
SA: Do you have a favorite line from the novel?
JA: The first in the book is the first line I jotted down: "All of us have two tongues." The "us" refers to the earliest generations of African-Americans. They had to forge a common tongue while shielding so many things from their captors. Early African-Americans were among the first code-switchers.
ED: Yonder is particularly contemporary in how it handles code-switching—the different ways some people must speak to each other and to outsiders in order to survive—and in how it shows some people's incredible capacity to retain the best human qualities when the world insists their lives don't matter. Jabari's favorite line is the first one in Yonder, mine is the last. Reading it made me feel a hope and joy that are thoroughly in keeping with the book and yet were an epiphany to me.
SA: Set in the American South of 1852, Yonder explores a time in which few people could pursue love and personal agency freely. Why was it important to explore these themes in your novel?
JA: I was thinking about contemporary observers who condemn our enslaved ancestors as inexcusably passive, despite abundant evidence to the contrary. I hope that the characters in Yonder who dare to challenge the limits imposed upon them will be seen as refuting those stereotypical notions. They demonstrate that thinking, acting, and loving were all forms of resistance, and often conducted covertly.