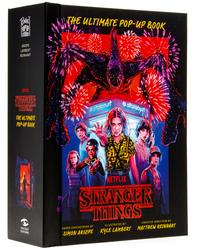 Stranger Things: The Ultimate Pop-Up Book (hardcover, $75, 9781647221263, August 27, 2022)
Here Paper Engineer Simon Arizpe talks about what it's like working with a beloved series and bringing Demogorgon to life.

Were you a fan of Stranger Things when you took on this project?
Yes, I was a big fan of the show before the idea of making a pop-up Stranger Things ever came up. I had been watching the show from the beginning and always loved the wild storytelling and mystery. It manages to be so rooted in the imagery of nostalgia while feeling like a wholly unique story. Being able to take fantastical concepts like the upside-down and monsters like the demogorgon and figure out how to make them as surreal as they are in the show was such a fun opportunity. When I was offered the project I was so excited, this really is a dream project for me.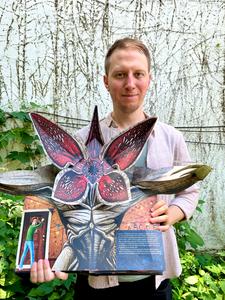 Simon Arizpe
What's the process for planning out the pops?
It always starts with the idea first. What am I going to make pop-up? What will be the most interesting thing to make move, to reveal or hide? How can I make sure that nothing is expected? All the pop-up elements should be surprising while still telling the story. With Stranger Things, there is already such a full and specific story to tell. For me, it was figuring out which aspects of the story will be the most interesting in pop-up form and separating those out into spreads. I made a sort of wish list of must-have scenes: we need to have a giant Demogorgon, definitely have to have a transformation into the upside-down, gotta have the Starcourt Mall, and it sort of fell into place from there.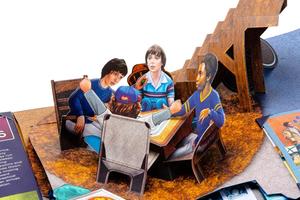 What was the most challenging pop to create?
I think the most challenging pop for me to create was the first spread with Will Byers traveling into the Upside-Down. The scene starts with the four boys sitting around the table in Mike's basement. Will Byers' missing poster is peaking out from the bottom of the page. As you pull on the poster, the whole scene is transformed from below. The other kids and the basement disappear, and Will is transported to the Upside-Down dimension.
So really there are two pop-ups in one on this page. It was a real challenge figuring out how to hide the whole secondary pop underneath the first, and still make it big and interesting. And that moment is so iconic in the show that I felt like I really had to do it justice.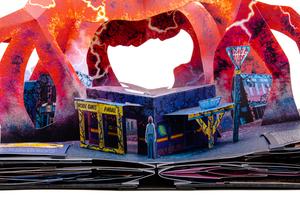 What's your favorite surprise in the book?
I tried to hide a lot of little Stranger Things Easter Eggs throughout the book for the fans. My favorite is either Max's signature 'MAD MAX' appearing on the arcade game, which was a real plot point in the start of season 2. Either that or there is a little surprise in the Mall scene on spread 5. There is a pull tab that lets Eleven and Max try on a few different outfits. Because who doesn't like an '80s makeover montage scene?
Kyle Lambert, who was the illustrator on the project, and I had a lot of fun adding in little winks to the fans. I would ask him to draw some character in a specific scene, but it also had to be drawn 'upside down and backwards' so that it would fit into the pop-up eventually. He was a great sport about all my weird specific art requests. I think it is because he is such a big fan of the show as well
Is there a dream project you'd love to create in pop-up form?
Yes there is! My dream project would be to create a Steven Universe pop-up book. I think that show is very special. The art is stunning and has beautiful concepts (like fusion) that would lend themselves well to paper engineering. There is also an overall message of acceptance, love, and compassion throughout the show that I think is so important. If anyone is reading this who knows how to get a hold of Rebecca Sugar (the creator of the show) please send this her way. Rebecca, I would love the opportunity to make a pop-up book out of your beautiful story.